August 01-04
Marquess' course, Woburn Golf Club, Buckinghamshire
$4,500,000
Round 2, Round 3, Round 4
---
South African Ashleigh Buhai fired a seven-under-par opening round of 65 to top the round one leaderboard at the AIG Women's British Open, on a day when home favourites Georgia Hall and Charley Hull thrilled the huge crowds at Woburn Golf Club.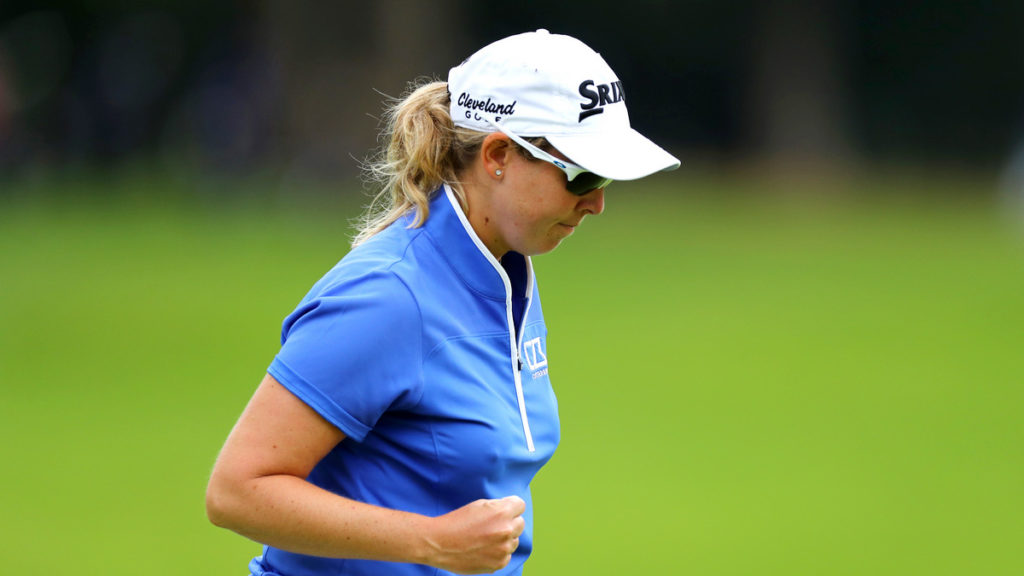 ---
Hull birdied the last for a flawless 67, while Hall, the defending champion, described the support during her three-under-par 69 as the highlight of her year.
Japan's Hinako Shibuno and American Danielle Kang both opened with a 66, and joining Hull on five under were Megan Khang of the USA, Thailand's Moriya Jutanugarn and Korean Sung Hyun Park.
---
The opening day belonged to Buhai, however, who had eight birdies and a bogey. The 30-year-old has won three times on the Ladies European Tour and is the first player in 101 years to win the South African Women's Open three times (2004, 2007 and 2018).
Buhai said: "In my last few tournaments I've had three good rounds and one not so good round, so I'm hoping this is the week I can do four good rounds. I'm feeling really confident with the putter, and it's been good the last few weeks, and today I managed to just hit a few more greens and rolled in the putts.
"I felt I've been swinging it well, I'm hitting the target and into the zones that my coach and I talk about, and holing some really good putts."
Hull, who is chasing her first Major victory, said: "I feel like I've been playing well all year, I've just struggled to trust myself sometimes, so that's where I suppose I haven't been scoring. But today I just went out there and trusted myself, and I feel like I'm in a good mindset. I just want to go out there and have fun. That's the main goal this week.
"I really enjoyed it out there. It was good to make a birdie on the second hole, a par-5, because sometimes when there's an early par-5 and you don't make a birdie, you feel a bit frustrated. Sometimes it's harder when it's your home golf course because you know where not to hit it as well as where to hit it. Like today, for instance, the 13th hole, it's the first time I've hit that fairway for about three years, so I was quite happy about that."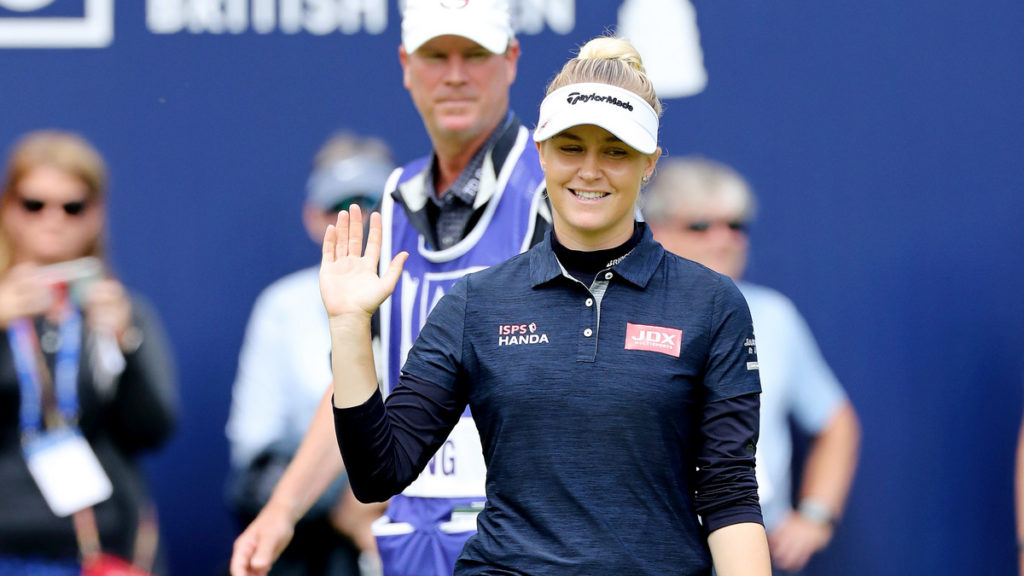 ---
Hall was buzzing after her round after she was cheered onto every tee and green.
"I walked to the first tee and I got so much applause from everybody, it was so nice to be there, and I was actually quite nervous, so I was relieved to hit the fairway," said the 23-year-old. "It's already the highlight of my year. I've had this much support since this time last year, and I think that most of the people out there were out there to support me.
"It's just an amazing feeling. It's probably the best I've seen this course and one of the best conditions we play all year, so it was really lovely to kind of experience this course. It's important for me to take all the emotions in and really enjoy it. I loved it out there today."
---
| | | | |
| --- | --- | --- | --- |
| Pos. | Player | To Par | R1 |
| 1 | Ashleigh Buhai (RSA) | -7 | 65 |
| 2 | Hinako Shibuno (JPN) | -6 | 66 |
| 2 | Danielle Kang (USA) | -6 | 66 |
| 4 | Sung Hyun Park (KOR) | -5 | 67 |
| 4 | Charley Hull (ENG) | -5 | 67 |
| 4 | Moriya Jutanugarn (THA) | -5 | 67 |
| 4 | Megan Khang (USA) | -5 | 67 |
| 8 | Jeongeun Lee6 (KOR) | -4 | 68 |
| 8 | Ariya Jutanugarn (THA) | -4 | 68 |
| 8 | Jin Young Ko (KOR) | -4 | 68 |
| 11 | In-Kyung Kim (KOR) | -3 | 69 |
| 11 | Marina Alex (USA) | -3 | 69 |
| 11 | Caroline Masson (GER) | -3 | 69 |
| 11 | Jenny Shin (KOR) | -3 | 69 |
| 11 | Georgia Hall (ENG) | -3 | 69 |
| 11 | Brooke Henderson (CAN) | -3 | 69 |
| 11 | Lizette Salas (USA) | -3 | 69 |
| 11 | Carlota Ciganda (ESP) | -3 | 69 |
| 11 | Morgan Pressel (USA) | -3 | 69 |
| 11 | Agathe Sauzon (FRA) | -3 | 69 |
| 21 | Minami Katsu (JPN) | -2 | 70 |
| 21 | Sei Young Kim (KOR) | -2 | 70 |
| 21 | Linnea Strom (SWE) | -2 | 70 |
| 21 | Bronte Law (ENG) | -2 | 70 |
| 21 | Ayako Uehara (JPN) | -2 | 70 |
| 21 | Nelly Korda (USA) | -2 | 70 |
| 21 | Sakura Yokomine (JPN) | -2 | 70 |
| 21 | In Gee Chun (KOR) | -2 | 70 |
| 21 | Haeji Kang (KOR) | -2 | 70 |
| 21 | Lindy Duncan (USA) | -2 | 70 |
| 21 | Jeong-Eun 5 Lee (KOR) | -2 | 70 |
| 32 | Minjee Lee (AUS) | -1 | 71 |
| 32 | Anna Nordqvist (SWE) | -1 | 71 |
| 32 | Lexi Thompson (USA) | -1 | 71 |
| 32 | Gaby Lopez (MEX) | -1 | 71 |
| 32 | Whitney Hillier (AUS) | -1 | 71 |
| 32 | Gerina Piller (USA) | -1 | 71 |
| 32 | Brittany Lang (USA) | -1 | 71 |
| 32 | Celine Boutier (FRA) | -1 | 71 |
| 32 | Karine Icher (FRA) | -1 | 71 |
| 32 | Mi Jung Hur (KOR) | -1 | 71 |
| 32 | Gabriella Cowley (ENG) | -1 | 71 |
| 32 | Kristen Gillman (USA) | -1 | 71 |
| 32 | Hyo-Joo Kim (KOR) | -1 | 71 |
| 32 | Jing Yan (CHN) | -1 | 71 |
| 46 | Charlotte Thomas (ENG) | Par | 72 |
| 46 | Nicole Broch Larsen (DEN) | Par | 72 |
| 46 | Jessica Korda (USA) | Par | 72 |
| 46 | Anne Van Dam (NED) | Par | 72 |
| 46 | Mirim Lee (KOR) | Par | 72 |
| 46 | Su Oh (AUS) | Par | 72 |
| 46 | Lynn Carlsson (SWE) | Par | 72 |
| 46 | Ally Mcdonald (USA) | Par | 72 |
| 46 | Yu Liu (CHN) | Par | 72 |
| 46 | Jasmine Suwannapura (THA) | Par | 72 |
| 46 | Jaye Marie Green (USA) | Par | 72 |
| 46 | Maria Torres (PRI) | Par | 72 |
| 46 | Nanna Koerstz Madsen (DEN) | Par | 72 |
| 46 | Sarah Kemp (AUS) | Par | 72 |
| 46 | Valentine Derrey (FRA) | Par | 72 |
| 46 | Dayeon Lee (KOR) | Par | 72 |
| 62 | Annie Park (USA) | 1 | 73 |
| 62 | Meghan MacLaren (ENG) | 1 | 73 |
| 62 | Brittany Altomare (USA) | 1 | 73 |
| 62 | Angela Stanford (USA) | 1 | 73 |
| 62 | Hannah Green (AUS) | 1 | 73 |
| 62 | Azahara Munoz (ESP) | 1 | 73 |
| 62 | Yuka Yasuda (JPN) (a) | 1 | 73 |
| 62 | Paula Creamer (USA) | 1 | 73 |
| 62 | Marianne Skarpnord (NOR) | 1 | 73 |
| 62 | Olivia Cowan (GER) | 1 | 73 |
| 62 | Katja Pogacar (SLO) | 1 | 73 |
| 62 | Amy Olson (USA) | 1 | 73 |
| 62 | Hye Jin Choi (KOR) | 1 | 73 |
| 62 | Mariajo Uribe (COL) | 1 | 73 |
| 62 | Atthaya Thitikul (THA) (a) | 1 | 73 |
| 62 | Sarah Schmelzel (USA) | 1 | 73 |
| 62 | Jodi Ewart Shadoff (ENG) | 1 | 73 |
| 62 | Teresa Lu (TPE) | 1 | 73 |
| 62 | Catriona Matthew (SCO) | 1 | 73 |
| 62 | So Yeon Ryu (KOR) | 1 | 73 |
| 62 | Amy Yang (KOR) | 1 | 73 |
| 62 | Pornanong Phatlum (THA) | 1 | 73 |
| 62 | Cheyenne Knight (USA) | 1 | 73 |
| 62 | Karolin Lampert (GER) | 1 | 73 |
| 62 | Pavarisa Yoktuan (THA) | 1 | 73 |
| 87 | Angel Yin (USA) | 2 | 74 |
| 87 | Sandra Gal (GER) | 2 | 74 |
| 87 | Jacqui Concolino (USA) | 2 | 74 |
| 87 | Ingrid Lindblad (SWE) (a) | 2 | 74 |
| 87 | Cydney Clanton (USA) | 2 | 74 |
| 87 | Eun-Hee Ji (KOR) | 2 | 74 |
| 87 | Caroline Hedwall (SWE) | 2 | 74 |
| 87 | Alena Sharp (CAN) | 2 | 74 |
| 87 | Xi Yu Lin (CHN) | 2 | 74 |
| 87 | Noora Komulainen (FIN) | 2 | 74 |
| 97 | Celine Herbin (FRA) | 3 | 75 |
| 97 | Inbee Park (KOR) | 3 | 75 |
| 97 | Shanshan Feng (CHN) | 3 | 75 |
| 97 | Karrie Webb (AUS) | 3 | 75 |
| 97 | Camilla Lennarth (SWE) | 3 | 75 |
| 97 | Lina Boqvist (SWE) | 3 | 75 |
| 97 | Jennifer Song (USA) | 3 | 75 |
| 97 | Chella Choi (KOR) | 3 | 75 |
| 97 | Annabel Dimmock (ENG) | 3 | 75 |
| 97 | Cristie Kerr (USA) | 3 | 75 |
| 97 | Mamiko Higa (JPN) | 3 | 75 |
| 97 | Momoko Ueda (JPN) | 3 | 75 |
| 97 | Ai Suzuki (JPN) | 3 | 75 |
| 97 | Alice Hewson (ENG) (a) | 3 | 75 |
| 97 | Christine Wolf (AUT) | 3 | 75 |
| 97 | Jenny Haglund (SWE) | 3 | 75 |
| 97 | Daniela Darquea (ECU) | 3 | 75 |
| 97 | Lauren Stephenson (USA) | 3 | 75 |
| 115 | Austin Ernst (USA) | 4 | 76 |
| 115 | Nasa Hataoka (JPN) | 4 | 76 |
| 115 | Beth Allen (USA) | 4 | 76 |
| 115 | Mi Hyang Lee (KOR) | 4 | 76 |
| 115 | Nuria Iturrioz (ESP) | 4 | 76 |
| 115 | Maria Fassi (MEX) | 4 | 76 |
| 115 | Lydia Ko (NZL) | 4 | 76 |
| 115 | Felicity Johnson (ENG) | 4 | 76 |
| 115 | Wei Ling Hsu (TPE) | 4 | 76 |
| 115 | Emily Toy (ENG) (a) | 4 | 76 |
| 115 | Laura Fuenfstueck (GER) | 4 | 76 |
| 115 | Katherine Kirk (AUS) | 4 | 76 |
| 115 | Pajaree Anannarukarn (THA) | 4 | 76 |
| 115 | Emma Spitz (AUT) (a) | 4 | 76 |
| 129 | Jennifer Kupcho (USA) | 5 | 77 |
| 129 | Mel Reid (ENG) | 5 | 77 |
| 129 | Ryann O Toole (USA) | 5 | 77 |
| 129 | Diksha Dagar (IND) | 5 | 77 |
| 129 | Mariah Stackhouse (USA) | 5 | 77 |
| 129 | Frida Kinhult (SWE) (a) | 5 | 77 |
| 129 | Charlotte Thompson (ENG) | 5 | 77 |
| 136 | Pernilla Lindberg (SWE) | 6 | 78 |
| 136 | Carly Booth (SCO) | 6 | 78 |
| 136 | Madelene Sagstrom (SWE) | 6 | 78 |
| 136 | Tonje Daffinrud (NOR) | 6 | 78 |
| 136 | Kylie Henry (SCO) | 6 | 78 |
| 136 | Stacy Lewis (USA) | 6 | 78 |
| 136 | Esther Henseleit (GER) | 6 | 78 |
| 143 | Tiffany Joh (USA) | 7 | 79 |
| 144 | Laura Davies (ENG) | 10 | 82 |