European Tour
Alfred Dunhill Links Championship
October 04-07
Old Course St. Andrews, Carnoustie and Kingsbarns
$5,000,000
October 04-07
Old Course St. Andrews, Carnoustie and Kingsbarns
$5,000,000
Round 4
Bjerregaard battles back to win at The Home of Golf
Round 1
Round 2
Round 3
Round 1
Round 2
Round 3
October 07, 2018
Lucas Bjerregaard secured his second European Tour title as he overhauled a four-stroke deficit to win the Alfred Dunhill Links Championship on the Old Course at St Andrews.
- Getty Images

"It was a great day. Obviously one of the best rounds I've played all year. I've played well recently and I've come close a few times, lost in a play-off in Switzerland, which obviously hurt. It feels really good. It's really nice to sit here right now and I'm going to enjoy this one, no doubt."

The Dane, whose last victory came at the 2017 Portugal Masters, started the day ten under par, four strokes behind 54-hole leader and twice-defending champion Tyrrell Hatton."

"I was looking at all the boards. It didn't really look like I had much of a chance to be fair. It looked like Tyrrell was going to run away with it. I just kept going about my business, and we knew the back nine was going to play tough."

"So I thought if I could throw in a few birdies there, I would still have a chance. I didn't rush it. I didn't try to make birdies; I didn't force them and they just slowly came and that one on 16 was really nice."

"It was obviously nice to start with 18 this morning because it's a good birdie chance. A nice way to get going, and make birdie there as I did, that's one early, so you can get a good start. But then playing 17, it's nice to know that you normally have 18 which is a good birdie chance, so if you bogey 17, you can get it back on 18. I didn't really have that.

Bjerregaard began his final round on the 18 th hole under a shotgun start, which meant he would finish the Championship on the iconic Road Hole.

The 27 year old birdied the 18th and then made three further gains before the turn as he whittled down Hatton's lead.

Birdies on the 13th and 16th holes saw him reach 16 under par, two ahead of Ryder Cup hero Tommy Fleetwood who set the clubhouse target after a three under par round.

"Nice coming down the stretch with a chance to win. Played some really good golf, and fell just short. You know, there was a lot of good stuff. Had a chance on 16 and 18, 18 especially. You get to 15, you feel like you've got a chance still."

"All in all, a great week, really, and I've played some really good stuff. Game is obviously in a good place. You take the positives from it and you know, we go again when we play next. It's obviously a little bit raw when you've fallen just short, but overall, it was a lot of good stuff."

Hatton had a birdie chance on the last hole but had to settle for par, joining Fleetwood on 14 under. A bogey on the 17 th was enough for Bjerregaard to win his second title, just a week after watching compatriot Thomas Bjørn captain Europe to Ryder Cup victory.

"I was so delighted for Thomas (Bjørn). It's been amazing to see all the work that goes behind The Ryder Cup, and being close to him, it's been amazing to see how much work he's put in it. For him and win and the way they played the whole week, so delighted for him. I hope he's enjoying some down time now. I was definitely inspired, and I definitely want to make that team some day."

Finn Tapio Pulkkanen finished fourth on 12 under par, while Haotong Li and Andrea Pavan shared fifth place on ten under par. Li won the team competition with his partner Allen Zhang with a score of 35 under par.
| | | | | | | | | |
| --- | --- | --- | --- | --- | --- | --- | --- | --- |
| Pos. | Player | Nat | To Par | R1 | R2 | R3 | R4 | Total |
| 1 | Lucas Bjerregaard | DNK | -15 | 70 | 65 | 71 | 67 | 273 |
| T2 | Tommy Fleetwood | ENG | -14 | 71 | 67 | 67 | 69 | 274 |
| T2 | Tyrrell Hatton | ENG | -14 | 70 | 66 | 66 | 72 | 274 |
| 4 | Tapio Pulkkanen | FIN | -12 | 76 | 67 | 64 | 69 | 276 |
| T5 | Andrea Pavan | ITA | -10 | 72 | 63 | 71 | 72 | 278 |
| T5 | Haotong Li | CHN | -10 | 75 | 69 | 68 | 66 | 278 |
| T7 | Brooks Koepka | USA | -9 | 70 | 72 | 65 | 72 | 279 |
| T7 | Lucas Herbert | AUS | -9 | 70 | 70 | 69 | 70 | 279 |
| T7 | Padraig Harrington | IRL | -9 | 69 | 72 | 69 | 69 | 279 |
| T7 | Tony Finau | USA | -9 | 73 | 66 | 71 | 69 | 279 |
| T11 | Andy Sullivan | ENG | -8 | 72 | 71 | 67 | 70 | 280 |
| T11 | Nacho Elvira | ESP | -8 | 75 | 67 | 69 | 69 | 280 |
| T11 | Marcus Fraser | AUS | -8 | 68 | 68 | 67 | 77 | 280 |
| T11 | Marcus Kinhult | SWE | -8 | 70 | 70 | 69 | 71 | 280 |
| T11 | Matthias Schwab | AUT | -8 | 69 | 67 | 71 | 73 | 280 |
| T11 | Nicolas Colsaerts | BEL | -8 | 72 | 70 | 67 | 71 | 280 |
| T11 | Peter Hanson | SWE | -8 | 70 | 71 | 70 | 69 | 280 |
| T11 | Stephen Gallacher | SCO | -8 | 71 | 68 | 66 | 75 | 280 |
| T11 | Tom Lewis | ENG | -8 | 71 | 71 | 67 | 71 | 280 |
| T20 | Brandon Stone | RSA | -7 | 71 | 71 | 65 | 74 | 281 |
| T20 | Lee Slattery | ENG | -7 | 71 | 67 | 73 | 70 | 281 |
| T20 | Matthieu Pavon | FRA | -7 | 74 | 67 | 68 | 72 | 281 |
| T20 | Robert Rock | ENG | -7 | 76 | 69 | 67 | 69 | 281 |
| T24 | Chris Paisley | ENG | -6 | 72 | 70 | 71 | 69 | 282 |
| T24 | Edoardo Molinari | ITA | -6 | 73 | 66 | 68 | 75 | 282 |
| T24 | Jason Scrivener | AUS | -6 | 71 | 72 | 70 | 69 | 282 |
| T24 | Ryan Fox | NZL | -6 | 71 | 67 | 71 | 73 | 282 |
| T28 | Clement Sordet | FRA | -5 | 74 | 70 | 67 | 72 | 283 |
| T28 | Deyen Lawson | AUS | -5 | 76 | 69 | 68 | 70 | 283 |
| T28 | Matt Kuchar | USA | -5 | 73 | 68 | 69 | 73 | 283 |
| T28 | Matt Wallace | ENG | -5 | 68 | 71 | 74 | 70 | 283 |
| T32 | Alexander Levy | FRA | -4 | 71 | 68 | 72 | 73 | 284 |
| T32 | Benjamin Hebert | FRA | -4 | 72 | 72 | 64 | 76 | 284 |
| T32 | Jordan Smith | ENG | -4 | 73 | 71 | 68 | 72 | 284 |
| T32 | Julien Guerrier | FRA | -4 | 74 | 70 | 68 | 72 | 284 |
| T32 | Louis Oosthuizen | RSA | -4 | 74 | 69 | 70 | 71 | 284 |
| T32 | Matthew Jordan | ENG | -4 | 77 | 67 | 66 | 74 | 284 |
| T32 | Mikko Ilonen | FIN | -4 | 74 | 63 | 75 | 72 | 284 |
| T32 | Oliver Fisher | ENG | -4 | 73 | 69 | 69 | 73 | 284 |
| T32 | Pep Angles | ESP | -4 | 75 | 69 | 67 | 73 | 284 |
| T32 | Renato Paratore | ITA | -4 | 72 | 68 | 73 | 71 | 284 |
| T32 | Ross Fisher | ENG | -4 | 75 | 68 | 66 | 75 | 284 |
| T32 | Thongchai Jaidee | THA | -4 | 72 | 69 | 71 | 72 | 284 |
| T44 | Adrien Saddier | SCO | -3 | 75 | 71 | 67 | 72 | 285 |
| T44 | Ashley Chesters | ENG | -3 | 73 | 64 | 74 | 74 | 285 |
| T44 | Eddie Pepperell | ENG | -3 | 75 | 71 | 67 | 72 | 285 |
| T44 | Trevor Immelman | RSA | -3 | 75 | 69 | 68 | 73 | 285 |
| T48 | Christiaan Bezuidenhout | RSA | -2 | 74 | 70 | 68 | 74 | 286 |
| T48 | Darren Fichardt | RSA | -2 | 77 | 63 | 73 | 73 | 286 |
| T48 | Ernie Els | RSA | -2 | 72 | 71 | 69 | 74 | 286 |
| T48 | Jake McLeod | AUS | -2 | 74 | 70 | 68 | 74 | 286 |
| T48 | Peter Karmis | RSA | -2 | 71 | 67 | 72 | 76 | 286 |
| T48 | Soren Kjeldsen | DEN | -2 | 72 | 68 | 72 | 74 | 286 |
| T48 | Thomas Detry | BEL | -2 | 72 | 71 | 69 | 74 | 286 |
| 55 | Branden Grace | RSA | -1 | 73 | 74 | 65 | 75 | 287 |
| T56 | James Morrison | ENG | Par | 73 | 70 | 69 | 76 | 288 |
| T56 | Oliver Bekker | RSA | Par | 71 | 68 | 71 | 78 | 288 |
| T56 | Pablo Larrazabal | ESP | Par | 75 | 69 | 69 | 75 | 288 |
| 59 | Alejandro Canizares | ESP | 1 | 74 | 71 | 68 | 76 | 289 |
| 60 | Thomas Pieters | BEL | 3 | 73 | 71 | 68 | 79 | 291 |
| CUT | Aaron Rai | ENG | -2 | 78 | 68 | 68 | - | 214 |
| CUT | Doug Ghim | USA | -2 | 74 | 69 | 71 | - | 214 |
| CUT | Justin Walters | RSA | -2 | 73 | 70 | 71 | - | 214 |
| CUT | Laurie Canter | ENG | -2 | 76 | 69 | 69 | - | 214 |
| CUT | Luke Donald | ENG | -2 | 75 | 71 | 68 | - | 214 |
| CUT | Paul Peterson | USA | -2 | 76 | 71 | 67 | - | 214 |
| CUT | Richard Bland | ENG | -2 | 72 | 69 | 73 | - | 214 |
| CUT | Richie Ramsay | SCO | -2 | 73 | 70 | 71 | - | 214 |
| CUT | Robin Dawson | IRL | -2 | 74 | 70 | 70 | - | 214 |
| CUT | Sam Brazel | AUS | -2 | 74 | 72 | 68 | - | 214 |
| CUT | Sam Horsfield | ENG | -2 | 74 | 70 | 70 | - | 214 |
| CUT | Scott Hend | AUS | -2 | 74 | 72 | 68 | - | 214 |
| CUT | Adrian Otaegui | ESP | -1 | 77 | 69 | 69 | - | 215 |
| CUT | Alexander Bjoerk | SWE | -1 | 74 | 72 | 69 | - | 215 |
| CUT | Chase Koepka | USA | -1 | 79 | 67 | 69 | - | 215 |
| CUT | Chris Wood | ENG | -1 | 76 | 70 | 69 | - | 215 |
| CUT | David Lipsky | USA | -1 | 73 | 69 | 73 | - | 215 |
| CUT | Fredrik Jacobson | SWE | -1 | 76 | 67 | 72 | - | 215 |
| CUT | Gonzalo Fernandez-Castano | ESP | -1 | 70 | 77 | 68 | - | 215 |
| CUT | Harry Ellis | ENG | -1 | 76 | 73 | 66 | - | 215 |
| CUT | James Marchesani | AUS | -1 | 75 | 67 | 73 | - | 215 |
| CUT | Jordan Zunic | AUS | -1 | 73 | 71 | 71 | - | 215 |
| CUT | Kim Koivu | FIN | -1 | 74 | 74 | 67 | - | 215 |
| CUT | Martin Kaymer | GER | -1 | 75 | 71 | 69 | - | 215 |
| CUT | Matthew Southgate | ENG | -1 | 73 | 68 | 74 | - | 215 |
| CUT | Norman Xiong | USA | -1 | 76 | 69 | 70 | - | 215 |
| CUT | Richard McEvoy | ENG | -1 | 76 | 66 | 73 | - | 215 |
| CUT | Scott Fernandez | ESP | -1 | 77 | 67 | 71 | - | 215 |
| CUT | Steven Brown | ENG | -1 | 75 | 70 | 70 | - | 215 |
| CUT | Zander Lombard | RSA | -1 | 77 | 68 | 70 | - | 215 |
| CUT | Alvaro Quiros | ESP | Par | 74 | 76 | 66 | - | 216 |
| CUT | Jacques Kruyswijk | RSA | Par | 77 | 72 | 67 | - | 216 |
| CUT | Ken Duke | USA | Par | 73 | 75 | 68 | - | 216 |
| CUT | Marcel Siem | GER | Par | 72 | 75 | 69 | - | 216 |
| CUT | Matthew Fitzpatrick | ENG | Par | 76 | 69 | 71 | - | 216 |
| CUT | Maximilian Kieffer | GER | Par | 75 | 70 | 71 | - | 216 |
| CUT | Michael Lorenzo-Vera | FRA | Par | 77 | 71 | 68 | - | 216 |
| CUT | Phachara Khongwatmai | THA | Par | 69 | 76 | 71 | - | 216 |
| CUT | Sam Locke | SCO | Par | 73 | 72 | 71 | - | 216 |
| CUT | Scott Jamieson | SCO | Par | 76 | 71 | 69 | - | 216 |
| CUT | Callum Shinkwin | ENG | 1 | 78 | 67 | 72 | - | 217 |
| CUT | Connor Syme | SCO | 1 | 72 | 75 | 70 | - | 217 |
| CUT | David Drysdale | SCO | 1 | 73 | 71 | 73 | - | 217 |
| CUT | Hideto Tanihara | JPN | 1 | 73 | 74 | 70 | - | 217 |
| CUT | Jonathan Thomson | ENG | 1 | 75 | 69 | 73 | - | 217 |
| CUT | Lasse Jensen | DNK | 1 | 72 | 72 | 73 | - | 217 |
| CUT | Michael Hoey | NIR | 1 | 74 | 72 | 71 | - | 217 |
| CUT | Miguel Angel Jimenez | ESP | 1 | 72 | 73 | 72 | - | 217 |
| CUT | Paul McGinley | IRL | 1 | 69 | 73 | 75 | - | 217 |
| CUT | Romain Wattel | FRA | 1 | 78 | 70 | 69 | - | 217 |
| CUT | Andrew Dodt | AUS | 2 | 74 | 73 | 71 | - | 218 |
| CUT | Austin Connelly | CAN | 2 | 80 | 69 | 69 | - | 218 |
| CUT | Chris Hanson | ENG | 2 | 79 | 68 | 71 | - | 218 |
| CUT | Jason Norris | AUS | 2 | 76 | 72 | 70 | - | 218 |
| CUT | Jin-Ho Choi | KOR | 2 | 69 | 74 | 75 | - | 218 |
| CUT | Kyle McClatchie | RSA | 2 | 76 | 70 | 72 | - | 218 |
| CUT | Sebastien Gros | FRA | 2 | 73 | 74 | 71 | - | 218 |
| CUT | Shane Lowry | IRL | 2 | 72 | 75 | 71 | - | 218 |
| CUT | Soo-Min Lee | KOR | 2 | 77 | 67 | 74 | - | 218 |
| CUT | Bradley Dredge | WAL | 3 | 79 | 73 | 67 | - | 219 |
| CUT | Gregory Bourdy | FRA | 3 | 73 | 72 | 74 | - | 219 |
| CUT | Haydn Porteous | RSA | 3 | 77 | 72 | 70 | - | 219 |
| CUT | Jaco Ahlers | RSA | 3 | 77 | 70 | 72 | - | 219 |
| CUT | Oliver Gillberg | SWE | 3 | 76 | 74 | 69 | - | 219 |
| CUT | Pedro Oriol | ESP | 3 | 76 | 72 | 71 | - | 219 |
| CUT | Richard Lee | CAN | 3 | 77 | 69 | 73 | - | 219 |
| CUT | Daniel Brooks | ENG | 4 | 79 | 72 | 69 | - | 220 |
| CUT | George Coetzee | RSA | 4 | 76 | 72 | 72 | - | 220 |
| CUT | Jens Dantorp | SWE | 4 | 78 | 73 | 69 | - | 220 |
| CUT | Louis De Jager | RSA | 4 | 74 | 74 | 72 | - | 220 |
| CUT | Simon Dyson | ENG | 4 | 76 | 71 | 73 | - | 220 |
| CUT | Thomas Aiken | RSA | 4 | 74 | 71 | 75 | - | 220 |
| CUT | Wade Ormsby | AUS | 4 | 75 | 68 | 77 | - | 220 |
| CUT | Gavin Green | MAS | 5 | 77 | 72 | 72 | - | 221 |
| CUT | Gregory Havret | FRA | 5 | 74 | 72 | 75 | - | 221 |
| CUT | Ockie Strydom | RSA | 5 | 73 | 76 | 72 | - | 221 |
| CUT | Richard Sterne | RSA | 5 | 74 | 75 | 72 | - | 221 |
| CUT | Ryan Evans | ENG | 5 | 78 | 69 | 74 | - | 221 |
| CUT | Daniel Im | USA | 6 | 75 | 78 | 69 | - | 222 |
| CUT | Dean Burmester | RSA | 6 | 80 | 73 | 69 | - | 222 |
| CUT | Jeung-Hun Wang | KOR | 6 | 77 | 74 | 71 | - | 222 |
| CUT | Jorge Campillo | ESP | 6 | 74 | 76 | 72 | - | 222 |
| CUT | Marc Warren | SCO | 6 | 75 | 72 | 75 | - | 222 |
| CUT | Nino Bertasio | ITA | 6 | 73 | 78 | 71 | - | 222 |
| CUT | Oliver Farr | WAL | 6 | 72 | 75 | 75 | - | 222 |
| CUT | Carlos Pigem | ESP | 7 | 78 | 69 | 76 | - | 223 |
| CUT | Erik Van Rooyen | RSA | 7 | 81 | 71 | 71 | - | 223 |
| CUT | Graeme McDowell | NIR | 7 | 77 | 72 | 74 | - | 223 |
| CUT | JC Ritchie | RSA | 7 | 76 | 72 | 75 | - | 223 |
| CUT | Jamie Donaldson | WAL | 7 | 76 | 67 | 80 | - | 223 |
| CUT | Ricardo Melo Gouveia | POR | 7 | 79 | 69 | 75 | - | 223 |
| CUT | Robert Karlsson | SWE | 7 | 74 | 74 | 75 | - | 223 |
| CUT | Adam Bland | AUS | 8 | 75 | 71 | 78 | - | 224 |
| CUT | Jean-Paul Strydom | RSA | 8 | 78 | 79 | 67 | - | 224 |
| CUT | Paul Dunne | IRL | 8 | 78 | 73 | 73 | - | 224 |
| CUT | Zac Blair | USA | 8 | 73 | 81 | 70 | - | 224 |
| CUT | Jaco Van Zyl | RSA | 9 | 81 | 72 | 72 | - | 225 |
| CUT | Raphael Jacquelin | FRA | 9 | 83 | 66 | 76 | - | 225 |
| CUT | Ajeetesh Sandhu | IND | 10 | 82 | 71 | 73 | - | 226 |
| CUT | David Howell | ENG | 10 | 77 | 75 | 74 | - | 226 |
| CUT | Matteo Manassero | ITA | 10 | 78 | 75 | 73 | - | 226 |
| CUT | Brett Rumford | AUS | 11 | 76 | 72 | 79 | - | 227 |
| CUT | David Horsey | ENG | 11 | 77 | 75 | 75 | - | 227 |
| CUT | Joakim Lagergren | SWE | 12 | 74 | 77 | 77 | - | 228 |
| CUT | Liam Johnston | SCO | 12 | 77 | 72 | 79 | - | 228 |
| CUT | Pelle Edberg | SWE | 13 | 84 | 75 | 70 | - | 229 |
| CUT | Ulrich van den Berg | RSA | 14 | 81 | 75 | 74 | - | 230 |
| CUT | Bradley Neil | SCO | 15 | 75 | 78 | 78 | - | 231 |
| | | | | |
| --- | --- | --- | --- | --- |
| Pos. | Player | Nat | To Par | Total |
| 1 | Lucas Bjerregaard | DNK | -15 | 273 |
| T2 | Tommy Fleetwood | ENG | -14 | 274 |
| T2 | Tyrrell Hatton | ENG | -14 | 274 |
| 4 | Tapio Pulkkanen | FIN | -12 | 276 |
| T5 | Andrea Pavan | ITA | -10 | 278 |
| T5 | Haotong Li | CHN | -10 | 278 |
| T7 | Brooks Koepka | USA | -9 | 279 |
| T7 | Lucas Herbert | AUS | -9 | 279 |
| T7 | Padraig Harrington | IRL | -9 | 279 |
| T7 | Tony Finau | USA | -9 | 279 |
| T11 | Andy Sullivan | ENG | -8 | 280 |
| T11 | Nacho Elvira | ESP | -8 | 280 |
| T11 | Marcus Fraser | AUS | -8 | 280 |
| T11 | Marcus Kinhult | SWE | -8 | 280 |
| T11 | Matthias Schwab | AUT | -8 | 280 |
| T11 | Nicolas Colsaerts | BEL | -8 | 280 |
| T11 | Peter Hanson | SWE | -8 | 280 |
| T11 | Stephen Gallacher | SCO | -8 | 280 |
| T11 | Tom Lewis | ENG | -8 | 280 |
| T20 | Brandon Stone | RSA | -7 | 281 |
| T20 | Lee Slattery | ENG | -7 | 281 |
| T20 | Matthieu Pavon | FRA | -7 | 281 |
| T20 | Robert Rock | ENG | -7 | 281 |
| T24 | Chris Paisley | ENG | -6 | 282 |
| T24 | Edoardo Molinari | ITA | -6 | 282 |
| T24 | Jason Scrivener | AUS | -6 | 282 |
| T24 | Ryan Fox | NZL | -6 | 282 |
| T28 | Clement Sordet | FRA | -5 | 283 |
| T28 | Deyen Lawson | AUS | -5 | 283 |
| T28 | Matt Kuchar | USA | -5 | 283 |
| T28 | Matt Wallace | ENG | -5 | 283 |
| T32 | Alexander Levy | FRA | -4 | 284 |
| T32 | Benjamin Hebert | FRA | -4 | 284 |
| T32 | Jordan Smith | ENG | -4 | 284 |
| T32 | Julien Guerrier | FRA | -4 | 284 |
| T32 | Louis Oosthuizen | RSA | -4 | 284 |
| T32 | Matthew Jordan | ENG | -4 | 284 |
| T32 | Mikko Ilonen | FIN | -4 | 284 |
| T32 | Oliver Fisher | ENG | -4 | 284 |
| T32 | Pep Angles | ESP | -4 | 284 |
| T32 | Renato Paratore | ITA | -4 | 284 |
| T32 | Ross Fisher | ENG | -4 | 284 |
| T32 | Thongchai Jaidee | THA | -4 | 284 |
| T44 | Adrien Saddier | SCO | -3 | 285 |
| T44 | Ashley Chesters | ENG | -3 | 285 |
| T44 | Eddie Pepperell | ENG | -3 | 285 |
| T44 | Trevor Immelman | RSA | -3 | 285 |
| T48 | Christiaan Bezuidenhout | RSA | -2 | 286 |
| T48 | Darren Fichardt | RSA | -2 | 286 |
| T48 | Ernie Els | RSA | -2 | 286 |
| T48 | Jake McLeod | AUS | -2 | 286 |
| T48 | Peter Karmis | RSA | -2 | 286 |
| T48 | Soren Kjeldsen | DEN | -2 | 286 |
| T48 | Thomas Detry | BEL | -2 | 286 |
| 55 | Branden Grace | RSA | -1 | 287 |
| T56 | James Morrison | ENG | Par | 288 |
| T56 | Oliver Bekker | RSA | Par | 288 |
| T56 | Pablo Larrazabal | ESP | Par | 288 |
| 59 | Alejandro Canizares | ESP | 1 | 289 |
| 60 | Thomas Pieters | BEL | 3 | 291 |
| CUT | Aaron Rai | ENG | -2 | 214 |
| CUT | Doug Ghim | USA | -2 | 214 |
| CUT | Justin Walters | RSA | -2 | 214 |
| CUT | Laurie Canter | ENG | -2 | 214 |
| CUT | Luke Donald | ENG | -2 | 214 |
| CUT | Paul Peterson | USA | -2 | 214 |
| CUT | Richard Bland | ENG | -2 | 214 |
| CUT | Richie Ramsay | SCO | -2 | 214 |
| CUT | Robin Dawson | IRL | -2 | 214 |
| CUT | Sam Brazel | AUS | -2 | 214 |
| CUT | Sam Horsfield | ENG | -2 | 214 |
| CUT | Scott Hend | AUS | -2 | 214 |
| CUT | Adrian Otaegui | ESP | -1 | 215 |
| CUT | Alexander Bjoerk | SWE | -1 | 215 |
| CUT | Chase Koepka | USA | -1 | 215 |
| CUT | Chris Wood | ENG | -1 | 215 |
| CUT | David Lipsky | USA | -1 | 215 |
| CUT | Fredrik Jacobson | SWE | -1 | 215 |
| CUT | Gonzalo Fernandez-Castano | ESP | -1 | 215 |
| CUT | Harry Ellis | ENG | -1 | 215 |
| CUT | James Marchesani | AUS | -1 | 215 |
| CUT | Jordan Zunic | AUS | -1 | 215 |
| CUT | Kim Koivu | FIN | -1 | 215 |
| CUT | Martin Kaymer | GER | -1 | 215 |
| CUT | Matthew Southgate | ENG | -1 | 215 |
| CUT | Norman Xiong | USA | -1 | 215 |
| CUT | Richard McEvoy | ENG | -1 | 215 |
| CUT | Scott Fernandez | ESP | -1 | 215 |
| CUT | Steven Brown | ENG | -1 | 215 |
| CUT | Zander Lombard | RSA | -1 | 215 |
| CUT | Alvaro Quiros | ESP | Par | 216 |
| CUT | Jacques Kruyswijk | RSA | Par | 216 |
| CUT | Ken Duke | USA | Par | 216 |
| CUT | Marcel Siem | GER | Par | 216 |
| CUT | Matthew Fitzpatrick | ENG | Par | 216 |
| CUT | Maximilian Kieffer | GER | Par | 216 |
| CUT | Michael Lorenzo-Vera | FRA | Par | 216 |
| CUT | Phachara Khongwatmai | THA | Par | 216 |
| CUT | Sam Locke | SCO | Par | 216 |
| CUT | Scott Jamieson | SCO | Par | 216 |
| CUT | Callum Shinkwin | ENG | 1 | 217 |
| CUT | Connor Syme | SCO | 1 | 217 |
| CUT | David Drysdale | SCO | 1 | 217 |
| CUT | Hideto Tanihara | JPN | 1 | 217 |
| CUT | Jonathan Thomson | ENG | 1 | 217 |
| CUT | Lasse Jensen | DNK | 1 | 217 |
| CUT | Michael Hoey | NIR | 1 | 217 |
| CUT | Miguel Angel Jimenez | ESP | 1 | 217 |
| CUT | Paul McGinley | IRL | 1 | 217 |
| CUT | Romain Wattel | FRA | 1 | 217 |
| CUT | Andrew Dodt | AUS | 2 | 218 |
| CUT | Austin Connelly | CAN | 2 | 218 |
| CUT | Chris Hanson | ENG | 2 | 218 |
| CUT | Jason Norris | AUS | 2 | 218 |
| CUT | Jin-Ho Choi | KOR | 2 | 218 |
| CUT | Kyle McClatchie | RSA | 2 | 218 |
| CUT | Sebastien Gros | FRA | 2 | 218 |
| CUT | Shane Lowry | IRL | 2 | 218 |
| CUT | Soo-Min Lee | KOR | 2 | 218 |
| CUT | Bradley Dredge | WAL | 3 | 219 |
| CUT | Gregory Bourdy | FRA | 3 | 219 |
| CUT | Haydn Porteous | RSA | 3 | 219 |
| CUT | Jaco Ahlers | RSA | 3 | 219 |
| CUT | Oliver Gillberg | SWE | 3 | 219 |
| CUT | Pedro Oriol | ESP | 3 | 219 |
| CUT | Richard Lee | CAN | 3 | 219 |
| CUT | Daniel Brooks | ENG | 4 | 220 |
| CUT | George Coetzee | RSA | 4 | 220 |
| CUT | Jens Dantorp | SWE | 4 | 220 |
| CUT | Louis De Jager | RSA | 4 | 220 |
| CUT | Simon Dyson | ENG | 4 | 220 |
| CUT | Thomas Aiken | RSA | 4 | 220 |
| CUT | Wade Ormsby | AUS | 4 | 220 |
| CUT | Gavin Green | MAS | 5 | 221 |
| CUT | Gregory Havret | FRA | 5 | 221 |
| CUT | Ockie Strydom | RSA | 5 | 221 |
| CUT | Richard Sterne | RSA | 5 | 221 |
| CUT | Ryan Evans | ENG | 5 | 221 |
| CUT | Daniel Im | USA | 6 | 222 |
| CUT | Dean Burmester | RSA | 6 | 222 |
| CUT | Jeung-Hun Wang | KOR | 6 | 222 |
| CUT | Jorge Campillo | ESP | 6 | 222 |
| CUT | Marc Warren | SCO | 6 | 222 |
| CUT | Nino Bertasio | ITA | 6 | 222 |
| CUT | Oliver Farr | WAL | 6 | 222 |
| CUT | Carlos Pigem | ESP | 7 | 223 |
| CUT | Erik Van Rooyen | RSA | 7 | 223 |
| CUT | Graeme McDowell | NIR | 7 | 223 |
| CUT | JC Ritchie | RSA | 7 | 223 |
| CUT | Jamie Donaldson | WAL | 7 | 223 |
| CUT | Ricardo Melo Gouveia | POR | 7 | 223 |
| CUT | Robert Karlsson | SWE | 7 | 223 |
| CUT | Adam Bland | AUS | 8 | 224 |
| CUT | Jean-Paul Strydom | RSA | 8 | 224 |
| CUT | Paul Dunne | IRL | 8 | 224 |
| CUT | Zac Blair | USA | 8 | 224 |
| CUT | Jaco Van Zyl | RSA | 9 | 225 |
| CUT | Raphael Jacquelin | FRA | 9 | 225 |
| CUT | Ajeetesh Sandhu | IND | 10 | 226 |
| CUT | David Howell | ENG | 10 | 226 |
| CUT | Matteo Manassero | ITA | 10 | 226 |
| CUT | Brett Rumford | AUS | 11 | 227 |
| CUT | David Horsey | ENG | 11 | 227 |
| CUT | Joakim Lagergren | SWE | 12 | 228 |
| CUT | Liam Johnston | SCO | 12 | 228 |
| CUT | Pelle Edberg | SWE | 13 | 229 |
| CUT | Ulrich van den Berg | RSA | 14 | 230 |
| CUT | Bradley Neil | SCO | 15 | 231 |
European Tour
Italian Open 2018
Gardagolf
$
May 31 - June 03
Gardagolf Country Club, Brescia Italy
$7,000,000
Round 1
Title
Round 2
Round 3
Round 4
Round 2
Round 3
Round 4
, 2018
Paragraph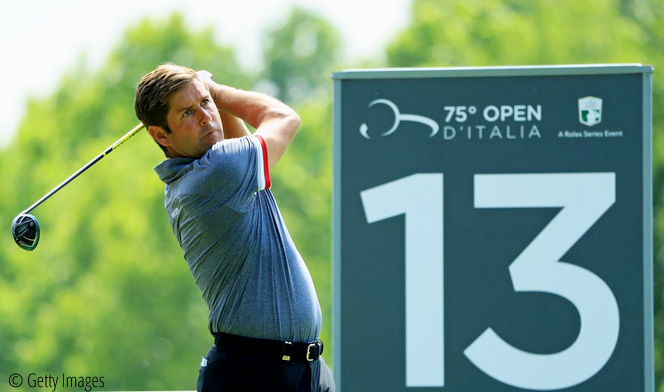 - Getty Images

Paragraph

Paragraph

paragraph
| | | | | |
| --- | --- | --- | --- | --- |
| Pos. | Player | Nat | To Par | R1 |
| | | | | |
| --- | --- | --- | --- | --- |
| Pos. | Player | Nat | To Par | R1 |