August 13-16
The Renaissance Club, North Berwick, Scotland
$1,500,000
Round 2, Round 3, Round 4
---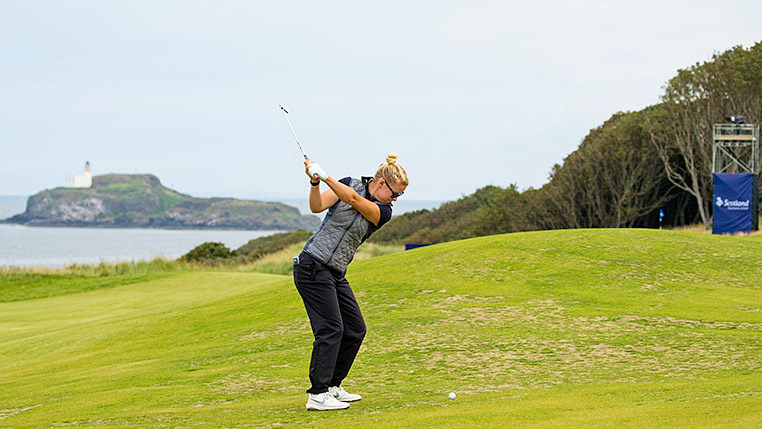 ---

Denmark's Nicole Larsen holds the clubhouse lead after a weather-affected opening day of the ASI Ladies Scottish Open.



Larsen carded a four-under-par 67 at the Renaissance Club to lead by one shot from compatriot Emily Pedersen, Germany's Olivia Cowen, Spain's Azahara Munoz and the American duo of Jennifer Song and Amy Olson.
A two-hour fog delay meant 30 players were unable to complete their rounds on schedule and the first round is set to resume at 8am on Friday.


---

Larsen, who recorded six birdies and two bogeys, said: "I had 26 putts so that helps a lot. I didn't hit it super close but I made a couple of long ones and I just tried to keep it in play.
"I worked a lot on my putting and short game (during lockdown) and actually playing my home course from the white tees. It's not long but kind of the same distance as out here, maybe a little bit longer.



"It forces me to make a lot of up and downs if my long game is not on point, which it wasn't out there today. So I definitely have improved my short game over this period and it kind of paid off today."
Munoz made the ideal start by holing her second shot to the opening hole from 148 yards for an eagle, the Solheim Cup player having been disqualified from her last event for failing to sign her scorecard.
Scotland's Gemma Dryburgh, who won two events on the recent Rose Ladies Series, leads the home challenge after an opening 69 which included six birdies, a double bogey on the 11th and two bogeys.
---

Dryburgh was due to hit the opening tee shot at 6.30am but was made to wait for two hours due to fog.
"It was quite tough actually because it just kept being half an hour (delay) and we were probably eight minutes away from walking to the tee when it first got delayed," Dryburgh said.
"It was a bit strange because every half an hour you had to be kind of ready to go again, but in the end it was good and we had a calm front nine and made the most of it before the wind picked up."
---
| | | | |
| --- | --- | --- | --- |
| Pos. | Player | To Par | R1 |
| 1 | Nicole Broch Larsen | -4 | 67 |
| T2 | Azahara Munoz | -3 | 68 |
| T2 | Amy Olson | -3 | 68 |
| T2 | Jennifer Song | -3 | 68 |
| T2 | Olivia Cowan | -3 | 68 |
| T2 | Emily Kristine Pedersen | -3 | 68 |
| T7 | Klara Spilkova | -2 | 69 |
| T7 | Andrea Lee | -2 | 69 |
| T7 | Nanna Koerstz Madsen | -2 | 69 |
| T7 | Gemma Dryburgh | -2 | 69 |
| T7 | Sandra Gal | -2 | 69 |
| T7 | Anne van Dam | -2 | 69 |
| T13 | Minjee Lee | -1 | 70 |
| T13 | Christine Wolf | -1 | 70 |
| T13 | Gerina Piller | -1 | 70 |
| T13 | Anna Nordqvist | -1 | 70 |
| T13 | Amy Yang | -1 | 70 |
| T13 | Brittany Altomare | -1 | 70 |
| T13 | Lee-Anne Pace | -1 | 70 |
| T13 | Johanna Gustavsson | -1 | 70 |
| T13 | Lindsey Weaver | -1 | 70 |
| T22 | Tvesa Malik | E | 71 |
| T22 | Yealimi Noh | E | 71 |
| T22 | Charlotte Thomas | E | 71 |
| T22 | Kristen Gillman | E | 71 |
| T22 | Austin Ernst | E | 71 |
| T22 | Megan Khang | E | 71 |
| T22 | Lydia Ko | E | 71 |
| T22 | Celine Boutier | E | 71 |
| T22 | Danielle Kang | E | 71 |
| T22 | In Gee Chun | E | 71 |
| T22 | Kylie Henry | E | 71 |
| T22 | Caroline Inglis | E | 71 |
| T22 | Yu Liu | E | 71 |
| T35 | Hannah Burke | 1 | 72 |
| T35 | Alena Sharp | 1 | 72 |
| T35 | Cydney Clanton | 1 | 72 |
| T35 | Katherine Kirk | 1 | 72 |
| T35 | Haru Nomura | 1 | 72 |
| T35 | Cheyenne Knight | 1 | 72 |
| T35 | Xiyu Lin | 1 | 72 |
| T35 | Pernilla Lindberg | 1 | 72 |
| T35 | Lizette Salas | 1 | 72 |
| T35 | Dani Holmqvist | 1 | 72 |
| T35 | Yujeong Son | 1 | 72 |
| T35 | Hannah Green | 1 | 72 |
| T35 | Muni He | 1 | 72 |
| T48 | Brittany Lang | 2 | 73 |
| T48 | Angela Stanford | 2 | 73 |
| T48 | Emma Talley | 2 | 73 |
| T48 | Manon De Roey | 2 | 73 |
| T48 | Kelly Tan | 2 | 73 |
| T48 | Jennifer Chang (a) | 2 | 73 |
| T48 | Stacy Lewis | 2 | 73 |
| T48 | Leona Maguire | 2 | 73 |
| T48 | Georgia Hall | 2 | 73 |
| T48 | Nasa Hataoka | 2 | 73 |
| T48 | Felicity Johnson | 2 | 73 |
| T48 | Meghan Maclaren | 2 | 73 |
| T48 | Aditi Ashok | 2 | 73 |
| T48 | Christina Kim | 2 | 73 |
| T48 | Su Oh | 2 | 73 |
| T48 | Linnea Strom | 2 | 73 |
| T48 | Jasmine Suwannapura | 2 | 73 |
| T65 | Liz Young | 3 | 74 |
| T65 | Julia Engstrom | 3 | 74 |
| T65 | Amy Boulden | 3 | 74 |
| T65 | Catriona Matthew | 3 | 74 |
| T65 | Mi Hyang Lee | 3 | 74 |
| T65 | Alice Hewson | 3 | 74 |
| T65 | Noora Komulainen | 3 | 74 |
| T65 | Camilla Lennarth | 3 | 74 |
| T65 | Luna Sobron Galmes | 3 | 74 |
| T65 | Jennifer Kupcho | 3 | 74 |
| T65 | Laura Fuenfstueck (a) | 3 | 74 |
| T65 | Moriya Jutanugarn | 3 | 74 |
| T65 | Ariya Jutanugarn | 3 | 74 |
| T65 | Becky Morgan | 3 | 74 |
| T65 | Yui Kawamoto | 3 | 74 |
| T65 | Noemi Jimenez Martin | 3 | 74 |
| T65 | Haley Moore | 3 | 74 |
| T65 | Sanna Nuutinen | 3 | 74 |
| T65 | Ashleigh Buhai | 3 | 74 |
| T65 | Ursula Wikstrom | 3 | 74 |
| T65 | Charley Hull | 3 | 74 |
| T65 | Eleanor Givens | 3 | 74 |
| T87 | Julieta Granada | 4 | 75 |
| T87 | Katja Pogacar | 4 | 75 |
| T87 | Gabriella Cowley (a) | 4 | 75 |
| T87 | Jodi Ewart Shadoff | 4 | 75 |
| T87 | Nuria Iturrioz | 4 | 75 |
| T87 | Kelsey Macdonald | 4 | 75 |
| T87 | In Kyung Kim | 4 | 75 |
| T87 | Whitney Hillier | 4 | 75 |
| T87 | Charlotte Thompson | 4 | 75 |
| T87 | Jing Yan | 4 | 75 |
| T97 | Tonje Daffinrud | 5 | 76 |
| T97 | Sarah Kemp | 5 | 76 |
| T97 | Caroline Hedwall | 5 | 76 |
| T97 | Morgan Pressel | 5 | 76 |
| T97 | Esther Henseleit | 5 | 76 |
| T97 | Madelene Sagstrom | 5 | 76 |
| T97 | Jenny Haglund | 5 | 76 |
| T97 | Alison Lee | 5 | 76 |
| T97 | Linnea Johansson | 5 | 76 |
| T97 | Linda Wessberg | 5 | 76 |
| T97 | Magdalena Simmermacher (a) | 5 | 76 |
| T97 | Beth Allen | 5 | 76 |
| T97 | Annie Park | 5 | 76 |
| T110 | Stacy Bregman | 6 | 77 |
| T110 | Maria Fernanda Torres | 6 | 77 |
| T110 | Carmen Alonso | 6 | 77 |
| T110 | Jenny Coleman | 6 | 77 |
| T110 | Lindy Duncan | 6 | 77 |
| T110 | Celine Herbin | 6 | 77 |
| T110 | Kendall Dye | 6 | 77 |
| T110 | Maria Hernandez | 6 | 77 |
| T110 | Dana Finkelstein | 6 | 77 |
| T110 | Sarah Jane Smith | 6 | 77 |
| T120 | Annabel Dimmock | 7 | 78 |
| T120 | Diksha Dagar | 7 | 78 |
| T120 | Stephanie Kyriacou | 7 | 78 |
| T120 | Laura Davies | 7 | 78 |
| T120 | Michele Thomson | 7 | 78 |
| T120 | Trish Johnson | 7 | 78 |
| T126 | Albane Valenzuela | 8 | 79 |
| T126 | Camille Chevalier | 8 | 79 |
| T126 | Maia Schechter | 8 | 79 |
| T126 | Kim Metraux | 8 | 79 |
| T126 | Lina Boqvist | 8 | 79 |
| T126 | Youngin Chun | 8 | 79 |
| T126 | Hinako Shibuno | 8 | 79 |
| T126 | Bronte Law | 8 | 79 |
| T134 | Lydia Hall | 9 | 80 |
| T134 | Marianne Skarpnord | 9 | 80 |
| T134 | Elizabeth Szokol | 9 | 80 |
| T134 | Georgia Iziemgbe Oboh | 9 | 80 |
| T138 | Alison Muirhead | 10 | 81 |
| T138 | Karolin Lampert | 10 | 81 |
| T140 | Carly Booth | 11 | 82 |
| T140 | Suzuka Yamaguchi | 11 | 82 |
| T140 | Emma Nilsson | 11 | 82 |
| T140 | Silvia Banon | 11 | 82 |
| 144 | Louise Ridderstrom | 13 | 84 |