News
Beef crowned the Hero in Canary Wharf spectacle
October 09, 2018

Andrew 'Beef' Johnston emerged victorious at the Hero Challenge in the spectacular setting of London's Canary Wharf as the Sky Sports British Masters week got off to a flying start.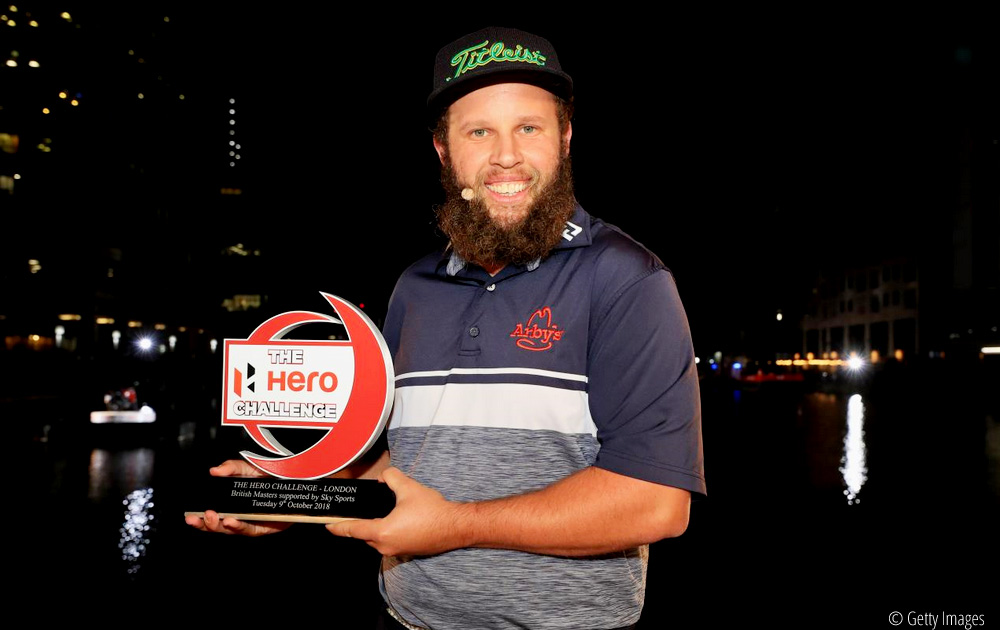 - Getty Images

Sell-out crowds gathered in one of the English capital's most famous business centres to watch the exciting one-hole shootout, as six European Tour stars, including the World Number Two and British Masters host Justin Rose, battled it out – striking quickfire shots to a purpose-built pontoon green in the water.

Under the towering skyline, the World Number Two Rose was joined by his fellow Ryder Cup winner Thorbjørn Olesen, the victorious European Captain Thomas Bjørn as well as the defending British Masters Champion Paul Dunne and English stars Johnston and Matt Wallace.

Rose's night got off to an almost perfect start as the Olympic Champion was inches from holing out with his very first shot, to the delight of the crowds, before hitting the green with his following two shots to top Group One, with fellow compatriots Johnston and Wallace second and third respectively.

In Group Two, Dunne led the way while Olesen finished second to progress to the semi-finals, as Bjørn made an early exit.

Rose and Olesen bowed out in the semi-final and it came down to Irishman Dunne and Johnston, as the engaging contest concluded with a closely-fought finale. With his penultimate shot, Johnston notched up 20 points to claim the title on his second attempt – having taken part in the Hero Challenge in Scotland last July.

"It was great," said Johnston. "To do it in front of the home fans is always good. I always get great support wherever I go but London is special because it's my home.

"When I looked at it and saw it from the side I thought, 'they told us it was 100 yards, I don't know if I've got the right wedge for this'. When we started warming up and hitting a few it felt like quite a nice comfortable distance even though it was difficult to land it on there. It's a small target, anything left was rolling off and anything a bit long bounced straight over so I had to be patient.

"I'm looking forward to getting out now and seeing the course tomorrow in the pro-am and getting some good practice done."

Johnston was presented his trophy by Pawan Munjal, the Chairman, Managing Director and Chief Executive Officer of Hero MotoCorp Ltd - the world's largest manufacturer of motorcycles and scooters.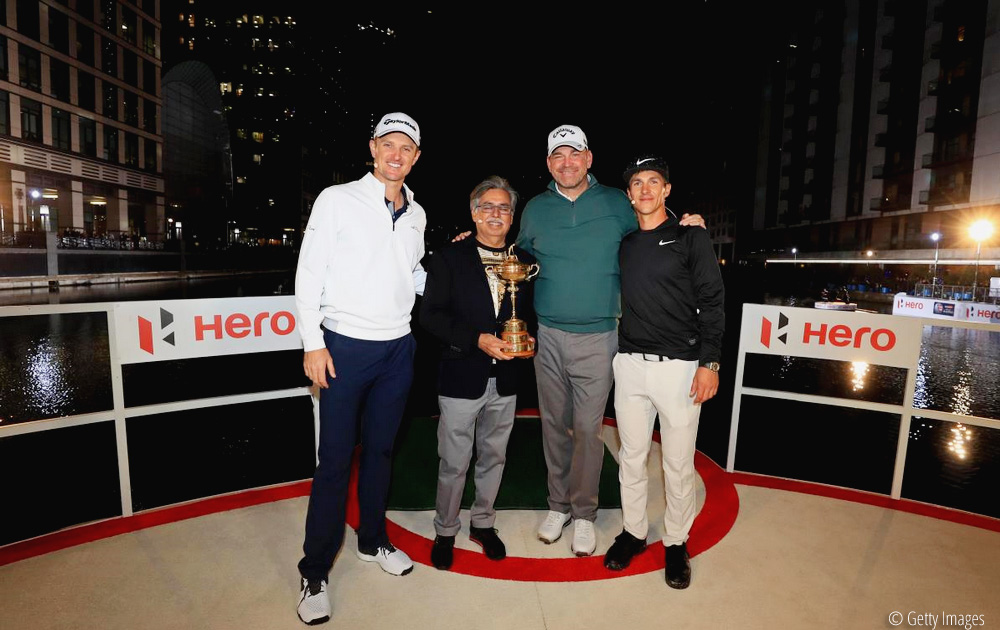 - Getty Images

"It was a great way to kick off the week," said Rose. "It was high energy and to see so many people come out and support it, there was a little bit of a Ryder Cup aftermath feel out there, with Olé, Olé, Olés and people just having a good time.

"Obviously I appreciate the guys turning out and it was a tough challenge, it really was a Hero Challenge! You had to hit a great shot to keep it on the green. But just to be in the bright lights of London, iconic buildings all around us, and to be at Canary Wharf was a great way to start the week."

This was the third successive season in which the British Masters will be preceded by the Hero Challenge, the innovative event having made its debut in 2016 at The Grove, won by Alex Levy, before 2017 tournament host Lee Westwood emerged victorious at Close House last year.

In those two years, the exciting shootout event has gone from strength to strength, with three thrilling editions last year at the British Masters, Aberdeen Standard Investments Scottish Open and DP World Tour Championship, Dubai.

In July, American Matt Kuchar claimed the first Hero Challenge title of 2018 in advance of the Aberdeen Standard Investment Scottish Open.

With the support of Hero MotoCorp Ltd – the world's largest manufacturer of motorcycles and scooters – a further three editions were played in 2017, at the Aberdeen Standard Investments Scottish Open, the British Masters and the DP World Tour Championship, Dubai, won by American Patrick Reed, Englishman Lee Westwood and China's Haotong Li respectively.