June 21-23
Trevose Golf & Country Club, Padstow, England
€200,000
Round 2
Sweden's Jarmo Sandelin fired an opening round of 66, six under par, to take a one stroke lead after the first round of the inaugural Farmfoods European Legends Links Championship hosted by Ian Woosnam.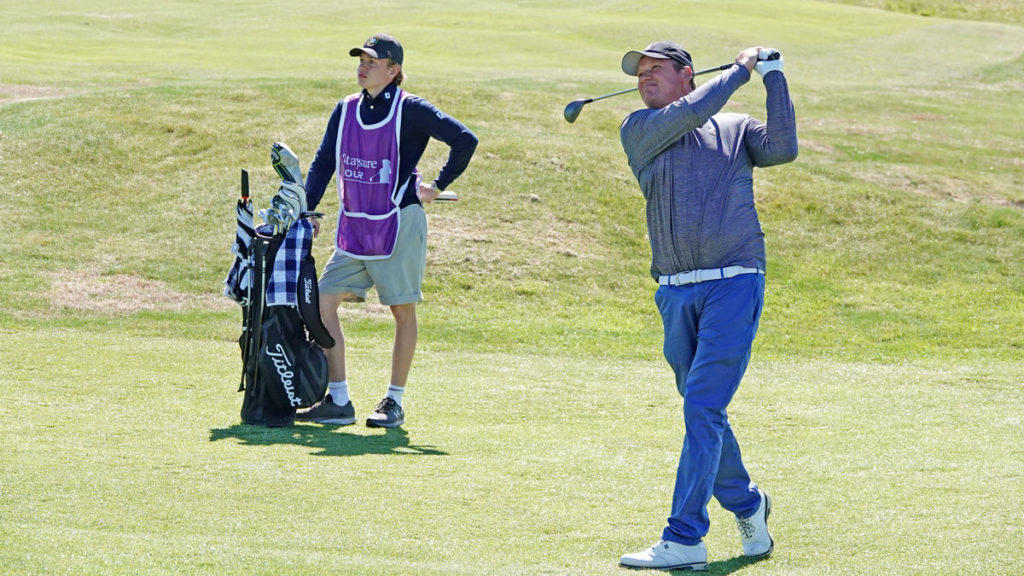 The former Ryder Cup player, who is still searching for his maiden title on the Staysure Tour, carded an eagle and three birdies in his final six holes to surge into the lead on a sun kissed day at Trevose Golf & Country Club.
The 52-year-old got off to a quick start with a birdie on the tenth hole – his first – and despite dropping a shot on his third hole bounced straight back into contention with a birdie at the par four 15th.
It was on his back nine where the round really ignited, sparked by an eagle three on the 486 yard par five fifth, where he hit his second shot to within 15-feet, which he quickly followed with two consecutive birdies.
''You train so hard, so many hours, and you're looking forward to having a good start,'' he said. ''I've been hitting good shots for a long time and finally, I managed to make a few putts today. That is the big difference."
Sandelin, who won five times on the European Tour, came into the tournament nursing a hand injury but showed no sign of discomfort as he charged up the leaderboard on day one.
''I took a couple of weeks off to rest after the tournament in Italy,'' he continued. ''Maybe that's the key to playing well, take a good rest and go out and enjoy yourself. ''
The Swede will take a one shot lead into the second round ahead of Staysure Tour rookie Stuart Little, South Africa's Chris Williams and 2019 Senior Italian Open winner Barry Lane.
Should the Swede win this week, he would become the 12th player in history to win on the European Tour, European Challenge Tour and Staysure Tour, replicating the feat achieved by Peter Baker at the Senior Open Hauts de France by Jean van de Velde earlier this month.
Baker, who is looking to become the first player since Peter Fowler in 2015 to win back-to-back Staysure Tour titles, is among five players who sit at four under par.
Tournament host Ian Woosnam carded an eagle on the 389 yard par four 6th hole on his way to an opening one under par 71.
The second round gets under way at 09:15am local time tomorrow morning, with Sandelin continuing his title challenge at 09:48.
---
| | | | |
| --- | --- | --- | --- |
| Pos. | Player | To Par | R1 |
| 1 | SANDELIN, Jarmo | -6 | 66 |
| 2 | LANE, Barry | -5 | 67 |
| | WILLIAMS, Chris | -5 | 67 |
| | LITTLE, Stuart | -5 | 67 |
| 5 | REMESY, Jean-François | -4 | 68 |
| | BAKER, Peter | -4 | 68 |
| | OLDCORN, Andrew | -4 | 68 |
| | TINNING, Steen | -4 | 68 |
| | WILSON, Peter T | -4 | 68 |
| 10 | REYNARD, Mike | -3 | 69 |
| | THELEN, Tim | -3 | 69 |
| | O'MALLEY, Peter | -3 | 69 |
| | SUNESON, Carl | -3 | 69 |
| | MONASTERIO, Cesar | -3 | 69 |
| 15 | SMYTH, Des | -2 | 70 |
| | GOLDING, Philip | -2 | 70 |
| | LUNA, Santiago | -2 | 70 |
| | MOLINA, Mauricio | -2 | 70 |
| 19 | CHAPMAN, Roger | -1 | 71 |
| | WOOSNAM, Ian | -1 | 71 |
| | MCNULTY, Mark | -1 | 71 |
| | SHACKLADY, David | -1 | 71 |
| | CARRILES, José Manuel | -1 | 71 |
| | EVANS, Gary | -1 | 71 |
| | COCERES, José | -1 | 71 |
| 26 | STREETER, Paul | Par | 72 |
| | LONGMUIR, Bill | Par | 72 |
| | WIRATCHANT, Thaworn | Par | 72 |
| | MARKS, Gary | Par | 72 |
| | WOLSTENHOLME, Gary | Par | 72 |
| | EMERSON, Gary | Par | 72 |
| 32 | MCLEAN, Mike | 1 | 73 |
| | LOMAS, Jonathan | 1 | 73 |
| | MARTIN, Miguel Angel | 1 | 73 |
| | EALES, Paul | 1 | 73 |
| | SHERBORNE, Andrew | 1 | 73 |
| | MACKENZIE, Malcolm | 1 | 73 |
| 38 | VAN DE VELDE, Jean | 2 | 74 |
| | BRAND JNR, Gordon | 2 | 74 |
| | GOMEZ, Rafael | 2 | 74 |
| | WALTON, Philip | 2 | 74 |
| 42 | BRIER, Markus | 3 | 75 |
| | GILFORD, David | 3 | 75 |
| | MCGOVERN, Brendan | 3 | 75 |
| 45 | DRUMMOND, Ross | 4 | 76 |
| | BROWN, Simon P | 4 | 76 |
| | RYALL, George | 4 | 76 |
| | TURNER, Greg | 4 | 76 |
| 49 | QUIROS, Juan | 6 | 78 |
| | MOULAND, Mark | 6 | 78 |
| 51 | ROBINSON, Jeremy | 7 | 79 |
| | RICHARDSON, Steven | 7 | 79 |
| DISQ | MASON, Carl | 2 | - |
| DISQ | LAWRIE, Paul | -1 | - |