The European Tour today announced Dr. Haruhisa Handa as Honorary Ambassador of the "Golfers with Disability Programme" launched earlier this week at the Betfred British Masters at Hillside Golf Club.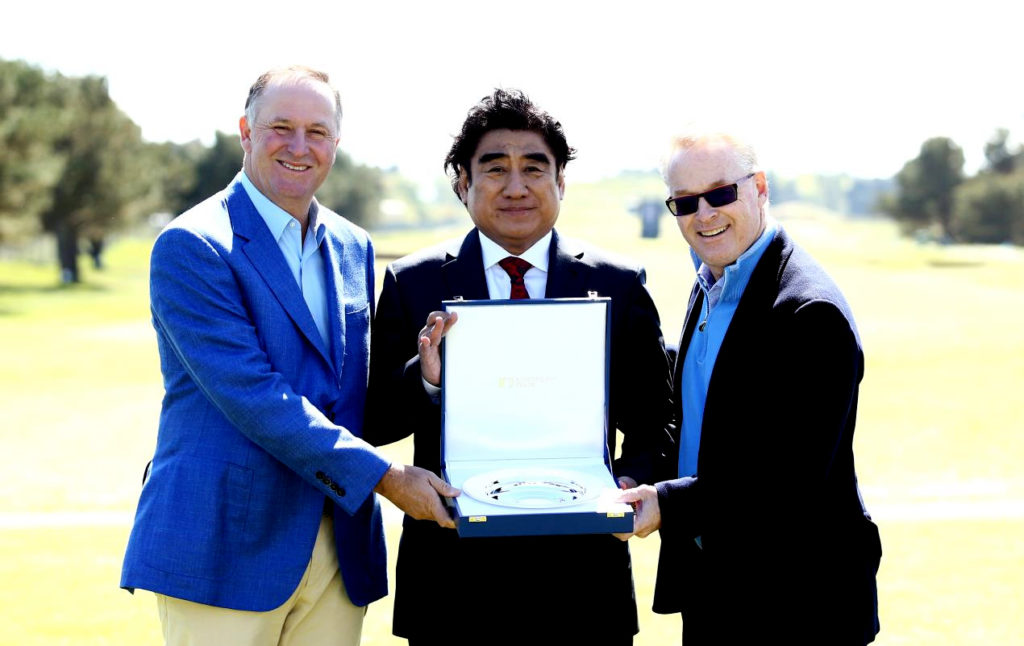 ---
Dr Handa, Chairman of International Sports Promotion Society (ISPS) HANDA, was presented with a silver salver in recognition of his philanthropic contribution to the sport by European Tour Chief Executive Keith Pelley in Southport, as the European Tour continues its drive for inclusivity in golf.
The European Tour and ISPS HANDA have collaborated in raising the profile of disabled golfers worldwide through Dr Handa's association with global golf events, including the ISPS HANDA World Super 6 Perth and ISPS HANDA Melbourne World Cup of Golf, and both share the wider desire for golf to become a Paralympic sport.
The newly created 36-hole EDGA Scottish Open and 36-hole EDGA Dubai Finale, played on the weekends of the Aberdeen Standard Investments Scottish Open at The Renaissance Club and the DP World Tour Championship, Dubai at Jumeirah Golf Estates, will help elevate the status of the "Golfers with Disability" programme, whilst enjoying the advocacy of Dr Handa, a global pioneer in the disability space.
Dr Handa, Chairman of ISPS Handa, said: "I am very honoured to become an Honorary Ambassador for the European Tour's golfer's with disability programme.
"I have been advocating golf for disabled people for more than 30 years, so on behalf of all the committees and people I've worked with, I am very happy to receive this.
"It doesn't matter whether you are young or old, professional or amateur, blind or disabled, you can enjoy playing golf. That is the attractiveness of the game. People can enjoy it equally."
Keith Pelley, Chief Executive of the European Tour, said: "We are delighted to have Dr Handa as Honorary Ambassador for our Golfers with Disability Programme. The knowledge and expertise Dr Handa possesses, along with ISPS in the disability sector, is an incredible asset for us at the European Tour and I look forward to his guidance over the coming months ahead of our first event.
"Earlier this week I mentioned that as golf's global Tour, our core values are innovation and inclusivity, and the two tournaments we announced fit perfectly into both of those genres. Bringing Dr Handa on board as an Honorary Ambassador, a person with a wealth of knowledge in this space and someone who has collaborated with men's and women's golf for a number of years, will only enhance our programme moving forward."
John Key, former New Zealand Prime Minister and an ambassador for ISPS, said: "Dr Handa wants to give things to people rather than receive them, so in a way he is a reluctant recipient, but it's also important to take time to say thank you and acknowledge what he is doing. He has been a global trailblazer. He is the one who has really believed in blind and disabled golf and he has had the real desire and passion to make a difference."
In conjunction with the European Disabled Golf Association (EDGA), ten male golfers taken from the World Rankings for Golfers with Disability (WR4GD) will have the opportunity at the EDGA Scottish Open from July 13-14 to tackle the same course set up as the European Tour professionals while the EDGA Dubai Finale will be of a similar model except the tournament will be played on Friday and Saturday (November 22-23), with eight players eligible for that event.
Scoring for both tournaments will feature on the European Tour's website and App for fans to follow, while television coverage of both contests will form part of the world feed broadcast, and the winner in Scotland will also take part in the main prizegiving ceremony on Sunday afternoon.