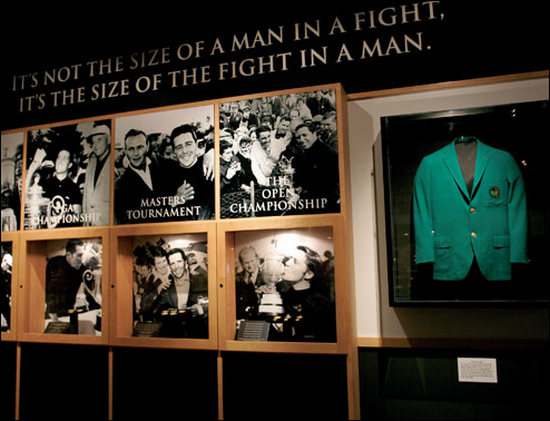 Over the years a handful of elite players have come ever so close to slipping on the green jacket—emblematic of a Masters triumph at Augusta National Golf Club. Although the players below have tasted the fruits of victory in different majors — a win at The Masters would only have ratcheted up even further their considerable reputations. Each in different ways, and, at inopportune moments, has seen the green jacket removed potentially from their shoulders and placed on someone else.
Clearly, this is one club Rory McIlroy wishes to avoid joining as he seeks to complete the career Grand Slam.
Who are the top five (5) players to have competed in The Masters without ever winning?
Read on.
#5 Lee Trevino
Acclaimed as one of golf's consumate shotmakers it is mindboggling a talent such as Lee Trevino would never even remotely factor into competing for a Masters win. One of only four men to have won the US Open, British Open and PGA two times each—Trevino approached his play at Augusta with the feeling of an unwanted guest—often saying the course did not fit his game.

---
The six-time major winner even opted to decline invitations in 1970, '71 and '74 during his peak times on Tour. His best finishes were no better than 10th—in 1975 and '85.
Years later Trevino admitted his approach was self-created and not tied to anything the club had done. A win at Augusta for The Merry Mex would have meant a career Grand Slam—rare air among golf's greatest titans joining the likes of Gene Sarazen, Gary Player, Ben Hogan, Jack Nicklaus and Tiger Woods.
#4 Johnny Miller
Before his days as lead television analyst for NBC-Sports, Miller was more than capable on the playing side of the aisle. His final round 63 in winning the 1973 US Open at Oakmont is still rightly celebrated as the finest ending 18-hole round in major championship play. Miller also won the 1976 Open Championship at Royal Birkdale along with a total of 25 PGA tour wins. For a time during the early 1970s he was seen as the best player in the world and, for a time, was the best player in the world — even during the high times of Jack Nicklaus.

Miller's first brush with possible Masters glory came in 1971—but costly mistakes down the stretch prompted a tie for 2nd place. Four years later in 1975—Miller along with Tom Weiskopf—pushed Nicklaus for all he could handle. The end result—Miller again finishing 2nd with Weiskopf—both men missing birdie putts at the 72nd hole to tie giving the Golden Bear a then record 5th win. Six years later Miller again contended but the title was never really in doubt as Tom Watson garnered his 2nd green jacket in 1981.
#3 Ernie Els
"The Big Easy" is one of only five players in the history of golf who have won the US Open and Open Championships at least twice and the South African has come extremely close to joining the even more exclusive club of those having won a career Grand Slam. Els lost in a 1995 playoff for the PGA Championship at Riviera to Steve Elkington along with Colin Montgomerie but it is his pursuit of the green jacket which has been the most vexing.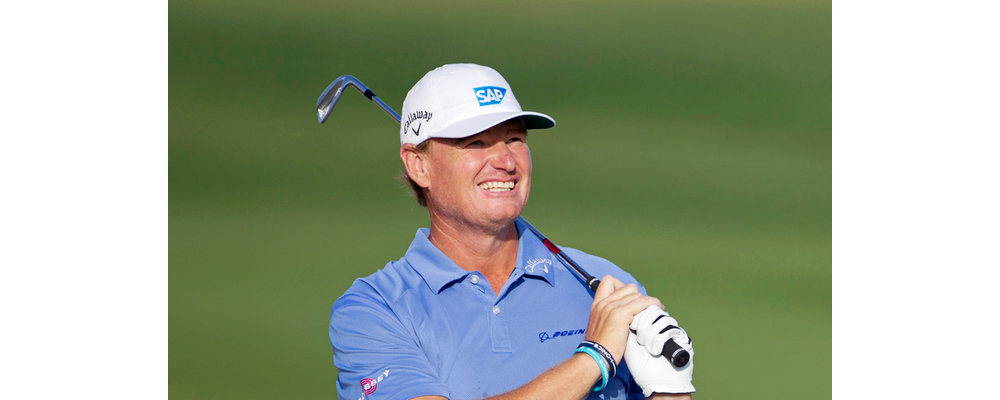 © Matthew Harris / TGPL
---
Els made a spirited effort in 2004 only to have Phil Mickelson win his first major by sinking a 18-foot birdie putt at the 72nd hole. Interestingly, Els first beat Phil during the finals of the World Junior event (13-14 category) in Lefty's backyard in San Diego at Torrey Pines.
Els also finished 2nd in 2000 at Augusta to Vijay Singh by three shots. Unfortunately, Ernie's prime playing years happened during the heyday of Tiger Woods and while he still has shown flashes of past stellar play—winning The Open in 2012—the odds appear long he will ever wear the green jacket.
#2 Tom Weiskopf
Those who had the good fortune in watching Tom Weiskopf swing the golf club were amazed he didn't win even more than he did. No question 16 PGA Tour wins—along with his lone major triumph in 1973 at The Open at Royal Troon—is not a bad career but the promise of might have been is a tagline Weiskopf will forever have etched on his standing in the game.

---
Growing up alongside Jack Nicklaus in Ohio was a shadow of immense proportion that, fairly or unfairly, was something Weiskopf could not escape. In the late 1960's and throughout the 1970's Weiskopf consistently competed for the game's grand prizes and none was more sought after than a Masters green jacket. Between 1969 and 1975 Weiskopf had four second place finishes—the final most painful one coming in 1975 when both he and Johnny Miller could not fend off the final round magic Nicklaus always seemed to provide. People will long remember the sweeping putt that Jack made at the 16th hole during the final round. Weiskopf upon seeing that putt and being in the final group that day promptly three-putted the same green and relinquished a late lead he so marvelously maintained but could never ultimatelty sustain.
Weiskopf did get a bit of payback to Nicklaus in beating him for the 1995 US Senior title at Congressional but no Masters victories have left many of his fans wondering what might have been.
#1 Greg Norman
When you spend 331 weeks as the world's number one player in the 1980s and 1990s its hard to fathom a prodigious talent such as Australian Greg Norman failing to win more than two career major championships—both at The Open in 1986 and 1993 respectively.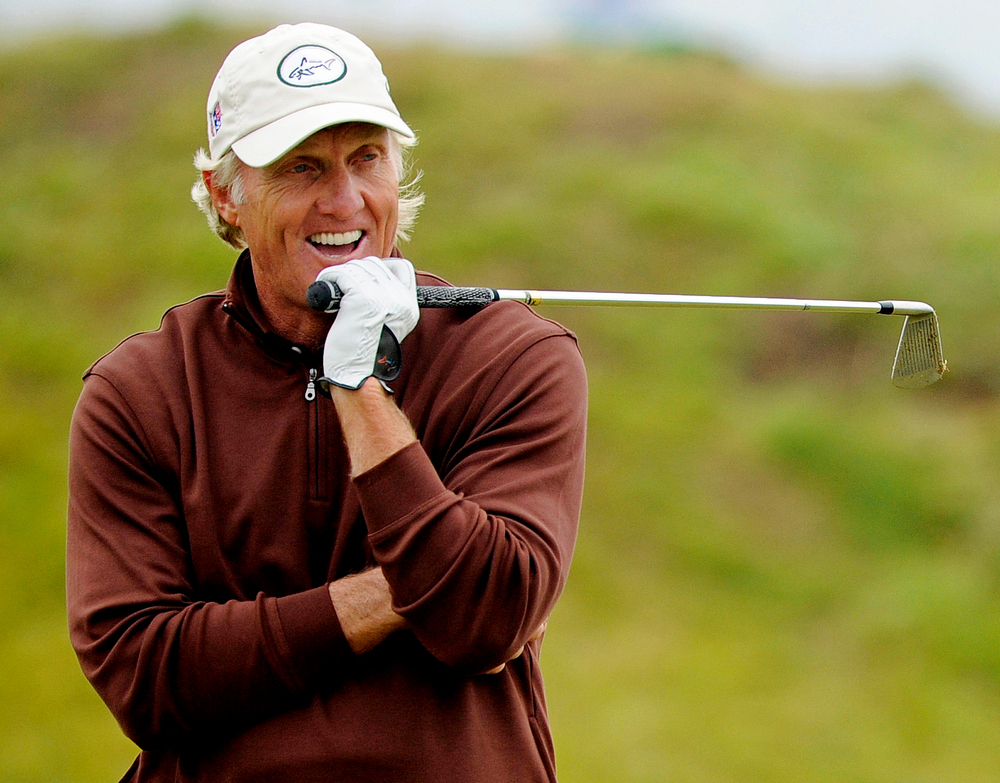 © Matthew Harris / TGPL
---
Long known as "The Great White Shark," Norman cut an image built on swagger on the course. Only matched by the likes of a fellow competitor at the same time—the late Seve Ballesteros -- Norman's bravado clearly resonated with golf fans globally. In years to come the nickname was shortened to simply "The Shark"—reflecting Norman's penchant for bold play and his past involvement as a surfer in Brisbane—host waters to some of the fiercest sharks in the world.
Norman burst on the American golf public scene during his stellar play at the 1981 Masters—ultimately finishing 4th in his debut performance. A playoff loss to Fuzzy Zoeller at the 1984 US Open only served to endear Norman even more so across the golfing world.
In 1986 Norman became the only person holdingthe 54-hole lead going into the final round of each of the major championships. Ultimately, The Shark only secured a win at Turnberry for The Open title.
In that same year—a Masters win looked out of the cards when Norman double-bogied the 10th hole during the final round. To his considerable credit The Shark bounced back with four consecutive birdies from #14 through #17. A remaining par on the final hole would tie him with the heroic and epic final round produced by Nicklaus. It was not to be. A flared 4-iron to the right and a failure to secure par meant a bitter defeat.
Just one year later—the depths of despair hit even harder. Tied after 72-holes with Ballesteros and Augusta-native Larry Mize—Norman watched in utter disbelief as Mize pitched in for birdie on the 2nd playoff hole (the 11th) to capture the green jacket. Amazingly, Norman had endured such late round heroics at the 1986 PGA Championship when Bob Tway holed out from the front bunker to snare the Wannamaker Trophy.
Three years later in 1989—Norman needed again to make par on the final hole to secure a playoff with Nick Faldo and Scott Hoch. The result? Bogey and a tie for 3rd place.
Fast forward to 1996 and given all the empty previous efforts—it seemed Norman would finally win his first green jacket firing a course-tying-record 63 in the first round. Heading into the final round Norman led by six shots—all that seemed in doubt was getting the tailor to fit the green jacket snugly around his broad shoulders. What followed was one of golf's all-time greatest collapses. Norman not only lost a Masters all but his—but the title went to one of his toughest rivals—Nick Faldo—who played with him that day.
When all was done both men hugged one another on the 18th hole — but for Norman the legacy of "what might have been" still lingers today. Years later Adam Scott would be the first Austrailan to don a green jacket that seemed destined for The Shark.