May 16-19
La Reserva Club de Sotogrande, Cádiz, Spain
€300,000
Round 2, Round 3, Round 4
---
England's Charlotte Thompson said she was absolutely buzzing after shooting a six-under-par 66 – her career best score on the Ladies European Tour – to lead after the first round of the inaugural La Reserva de Sotogrande Invitational.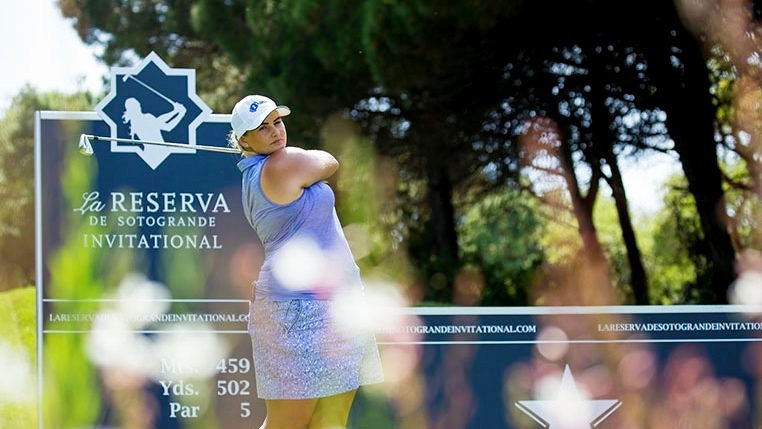 ---
"What a start! What a great course, what a great day and beautiful weather," said the 26-year-old from Chelmsford, Essex. "I really took advantage of the fact that there wasn't much wind today. I just played really smart and sensible."
Rising rookie star Esther Henseleit from Germany is a shot back in second, with local favourite María Parra, Germany's Olivia Cowan, Australian Whitney Hillier and English duo Hannah Burke and Gemma Clews tied for third on four-under-par.
Thompson, who averages 275-280 yards off the tee, used her distance to her advantage on the difficult, 6427-yard long course.
"It's really nice for me to play somewhere that gives me the advantage. Sometimes we play on some fiddly golf courses but this has a bit of both. You do have to be wise on where you hit the ball, but it's great to be long."
---
Thompson started from the 10th and played her first nine in two-under-par 34 but kicked on with a 32 over her second nine, which included birdies on the first and fifth holes, as well as an eagle.
The shot of the day was her third at the par-5 second, where she slam dunked the ball into the hole using a 52 degree wedge from 107 yards.
"We got up to the green and there was only one ball and I'm like, 'I'm sure mine didn't go long.' I checked the hole and there it was, at the bottom of the hole. I'm very happy!" said Thompson, who recorded a career best tie for eighth in the Lalla Meryem Cup a fortnight ago.
Another long hitter, Henseleit, who tied for fourth in Morocco, was the only player to sign a bogey-free card, which featured five birdies.
Henseleit has posted five top 10 finishes from her first six tournaments on tour and is hoping to break into the winner's circle in her seventh start as a professional.
The 20-year-old from Hamburg, a member of the 2017 European PING Junior Solheim Cup team, said: "I played really solid today and my drives were good, so I had the chance to go for the green all the time. I also hit a lot of greens in regulation and had so many chances for birdie. My putting was alright, not everything dropped, but it was okay.
"I will try to do my best and hopefully I can finish top 10 or even better. I feel really good and confident and I'm happy to be out here and competing here. I've had some really good tournaments in the last few weeks and of course I'm hoping for a win."
Burke, the 2015 Tipsport Ladies Masters winner, said that the Odyssey No 7 putter she borrowed from male European Tour player Tom Lewis ahead of the Lalla Meryem Cup is staying in her bag.
"It's just made a huge difference and I'm holing a lot more putts and feeling more confident on the greens," said Burke. "As soon as you see a few balls drop, your whole attitude changes."
The La Reserva de Sotogrande Invitational continues over the next three days and is the sixth last qualification event for The Solheim Cup on the Ladies European Tour.
---
| | | | |
| --- | --- | --- | --- |
| Pos. | Player | To Par | R1 |
| 1 | Charlotte Thompson (ENG) | -6 | 66 |
| 2 | Esther Henseleit (GER) | -5 | 67 |
| 3 | Maria Parra (ESP) | -4 | 68 |
| 3 | Hannah Burke (ENG) | -4 | 68 |
| 3 | Whitney Hillier (AUS) | -4 | 68 |
| 3 | Olivia Cowan (GER) | -4 | 68 |
| 3 | Gemma Clews (ENG) | -4 | 68 |
| 8 | Manon Gidali (FRA) | -3 | 69 |
| 9 | Camille Chevalier (FRA) | -2 | 70 |
| 9 | Celine Herbin (FRA) | -2 | 70 |
| 9 | Daniela Holmqvist (SWE) | -2 | 70 |
| 9 | Marianne Skarpnord (NOR) | -2 | 70 |
| 9 | Camilla Lennarth (SWE) | -2 | 70 |
| 9 | Jessica Karlsson (SWE) | -2 | 70 |
| 15 | Valentine Derrey (FRA) | -1 | 71 |
| 15 | Sanna Nuutinen (FIN) | -1 | 71 |
| 15 | Emie Peronnin (FRA) | -1 | 71 |
| 15 | Carly Booth (SCO) | -1 | 71 |
| 15 | Kylie Henry (SCO) | -1 | 71 |
| 15 | Maria Hernandez (ESP) | -1 | 71 |
| 15 | Katja Pogacar (SLO) | -1 | 71 |
| 15 | Elia Folch (ESP) | -1 | 71 |
| 23 | Lejan Lewthwaite (RSA) | Par | 72 |
| 23 | Mariell Bruun (NOR) | Par | 72 |
| 23 | Kelsey Macdonald (SCO) | Par | 72 |
| 23 | Felicity Johnson (ENG) | Par | 72 |
| 23 | Carmen Alonso (ESP) | Par | 72 |
| 23 | Caroline Hedwall (SWE) | Par | 72 |
| 23 | Meghan MacLaren (ENG) | Par | 72 |
| 23 | Kim Metraux (SUI) | Par | 72 |
| 23 | Astrid Vayson De Pradenne (FRA) | Par | 72 |
| 23 | Luna Sobron (ESP) | Par | 72 |
| 23 | Becky Morgan (WAL) | Par | 72 |
| 23 | Liz Young (ENG) | Par | 72 |
| 35 | Rochelle Morris (ENG) | 1 | 73 |
| 35 | Lee-Anne Pace (RSA) | 1 | 73 |
| 35 | Noora Komulainen (FIN) | 1 | 73 |
| 35 | Nina Pegova (RUS) | 1 | 73 |
| 35 | Karolin Lampert (GER) | 1 | 73 |
| 35 | Stacy Lee Bregman (RSA) | 1 | 73 |
| 35 | Silvia Banon (ESP) | 1 | 73 |
| 35 | Maha Haddioui (MAR) | 1 | 73 |
| 35 | Anne-Lise Caudal (FRA) | 1 | 73 |
| 35 | Emma Grechi (FRA) | 1 | 73 |
| 35 | Eleanor Givens (ENG) | 1 | 73 |
| 46 | Emma Nilsson (SWE) | 2 | 74 |
| 46 | Piti Martinez Bernal (ESP) | 2 | 74 |
| 46 | Marita Engzelius (NOR) | 2 | 74 |
| 46 | Lauren Taylor (ENG) | 2 | 74 |
| 46 | Anna Zanusso (ITA) (a) | 2 | 74 |
| 46 | Tonje Daffinrud (NOR) | 2 | 74 |
| 46 | Cloe Frankish (ENG) | 2 | 74 |
| 46 | Lucrezia Colombotto Rosso (ITA) | 2 | 74 |
| 46 | Laura Fuenfstueck (GER) | 2 | 74 |
| 46 | Beth Allen (USA) | 2 | 74 |
| 46 | Frida Gustafsson Spang (SWE) | 2 | 74 |
| 46 | Kiran Matharu (ENG) | 2 | 74 |
| 46 | Inci Mehmet (ENG) | 2 | 74 |
| 46 | Gudrun Bjorgvinsdottir (ISL) | 2 | 74 |
| 46 | Isabelle Boineau (FRA) | 2 | 74 |
| 61 | Agathe Sauzon (FRA) | 3 | 75 |
| 61 | Cajsa Persson (SWE) | 3 | 75 |
| 61 | Filippa Moerk (SWE) | 3 | 75 |
| 61 | Diksha Dagar (IND) | 3 | 75 |
| 61 | Kum-Kang Park (KOR) (a) | 3 | 75 |
| 61 | Chloe Leurquin (BEL) | 3 | 75 |
| 61 | Julia Engstrom (SWE) | 3 | 75 |
| 61 | Elina Nummenpaa (FIN) | 3 | 75 |
| 61 | Pasqualle Coffa (NED) | 3 | 75 |
| 61 | Ana Menendez (MEX) | 3 | 75 |
| 61 | Krista Bakker (FIN) | 3 | 75 |
| 61 | Savannah Vilaubi (USA) | 3 | 75 |
| 61 | Diana Luna (ITA) | 3 | 75 |
| 74 | Lydia Hall (WAL) | 4 | 76 |
| 74 | Nobuhle Dlamini (SWZ) | 4 | 76 |
| 74 | Jade Schaeffer-Calmels (FRA) | 4 | 76 |
| 74 | Manon Molle (FRA) | 4 | 76 |
| 74 | Sofie Bringner (SWE) | 4 | 76 |
| 74 | Catriona Matthew (SCO) | 4 | 76 |
| 74 | Johanna Gustavsson (SWE) | 4 | 76 |
| 74 | Christine Wolf (AUT) | 4 | 76 |
| 74 | Lauren Horsford (ENG) | 4 | 76 |
| 74 | Holly Clyburn (ENG) | 4 | 76 |
| 74 | Tvesa Malik (IND) | 4 | 76 |
| 74 | Sian Evans (ENG) | 4 | 76 |
| 74 | Elizabeth Mallett (ENG) | 4 | 76 |
| 74 | Maria Beautell (ESP) | 4 | 76 |
| 74 | Justine Dreher (FRA) | 4 | 76 |
| 74 | Linda Wessberg (SWE) | 4 | 76 |
| 74 | Natasha Fear (ESP) | 4 | 76 |
| 74 | Gabriella Cowley (ENG) | 4 | 76 |
| 74 | Mireia Prat (ESP) | 4 | 76 |
| 93 | Annabel Dimmock (ENG) | 5 | 77 |
| 93 | Sarah Nilsson (SWE) | 5 | 77 |
| 93 | Lina Boqvist (SWE) | 5 | 77 |
| 93 | Sideri Vanova (CZE) | 5 | 77 |
| 93 | Emilie Alonso (FRA) | 5 | 77 |
| 93 | Noemi Jimenez Martin (ESP) | 5 | 77 |
| 93 | Michele Thomson (SCO) | 5 | 77 |
| 93 | Isabella Deilert (SWE) | 5 | 77 |
| 93 | Stefania Avanzo (ITA) | 5 | 77 |
| 102 | Kanyalak Preedasuttijit (THA) | 6 | 78 |
| 102 | Valdis Thora Jonsdottir (ISL) | 6 | 78 |
| 102 | Amanda Jakobsson (SWE) | 6 | 78 |
| 102 | Ursula Wikstrom (FIN) | 6 | 78 |
| 102 | Maria Palacios (PER) | 6 | 78 |
| 102 | Manuela Carbajo Re (ARG) | 6 | 78 |
| 102 | Astha Madan (IND) | 6 | 78 |
| 109 | Ines Lescudier (FRA) | 7 | 79 |
| 109 | Becky Brewerton (WAL) | 7 | 79 |
| 109 | Georgia Iziemgbe Oboh (NGR) | 7 | 79 |
| 112 | Amy Walsh (AUS) | 8 | 80 |
| 112 | Vikki Laing (SCO) | 8 | 80 |
| 112 | Fanny Cnops (BEL) | 8 | 80 |
| 115 | Jane Turner (SCO) | 9 | 81 |
| 115 | Nadine Dreher (AUT) | 9 | 81 |
| 115 | Florentyna Parker (ENG) | 9 | 81 |
| 115 | Dulcie Sverdloff (ENG) | 9 | 81 |
| 119 | Rachael Taylor (SCO) | 10 | 82 |
| 120 | Niina Liias (FIN) | 11 | 83 |
| 120 | Emily Kristine Pedersen (DEN) | 11 | 83 |
| 120 | Manon De Roey (BEL) | 11 | 83 |
| 120 | Laura Murray (SCO) | 11 | 83 |
| 124 | Charlotte Leathem (ENG) | 13 | 85 |
| 124 | Georgia Coughlin (ENG) | 13 | 85 |
| 126 | Melanie Maetzler (SUI) | 15 | 87 |