July 11-14
Golf PGA France du Vaudreuil, Le Vaudreuil, France
€210,000
Round 2, Round 3, Round 4
---
Robin Sciot-Siegrist and Steven Tiley hold a one-shot lead at Le Vaudreuil Golf Challenge at the end of round one after bogey-free rounds of 64, seven under par.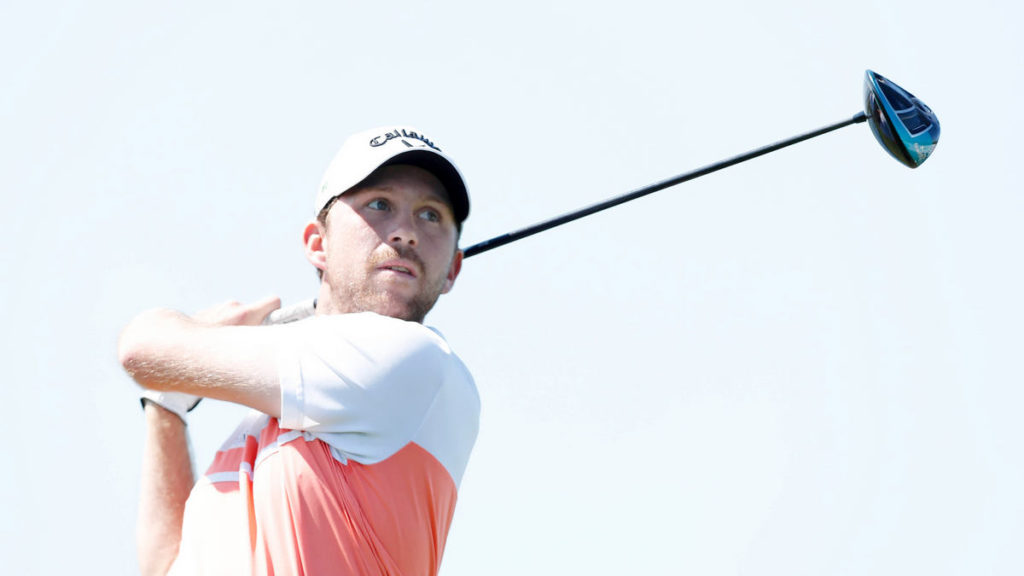 Both players carded seven birdies during their opening round at Golf PGA France du Vaudreuil to top the leaderboard ahead of French pair and European Tour winners Grégory Bourdy and Grégory Havret
Sciot-Siegrist, winner of the 2017 Galgorm Resort & Spa Northern Ireland Open presented by Modest! Golf, got off to a quick start with back-to-back birdies on the second and third holes, before following suit with further gains on the sixth and seventh, making the turn at four under par.
---
The trend of consecutive birdies continued on the back nine, as the 25-year-old extended his advantage on the 12th and 13th and gained his final shot of the day with a delicate up-and-down birdie on the last to lead in the clubhouse at seven under par.
"It was a good round of golf and I played really well throughout the round," said Sciot-Siegrist. "I made lots of birdies and played really well.
"I thought I was good off the tee and my putting was pretty good as well. I hit a lot of fairways and greens, which helped my chances with the putter, and overall, everything was great. It was one of those days where it was great to be on the golf course.
"The up-and-down felt really good because seven under is quite a low score. I was really happy to make the putt on 18 to keep momentum going into tomorrow and hopefully go as low as possible over the next few days."
Tiley finished runner-up to wire-to-wire champion Richard McEvoy last year and continued his impressive form on the Le Vaudreuil layout, recording five birdies in his first eight holes. He maintained his consistency on the back nine with two further gains, including one of the 18th to join Sciot-Siegrist at the top of the leaderboard at the end of day one.
"I'm very pleased with today," Tiley said. "It's been quite a struggle so far this year, so it was nice to come here and start like that.
"If you can limit your mistakes in this game that always helps, so that helped in making a good start."
---
Bourdy, who is playing his first full European Challenge Tour season since 2004, signed for a round of 65 to sit one stroke off the leaders. While compatriot Havret lies a further shot back following his five under par round of 66.
The second round of Le Vaudreuil Golf Challenge gets under way at 7:40am local time with Tiley teeing off at 9:10am and Sciot-Siegrist at 1:30pm.
---
| | | | | |
| --- | --- | --- | --- | --- |
| Pos. | Player | Nat | To Par | R1 |
| 1 | SCIOT-SIEGRIST Robin | FRA | -7 | 64 |
| 1 | TILEY Steven | ENG | -7 | 64 |
| 3 | BOURDY Grégory | FRA | -6 | 65 |
| 4 | HAVRET Grégory | FRA | -5 | 66 |
| 5 | COUPLAND Dave | ENG | -4 | 67 |
| 5 | GEARY Josh | NZL | -4 | 67 |
| 5 | HØJGAARD Nicolai | DEN | -4 | 67 |
| 5 | MCGEE Ruaidhri | IRL | -4 | 67 |
| 5 | NIENABER Wilco | RSA | -4 | 67 |
| 5 | THOMSON Jonathan | ENG | -4 | 67 |
| 5 | VON DELLINGSHAUSEN Nicolai | GER | -4 | 67 |
| 12 | EASTON Bryce | RSA | -3 | 68 |
| 12 | EVANS Ryan | ENG | -3 | 68 |
| 12 | JOANNES Hugues | BEL | -3 | 68 |
| 12 | JOUVEN Richard | FRA | -3 | 68 |
| 12 | LANDO CASANOVA Jérôme | FRA | -3 | 68 |
| 12 | SCHNEIDER Marcel | GER | -3 | 68 |
| 12 | TARRIO BEN Santiago | ESP | -3 | 68 |
| 12 | VAN DRIEL Darius | NED | -3 | 68 |
| 12 | WIEGELE Martin | AUT | -3 | 68 |
| 21 | BEKIRIAN Jean | FRA | -2 | 69 |
| 21 | BESSELING Wil | NED | -2 | 69 |
| 21 | CANTERO GUTIERREZ Ivan | ESP | -2 | 69 |
| 21 | DUBOIS Edouard | FRA | -2 | 69 |
| 21 | FENASSE Mathieu | FRA | -2 | 69 |
| 21 | FOOS Dominic | GER | -2 | 69 |
| 21 | FORD Matt | ENG | -2 | 69 |
| 21 | GARCIA RODRIGUEZ Sebastian | ESP | -2 | 69 |
| 21 | HELLIGKILDE Marcus | DEN | -2 | 69 |
| 21 | HOWIE Craig | SCO | -2 | 69 |
| 21 | MAHEUT Nicolas | FRA | -2 | 69 |
| 21 | NEIL Bradley | SCO | -2 | 69 |
| 21 | QUESNE Julien | FRA | -2 | 69 |
| 21 | SARACINO Andrea | ITA | -2 | 69 |
| 21 | SENIOR Jack | ENG | -2 | 69 |
| 21 | VAN MEIJEL Lars | NED | -2 | 69 |
| 21 | ZUNIC Jordan | AUS | -2 | 69 |
| 38 | ANGER (AM) Elliot | FRA | -1 | 70 |
| 38 | BLAND Richard | ENG | -1 | 70 |
| 38 | COCKERILL Aaron | CAN | -1 | 70 |
| 38 | COUSSAUD Ugo | FRA | -1 | 70 |
| 38 | HØJGAARD Rasmus | DEN | -1 | 70 |
| 38 | HULDAHL Jeppe Pape | DEN | -1 | 70 |
| 38 | LAFEBER Maarten | NED | -1 | 70 |
| 38 | LLOYD Chris | ENG | -1 | 70 |
| 38 | RIU Victor | FRA | -1 | 70 |
| 38 | ROBB Chris | SCO | -1 | 70 |
| 38 | STEWART Duncan | SCO | -1 | 70 |
| 49 | BOOTE David | WAL | 0 | 71 |
| 49 | CALDERON Matias | CHI | 0 | 71 |
| 49 | CRUZ Tiago | POR | 0 | 71 |
| 49 | DAWSON Robin | IRL | 0 | 71 |
| 49 | DEAN Joe | ENG | 0 | 71 |
| 49 | HESBOIS Kevin | BEL | 0 | 71 |
| 49 | JORDAN Matthew | ENG | 0 | 71 |
| 49 | LIMA José-Filipe | POR | 0 | 71 |
| 49 | MEDALE Franck | FRA | 0 | 71 |
| 49 | ORRIN Max | ENG | 0 | 71 |
| 49 | PERRIER Damien | FRA | 0 | 71 |
| 49 | PINEAU Pierre | FRA | 0 | 71 |
| 49 | SCALISE Lorenzo | ITA | 0 | 71 |
| 49 | SCHWARTZ Antoine | FRA | 0 | 71 |
| 49 | SIMONSEN Martin | DEN | 0 | 71 |
| 49 | SJÖHOLM Joel | SWE | 0 | 71 |
| 49 | STAL Gary | FRA | 0 | 71 |
| 49 | STOW Ben | ENG | 0 | 71 |
| 49 | SYME Connor | SCO | 0 | 71 |
| 49 | WIDEMANN Alexandre | FRA | 0 | 71 |
| 69 | ANGLES Pep | ESP | 1 | 72 |
| 69 | BORDA David | ESP | 1 | 72 |
| 69 | ESPAÑA Edouard | FRA | 1 | 72 |
| 69 | FERGUSON Ewen | SCO | 1 | 72 |
| 69 | GANE Chris | ENG | 1 | 72 |
| 69 | GAVINS Daniel | ENG | 1 | 72 |
| 69 | GLOET Christian | DEN | 1 | 72 |
| 69 | GRADECKI Mateusz | POL | 1 | 72 |
| 69 | HANSON Chris | ENG | 1 | 72 |
| 69 | JØRGENSEN Oliver | DEN | 1 | 72 |
| 69 | KOEPKA Chase | USA | 1 | 72 |
| 69 | LAMPERT Moritz | GER | 1 | 72 |
| 69 | LERAY (AM) Alexis | FRA | 1 | 72 |
| 69 | LINARD Thomas | FRA | 1 | 72 |
| 69 | MADDY Paul | ENG | 1 | 72 |
| 69 | POKE Benjamin | DEN | 1 | 72 |
| 69 | RADUREAU Maxime | FRA | 1 | 72 |
| 69 | RITTHAMMER Bernd | GER | 1 | 72 |
| 69 | ROSS Craig | SCO | 1 | 72 |
| 69 | ROUSSEL Robin | FRA | 1 | 72 |
| 69 | SANTOS Ricardo | POR | 1 | 72 |
| 69 | SHARVIN Cormac | NIR | 1 | 72 |
| 69 | WIDEGREN Pontus | SWE | 1 | 72 |
| 92 | ADARRAGA GOMEZ Jose Luis | ESP | 2 | 73 |
| 92 | AGUILAR Felipe | CHI | 2 | 73 |
| 92 | CHO Rak hyun | KOR | 2 | 73 |
| 92 | CUARTERO BLANCO Emilio | ESP | 2 | 73 |
| 92 | DECOTTIGNIES-LAFON Mathieu | FRA | 2 | 73 |
| 92 | FORSSTRÖM Simon | SWE | 2 | 73 |
| 92 | KIM Minkyu | KOR | 2 | 73 |
| 92 | MIVIS Christopher | BEL | 2 | 73 |
| 92 | PHILIPPE Pierre-Henri | FRA | 2 | 73 |
| 92 | ROBINSON Liam | ENG | 2 | 73 |
| 92 | SADDIER Adrien | FRA | 2 | 73 |
| 92 | SUCHAN Daniel | CZE | 2 | 73 |
| 92 | WAITE Mitch | ENG | 2 | 73 |
| 92 | WHITNELL Dale | ENG | 2 | 73 |
| 106 | ABBOTT Jamie | ENG | 3 | 74 |
| 106 | ARMITAGE Marcus | ENG | 3 | 74 |
| 106 | CATURLA Stanislas | FRA | 3 | 74 |
| 106 | COHEN-BOYER Louis | FRA | 3 | 74 |
| 106 | DE SOUSA Raphaël | SUI | 3 | 74 |
| 106 | FARR Oliver | WAL | 3 | 74 |
| 106 | FERNANDEZ Scott | ESP | 3 | 74 |
| 106 | ITEN Marco | SUI | 3 | 74 |
| 106 | KÖLBING Jonas | GER | 3 | 74 |
| 106 | LACROIX Frederic | FRA | 3 | 74 |
| 106 | PIGEM Carlos | ESP | 3 | 74 |
| 106 | SPOONER Billy | ENG | 3 | 74 |
| 106 | STALTER Joël | FRA | 3 | 74 |
| 106 | STUREHED Henric | SWE | 3 | 74 |
| 106 | VIRTO Borja | ESP | 3 | 74 |
| 106 | WEBER Lionel | FRA | 3 | 74 |
| 122 | BERARDO Clément | FRA | 4 | 75 |
| 122 | BRUN Julien | FRA | 4 | 75 |
| 122 | COHEN Perry | SUI | 4 | 75 |
| 122 | ERIKSSON Martin | SWE | 4 | 75 |
| 122 | HAASTRUP Mark Flindt | DEN | 4 | 75 |
| 122 | JENSEN Lasse | DEN | 4 | 75 |
| 122 | ROZNER Antoine | FRA | 4 | 75 |
| 122 | STARK Oscar | SWE | 4 | 75 |
| 130 | ALBERTUS Max | NED | 5 | 76 |
| 130 | BRAEUNIG Christian | GER | 5 | 76 |
| 130 | CARLSSON Johan | SWE | 5 | 76 |
| 130 | DARNAUD Dimitri | FRA | 5 | 76 |
| 130 | ECCLES Ben | AUS | 5 | 76 |
| 130 | GALIANO AGUILAR Mario | ESP | 5 | 76 |
| 130 | IM Daniel | USA | 5 | 76 |
| 130 | MEYSSONNIER Stephane | FRA | 5 | 76 |
| 130 | VIEILLEDENT Erwan | FRA | 5 | 76 |
| 139 | FANONNEL (AM) Guillaume | FRA | 6 | 77 |
| 139 | RIVIERE Valentin | FRA | 6 | 77 |
| 139 | TINNING Nicolai | DEN | 6 | 77 |
| 139 | WRISDALE Jordan | ENG | 6 | 77 |
| 143 | ERKENBECK James | USA | 7 | 78 |
| 143 | MOHR Marcus | ENG | 7 | 78 |
| 143 | PIAGET Sandro | MON | 7 | 78 |
| 146 | COUPADE Jules | FRA | 8 | 79 |
| 146 | DAUX Franck | FRA | 8 | 79 |
| 148 | FARFAL Martin | FRA | 9 | 80 |
| 148 | HOEY Michael | NIR | 9 | 80 |
| 148 | PUIG Xavi | ESP | 9 | 80 |
| 151 | BIHAN Alan | FRA | 11 | 82 |
| 152 | CEA Michele | ITA | 12 | 83 |
| 152 | MCBRIDE Paul | IRL | 12 | 83 |
| 154 | PIEDELIEVRE Paul | FRA | 13 | 84 |
| 155 | AUDEBERT (AM) Arthur | FRA | 21 | 92 |
| 156 | MURRAY Michael | USA | 0 | 0 |