February 27, 2018
European Ryder Cup Captain Thomas Bjørn and Solheim Cup Captain Catriona Matthew will join forces in a world first for professional golf when the innovative GolfSixes returns to the European Tour schedule in May.
The Dane and the Scot will be the first male and female professionals to play together in a competitive match play format when they form the 'Captains Team' in the second staging of the tournament at the Centurion Club in St Albans, England, from May 5-6, 2018.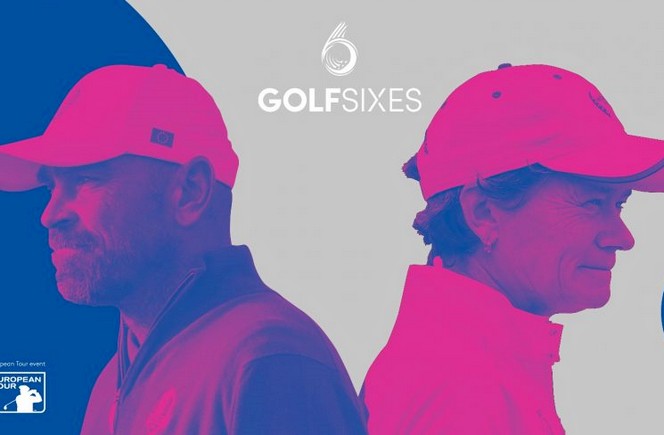 The 'Captains Team' is one of four exciting wild card selections introduced to this year's event, with two of the other three being; an 'England Women's Team' comprising Georgia Hall and Charley Hull; and a 'European Women's Team' featuring England's Mel Reid and Suzann Pettersen of Norway, all of whom will join defending champions Denmark, represented again by last year's winners Lucas Bjerregaard and Thorbjørn Olesen.
The fourth and final wild card team will be revealed towards the end of next month alongside the 11 men's national teams who will qualify automatically from the European Tour's Category Ranking List. All 16 teams will compete for a total prize fund of €1 million with the eventual winners receiving €100,000 each.
It is appropriate that the current Ryder Cup Captain is at the forefront of the latest innovation from the European Tour as the Wednesday of The 2018 Ryder Cup week at Le Golf National will also feature a showcase GolfSixes event, played between the members of the respective Junior Ryder Cup teams.
Thomas Bjørn said: "I am really excited about playing GolfSixes. There are so many 72-hole tournaments around the world that there has to be room for something else which puts a different spin on golf and brings more interest.
"This is not your normal golf tournament where everyone is very serious and has their heads down. This is completely different, it's more about having fun and portraying the game in a good way.
"I think it's hugely important to also try and break down the barriers that have existed in golf between the men's and women's games. When this opportunity arose to play as Ryder Cup Captain, I thought it was only right to speak to Catriona as the Solheim Cup Captain about forming a team, and we're both really looking forward to it.
"It also sends the right message to our players too, that we're European Captains and being a European Captain of any team is not just about your own Tour and your own players – it's about representing everything about this great continent of ours."
Catriona Matthew said: "I was delighted when Thomas asked me to play GolfSixes. I had to move my schedule around a little bit but the moment I heard about the chance to play, I definitely wanted to be part of it.
"The fact it is something different for golf is great – in terms of the round robin match play format then head to head matches, in addition to the men and women playing together of course. All Tours are trying to think of ways to make golf different and encourage a new and younger audience and so I think this whole concept is very exciting.
"I was playing in a tournament last year but I watched some of the inaugural GolfSixes on the television and read a bit about it and I always thought it was a good idea. Obviously, the matches are much quicker and match play itself tends to be exciting so it's a good mix."
Georgia Hall said: "It sounds like a great event and it will be nice to play in a team event and also to play with Charley again – I think we will have a good chance. I watched it on TV last year and it looked like a lot of fun so it's great that we will be part of it this year."
Charley Hull said: "I think an event like GolfSixes is good for the game of golf. I'm looking forward to teaming up with Georgia and seeing us play against the men will be exciting and something new for the spectators. Hopefully it will be a lot of fun for them to watch."
Lucas Bjerregaard said: "Thorbjørn and I are very much looking forward to going back to the Centurion Club to defend our title. We had a blast last year, as most people did who attended the event either as players or fans, so I'm looking forward to getting back there.
"I don't think I've ever seen so many kids at a golf tournament in my life which is great for the game. In addition to that, they were having a great time, running around and not being told to be quiet all the time which is exactly what we need to get more young people involved in our sport."
Keith Pelley, Chief Executive of the European Tour, said: "GolfSixes is something that we championed last year to do something a little different, not just in terms of a different format, but also to bring a different form of entertainment from a golf perspective.
"There was a lot of talk about what we were going to do differently this year while remaining credible but entertaining, and today's announcement is the result of those discussions. It's a natural progression and I think the potential for GolfSixes in terms of the overall brand and format is terrific.
"The concept of Thomas and Catriona playing together is a wonderful idea and then to be able to add in four of Europe's leading women players in Georgia, Charley, Mel and Suzann is fantastic and will make for a great event. We thank both the LET and the LPGA for helping make this happen."
As part of the festival feel to GolfSixes, the Centurion Club will once again this year feature an array of entertainment for spectators to enjoy outside the ropes in the centrally-located Fan Zone. Amphitheatre-style stands around tees and greens, music and pyrotechnics on the first tee and player engagement across the course will also bring fans closer to the action.
Data from the inaugural GolfSixes tournament last year showed a 42% increase in new golf fans at the event compared to regular European Tour events. Those attendees were also 14% younger than those seen during the rest of the golfing calendar.
By virtue of attracting a younger following, social media engagement around the event also exceeded the average rate seen at other European Tour tournaments by 24%, delivering more than 20 million social impressions.
Early Bird tickets for GolfSixes 2018, priced at just £10 for adults and £4 for children – with under 10s gaining free admission – are available https://www.eventbrite.com/e/golfsixes-2018-tickets-42313642243?aff=WildcardsAnnounce until Friday March 23. After that, tickets are priced at £16 for adults and £6 for children.