Staysure Tour
Paris Legends Championship 2018
October 11-13
Racing Club de France La Boulie,Paris,France
€300,000
October 11-13
Racing Club de France La Boulie,Paris,France
€300,000
Round 1
Duo dominate on Paris parkland
Round 2
Round 3
Round 2
Round 3
October 11, 2018

Mark Mouland and Tim Thelen shot bogey-free rounds of 66, six under par, to lead the Paris Legends Championship by two strokes at the end of Day One at Racing Club de France La Boulie.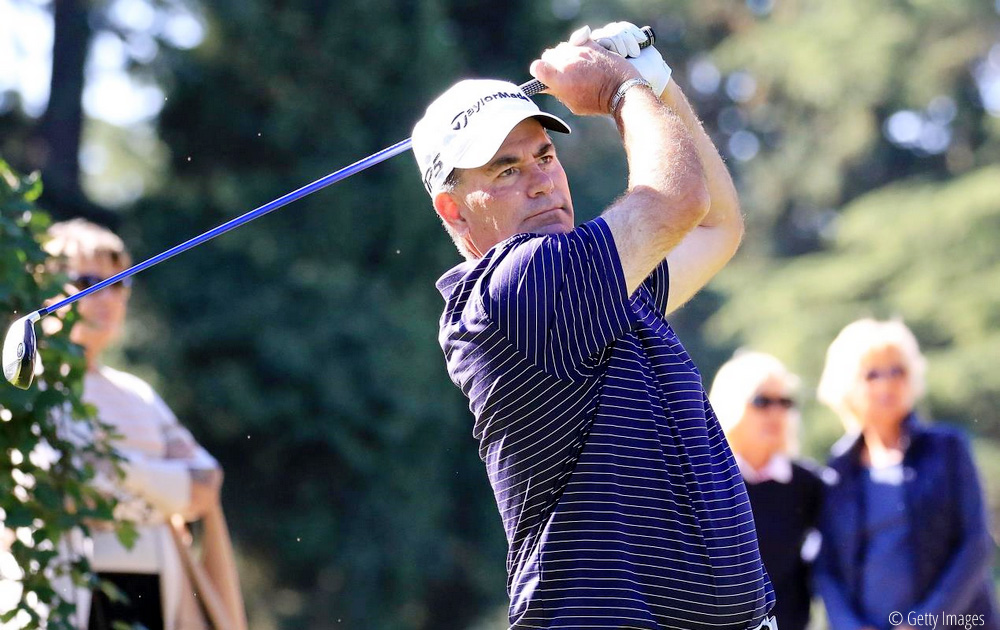 - Getty Images

Mouland carded his lowest round since July 2017, while Thelen shot his lowest score of the season, as both players go in search of their first Staysure Tour win of 2018.

The Welshman got off to a quick start with a birdie on the first before he eagled the par five fourth. Without dropping a shot on his front nine, Mouland continued his good work with an eagle on the 11th to move one shy of early leader Thelen, before he birdied the last to join the American on six under par.

Thelen claimed the early lead as he holed three birdies in his final five holes of his front nine. The American, a five-time winner on the Staysure Tour, carded three birdies on his back nine, including a 20-foot gain on the 18th to take the outright lead before Mouland joined him.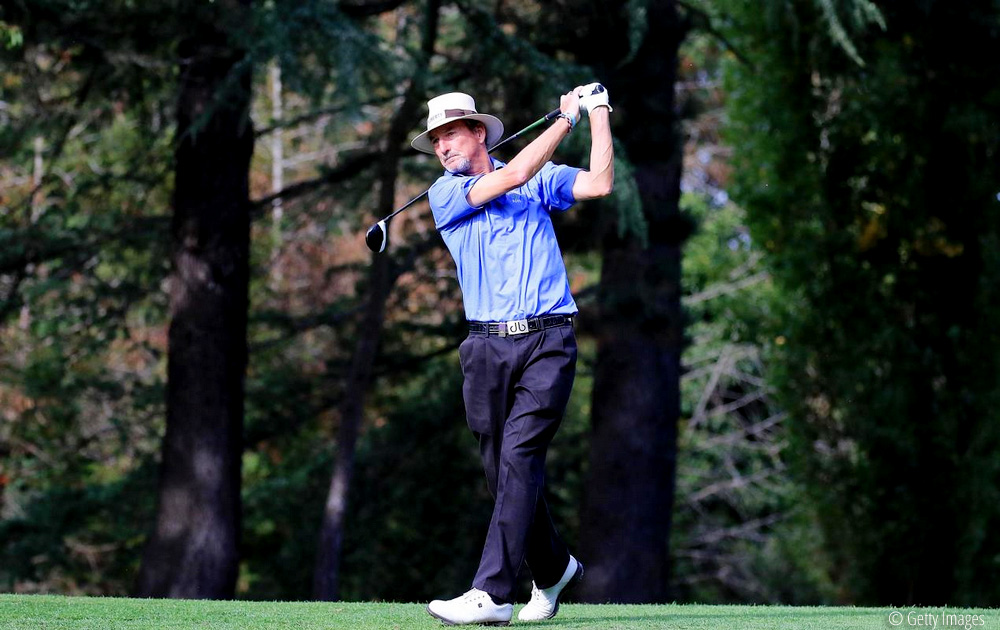 - Getty Images

With players unable to reach their target, Thelen was delighted with his position following his opening round at Golf de La Boulie.

"I drove it well and I putted very well today," he said. "It's a golf course that is lined with trees and tree-lined golf courses fit my eye.

"I had nine holes when I arrive on Monday and then played the Pro-Am on Tuesday and I liked what I saw. The par threes out here are fantastic, and I played them well today.

"I struck the ball well, probably the best I have all year, and holed some putts and I ended up with a 66. I haven't played well all year, so my back is up against the wall and I'll have to see what I'm made of, but there are two days left.

"I hit it a little bit left off the tee on 18, and I really can't hook the ball, so I had to lay up. I then hit a really nice sand wedge into the green and it just stayed on, and then I holed a 20-footer for birdie to finish nicely."

Two shots behind the duo is a chasing pack of five players on four under par, including the Staysure Tour's in-form man Markus Brier, who has finished tied third and tied second in his last two events. The Austrian was the only player in the group on four under par to shoot a bogey-free round of 68, joining Peter Baker, Mauricio Molina, Phillip Price and Paul Wesselingh for a share of third.

Jean-François Remesy, aiming to become the first Frenchman to win the Paris Legends Championship, leads the home charge after his two under par round of 70, and shares 14th place with James Kingston and Gordon Manson.

| | | | |
| --- | --- | --- | --- |
| Pos. | Player | To Par | R1 |
| 1 | MOULAND, Mark | -6 | 66 |
| | THELEN, Tim | -6 | 66 |
| 3 | WESSELINGH, Paul | -4 | 68 |
| | PRICE, Phillip | -4 | 68 |
| | BAKER, Peter | -4 | 68 |
| | MOLINA, Mauricio | -4 | 68 |
| | BRIER, Markus | -4 | 68 |
| 8 | WOLSTENHOLME, Gary | -3 | 69 |
| | EALES, Paul | -3 | 69 |
| | GOMEZ, Rafael | -3 | 69 |
| | STREETER, Paul | -3 | 69 |
| | WILLIAMS, Chris | -3 | 69 |
| | SANDELIN, Jarmo | -3 | 69 |
| 14 | REMESY, Jean-François | -2 | 70 |
| | MANSON, Gordon | -2 | 70 |
| | KINGSTON, James | -2 | 70 |
| 17 | OLDCORN, Andrew | -1 | 71 |
| | ORR, Gary | -1 | 71 |
| | MARKS, Gary | -1 | 71 |
| | WIRATCHANT, Thaworn | -1 | 71 |
| 21 | DODD, Stephen | Par | 72 |
| 22 | BRAND, Gordon J | 1 | 73 |
| | QUIROS, Juan | 1 | 73 |
| | MARTIN, Miguel Angel | 1 | 73 |
| | ATLEVI, Magnus P | 1 | 73 |
| | ROCCA, Costantino | 1 | 73 |
| | GILFORD, David | 1 | 73 |
| | WILSON, Peter T | 1 | 73 |
| | FARRY, Marc | 1 | 73 |
| | MCGOVERN, Brendan | 1 | 73 |
| | WOOSNAM, Ian | 1 | 73 |
| | WHARTON, Mark | 1 | 73 |
| | DRUMMOND, Ross | 1 | 73 |
| | TINNING, Steen | 1 | 73 |
| 35 | CARRILES, José Manuel | 2 | 74 |
| | LUNA, Santiago | 2 | 74 |
| | SHERBORNE, Andrew | 2 | 74 |
| | BROWN, Simon P | 2 | 74 |
| | LANE, Barry | 2 | 74 |
| | EMERSON, Gary | 2 | 74 |
| | CHAPMAN, Roger | 2 | 74 |
| 42 | MONASTERIO, Cesar | 3 | 75 |
| | BOSSERT, André | 3 | 75 |
| 44 | VAN DE VELDE, Jean | 4 | 76 |
| | FOWLER, Peter | 4 | 76 |
| | LOMAS, Jonathan | 4 | 76 |
| | STRÜVER, Sven | 4 | 76 |
| | SUNESON, Carl | 4 | 76 |
| 49 | SALLAT, Jean Pierre | 5 | 77 |
| | SHACKLADY, David | 5 | 77 |
| 51 | GOLDING, Philip | 6 | 78 |
| 52 | JOB, Nick | 8 | 80 |
| | MCLEAN, Mike | 8 | 80 |
| 54 | SABARROS, Roger | 10 | 82 |
| | | | |
| --- | --- | --- | --- |
| Pos. | Player | To Par | R1 |
| 1 | MOULAND, Mark | -6 | 66 |
| | THELEN, Tim | -6 | 66 |
| 3 | WESSELINGH, Paul | -4 | 68 |
| | PRICE, Phillip | -4 | 68 |
| | BAKER, Peter | -4 | 68 |
| | MOLINA, Mauricio | -4 | 68 |
| | BRIER, Markus | -4 | 68 |
| 8 | WOLSTENHOLME, Gary | -3 | 69 |
| | EALES, Paul | -3 | 69 |
| | GOMEZ, Rafael | -3 | 69 |
| | STREETER, Paul | -3 | 69 |
| | WILLIAMS, Chris | -3 | 69 |
| | SANDELIN, Jarmo | -3 | 69 |
| 14 | REMESY, Jean-François | -2 | 70 |
| | MANSON, Gordon | -2 | 70 |
| | KINGSTON, James | -2 | 70 |
| 17 | OLDCORN, Andrew | -1 | 71 |
| | ORR, Gary | -1 | 71 |
| | MARKS, Gary | -1 | 71 |
| | WIRATCHANT, Thaworn | -1 | 71 |
| 21 | DODD, Stephen | Par | 72 |
| 22 | BRAND, Gordon J | 1 | 73 |
| | QUIROS, Juan | 1 | 73 |
| | MARTIN, Miguel Angel | 1 | 73 |
| | ATLEVI, Magnus P | 1 | 73 |
| | ROCCA, Costantino | 1 | 73 |
| | GILFORD, David | 1 | 73 |
| | WILSON, Peter T | 1 | 73 |
| | FARRY, Marc | 1 | 73 |
| | MCGOVERN, Brendan | 1 | 73 |
| | WOOSNAM, Ian | 1 | 73 |
| | WHARTON, Mark | 1 | 73 |
| | DRUMMOND, Ross | 1 | 73 |
| | TINNING, Steen | 1 | 73 |
| 35 | CARRILES, José Manuel | 2 | 74 |
| | LUNA, Santiago | 2 | 74 |
| | SHERBORNE, Andrew | 2 | 74 |
| | BROWN, Simon P | 2 | 74 |
| | LANE, Barry | 2 | 74 |
| | EMERSON, Gary | 2 | 74 |
| | CHAPMAN, Roger | 2 | 74 |
| 42 | MONASTERIO, Cesar | 3 | 75 |
| | BOSSERT, André | 3 | 75 |
| 44 | VAN DE VELDE, Jean | 4 | 76 |
| | FOWLER, Peter | 4 | 76 |
| | LOMAS, Jonathan | 4 | 76 |
| | STRÜVER, Sven | 4 | 76 |
| | SUNESON, Carl | 4 | 76 |
| 49 | SALLAT, Jean Pierre | 5 | 77 |
| | SHACKLADY, David | 5 | 77 |
| 51 | GOLDING, Philip | 6 | 78 |
| 52 | JOB, Nick | 8 | 80 |
| | MCLEAN, Mike | 8 | 80 |
| 54 | SABARROS, Roger | 10 | 82 |