European Tour
Sky Sports British Masters 2018
October 11-14
Walton Heath Golf Club, Walton-on-the-Hill, England
£3,000,000
Live Leaderboard
October 11-14
Walton Heath Golf Club, Walton-on-the-Hill, England
£3,000,000
Live Leaderboard
Round 1
Home heroes off to flying start at Walton Heath
Round 2
Round 3
Round 4
Round 2
Round 3
Round 4
October 11, 2018

Ryder Cup star and reigning Race to Dubai Champion Tommy Fleetwood carried his imperious recent form into the Sky Sports British Masters, carding a five under par opening round 67 to share the overnight lead with his fellow Englishmen Eddie Pepperell and Matt Wallace.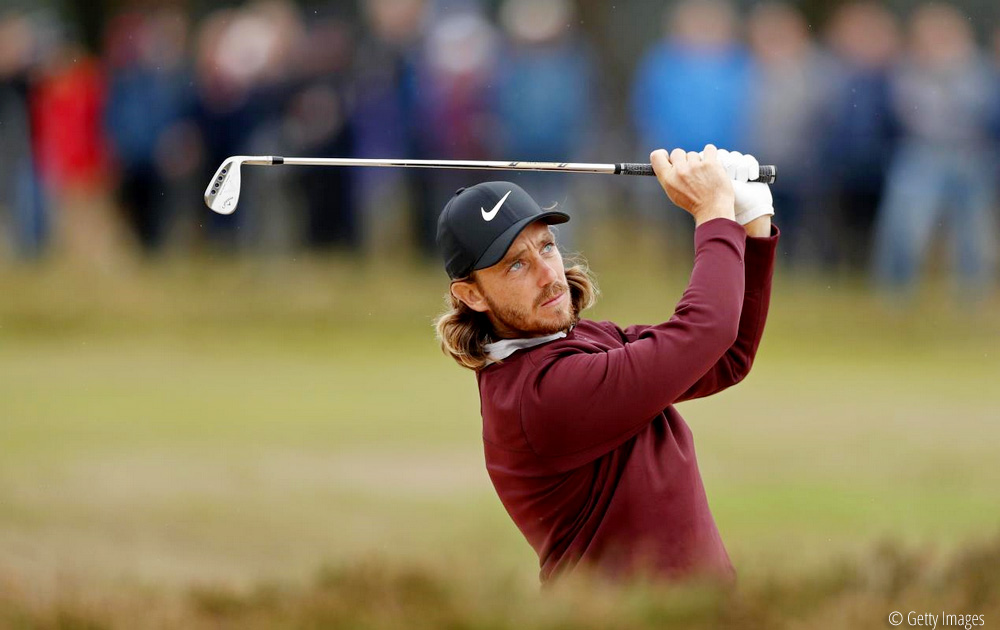 - Getty Images

"It felt really, really tough," said Fleetwood. "But overall I hit a ton of good shots. I putted very well. I holed out well. But the pace of the greens is not easy. You can get a lot of putts where it's very difficult to get the pace, and you can end up with a lot of three-, four-, five-footers, so I did that well, and it is nice to finish off the round with a birdie. Always makes it feel better."

It was an eventful start to the historic event – hosted this week by World Number Two Justin Rose at Walton Heath - as Fleetwood lived up to the billing as one of the headline acts, despite finding himself in a bizarre situation on the 17th as his ball ended up in the cupholder of an on-course buggy.

Although Fleetwood – playing alongside Ryder Cup-winning team-mates Francesco Molinari and Thorbjørn Olesen - received a free drop, the 27 year old had to settle for a bogey, but his sixth birdie of the day at the final hole was met with rapturous cheers from the galleries.

"It's the first time a few of the (Ryder Cup) team have been back, and three of us played together, so it was nice to have a warm reception, especially on to the greens and on to the first tee and coming down the last, just for the team really," said Fleetwood.

"It's still kind of fresh, isn't it? It feels like a long time ago right now, but it's still quite fresh. It was nice just to be back together and playing. It's a very different. It's a bit of a grind really today with the weather, but still, it's great all being back together."

Pepperell, meanwhile, carded an incredible hole-in-one on the par three ninth as his tee shot landed directly in the cup, bounced back out and then spun back into the hole. He followed that with a birdie and an eagle on his way to a share of the lead.

"It (the hole in one) was a nice shot. It was funny, I missed the putt on the hole before and felt, there's a tough par-3 coming up and then I go and make a hole-in-one. Funny game. It was obviously bizarre. From where I was standing it looked like it pitched in the hole, jumped up, looked like it was going long because of the height it came out, and then from there just went in. Yeah, very nice."

"I played awful in the pro-am yesterday, probably the worst I've played for a good while, so I was out there a bit on the range trying to figure some stuff out, and I wouldn't say I played great today, I just had that really hot run, and obviously two eagles, that helped my score. I suppose it's just one of those bizarre days, totally bizarre."

Wallace's 67 came courtesy of an eagle, six birdies and three bogeys as the three Englishmen sat one shot clear of the chasing pack which included Frenchman Alexander Levy – who was yet to finish his round as darkness fell and play was suspended overnight.

"It was pretty good," said Wallace, "but a little bit shaky in areas. I missed a few short putts, which weren't nice, and a bogey on the end there was just bad course management really. But the rest was really good. Gave myself a lot of chances, played nice, room for improvement I'd say."

"You can definitely feel the atmosphere, and being in a group of three English guys, as well, with Sully and Ollie, we had a great gathering out there, and it was good fun. Hopefully we can tear it up tomorrow together."

"It's nice to get to 50 appearances here and play the British Masters in my 50th. So that's nice, and hopefully I can make that number five this week and take it out. But you know what, it's been a great ride so far, and I'm enjoying the journey."

Tournament host Rose lies seven shots back after struggling with illness over the past four days. The Olympic champion opened with a two over par round of 74 which included a run of four consecutive bogeys from his ninth hole, immediately followed by three successive birdies.
| | | | | |
| --- | --- | --- | --- | --- |
| Pos. | Player | Nat | To Par | R1 |
| T1 | Eddie Pepperell | ENG | -5 | 67 |
| T1 | Matt Wallace | ENG | -5 | 67 |
| T1 | Tommy Fleetwood | ENG | -5 | 67 |
| T4 | David Lipsky | USA | -4 | 68 |
| T4 | Joakim Lagergren | SWE | -4 | 68 |
| T4 | Michael Lorenzo-Vera | FRA | -4 | 68 |
| T4 | Richard McEvoy | ENG | -4 | 68 |
| T4 | Alexander Levy | FRA | -4 | - |
| T9 | Alexander Bjoerk | SWE | -3 | 69 |
| T9 | Andy Sullivan | ENG | -3 | 69 |
| T9 | Clement Sordet | FRA | -3 | 69 |
| T9 | Gavin Green | MAS | -3 | 69 |
| T9 | Jeung-Hun Wang | KOR | -3 | 69 |
| T9 | Matthew Fitzpatrick | ENG | -3 | 69 |
| T9 | Matthew Southgate | ENG | -3 | 69 |
| T9 | Robert Karlsson | SWE | -3 | 69 |
| T9 | Ross Fisher | ENG | -3 | 69 |
| T9 | Steven Brown | ENG | -3 | 69 |
| T9 | Trevor Immelman | RSA | -3 | 69 |
| T9 | David Drysdale | SCO | -3 | - |
| T21 | Callum Shinkwin | ENG | -2 | 70 |
| T21 | Julian Suri | USA | -2 | 70 |
| T21 | Julien Guerrier | FRA | -2 | 70 |
| T21 | Lee Slattery | ENG | -2 | 70 |
| T21 | Matthias Schwab | AUT | -2 | 70 |
| T21 | Mikko Korhonen | FIN | -2 | 70 |
| T21 | Pablo Larrazabal | ESP | -2 | 70 |
| T21 | Paul Dunne | IRL | -2 | 70 |
| T21 | Paul Waring | ENG | -2 | 70 |
| T21 | Tom Lewis | ENG | -2 | 70 |
| T31 | Brett Rumford | AUS | -1 | 71 |
| T31 | Carlos Pigem | ESP | -1 | 71 |
| T31 | Danny Willett | ENG | -1 | 71 |
| T31 | George Coetzee | RSA | -1 | 71 |
| T31 | Jordan Smith | ENG | -1 | 71 |
| T31 | Marcus Kinhult | SWE | -1 | 71 |
| T31 | Peter Hanson | SWE | -1 | 71 |
| T31 | Richard Bland | ENG | -1 | 71 |
| T31 | Richard Sterne | RSA | -1 | 71 |
| T31 | Sam Horsfield | ENG | -1 | 71 |
| T41 | Andrew Johnston | ENG | Par | 72 |
| T41 | Chase Koepka | USA | Par | 72 |
| T41 | Gonzalo Fernandez-Castano | ESP | Par | 72 |
| T41 | Jaco Van Zyl | RSA | Par | 72 |
| T41 | James Morrison | ENG | Par | 72 |
| T41 | Jens Dantorp | SWE | Par | 72 |
| T41 | Lucas Herbert | AUS | Par | 72 |
| T41 | Marcel Siem | GER | Par | 72 |
| T41 | Marcus Fraser | AUS | Par | 72 |
| T41 | Martin Kaymer | GER | Par | 72 |
| T41 | Matteo Manassero | ITA | Par | 72 |
| T41 | Oliver Fisher | ENG | Par | 72 |
| T41 | Paul O'Hara | SCO | Par | 72 |
| T41 | Robert Rock | ENG | Par | 72 |
| T41 | Stephen Gallacher | SCO | Par | 72 |
| T41 | Tapio Pulkkanen | FIN | Par | 72 |
| T41 | Wade Ormsby | AUS | Par | 72 |
| T41 | Zander Lombard | RSA | Par | 72 |
| T41 | Andrea Pavan | ITA | Par | - |
| T60 | Aaron Rai | ENG | 1 | 73 |
| T60 | Adrien Saddier | SCO | 1 | 73 |
| T60 | Austin Connelly | CAN | 1 | 73 |
| T60 | Benjamin Hebert | FRA | 1 | 73 |
| T60 | Brandon Stone | RSA | 1 | 73 |
| T60 | Darren Fichardt | RSA | 1 | 73 |
| T60 | Erik Van Rooyen | RSA | 1 | 73 |
| T60 | Francesco Molinari | ITA | 1 | 73 |
| T60 | Haotong Li | CHN | 1 | 73 |
| T60 | Nacho Elvira | ESP | 1 | 73 |
| T60 | Oliver Farr | WAL | 1 | 73 |
| T60 | Padraig Harrington | IRL | 1 | 73 |
| T60 | Romain Wattel | FRA | 1 | 73 |
| T60 | Sam Brazel | AUS | 1 | 73 |
| T60 | Scott Jamieson | SCO | 1 | 73 |
| T60 | Soren Kjeldsen | DEN | 1 | 73 |
| T60 | Thomas Bjorn | DEN | 1 | 73 |
| T60 | Thorbjorn Olesen | DEN | 1 | 73 |
| T60 | Andrew Dodt | AUS | 1 | - |
| T79 | Adrian Otaegui | ESP | 2 | 74 |
| T79 | Bradley Neil | SCO | 2 | 74 |
| T79 | Charl Schwartzel | RSA | 2 | 74 |
| T79 | Dean Burmester | RSA | 2 | 74 |
| T79 | Edoardo Molinari | ITA | 2 | 74 |
| T79 | Gregory Bourdy | FRA | 2 | 74 |
| T79 | Hideto Tanihara | JPN | 2 | 74 |
| T79 | Justin Rose | ENG | 2 | 74 |
| T79 | Lee Westwood | ENG | 2 | 74 |
| T79 | Lucas Bjerregaard | DNK | 2 | 74 |
| T79 | Marc Warren | SCO | 2 | 74 |
| T79 | Maximilian Kieffer | GER | 2 | 74 |
| T79 | Phachara Khongwatmai | THA | 2 | 74 |
| T79 | Renato Paratore | ITA | 2 | 74 |
| T79 | Thomas Detry | BEL | 2 | 74 |
| T79 | Thongchai Jaidee | THA | 2 | 74 |
| T79 | Robert Coles | ENG | 2 | - |
| T79 | Richie Ramsay | SCO | 2 | - |
| T97 | Alvaro Quiros | ESP | 3 | 75 |
| T97 | Chris Hanson | ENG | 3 | 75 |
| T97 | Gregory Havret | FRA | 3 | 75 |
| T97 | Matthieu Pavon | FRA | 3 | 75 |
| T97 | Pelle Edberg | SWE | 3 | 75 |
| T97 | Ryan Evans | ENG | 3 | 75 |
| T97 | Ryan Fox | NZL | 3 | 75 |
| T97 | Shane Lowry | IRL | 3 | 75 |
| T97 | Thomas Aiken | RSA | 3 | 75 |
| T97 | Daniel Im | USA | 3 | - |
| T107 | Bradley Dredge | WAL | 4 | 76 |
| T107 | Johan Edfors | SWE | 4 | 76 |
| T107 | Mikko Ilonen | FIN | 4 | 76 |
| T107 | Nicolas Colsaerts | BEL | 4 | 76 |
| T107 | David Horsey | ENG | 4 | - |
| T107 | Ricardo Melo Gouveia | POR | 4 | - |
| T113 | Chris Wood | ENG | 5 | 77 |
| T113 | Haydn Porteous | RSA | 5 | 77 |
| T113 | Jason Scrivener | AUS | 5 | 77 |
| T113 | Soo-Min Lee | KOR | 5 | 77 |
| T113 | David Howell | ENG | 5 | - |
| T118 | Daniel Brooks | ENG | 6 | 78 |
| T118 | Jason Norris | AUS | 6 | 78 |
| T118 | Luke Donald | ENG | 6 | 78 |
| T118 | Ashley Chesters | ENG | 6 | - |
| T122 | Lasse Jensen | DNK | 7 | 79 |
| T122 | Raphael Jacquelin | FRA | 7 | 79 |
| T124 | Pedro Oriol | ESP | 8 | 80 |
| T124 | Scott Hend | AUS | 8 | 80 |
| 126 | Nino Bertasio | ITA | 9 | 81 |
| | | | | |
| --- | --- | --- | --- | --- |
| Pos. | Player | Nat | To Par | R1 |
| T1 | Eddie Pepperell | ENG | -5 | 67 |
| T1 | Matt Wallace | ENG | -5 | 67 |
| T1 | Tommy Fleetwood | ENG | -5 | 67 |
| T4 | David Lipsky | USA | -4 | 68 |
| T4 | Joakim Lagergren | SWE | -4 | 68 |
| T4 | Michael Lorenzo-Vera | FRA | -4 | 68 |
| T4 | Richard McEvoy | ENG | -4 | 68 |
| T4 | Alexander Levy | FRA | -4 | - |
| T9 | Alexander Bjoerk | SWE | -3 | 69 |
| T9 | Andy Sullivan | ENG | -3 | 69 |
| T9 | Clement Sordet | FRA | -3 | 69 |
| T9 | Gavin Green | MAS | -3 | 69 |
| T9 | Jeung-Hun Wang | KOR | -3 | 69 |
| T9 | Matthew Fitzpatrick | ENG | -3 | 69 |
| T9 | Matthew Southgate | ENG | -3 | 69 |
| T9 | Robert Karlsson | SWE | -3 | 69 |
| T9 | Ross Fisher | ENG | -3 | 69 |
| T9 | Steven Brown | ENG | -3 | 69 |
| T9 | Trevor Immelman | RSA | -3 | 69 |
| T9 | David Drysdale | SCO | -3 | - |
| T21 | Callum Shinkwin | ENG | -2 | 70 |
| T21 | Julian Suri | USA | -2 | 70 |
| T21 | Julien Guerrier | FRA | -2 | 70 |
| T21 | Lee Slattery | ENG | -2 | 70 |
| T21 | Matthias Schwab | AUT | -2 | 70 |
| T21 | Mikko Korhonen | FIN | -2 | 70 |
| T21 | Pablo Larrazabal | ESP | -2 | 70 |
| T21 | Paul Dunne | IRL | -2 | 70 |
| T21 | Paul Waring | ENG | -2 | 70 |
| T21 | Tom Lewis | ENG | -2 | 70 |
| T31 | Brett Rumford | AUS | -1 | 71 |
| T31 | Carlos Pigem | ESP | -1 | 71 |
| T31 | Danny Willett | ENG | -1 | 71 |
| T31 | George Coetzee | RSA | -1 | 71 |
| T31 | Jordan Smith | ENG | -1 | 71 |
| T31 | Marcus Kinhult | SWE | -1 | 71 |
| T31 | Peter Hanson | SWE | -1 | 71 |
| T31 | Richard Bland | ENG | -1 | 71 |
| T31 | Richard Sterne | RSA | -1 | 71 |
| T31 | Sam Horsfield | ENG | -1 | 71 |
| T41 | Andrew Johnston | ENG | Par | 72 |
| T41 | Chase Koepka | USA | Par | 72 |
| T41 | Gonzalo Fernandez-Castano | ESP | Par | 72 |
| T41 | Jaco Van Zyl | RSA | Par | 72 |
| T41 | James Morrison | ENG | Par | 72 |
| T41 | Jens Dantorp | SWE | Par | 72 |
| T41 | Lucas Herbert | AUS | Par | 72 |
| T41 | Marcel Siem | GER | Par | 72 |
| T41 | Marcus Fraser | AUS | Par | 72 |
| T41 | Martin Kaymer | GER | Par | 72 |
| T41 | Matteo Manassero | ITA | Par | 72 |
| T41 | Oliver Fisher | ENG | Par | 72 |
| T41 | Paul O'Hara | SCO | Par | 72 |
| T41 | Robert Rock | ENG | Par | 72 |
| T41 | Stephen Gallacher | SCO | Par | 72 |
| T41 | Tapio Pulkkanen | FIN | Par | 72 |
| T41 | Wade Ormsby | AUS | Par | 72 |
| T41 | Zander Lombard | RSA | Par | 72 |
| T41 | Andrea Pavan | ITA | Par | - |
| T60 | Aaron Rai | ENG | 1 | 73 |
| T60 | Adrien Saddier | SCO | 1 | 73 |
| T60 | Austin Connelly | CAN | 1 | 73 |
| T60 | Benjamin Hebert | FRA | 1 | 73 |
| T60 | Brandon Stone | RSA | 1 | 73 |
| T60 | Darren Fichardt | RSA | 1 | 73 |
| T60 | Erik Van Rooyen | RSA | 1 | 73 |
| T60 | Francesco Molinari | ITA | 1 | 73 |
| T60 | Haotong Li | CHN | 1 | 73 |
| T60 | Nacho Elvira | ESP | 1 | 73 |
| T60 | Oliver Farr | WAL | 1 | 73 |
| T60 | Padraig Harrington | IRL | 1 | 73 |
| T60 | Romain Wattel | FRA | 1 | 73 |
| T60 | Sam Brazel | AUS | 1 | 73 |
| T60 | Scott Jamieson | SCO | 1 | 73 |
| T60 | Soren Kjeldsen | DEN | 1 | 73 |
| T60 | Thomas Bjorn | DEN | 1 | 73 |
| T60 | Thorbjorn Olesen | DEN | 1 | 73 |
| T60 | Andrew Dodt | AUS | 1 | - |
| T79 | Adrian Otaegui | ESP | 2 | 74 |
| T79 | Bradley Neil | SCO | 2 | 74 |
| T79 | Charl Schwartzel | RSA | 2 | 74 |
| T79 | Dean Burmester | RSA | 2 | 74 |
| T79 | Edoardo Molinari | ITA | 2 | 74 |
| T79 | Gregory Bourdy | FRA | 2 | 74 |
| T79 | Hideto Tanihara | JPN | 2 | 74 |
| T79 | Justin Rose | ENG | 2 | 74 |
| T79 | Lee Westwood | ENG | 2 | 74 |
| T79 | Lucas Bjerregaard | DNK | 2 | 74 |
| T79 | Marc Warren | SCO | 2 | 74 |
| T79 | Maximilian Kieffer | GER | 2 | 74 |
| T79 | Phachara Khongwatmai | THA | 2 | 74 |
| T79 | Renato Paratore | ITA | 2 | 74 |
| T79 | Thomas Detry | BEL | 2 | 74 |
| T79 | Thongchai Jaidee | THA | 2 | 74 |
| T79 | Robert Coles | ENG | 2 | - |
| T79 | Richie Ramsay | SCO | 2 | - |
| T97 | Alvaro Quiros | ESP | 3 | 75 |
| T97 | Chris Hanson | ENG | 3 | 75 |
| T97 | Gregory Havret | FRA | 3 | 75 |
| T97 | Matthieu Pavon | FRA | 3 | 75 |
| T97 | Pelle Edberg | SWE | 3 | 75 |
| T97 | Ryan Evans | ENG | 3 | 75 |
| T97 | Ryan Fox | NZL | 3 | 75 |
| T97 | Shane Lowry | IRL | 3 | 75 |
| T97 | Thomas Aiken | RSA | 3 | 75 |
| T97 | Daniel Im | USA | 3 | - |
| T107 | Bradley Dredge | WAL | 4 | 76 |
| T107 | Johan Edfors | SWE | 4 | 76 |
| T107 | Mikko Ilonen | FIN | 4 | 76 |
| T107 | Nicolas Colsaerts | BEL | 4 | 76 |
| T107 | David Horsey | ENG | 4 | - |
| T107 | Ricardo Melo Gouveia | POR | 4 | - |
| T113 | Chris Wood | ENG | 5 | 77 |
| T113 | Haydn Porteous | RSA | 5 | 77 |
| T113 | Jason Scrivener | AUS | 5 | 77 |
| T113 | Soo-Min Lee | KOR | 5 | 77 |
| T113 | David Howell | ENG | 5 | - |
| T118 | Daniel Brooks | ENG | 6 | 78 |
| T118 | Jason Norris | AUS | 6 | 78 |
| T118 | Luke Donald | ENG | 6 | 78 |
| T118 | Ashley Chesters | ENG | 6 | - |
| T122 | Lasse Jensen | DNK | 7 | 79 |
| T122 | Raphael Jacquelin | FRA | 7 | 79 |
| T124 | Pedro Oriol | ESP | 8 | 80 |
| T124 | Scott Hend | AUS | 8 | 80 |
| 126 | Nino Bertasio | ITA | 9 | 81 |