June 06-09
Golf Sempach, Lucerne, Switzerland
€185,000
Round 2, Round 3, Round 4
---
Minkyu Kim and Daniel Suchan both carded stunning eight under par rounds of 63 to share the Swiss Challenge Presented by Swiss Golf lead at the end of the first day in Lucerne.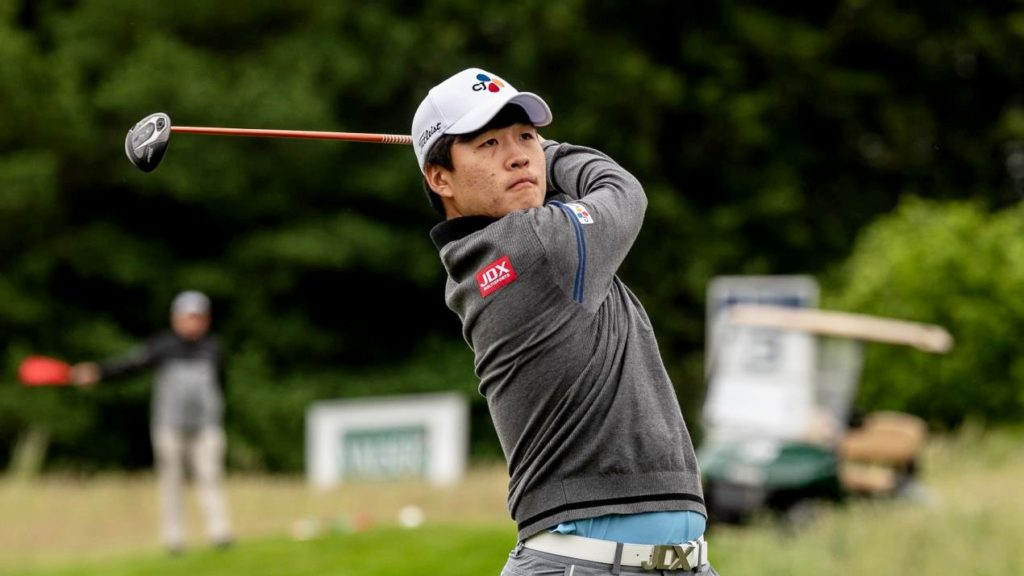 ---
Early starter Kim set the target on a bitterly cold morning at Golf Sempachersee with a superb bogey-free round, before Suchan, of the Czech Republic, equalled the Korean's total with his career-best round in the afternoon.
Kim, who last year became the Tour's youngest-ever winner aged 17 years and 64 days when he triumphed at the D+D REAL Czech Challenge, had a three-week break in South Korea before the Swiss Challenge and is now reaping the rewards in his first competitive round in almost a month.
"When I planned my year, I wanted three weeks off at home so I used that to practise," he said. "I had no time off at home, I practised every day and it was hard work.
"I had a really good round today. I hit some good tee shots, my approaches were good and then I hit some good putts.
"This rough is very heavy and thick so you have to keep it on the fairway from the tee box and I did well.
"The course conditions are great. The greens and fairways are both good and everything is good."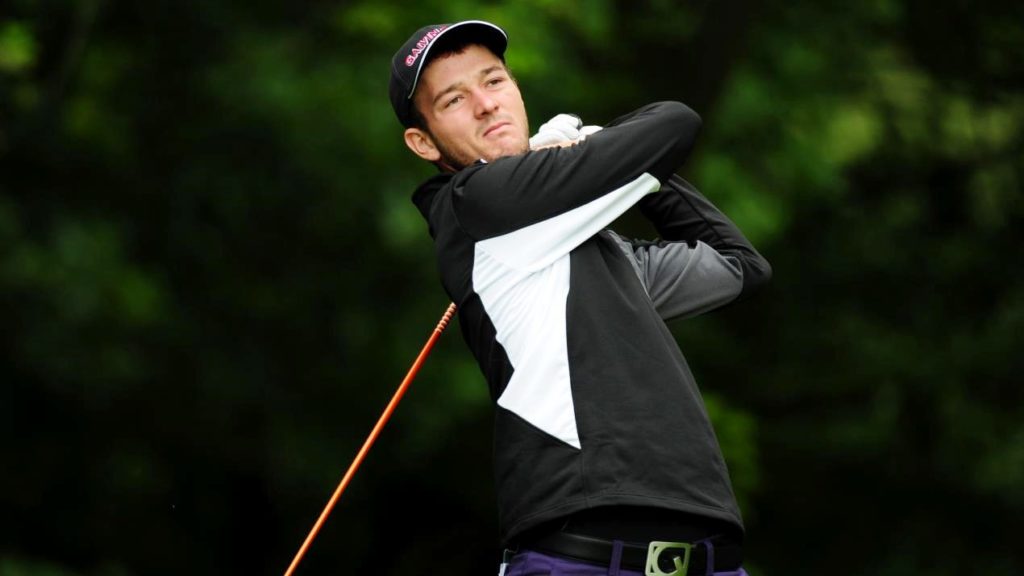 ---
The image of Daniel Suchan must be credited to golfsupport.nl and used in conjunction with this release only. Click on the image to download a high-resolution version.
The temperature in the Swiss mountains began to rise for the afternoon groups and Suchan took full advantage. Starting on the ninth hole, the 26-year-old carded four birdies in his first nine holes and five gains on the back before signing off with a frustrating three-putt bogey on his final hole, the par three eighth.
Despite the bogey to finish, Suchan was delighted with his lowest-ever total of 63, seven shots better than his previous best in 49 European Tour or Challenge Tour starts.
"I'm very happy," he said. "It is satisfying for me to see what I'm capable of, which is very nice, and at the same time it's nice to make the people who have helped me and supported me through the years happy.
"That's the best round by far. It means a lot to me and it was a great day but it's just one round of golf. I want to stay humble, we still have 54 holes to go.
---
"I was hoping to go bogey-free because it's a big thing for me. It was right between a six iron and a seven iron for me and it was a pin where you don't want to be long.
"I hit seven and hit it hard but I just pushed it right and there was a strong break to the left on the putt and I hit a poor putt. I three-putted and it's a pity."
Marco Iten, the leading Swiss player, is two shots off the lead in tied third on six under par alongside Portugal's Ricardo Santos and Australia's Jordan Zunic, with six players a shot further back on five under par.
The second round will begin at 07.25am local time on Friday June 7.
---
| | | | |
| --- | --- | --- | --- |
| Pos. | Player | To Par | R1 |
| 1 | SUCHAN, Daniel | -8 | 63 |
| | KIM, Minkyu | -8 | 63 |
| 3 | SANTOS, Ricardo | -6 | 65 |
| | ITEN, Marco | -6 | 65 |
| | ZUNIC, Jordan | -6 | 65 |
| 6 | BLOMSTRAND, Christofer | -5 | 66 |
| | LAMPERT, Moritz | -5 | 66 |
| | COCKERILL, Aaron | -5 | 66 |
| | LINDELL, Oliver | -5 | 66 |
| | STEWART, Duncan | -5 | 66 |
| | COUPLAND, Dave | -5 | 66 |
| 12 | SYME, Connor | -4 | 67 |
| | ROZNER, Antoine | -4 | 67 |
| | FENASSE, Mathieu | -4 | 67 |
| | BESSELING, Wil | -4 | 67 |
| | NILEHN, Fredrik | -4 | 67 |
| | LINARD, Thomas | -4 | 67 |
| | SCIOT-SIEGRIST, Robin | -4 | 67 |
| | AGUILAR, Felipe | -4 | 67 |
| | HØJGAARD, Rasmus | -4 | 67 |
| | ARIZABALETA, Alvaro | -4 | 67 |
| | DE SOUSA, Raphaël | -4 | 67 |
| | HAASTRUP, Mark Flindt | -4 | 67 |
| | FORD, Matt | -4 | 67 |
| | TILEY, Steven | -4 | 67 |
| | VECCHI FOSSA, Jacopo | -4 | 67 |
| 27 | BALDWIN, Matthew | -3 | 68 |
| | RUSCH, Benjamin | -3 | 68 |
| | STOW, Ben | -3 | 68 |
| | BRAEUNIG, Christian | -3 | 68 |
| | VAN MEIJEL, Lars | -3 | 68 |
| | CUARTERO BLANCO, Emilio | -3 | 68 |
| | PERRIER, Damien | -3 | 68 |
| | KNAPPE, Alexander | -3 | 68 |
| | SCHNEIDER, Marcel | -3 | 68 |
| | BOURDY, Grégory | -3 | 68 |
| | BERARDO, Clément | -3 | 68 |
| 38 | GARCIA RODRIGUEZ, Sebastian | -2 | 69 |
| | ECCLES, Ben | -2 | 69 |
| | HILL, Calum | -2 | 69 |
| | ORRIN, Max | -2 | 69 |
| | KOEPKA, Chase | -2 | 69 |
| | HEISELE, Sebastian | -2 | 69 |
| | PFEIFFER, Yann | -2 | 69 |
| | DEAN, Joe | -2 | 69 |
| | EASTON, Bryce | -2 | 69 |
| | JORDAN, Matthew | -2 | 69 |
| | ROUSSEL, Robin | -2 | 69 |
| | RIU, Victor | -2 | 69 |
| | HUIZING, Daan | -2 | 69 |
| | BLAND, Richard | -2 | 69 |
| | LANDO CASANOVA, Jérôme | -2 | 69 |
| | HØJGAARD, Nicolai | -2 | 69 |
| | RUUSKA, Lauri | -2 | 69 |
| 55 | VON DELLINGSHAUSEN, Nicolai | -1 | 70 |
| | QUESNE, Julien | -1 | 70 |
| | SENIOR, Jack | -1 | 70 |
| | EGGENBERGER, Mathias | -1 | 70 |
| | GREGORY, Scott | -1 | 70 |
| | MCCARTHY, Nick | -1 | 70 |
| | EVANS, Ryan | -1 | 70 |
| | KELLY, Sean | -1 | 70 |
| | KEYSER, Mathiam | -1 | 70 |
| | BOOTE, David | -1 | 70 |
| | GLOET, Christian | -1 | 70 |
| | MADDY, Paul | -1 | 70 |
| | MIVIS, Christopher | -1 | 70 |
| | KÖLBING, Jonas | -1 | 70 |
| | DI NITTO, Enrico | -1 | 70 |
| 70 | STARK, Oscar | Par | 71 |
| | FARR, Oliver | Par | 71 |
| | SHARVIN, Cormac | Par | 71 |
| | LOPES, Vitor | Par | 71 |
| | GRADECKI, Mateusz | Par | 71 |
| | WEPPERNIG, Philippe | Par | 71 |
| | DEL VAL, Samuel | Par | 71 |
| | COUSSAUD, Ugo | Par | 71 |
| | GIRRBACH, Joel | Par | 71 |
| | JENSEN, Lasse | Par | 71 |
| | FOOS, Dominic | Par | 71 |
| | HULDAHL, Jeppe Pape | Par | 71 |
| | HOWIE, Craig | Par | 71 |
| | GREHAN, Stuart | Par | 71 |
| | CLEMENTS, Todd | Par | 71 |
| 85 | ELVIRA, Manuel | 1 | 72 |
| | NOSEDA (AM), Alessandro | 1 | 72 |
| | LAFEBER, Maarten | 1 | 72 |
| | GARCIA-HEREDIA, Alfredo | 1 | 72 |
| | TINNING, Nicolai | 1 | 72 |
| | FERGUSON, Ewen | 1 | 72 |
| | CANTER, Laurie | 1 | 72 |
| | EL HALI, Karim | 1 | 72 |
| | DAWSON, Robin | 1 | 72 |
| | COHEN-BOYER, Louis | 1 | 72 |
| | ERIKSSON, Martin | 1 | 72 |
| | HIDALGO, Angel | 1 | 72 |
| | MEJOW, Philipp | 1 | 72 |
| | GUGLER (AM), Cédric | 1 | 72 |
| | GALLIANO, Luca | 1 | 72 |
| | PIGEM, Carlos | 1 | 72 |
| | PORTEOUS, Garrick | 1 | 72 |
| | WIEGELE, Martin | 1 | 72 |
| | SIMONSEN, Martin | 1 | 72 |
| | MERONK, Adrian | 1 | 72 |
| | ANGLES, Pep | 1 | 72 |
| | PEACOCK, Daniel | 1 | 72 |
| 107 | NEIL, Bradley | 2 | 73 |
| | FREIBURGHAUS, Jeremy | 2 | 73 |
| | MICHAEL, Anthony | 2 | 73 |
| | BURNIER, Jean-Luc | 2 | 73 |
| | YOUNG, Mark | 2 | 73 |
| | DAYDOU, Alexandre | 2 | 73 |
| | WRISDALE, Jordan | 2 | 73 |
| | DOBIAS, Marc | 2 | 73 |
| | GEYGER, Nico | 2 | 73 |
| | HELLIGKILDE, Marcus | 2 | 73 |
| | SARACINO, Andrea | 2 | 73 |
| 118 | TARRIO BEN, Santiago | 3 | 74 |
| | TRAPPEL, Manuel | 3 | 74 |
| | MAZZOLI (AM), Stefano | 3 | 74 |
| | MCGEE, Ruaidhri | 3 | 74 |
| | LENGDEN, Oscar | 3 | 74 |
| | GERHARDSEN (AM), Nicola | 3 | 74 |
| | STAL, Gary | 3 | 74 |
| | MOHR, Marcus | 3 | 74 |
| | DE LA RIVA, Eduardo | 3 | 74 |
| | OVESEN, Martin | 3 | 74 |
| 128 | DECOTTIGNIES-LAFON, Mathieu | 4 | 75 |
| | POKE, Benjamin | 4 | 75 |
| | WIDEGREN, Pontus | 4 | 75 |
| | FERNANDEZ, Scott | 4 | 75 |
| | SHIM, Jaewoo | 4 | 75 |
| | CARLOTA, Joao | 4 | 75 |
| | OLSEN, Aksel | 4 | 75 |
| | COHEN, Perry | 4 | 75 |
| | FORD, Charlie | 4 | 75 |
| | CEA, Michele | 4 | 75 |
| 138 | SVANBERG, Fredrik | 5 | 76 |
| | CALDERON, Matias | 5 | 76 |
| | SAXTON, Reinier | 5 | 76 |
| | HANSON, Chris | 5 | 76 |
| | VIRTO, Borja | 5 | 76 |
| 143 | ETTLIN (AM), Loic | 6 | 77 |
| | GRANT, Stephen | 6 | 77 |
| | VAN DRIEL, Darius | 6 | 77 |
| | JOANNES, Hugues | 6 | 77 |
| 147 | LEITMANNSTETTER, Aaron | 7 | 78 |
| | SPOONER, Billy | 7 | 78 |
| | LANGFORS, Per | 7 | 78 |
| | STALTER, Joël | 7 | 78 |
| | IM, Daniel | 7 | 78 |
| 152 | ROCHDI, Soufiane | 10 | 81 |
| 153 | NEUMAYER, Bernard | 11 | 82 |
| 154 | MURRAY, Michael | 12 | 83 |
| | WITTMANN, Sebastian | 12 | 83 |
| 156 | FRANCIONI, Roberto | 14 | 85 |