August 30 - September 01
Hanbury Manor Marriott Hotel & CC, Ware, Hertfordshire, England
£400,000
Round 2, Round 3
---
Gary Evans will take a one-stroke lead into the second round of The Sinclair Invitational after posting a sublime six under par round of 66 on day one at Hanbury Manor Marriott Hotel and Country Club.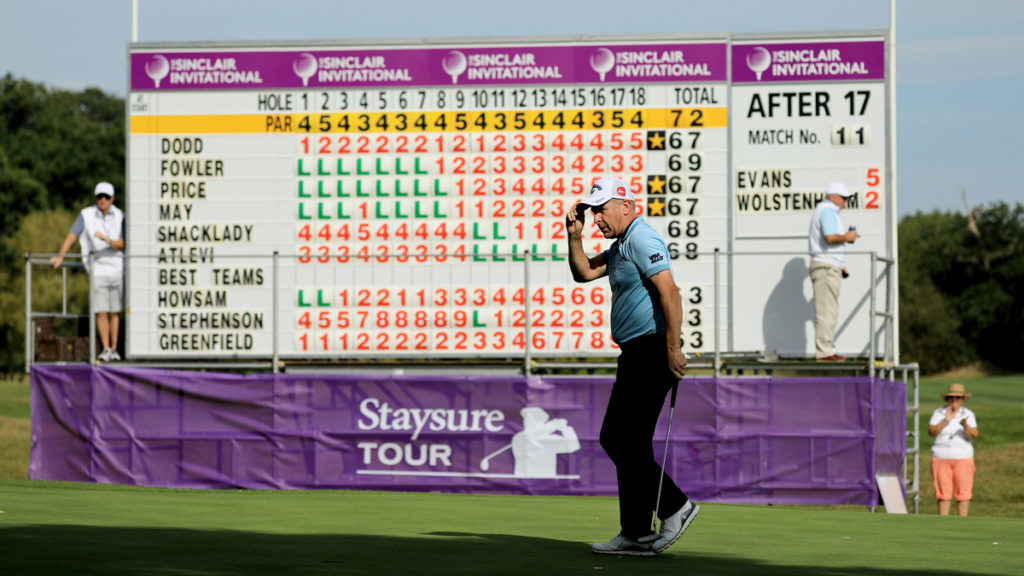 ---
The Englishman was two under par at the turn and closed with three birdies in his final four holes to go one better than the trio of Stephen Dodd, Bob May and Phillip Price who share second place.
Evans, playing in his maiden Staysure Tour season, earned his second top ten finish of the season last time out at the Scottish Senior Open and after admitting he has struggled with his short game recently, he was pleased with how he fared around the greens during his opening round.
"I played really nicely today. I drove the ball well and I hit a lot of good second shots," he said. "I read the pace of the greens well – I didn't hole a lot of putts but when I had the chances, I made a few of them.
The last week or so, I've been a bit frustrated with things. My short game, particularly my pitching, hasn't been good all year and I've been working really hard on trying to figure that out.
"I hit a lovely pitch into 18 which historically this year I've been shocking with. I had 75 yards, downwind, upper tier green and to get that right was really rewarding.
---
"I've been playing nicely for most of the year and the short game was the bit that has really been a struggle. If I can keep relaxed and just keep trying to execute as best I can, I feel very comfortable."
Since teeing it up as a Staysure Tour member for the first time at the Jordan Mixed Open presented by Ayla in April, Evans's highest finish has been a tied third at the Farmfoods European Legends Links Championship hosted by Ian Woosnam.
The Englishman's scores do not necessarily reflect how well he has played in his debut season and he believes that is testament to the quality of player teeing it up on the over-50s circuit.
"I've got to say I've been really impressed with the scoring out here," he said. "A lot of weeks I've felt like I've played quite well and quite nicely but then I look up and I'm still quite a long way back.
"There is still a lot of talent out here and the guys really can play. It's hard when you've been out of the game for quite a long time because you don't really have any expectations, but they still really know how to shoot some numbers."
Prior to 2019, the 50-year-old's last full season was on the European Tour in 2006 and after holding down a job for the last 13 years, he is overjoyed to be competing once more.
"Life on the Staysure Tour is brilliant. I actually didn't realise how much I would enjoy it," he said. "A year ago, I wasn't even thinking too much about playing golf because I've been working in the real world for the past 12 or 13 years.
"It's been an absolute joy to come out and play well with friends, compete, and be the master of your own destiny a little bit. It's been a while since I've done that. It's great."
One shot behind Dodd, May and Price are three 2018 winners—Magnus P Atlevi, David Shacklady and Paul Streeter, while a shot further back on three under are Scottish duo Paul Lawrie and Andrew Oldcorn, along with Austria's Markus Brier and defending champion Peter Fowler.
The second round will get under way at 9.30am local time, with Evans playing at 10.00am.
---
| | | | | |
| --- | --- | --- | --- | --- |
| Pos. | Player | Nat | To Par | R1 |
| 1 | EVANS Gary | ENG | -6 | 66 |
| 2 | DODD Stephen | WAL | -5 | 67 |
| 2 | MAY Bob | USA | -5 | 67 |
| 2 | PRICE Phillip | WAL | -5 | 67 |
| 5 | ATLEVI Magnus P | SWE | -4 | 68 |
| 5 | SHACKLADY David | ENG | -4 | 68 |
| 5 | STREETER Paul | ENG | -4 | 68 |
| 8 | BRIER Markus | AUT | -3 | 69 |
| 8 | FOWLER Peter | AUS | -3 | 69 |
| 8 | LAWRIE Paul | SCO | -3 | 69 |
| 8 | OLDCORN Andrew | SCO | -3 | 69 |
| 12 | GOMEZ Rafael | ARG | -2 | 70 |
| 12 | KINGSTON James | RSA | -2 | 70 |
| 12 | MOLINA Mauricio | ARG | -2 | 70 |
| 12 | SANDELIN Jarmo | SWE | -2 | 70 |
| 12 | WALTON Philip | IRL | -2 | 70 |
| 17 | CHAPMAN Roger | ENG | -1 | 71 |
| 17 | THELEN Tim | USA | -1 | 71 |
| 17 | WESSELINGH Paul | ENG | -1 | 71 |
| 17 | WOLSTENHOLME Gary | ENG | -1 | 71 |
| 21 | BOSSERT André | SUI | 0 | 72 |
| 21 | CARRILES José Manuel | ESP | 0 | 72 |
| 21 | FARRY Marc | FRA | 0 | 72 |
| 21 | HAEGGMAN Joakim | SWE | 0 | 72 |
| 21 | JAMES Mark | ENG | 0 | 72 |
| 21 | LEVET Thomas | FRA | 0 | 72 |
| 21 | LITTLE Stuart | ENG | 0 | 72 |
| 21 | MCNULTY Mark | IRL | 0 | 72 |
| 21 | WILLIAMS Chris | RSA | 0 | 72 |
| 30 | BAKER Peter | ENG | 1 | 73 |
| 30 | EMERSON Gary | ENG | 1 | 73 |
| 30 | GOLDING Philip | ENG | 1 | 73 |
| 30 | LANE Barry | ENG | 1 | 73 |
| 30 | LUNA Santiago | ESP | 1 | 73 |
| 30 | MACKENZIE Malcolm | ENG | 1 | 73 |
| 30 | MOULAND Mark | WAL | 1 | 73 |
| 30 | REMESY Jean-François | FRA | 1 | 73 |
| 30 | TINNING Steen | DEN | 1 | 73 |
| 39 | COCERES José | ARG | 2 | 74 |
| 39 | GILFORD David | ENG | 2 | 74 |
| 39 | JOB Nick | ENG | 2 | 74 |
| 39 | LOMAS Jonathan | ENG | 2 | 74 |
| 39 | OLSEN Dan | USA | 2 | 74 |
| 39 | SMYTH Des | IRL | 2 | 74 |
| 45 | EALES Paul | ENG | 3 | 75 |
| 45 | MARTIN Miguel Angel | ESP | 3 | 75 |
| 45 | ORR Gary | SCO | 3 | 75 |
| 48 | MARKS Gary | ENG | 4 | 76 |
| 48 | MASON Carl | ENG | 4 | 76 |
| 48 | SHERBORNE Andrew | ENG | 4 | 76 |
| 51 | DRUMMOND Ross | SCO | 5 | 77 |
| 51 | RICHARDSON Steven | ENG | 5 | 77 |
| 51 | WOOSNAM Ian | WAL | 5 | 77 |
| 54 | DENNIS Clark | USA | 6 | 78 |