Staysure Tour
Travis Perkins Masters 2018
August 31 - September 02
Woburn Golf Club, Buckinghamshire, England
August 31 - September 02
Woburn Golf Club, Buckinghamshire, England
Round 1
Streeter holds commanding lead after Day One at Woburn
Round 2
Round 3
Round 2
Round 3
August 31, 2018

Paul Streeter posted a superb six under par 66 at the Travis Perkins Masters to lead by three at the end of Day One at Woburn Golf Club.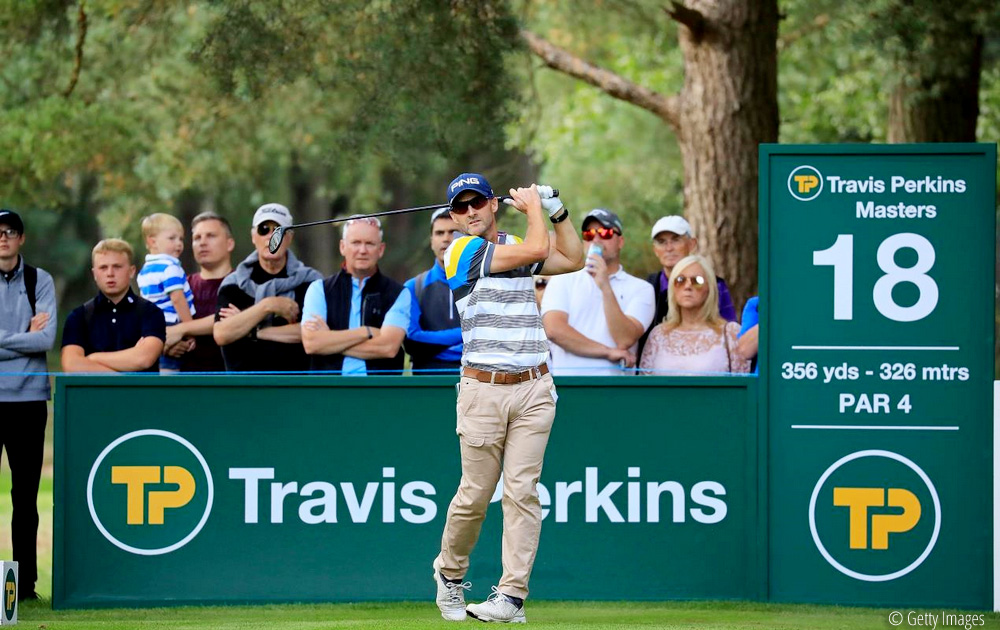 - Getty Images

The Englishman, playing in the penultimate group of the day, started his round in style by holing out from 100 yards for eagle on the par five first before making the turn in 29, six under par.

Two back nine birdies were cancelled out by a pair of bogeys as he stayed at six under par, three shots ahead of James Kingston and Carl Mason in tied second.

Streeter revealed that he has altered his approach to playing par fives by opting to lay-up, so he was delighted when he holed his approach to begin his round with an eagle at the first.

"It was an extremely pleasing round," he said. "I played great and hit it well. I holed a few putts, which was nice, but holing my third shot into the first from 100 yards for eagle was a good start.

"The fairways are a bit soft so it makes it a bit wider off the tee and helps you keep the ball on the fairway.

"Being second to last out, I thought the greens would churn up but they rolled lovely and there were no footprints or spike-marks. The course held up really well."

The 51 year old was a late bloomer in terms of professional golf, not making the transition from the amateur ranks until he was 31 and he is now relishing life as one of the younger players on the Staysure Tour.

"I'm loving it, it's fantastic," he said. "It's what I've always wanted to do. When I got on the European Tour, I was an old boy really at 33, so it's nice to be a youngster coming out here! The boys have made me so welcome.

"I've got a new putter in the bag, which always helps. When you hole a few putts, it makes the world of difference. When I've been giving myself chances, knocking them in makes a big difference."

Behind the duo at three under par are four players – Miguel Ángel Martin, Mauricio Molina, Jean- François Remesy and Chris Williams – on two under par, with six players a shot further back at one under.

Reigning champion Philip Golding began his title defence with a one over par 73, while 2017 Order of Merit winner Clark Dennis finished level par with two birdies and two bogeys on his card.

The second round will begin at 8.45am on Saturday, with Eamonn Darcy, Gary Marks and Andrew Murray the first group out on the Duke's Course.

| | | | |
| --- | --- | --- | --- |
| Pos. | Player | To Par | R1 |
| 1 | STREETER, Paul | -6 | 66 |
| 2 | MASON, Carl | -3 | 69 |
| | KINGSTON, James | -3 | 69 |
| 4 | REMESY, Jean-François | -2 | 70 |
| | WILLIAMS, Chris | -2 | 70 |
| | MOLINA, Mauricio | -2 | 70 |
| | MARTIN, Miguel Angel | -2 | 70 |
| 8 | ORR, Gary | -1 | 71 |
| | DODD, Stephen | -1 | 71 |
| | BOSSERT, André | -1 | 71 |
| | ATLEVI, Magnus P | -1 | 71 |
| | GILFORD, David | -1 | 71 |
| | LOMAS, Jonathan | -1 | 71 |
| 14 | BRIER, Markus | Par | 72 |
| | SMYTH, Des | Par | 72 |
| | MOULAND, Mark | Par | 72 |
| | WESSELINGH, Paul | Par | 72 |
| | DENNIS, Clark | Par | 72 |
| | MAMAT, Mardan | Par | 72 |
| | LANE, Barry | Par | 72 |
| | VAN DE VELDE, Jean | Par | 72 |
| | SHACKLADY, David | Par | 72 |
| 23 | O'MALLEY, Peter | 1 | 73 |
| | MONASTERIO, Cesar | 1 | 73 |
| | BAKER, Peter | 1 | 73 |
| | MCNULTY, Mark | 1 | 73 |
| | WOOSNAM, Ian | 1 | 73 |
| | GOLDING, Philip | 1 | 73 |
| | FOWLER, Peter | 1 | 73 |
| | MCGOVERN, Brendan | 1 | 73 |
| 31 | BROWN, Simon P | 2 | 74 |
| | WHARTON, Mark | 2 | 74 |
| | HARWOOD, Mike | 2 | 74 |
| | LUNA, Santiago | 2 | 74 |
| | CHAPMAN, Roger | 2 | 74 |
| | OLDCORN, Andrew | 2 | 74 |
| | PRICE, Phillip | 2 | 74 |
| | JAMES, Mark | 2 | 74 |
| | COCERES, José | 2 | 74 |
| | MACKENZIE, Malcolm | 2 | 74 |
| 41 | THELEN, Tim | 3 | 75 |
| | TINNING, Steen | 3 | 75 |
| 43 | WALTON, Philip | 4 | 76 |
| 44 | ROCCA, Costantino | 5 | 77 |
| | FARRY, Marc | 5 | 77 |
| | SANDELIN, Jarmo | 5 | 77 |
| | BRAND, Gordon J | 5 | 77 |
| | KEMP, John | 5 | 77 |
| 49 | RIVERO, José | 6 | 78 |
| | GOMEZ, Rafael | 6 | 78 |
| | EALES, Paul | 6 | 78 |
| 52 | MARKS, Gary | 7 | 79 |
| 53 | MURRAY, Andrew | 11 | 83 |
| 54 | DARCY, Eamonn | 13 | 85 |
| | | | |
| --- | --- | --- | --- |
| Pos. | Player | To Par | R1 |
| 1 | STREETER, Paul | -6 | 66 |
| 2 | MASON, Carl | -3 | 69 |
| | KINGSTON, James | -3 | 69 |
| 4 | REMESY, Jean-François | -2 | 70 |
| | WILLIAMS, Chris | -2 | 70 |
| | MOLINA, Mauricio | -2 | 70 |
| | MARTIN, Miguel Angel | -2 | 70 |
| 8 | ORR, Gary | -1 | 71 |
| | DODD, Stephen | -1 | 71 |
| | BOSSERT, André | -1 | 71 |
| | ATLEVI, Magnus P | -1 | 71 |
| | GILFORD, David | -1 | 71 |
| | LOMAS, Jonathan | -1 | 71 |
| 14 | BRIER, Markus | Par | 72 |
| | SMYTH, Des | Par | 72 |
| | MOULAND, Mark | Par | 72 |
| | WESSELINGH, Paul | Par | 72 |
| | DENNIS, Clark | Par | 72 |
| | MAMAT, Mardan | Par | 72 |
| | LANE, Barry | Par | 72 |
| | VAN DE VELDE, Jean | Par | 72 |
| | SHACKLADY, David | Par | 72 |
| 23 | O'MALLEY, Peter | 1 | 73 |
| | MONASTERIO, Cesar | 1 | 73 |
| | BAKER, Peter | 1 | 73 |
| | MCNULTY, Mark | 1 | 73 |
| | WOOSNAM, Ian | 1 | 73 |
| | GOLDING, Philip | 1 | 73 |
| | FOWLER, Peter | 1 | 73 |
| | MCGOVERN, Brendan | 1 | 73 |
| 31 | BROWN, Simon P | 2 | 74 |
| | WHARTON, Mark | 2 | 74 |
| | HARWOOD, Mike | 2 | 74 |
| | LUNA, Santiago | 2 | 74 |
| | CHAPMAN, Roger | 2 | 74 |
| | OLDCORN, Andrew | 2 | 74 |
| | PRICE, Phillip | 2 | 74 |
| | JAMES, Mark | 2 | 74 |
| | COCERES, José | 2 | 74 |
| | MACKENZIE, Malcolm | 2 | 74 |
| 41 | THELEN, Tim | 3 | 75 |
| | TINNING, Steen | 3 | 75 |
| 43 | WALTON, Philip | 4 | 76 |
| 44 | ROCCA, Costantino | 5 | 77 |
| | FARRY, Marc | 5 | 77 |
| | SANDELIN, Jarmo | 5 | 77 |
| | BRAND, Gordon J | 5 | 77 |
| | KEMP, John | 5 | 77 |
| 49 | RIVERO, José | 6 | 78 |
| | GOMEZ, Rafael | 6 | 78 |
| | EALES, Paul | 6 | 78 |
| 52 | MARKS, Gary | 7 | 79 |
| 53 | MURRAY, Andrew | 11 | 83 |
| 54 | DARCY, Eamonn | 13 | 85 |