May 02-05
Genzon Golf Club, Shenzhen, China
CNY 20,000,000
Live leaderboard
Round 2, Round 3, Round 4
---
Jorge Campillo picked up exactly where he left off in Morocco last week as the European Tour's most recent champion carded an opening 65 to share the first round lead in the 25th edition of the Volvo China Open.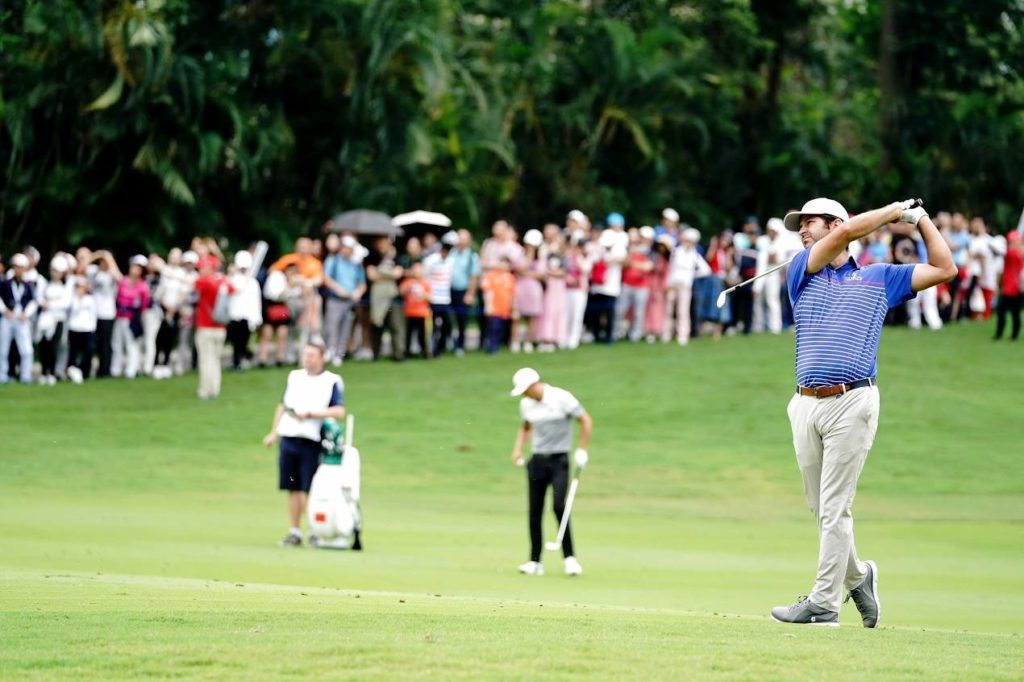 "I got a few nights sleep so it was good and I played alright. Hitting fairways and greens and I made a few putts as well so it was good round."
The Spaniard was clearly still riding the wave of his maiden victory at the Trophée Hassan II on Sunday as he opened with a birdie and finished the front nine with an eagle three - with three more birdies in between - before a quieter back nine yielded just one gained shot at the par five 17th.
"The eagle on nine was the highlight, I made great putts on seven and eight back to back and then I hit a great hybrid on nine. I got an easy putt uphill and I made it.
"If I can keep playing like this and making the putts it will be a good sign, I'll play to my best tomorrow and hopefully have a chance on the weekend.
He joined American David Lipsky, a winner already this season at the Alfred Dunhill Championship, and Tapio Pulkkanen of Finland at the top of the leaderboard on seven under par.
"I played well and I got my putter working today," said Lipsky. "I hit it alright, not great, but I think I holed 150 feet of putts today so that always helps.
"I was trying to be aggressive and it didn't work out for me. I was just trying to get it to 15-20 feet from the hole and luckily I kept making them.
"Everything's in good shape out here. The greens are pure, it's pick and place you have a perfect lie every time so it's definitely good playing conditions."
Home hero and the 2015 Volvo China Open champion Wu Ashun was a shot further back alongside his compatriot Jin Daxing and American John Catlin after three 66s, while another Chinese star, World Number 39 Li Haotong, was one of eight players in a share of sixth place on five under.
"It was a very good round today, I hit a lot of quality shots and made a lot of birdies, so it was a good start to the tournament," said Wu.
"I think you have to hit the fairways out there and just keep it on the green and then you'll have chances to make birdies.
"It was challenging for everyone when the rain came down there for a while, it's not easy on this golf course in those conditions. It's wet and you lose distance with the driver so it's tough for everyone."
---
Pos.

Player

Nat

To Par

R1

T1

David Lipsky

USA

-7

65

T1

Tapio Pulkkanen

FIN

-7

65

T1

Jorge Campillo

ESP

-7

65

T4

John Catlin

USA

-6

66

T4

Ashun Wu

CHI

-6

66

T4

Daxing Jin

CHN

-6

66

T7

Miguel Tabuena

PHL

-5

67

T7

Romain Langasque

FRA

-5

67

T7

Gavin Green

MAS

-5

67

T7

Jordan Smith

ENG

-5

67

T7

Ross Fisher

ENG

-5

67

T7

Benjamin Hebert

FRA

-5

67

T7

Haotong Li

CHN

-5

67

T7

Michael Lorenzo-Vera

FRA

-5

67

T15

Hongfu Wu

CHN

-4

68

T15

Sam Brazel

AUS

-4

68

T15

Victor Dubuisson

FRA

-4

68

T15

Tirawat Kaewsirbandit

THA

-4

68

T15

Mikko Korhonen

FIN

-4

68

T15

Erik Van Rooyen

RSA

-4

68

T15

Scott Hend

AUS

-4

68

T15

Fabrizio Zanotti

PAR

-4

68

T15

Sean Crocker

USA

-4

68

T15

Nacho Elvira

ESP

-4

68

T15

Yuta Ikeda

JPN

-4

68

T15

Oliver Wilson

ENG

-4

68

T15

Jack Singh-Brar

ENG

-4

68

T15

Matthieu Pavon

FRA

-4

68

T15

Nicolas Colsaerts

BEL

-4

68

T15

Scott Jamieson

SCO

-4

68

T15

Carl Yuan

CHN

-4

68

T15

Stuart Manley

WAL

-4

68

T33

Paul Peterson

USA

-3

69

T33

Julian Suri

USA

-3

69

T33

Richie Ramsay

SCO

-3

69

T33

Masahiro Kawamura

JPN

-3

69

T33

Min-Woo Lee

AUS

-3

69

T33

Malcolm Kokocinski

SWE

-3

69

T33

Hyun-Woo Ryu

KOR

-3

69

T33

Khalin Joshi

IND

-3

69

T33

Micah Shin

USA

-3

69

T33

Bernd Wiesberger

AUT

-3

69

T33

Cheng Jin

CHN

-3

69

T33

Joachim B. Hansen

DEN

-3

69

T33

Haydn Porteous

RSA

-3

69

T46

Scott Vincent

ZWE

-2

70

T46

Thongchai Jaidee

THA

-2

70

T46

Sadom Kaewkanjana

THA

-2

70

T46

Enqi Liang

CHN

-2

70

T46

Jason Scrivener

AUS

-2

70

T46

Thomas Detry

BEL

-2

70

T46

Guxin Chen

CHN

-2

70

T46

Shiv Kapur

IND

-2

70

T46

Sam Horsfield

ENG

-2

70

T46

Chun Liu

CHN

-2

70

T46

Dean Burmester

RSA

-2

70

T46

Panuphol Pittayarat

THA

-2

70

T46

Richard T. Lee

-2

70

T46

Romain Wattel

FRA

-2

70

T46

Bernd Ritthammer

GER

-2

70

T46

Jacques Kruyswijk

RSA

-2

70

T46

Jeung-Hun Wang

KOR

-2

70

T46

Zach Murray

AUS

-2

70

T46

Alexander Levy

FRA

-2

70

T46

Jazz Janewattananond

THA

-2

70

T46

Alexander Bjoerk

SWE

-2

70

T46

Berry Henson

USA

-2

70

T46

Matthias Schwab

AUT

-2

70

T69

Kodai Ichihara

JPN

-1

71

T69

Yang Kuang

CHN

-1

71

T69

Shiv Chawrasia

IND

-1

71

T69

Kurt Kitayama

USA

-1

71

T69

Niklas Lemke

SWE

-1

71

T69

Jeev Milkha Singh

IND

-1

71

T69

Marcel Siem

GER

-1

71

T69

Wenyi Huang

CHN

-1

71

T69

Zihao Chen

CHN

-1

71

T69

Chengyao Ma

CHN

-1

71

T69

Sebastian Soederberg

SWE

-1

71

T69

Daniel Nisbet

AUS

-1

71

T69

Shih-Chang Chan

TPE

-1

71

T69

Aaron Rai

ENG

-1

71

T69

Kalle Samooja

FIN

-1

71

T69

Wenchong Liang

CHN

-1

71

T69

Chieh-Po Lee

CHN

-1

71

T69

Shaun Norris

RSA

-1

71

T69

Yusaku Miyazato

JPN

-1

71

T69

Grant Forrest

SCO

-1

71

T69

Gaganjeet Bhullar

IND

-1

71

T69

James Morrison

ENG

-1

71

T91

Louis De Jager

RSA

Par

72

T91

Nicholas Fung

MAL

Par

72

T91

Andrea Pavan

ITA

Par

72

T91

Brett Rumford

AUS

Par

72

T91

Bowen Xiao

CHN

Par

72

T91

Johannes Veerman

USA

Par

72

T91

Steven Brown

ENG

Par

72

T91

Wade Ormsby

AUS

Par

72

T91

Adilson Da Silva

BRA

Par

72

T91

Jianfeng Ye

CHN

Par

72

T91

Jin Zhang

CHN

Par

72

T91

Xuewen Luo

CHN

Par

72

T103

Zheng Ouyang

CHN

1

73

T103

Tian Yuan

CHN

1

73

T103

Zhengkai Bai

CHN

1

73

T103

Jia Zhang

CHN

1

73

T103

Shang Zhi

CHN

1

73

T103

Changping Chen

CHN

1

73

T103

Haimeng Chao

CHN

1

73

T103

Shiyu Fan

CHN

1

73

T103

Zhu Zhuang

CHN

1

73

T103

David Gleeson

AUS

1

73

T103

Sihwan Kim

KOR

1

73

T103

Guido Migliozzi

ITA

1

73

T103

Danie van Tonder

RSA

1

73

T103

Deyen Lawson

AUS

1

73

T117

Shaocai He

CHN

2

74

T117

David Howell

ENG

2

74

T117

Huilin Zhang

CHN

2

74

T117

William Liu

CHN

2

74

T117

Dinggen Chen

CHN

2

74

T117

Dong Su

CHN

2

74

T117

Christiaan Bezuidenhout

RSA

2

74

T117

Daniel Gavins

ENG

2

74

T117

Marcus Fraser

AUS

2

74

T117

Pedro Figueiredo

POR

2

74

T117

Zihong Zhang

CHN

2

74

T117

Ajeetesh Sandhu

IND

2

74

T117

Jake McLeod

AUS

2

74

T117

Renato Paratore

ITA

2

74

T131

Jianshan Li

CHN

3

75

T131

Adria Arnaus

ESP

3

75

T131

Jens Dantorp

SWE

3

75

T131

Yinong Yang

CHN

3

75

T131

Hugo Leon

CHI

3

75

T131

Liam Johnston

SCO

3

75

T131

Chao Song

CHN

3

75

T131

Zeming He

CHN

3

75

T131

Dimitrios Papadatos

AUS

3

75

T131

Zihan She

CHN

3

75

T141

Paul Dunne

IRL

4

76

T141

Dongyu Wang

CHN

4

76

T141

Kim Koivu

FIN

4

76

T141

Viraj Madappa

IND

4

76

T145

Hideto Tanihara

JPN

5

77

T145

Andreas Groenkvist

SWE

5

77

T145

Lu Sen Lien

TPE

5

77

T145

Lianwei Zhang

CHN

5

77

T145

Yilong Cheng

CHN

5

77

150

Bingwen Ma

CHN

6

78

T151

Weiyu Zhu

CHN

7

79

T151

Zander Lombard

RSA

7

79

T151

Tuxuan Wu

CHN

7

79

154

Zehao Liu

CHN

9

81

155

Poom Saksansin

THA

10

82

RET

Nino Bertasio

ITA

Par

-