Staysure Tour
Willow Senior Golf Classic 2018
August 24-26
Hanbury Manor Marriott Hotel & CC, Ware, England
£370,000
August 24-26
Hanbury Manor Marriott Hotel & CC, Ware, England
£370,000
Round 1
Orr bidding to go one better as he shares lead
Round 2
Round 3
Round 2
Round 3
August 24, 2018

Last year's Willow Senior Golf Classic runner-up Gary Orr shares the first-round lead at Hanbury Manor Marriott Hotel & Country Club as he hopes to go one better at this year's event.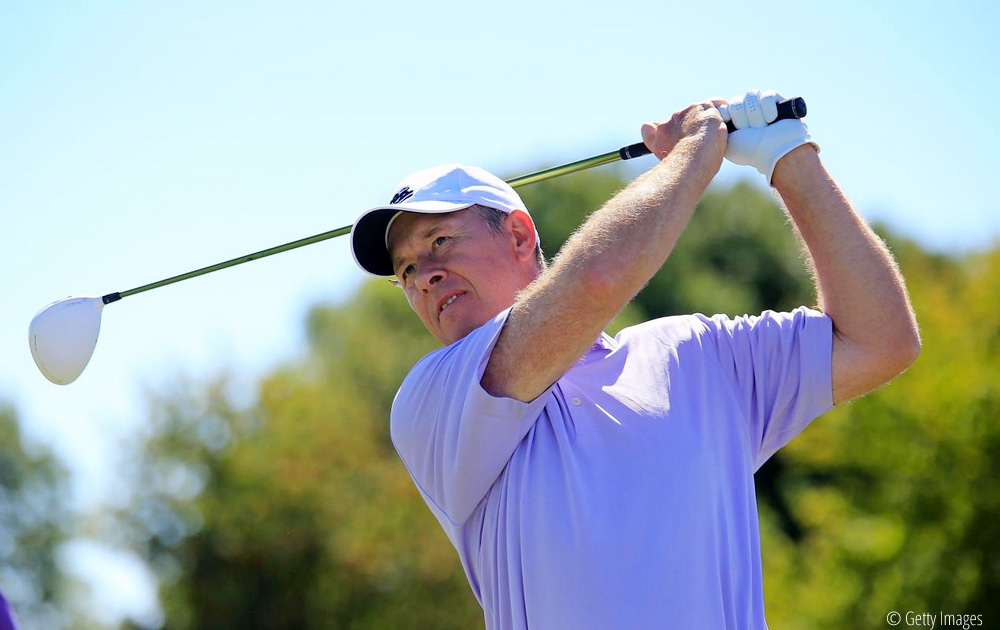 - Getty Images

The Scot, who carded a 17 under par 54-hole total last year, carded a first round of 66, six under par, to join Australia's Peter Fowler and Argentina's Rafael Gomez at the top of the leaderboard.

Orr finished five strokes behind Barry Lane in 2017, as the Englishman carded a then-Staysure Tour record-low score of 22 under par.

"I've always played fairly well here," said Orr. "You feel comfortable on certain courses, and here you can always find good distances, which makes your second shots easier into the greens.

"I'm really happy with the start. It was tricky out there; the front nine was playing tough so I'm really pleased with six under.

"The wind was gusting a bit, so picking clubs was a bit tough. There are some trees behind greens, so you're never sure how the wind will affect things.

"I holed a lot of nice putts today and rolled the ball well, if I keep doing that I'll be really happy."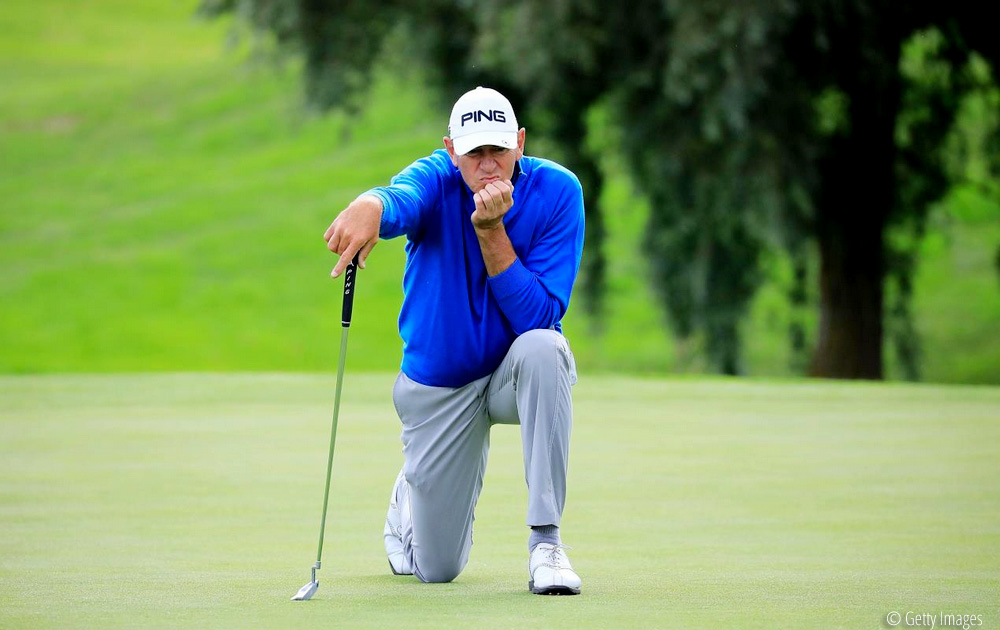 - Getty Images

Fowler, a five-time winner on the European over-50s circuit, carded seven birdies, with just the solitary blemish on the par three fourth hole.

The Australian birdied three of the first five holes, and the 59 year old was pleased he could carry his momentum throughout the rest of the round.

"It was a perfect start," said Fowler. "I holed a nice bunker shot and then hit another good shot on the 11th.

"The course is running well, so if you're hitting it solid it helps on some holes – but you do have to hit it straight.

"Even though the rough isn't particularly long, it can be tricky going into the greens out of that sort of stuff.

"I've been playing steady, and this is the first round where I've really clicked since the event in Sharjah at the start of the year. We have a run of tournaments at the moment, and it really helps getting into the groove, you feel like you're getting going."

In a share of fourth place are American Clark Dennis and Spain's Miguel Angel Martin on five under par.

Five Englishmen, two-time Senior Major Champion Roger Chapman, Paul Eales, 1999 Ryder Cup Captain Mark James, David Shacklady and Paul Wesselingh, share sixth place with Spain's Santiago Luna on four under.

Nick Job, celebrating his 300th appearance on the Staysure Tour, shares 12th place after shooting his age, a three under par 69.
| | | | |
| --- | --- | --- | --- |
| Pos. | Player | To Par | R1 |
| 1 | ORR, Gary | -6 | 66 |
| | FOWLER, Peter | -6 | 66 |
| | GOMEZ, Rafael | -6 | 66 |
| 4 | DENNIS, Clark | -5 | 67 |
| | MARTIN, Miguel Angel | -5 | 67 |
| 6 | CHAPMAN, Roger | -4 | 68 |
| | EALES, Paul | -4 | 68 |
| | SHACKLADY, David | -4 | 68 |
| | LUNA, Santiago | -4 | 68 |
| | JAMES, Mark | -4 | 68 |
| | WESSELINGH, Paul | -4 | 68 |
| 12 | JOB, Nick | -3 | 69 |
| | KINGSTON, James | -3 | 69 |
| | THELEN, Tim | -3 | 69 |
| | HARWOOD, Mike | -3 | 69 |
| 16 | MAMAT, Mardan | -2 | 70 |
| | LANE, Barry | -2 | 70 |
| | REMESY, Jean-François | -2 | 70 |
| | DODD, Stephen | -2 | 70 |
| | MONASTERIO, Cesar | -2 | 70 |
| | MOLINA, Mauricio | -2 | 70 |
| | TINNING, Steen | -2 | 70 |
| | MCNULTY, Mark | -2 | 70 |
| | SANDELIN, Jarmo | -2 | 70 |
| 25 | BRIER, Markus | -1 | 71 |
| | WOLSTENHOLME, Gary | -1 | 71 |
| | ATLEVI, Magnus P | -1 | 71 |
| | COCERES, José | -1 | 71 |
| | PRICE, Phillip | -1 | 71 |
| | MACKENZIE, Malcolm | -1 | 71 |
| | STREETER, Paul | -1 | 71 |
| 32 | VAN DE VELDE, Jean | Par | 72 |
| | GOLDING, Philip | Par | 72 |
| | OLDCORN, Andrew | Par | 72 |
| | BROWN, Simon P | Par | 72 |
| 36 | ROCCA, Costantino | 1 | 73 |
| | SMYTH, Des | 1 | 73 |
| | LOMAS, Jonathan | 1 | 73 |
| | FARRY, Marc | 1 | 73 |
| | KEMP, John | 1 | 73 |
| 41 | BAKER, Peter | 2 | 74 |
| | GILFORD, David | 2 | 74 |
| | DARCY, Eamonn | 2 | 74 |
| 44 | BRAND JNR, Gordon | 3 | 75 |
| | WILLIAMS, Chris | 3 | 75 |
| | O'MALLEY, Peter | 3 | 75 |
| | MANSON, Gordon | 3 | 75 |
| | MCGOVERN, Brendan | 3 | 75 |
| | BOSSERT, André | 3 | 75 |
| 50 | MARKS, Gary | 4 | 76 |
| | MOULAND, Mark | 4 | 76 |
| 52 | BRAND, Gordon J | 7 | 79 |
| | RIVERO, José | 7 | 79 |
| | WALTON, Philip | 7 | 79 |
| | | | |
| --- | --- | --- | --- |
| Pos. | Player | To Par | R1 |
| 1 | ORR, Gary | -6 | 66 |
| | FOWLER, Peter | -6 | 66 |
| | GOMEZ, Rafael | -6 | 66 |
| 4 | DENNIS, Clark | -5 | 67 |
| | MARTIN, Miguel Angel | -5 | 67 |
| 6 | CHAPMAN, Roger | -4 | 68 |
| | EALES, Paul | -4 | 68 |
| | SHACKLADY, David | -4 | 68 |
| | LUNA, Santiago | -4 | 68 |
| | JAMES, Mark | -4 | 68 |
| | WESSELINGH, Paul | -4 | 68 |
| 12 | JOB, Nick | -3 | 69 |
| | KINGSTON, James | -3 | 69 |
| | THELEN, Tim | -3 | 69 |
| | HARWOOD, Mike | -3 | 69 |
| 16 | MAMAT, Mardan | -2 | 70 |
| | LANE, Barry | -2 | 70 |
| | REMESY, Jean-François | -2 | 70 |
| | DODD, Stephen | -2 | 70 |
| | MONASTERIO, Cesar | -2 | 70 |
| | MOLINA, Mauricio | -2 | 70 |
| | TINNING, Steen | -2 | 70 |
| | MCNULTY, Mark | -2 | 70 |
| | SANDELIN, Jarmo | -2 | 70 |
| 25 | BRIER, Markus | -1 | 71 |
| | WOLSTENHOLME, Gary | -1 | 71 |
| | ATLEVI, Magnus P | -1 | 71 |
| | COCERES, José | -1 | 71 |
| | PRICE, Phillip | -1 | 71 |
| | MACKENZIE, Malcolm | -1 | 71 |
| | STREETER, Paul | -1 | 71 |
| 32 | VAN DE VELDE, Jean | Par | 72 |
| | GOLDING, Philip | Par | 72 |
| | OLDCORN, Andrew | Par | 72 |
| | BROWN, Simon P | Par | 72 |
| 36 | ROCCA, Costantino | 1 | 73 |
| | SMYTH, Des | 1 | 73 |
| | LOMAS, Jonathan | 1 | 73 |
| | FARRY, Marc | 1 | 73 |
| | KEMP, John | 1 | 73 |
| 41 | BAKER, Peter | 2 | 74 |
| | GILFORD, David | 2 | 74 |
| | DARCY, Eamonn | 2 | 74 |
| 44 | BRAND JNR, Gordon | 3 | 75 |
| | WILLIAMS, Chris | 3 | 75 |
| | O'MALLEY, Peter | 3 | 75 |
| | MANSON, Gordon | 3 | 75 |
| | MCGOVERN, Brendan | 3 | 75 |
| | BOSSERT, André | 3 | 75 |
| 50 | MARKS, Gary | 4 | 76 |
| | MOULAND, Mark | 4 | 76 |
| 52 | BRAND, Gordon J | 7 | 79 |
| | RIVERO, José | 7 | 79 |
| | WALTON, Philip | 7 | 79 |