StaysureTour
WINSTONgolf Senior Open 2018
July 13-15

WINSTONlinks Course, Vorbeck, Germany
July 13-15
WINSTONlinks Course, Vorbeck, Germany
Round 1
Dodd dictates Day One direction
Round 2
Round 3
Round 2
Round 3
July 13, 2018

Stephen Dodd equalled the WINSTONlinks course record of 64 and will take a four-shot lead into Day Two of the WINSTONgolf Senior Open.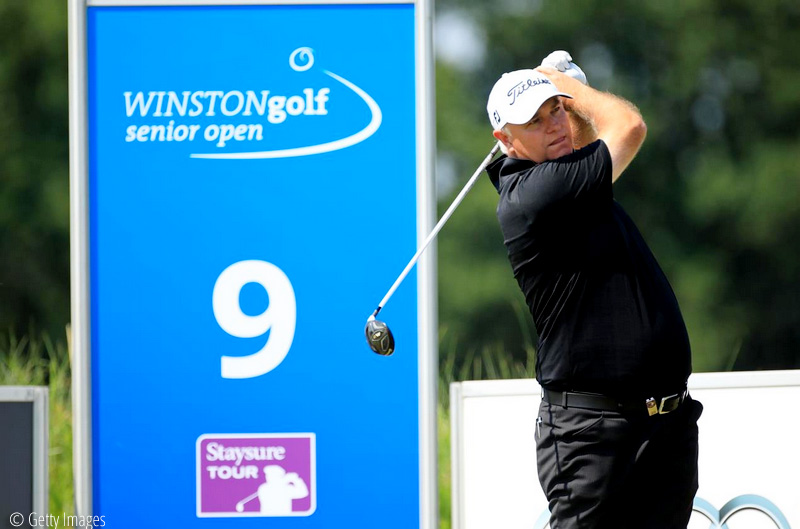 - Getty Images
The Welshman birdied half of the holes on a firm 'inland links' design and made only one bogey in steady 15 MPH winds to match the eight under par rounds of Clark Dennis and Thaworn Wiratchant from last year's tournament as the best-ever 18-hole score on the German course.
"I played nicely today," said the 51 year old. "I did the right things. I hit the ball on the fairway most of the day, hit some good shots and holed a few putts.
"I played alright last week, and I can only judge my game by what it was last week. I didn't think it was going to be quite as good as that, so it was a bit of a surprise I suppose."
The score matched his best-ever Staysure Tour return, which came in the second round of the 2016 Senior Italian Open, an event he went on to win.
Dodd, who also won the 2017 Travis Perkins Masters, will celebrate his 52nd birthday on Sunday, and a WINSTONgolf Senior Open trophy at the week's end would represent his third-consecutive winning season on the over-50s circuit.
The final round is a long way off though, and there is still plenty of golf to be played — especially on a layout with such a potent blend of birdie opportunities, and skill-testing holes where par is a quality score.
"I got it in play off the tee and played the tough holes quite well. I would say that was the key. There are enough birdie chances around here, so it's just a matter of playing the tough holes well, which I did today," the three-time European Tour winner said.
While American Tim Thelen holds sole possession of second place after carding a four under par 68, there are less than 20 players who finished Day One under par, which highlights how difficult it can be to navigate the David Krause design.
Four golfers — England's Paul Eales, South African James Kingston, Spaniard José Manuel Carriles and Australian Peter Fowler — sit in a tie for third place, and with 11 combined Staysure Tour victories between them and Thelen, there will be a hot pursuit from the chasing pack.
The two Ryder Cup-winning Captains in the field, Ian Woosnam and Paul McGinley, have both placed their names in contention after each signing for rounds of two under par 70 for a share of seventh.
Asked if he would alter his approach based on how the leaderboard was shaping up, Dodd maintained an open-mind and a commitment to putting his best-foot forward.
He said: "Maybe the game will change my approach, I don't know. I'll just keep battling, doing my best and we'll see where I finish."
Day Two of the three-round WINSTONgolf Senior Open begins tomorrow at 9:00 am local time. The leader, Dodd, will start on the first hole at 10:40 am, while Woosnam and McGinley will look to close the six shot-gap as they begin Moving Day on the tenth tee at 10:50 am and 9:30 am respectively.
| | | | |
| --- | --- | --- | --- |
| Pos. | Player | To Par | R1 |
| 1 | DODD, Stephen | -8 | 64 |
| 2 | THELEN, Tim | -4 | 68 |
| 3 | FOWLER, Peter | -3 | 69 |
| | EALES, Paul | -3 | 69 |
| | KINGSTON, James | -3 | 69 |
| | CARRILES, José Manuel | -3 | 69 |
| 7 | MONASTERIO, Cesar | -2 | 70 |
| | MCGINLEY, Paul | -2 | 70 |
| | REMESY, Jean-François | -2 | 70 |
| | SHACKLADY, David | -2 | 70 |
| | BAKER, Peter | -2 | 70 |
| | WOOSNAM, Ian | -2 | 70 |
| 13 | MARKS, Gary | -1 | 71 |
| | SANDELIN, Jarmo | -1 | 71 |
| | GOLDING, Philip | -1 | 71 |
| | GILFORD, David | -1 | 71 |
| | CONSER, Barry | -1 | 71 |
| 18 | SUNESON, Carl | Par | 72 |
| | GOMEZ, Rafael | Par | 72 |
| | O'MALLEY, Peter | Par | 72 |
| | HARWOOD, Mike | Par | 72 |
| | LUNA, Santiago | Par | 72 |
| | BRIER, Markus | Par | 72 |
| | STREETER, Paul | Par | 72 |
| | BOSSERT, André | Par | 72 |
| | OLDCORN, Andrew | Par | 72 |
| | WOLSTENHOLME, Gary | Par | 72 |
| | WILSON, Peter T | Par | 72 |
| 29 | SPENCE, Jamie | 1 | 73 |
| | ATLEVI, Magnus P | 1 | 73 |
| | LOMAS, Jonathan | 1 | 73 |
| | ORR, Gary | 1 | 73 |
| | RUSNAK, Gary | 1 | 73 |
| 34 | MOLINA, Mauricio | 2 | 74 |
| | TINNING, Steen | 2 | 74 |
| | FARRY, Marc | 2 | 74 |
| | BROWN, Simon P | 2 | 74 |
| | COCERES, José | 2 | 74 |
| | LANE, Barry | 2 | 74 |
| | ARCHBOLD, Paul | 2 | 74 |
| | MOULAND, Mark | 2 | 74 |
| | STRÜVER, Sven | 2 | 74 |
| 43 | TURNER, Greg | 3 | 75 |
| | WALTON, Philip | 3 | 75 |
| | MACKENZIE, Malcolm | 3 | 75 |
| | VAN DE VELDE, Jean | 3 | 75 |
| | LINHART, Pedro | 3 | 75 |
| 48 | ROCCA, Costantino | 4 | 76 |
| | RAFFERTY, Ronan | 4 | 76 |
| | MCGOVERN, Brendan | 4 | 76 |
| 51 | WESSELINGH, Paul | 5 | 77 |
| | MANSON, Gordon | 5 | 77 |
| | BRAND, Gordon J | 5 | 77 |
| | MAMAT, Mardan | 5 | 77 |
| | SMYTH, Des | 5 | 77 |
| 56 | DRUMMOND, Ross | 6 | 78 |
| | DARCY, Eamonn | 6 | 78 |
| 58 | EMERSON, Gary | 7 | 79 |
| | WILLIAMS, Chris | 7 | 79 |
| 60 | RUSSELL, David J | 9 | 81 |
| | | | |
| --- | --- | --- | --- |
| Pos. | Player | To Par | R1 |
| 1 | DODD, Stephen | -8 | 64 |
| 2 | THELEN, Tim | -4 | 68 |
| 3 | FOWLER, Peter | -3 | 69 |
| | EALES, Paul | -3 | 69 |
| | KINGSTON, James | -3 | 69 |
| | CARRILES, José Manuel | -3 | 69 |
| 7 | MONASTERIO, Cesar | -2 | 70 |
| | MCGINLEY, Paul | -2 | 70 |
| | REMESY, Jean-François | -2 | 70 |
| | SHACKLADY, David | -2 | 70 |
| | BAKER, Peter | -2 | 70 |
| | WOOSNAM, Ian | -2 | 70 |
| 13 | MARKS, Gary | -1 | 71 |
| | SANDELIN, Jarmo | -1 | 71 |
| | GOLDING, Philip | -1 | 71 |
| | GILFORD, David | -1 | 71 |
| | CONSER, Barry | -1 | 71 |
| 18 | SUNESON, Carl | Par | 72 |
| | GOMEZ, Rafael | Par | 72 |
| | O'MALLEY, Peter | Par | 72 |
| | HARWOOD, Mike | Par | 72 |
| | LUNA, Santiago | Par | 72 |
| | BRIER, Markus | Par | 72 |
| | STREETER, Paul | Par | 72 |
| | BOSSERT, André | Par | 72 |
| | OLDCORN, Andrew | Par | 72 |
| | WOLSTENHOLME, Gary | Par | 72 |
| | WILSON, Peter T | Par | 72 |
| 29 | SPENCE, Jamie | 1 | 73 |
| | ATLEVI, Magnus P | 1 | 73 |
| | LOMAS, Jonathan | 1 | 73 |
| | ORR, Gary | 1 | 73 |
| | RUSNAK, Gary | 1 | 73 |
| 34 | MOLINA, Mauricio | 2 | 74 |
| | TINNING, Steen | 2 | 74 |
| | FARRY, Marc | 2 | 74 |
| | BROWN, Simon P | 2 | 74 |
| | COCERES, José | 2 | 74 |
| | LANE, Barry | 2 | 74 |
| | ARCHBOLD, Paul | 2 | 74 |
| | MOULAND, Mark | 2 | 74 |
| | STRÜVER, Sven | 2 | 74 |
| 43 | TURNER, Greg | 3 | 75 |
| | WALTON, Philip | 3 | 75 |
| | MACKENZIE, Malcolm | 3 | 75 |
| | VAN DE VELDE, Jean | 3 | 75 |
| | LINHART, Pedro | 3 | 75 |
| 48 | ROCCA, Costantino | 4 | 76 |
| | RAFFERTY, Ronan | 4 | 76 |
| | MCGOVERN, Brendan | 4 | 76 |
| 51 | WESSELINGH, Paul | 5 | 77 |
| | MANSON, Gordon | 5 | 77 |
| | BRAND, Gordon J | 5 | 77 |
| | MAMAT, Mardan | 5 | 77 |
| | SMYTH, Des | 5 | 77 |
| 56 | DRUMMOND, Ross | 6 | 78 |
| | DARCY, Eamonn | 6 | 78 |
| 58 | EMERSON, Gary | 7 | 79 |
| | WILLIAMS, Chris | 7 | 79 |
| 60 | RUSSELL, David J | 9 | 81 |