Brooks Koepka accused Jon Rahm of acting like a child after the Spaniard's stunning afternoon performance at the Ryder Cup in Rome on Friday.
Rahm eagled two of the final three holes at Marco Simone as he and Nicolai Hojgaard came from behind to halve their fourballs match against Koepka and Scottie Scheffler.
The 28-year-old world number three, who chipped in three times in his two matches during the day, celebrated exuberantly as Europe took firm command of the contest, leading 6.5-1.5 after day one.
It was not clear, however, what Rahm did in particular to rile the American.
Koepka said in a TV interview: "I think me and Scottie birdied 14, 15, 16, 17, 18, and then 'lost' (to) two (eagles).
"So yes, I mean I want to hit a board and pout just like Jon Rahm did but, you know, it is what it is. Act like a child. But we're adults. We move on."
Koepka alluded to this subject again when asked what the US needed to do on Saturday to get themselves back into the match.
He said: "Honestly, we'll be fine. We're all grown-ups, we act like grown-ups. We'll be just fine. Just got to play and see where it puts you.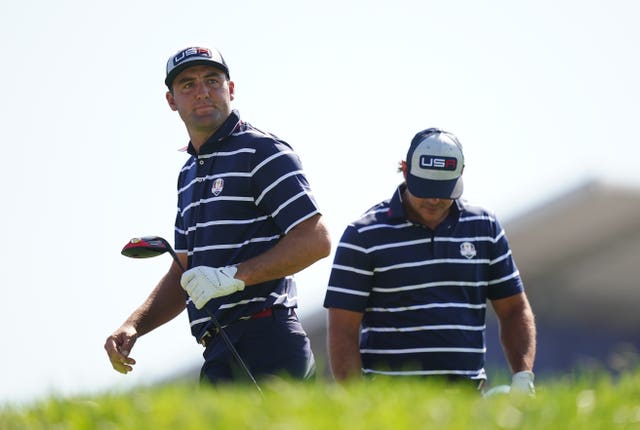 "Just keep fighting. You never know what's going to happen. (We have) still got a long day tomorrow.
"I guess it's just a matter of momentum, but we've got to go out in the first session and play well, that's for sure."
Europe captain Luke Donald was asked about Rahm's comments but did not offer an opinion.
"I certainly didn't see any of that," Donald said. "Jon was a big support system for Nicolai today. Jon's a passionate person, but I didn't see him acting any other way."
United States skipper Zach Johnson was also unable to elaborate on Koepka's remarks.
He said: "I don't know what that is referring to to. I am sure Brooks is frustrated like all 18 of us are with today and the result."