Europe captain Luke Donald backed his Ryder Cup winners to have more success in the event after wresting back the trophy from the United States with a 16.5-11.5 victory in Rome.
For a large part of the build-up the Americans were strong favourites, with 10 of their 12-strong team ranked in the world's top 20, but some of Europe's players found some late-season form and it proved pivotal at Marco Simone.
World number two Rory McIlroy claimed four points from five matches, Viktor Hovland – partnering brilliantly with rookie Ludvig Aberg who claimed two from four – and Tyrrell Hatton both got three-and-a-half and another rookie, Robert MacIntyre, picked up two-and-a-half from just three matches.
McIlroy is the oldest at 34 and Hatton is 31, but Hovland is 26, Aberg is 23 and MacIntyre is 27.
"Not many people gave us a chance after Whistling Straits. We were big underdogs, we started to show some form in the last six months and I couldn't be happier with with the team I've got," said Donald, whom the players want to lead the team in two years' time.
"I think these guys will be around for a long time. We formed a bond from day one and they gave me everything. They trusted me and they delivered for me."
After an emotional defeat in the United States two years ago, in which he won just one point, McIlroy was delighted to have wrested back the trophy.
"The scoreline – 19-9, that hurt, it really did. I didn't feel like I gave my best performance and I didn't feel like I did my part for the team," he said.
"This wasn't about revenge. This was about redemption and showing what we could do."
The Northern Irishman now wants to build on the triumph and win in the US in 2025.
"I think one of the biggest accomplishments in golf right now is winning an away Ryder Cup – and that's what we're going to do at Bethpage," he added.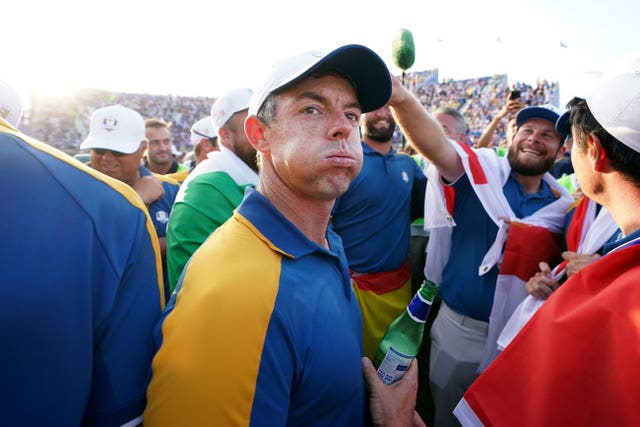 Defeat extended America's run without a win on European soil beyond 30 years – it will be 34 by the time they return to Adare Manor in 2027 – and captain Zach Johnson took full responsibility.
"I would love to start the week over but that's not possible," he said.
"You know, regret is a strong word, but I wish I would have done a better job of that.
"I don't know what it looks like – never will – but it's not a matter of anything other than Team Europe scored more points.
"I'm proud of my guys, they fought. It's not them, it's on me. Maybe it's some poor decisions, something to reflect (on). I don't know yet."