Rory McIlroy and Sergio Garcia have ended their feud in the wake of the proposed peace deal between golf's rival factions.
The former Ryder Cup team-mates fell out following Garcia's move to LIV Golf, with McIlroy emerging as the most vocal opponent to the Saudi-funded breakaway.
But even though McIlroy admitted earlier this month that he still "hates" LIV Golf, he and Garcia rekindled their friendship at the US Open in Los Angeles.
Asked in a press conference ahead of LIV's event in Valderrama this week if the deal was good news, Garcia said: "I think so. I think it's great.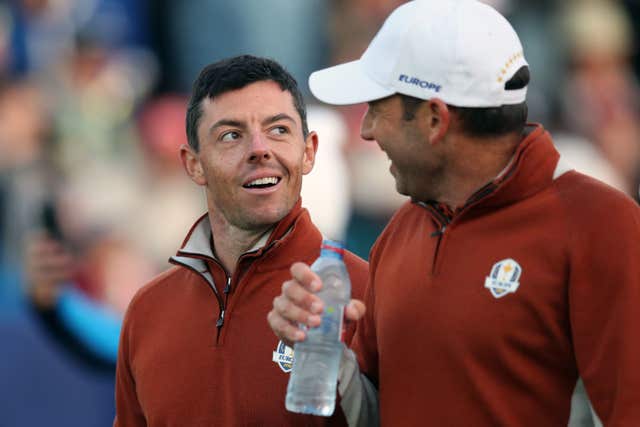 "I think in my personal opinion I wish this would have happened a year and a half ago when we all started, and it would have been better for all of us. I really think so.
"To give you an example – it wasn't because of the merger, but the US Open was a great event for me.
"I feel like I played well, but more than anything because I gained a friend back, a friend that I kind of felt like I lost in the last year or so. We talked and we had a great conversation, and I feel like I have that friend back and that to me means a lot."
Speaking to reporters after the press conference, Garcia revealed that a friendly interaction at the US Open between his wife Angela and McIlroy had been the catalyst.
"I had been thinking about it for a while but I wasn't totally sure," Garcia said.
"But then I saw that reaction from him and it kind of gave me the incentive to get closer and we had a great chat.
"I think that at the end of the day, the important thing is that we got together and talked; we were two friends that wanted to get back to that spot.
"Like I said, no doubt it was the saddest part of all of this, these friendships turning sour."