World number two Rory McIlroy admits he feels so much responsibility when it comes to the Ryder Cup he starts thinking about it a year out.
The Northern Irishman won four points from five matches – the best haul of his career in his seventh event – to spearhead Europe's regaining of the trophy.
His appearance on the first tee for Sunday's singles received the biggest cheer and he duly responded with a 3&1 victory over Sam Burns to put his team within touching distance of regaining the trophy.
"I know my place in the team and I know guys look to me. But I don't take that responsibility lightly," he said.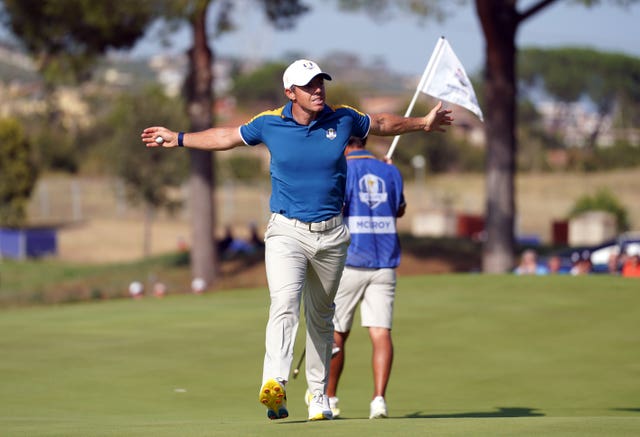 "It is something that I have to have a lot of respect for and I have to think about it carefully.
"I want to do all right things and set a good example for the guys coming into the team."
Europe's captain Luke Donald only assumed the position a year ago after Henrik Stenson's defection to LIV Golf and subsequent resignation of his European Tour membership made him ineligible.
That was when McIlroy's thoughts started turning to how to win at Marco Simone.
"It was probably when Luke got the captaincy and things were certain again, when we had certainty who the captain was and we knew who the six or seven players that were locked in (were)," he added.
"Maybe about a year ago I really started to think about it and think about how we and could go about getting the Ryder Cup back – which thankfully we did.
"We want to try to enjoy this for the next couple of years and then get ready for New York (at Bethpage) and try to do something that is very seldom done in golf (win the Ryder Cup overseas)."
McIlroy has won four majors – albeit none since 2014 – and three big-money FedEx Cups but admits the buzz he gets from being in a Ryder Cup team is something different.
"It's amazing. We play an individual sport. Golf is a game where you seldom win – you win two or three times a year and it's a great year – but we only get one opportunity at this every two years," he said.
"To be surrounded by people who care about it as much as you do is very meaningful. The atmosphere we played in this week I don't think can be replicated in any other golf event in the world.
"That means something; to be able to play under that pressure and atmosphere, win your point and do what you are supposed to do for your team, it means the world to me and I am sure it means the world to everyone else.
"These the best days of our lives. This is why we practise, it's why we sacrifice the time, it is why we put all the hard work and hours in for us to have moments like this where you go out there and be yourself and try to let your talent shine through.
"I'm really proud of myself because coming off Whistling Straits (where he won just one point in a record 19-9 defeat two years ago) I don't know if I ever felt so low, not just in a Ryder Cup but in my career in general.
"The fact the team had the confidence in me to send me out number one on that Sunday and get a point: you can trace my form back over the last couple of years to that last Sunday at Whistling Straits.
"These guys believed in me when I didn't believe in myself and to have a group around you that does believe in you, it means the world to me."