India's Shubhankar Sharma and England's Jordan Smith share the halfway lead in the Horizon Irish Open as home favourites Shane Lowry and Rory McIlroy experienced contrasting finishes at The K Club.
Sharma raced to the turn in just 28 shots on his way to a second round of 66, setting what looked an imposing target of 13 under par in sweltering conditions.
Smith responded with seven birdies in the first 11 holes and took the outright lead with another on the 15th, but ran up a double bogey on the 17th before completing a 65 with a birdie on the last.
Lowry birdied the 17th and 18th to complete a second successive 68 and lie five shots off the pace, while McIlroy holed out from 116 yards for an eagle on the 16th but immediately gave both shots back with a double bogey on 17.
"I'm trying to think of the last time I made a double bogey, it's been a few months and I've prided myself on really limiting my mistakes," McIlroy said after a 70 left him eight shots off the lead.
"That was one that obviously got away from me and I need a good one tomorrow to get myself back into it. There's low scores to be had on this golf course especially with how the conditions are."
A birdie at the 16th sparked McIlroy's victory surge the last time the Irish Open was staged at The K Club in 2016 and he added: "There's something about that hole that brings out the best in me.
"It was a lovely pin for a wedge shot with that back stop and using the slope to bring the ball back. It's always a bonus and a bit of luck when they go in the hole but it was a lovely shot."
Lowry, who won the 2009 Irish Open when he was still an amateur, said: "I've a huge weekend ahead of me.
"I've obviously been very fortunate to win this tournament before but I'd love nothing more than the opportunity to do that again this weekend.
"Expectations are a tough thing in sport and we're going to see that over the next two months with the rugby team (at World Cup), but I think you just have to get out of your own way and let yourself do what you do best.
"I've done that very well over the last two days and I just need to do that again over the weekend."
The start of play had been delayed by 30 minutes due to fog, but Sharma quickly made up for lost time as he birdied seven of the first nine holes.
"I had nine single putts which was amazing, I don't think I've done that before," he said. "Everything was just flowing nicely, I was hitting it in the right spots and was really good inside 10 feet so it all came together."
The 27-year-old won his first DP World Tour title in December 2017 and his second just two months later, but has not tasted victory since and has recorded only two top-10 finishes this season, although the most recent was in the Open Championship at Royal Liverpool.
"I took a four-week break after the Open and was sick last week so spent most of the weekend sleeping on my couch, but I still have good memories from the Open so I am just trying to continue that form," he added.
"I'm obviously very keen on getting back into the winner's circle but it'll happen when it happens.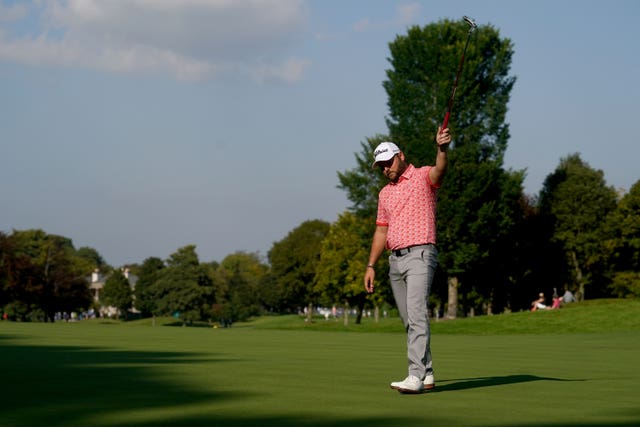 "I can only control the controllables, have a good positive mindset on the weekend and I'm sure it will happen soon rather than later."
Sharma and Smith ended the day with a one-shot lead over England's Ross Fisher, who carded a second consecutive 66, with Germany's Hurly Long on 11 under and Scotland's Calum Hill another stroke back after a remarkable 65.
Hill carded three eagles in the space of seven holes, holing from nine feet on the fourth, from 124 yards on the ninth and 35 feet on the 10th.