Stuburt is launching a cool new shoe direction for SS23 which the brand describes as a Hybrid collection. This multi-functional approach to design has been seen across other sports as they respond to demand from a new type of value shopper looking for products that perform equally well across multiple outdoors disciplines.
There are 5 styles in the Hybrid collection. All of them are spikeless and are made from a variety of fabrics including leather, PU, and mesh fabrics. The uniting factor is the muti-use vision with lower profiles, new sole technology and a closed sock fit.
The PCT CLASSIC
This is a modern take on a traditional golf shoe silhouette. The PCT CLASSIC combines a full waterproof membrane with perforated leather uppers, to deliver comfort, breathability, and protection in all conditions. There are two innovative technologies to look out for in the classic collection: Stuburt's new spikeless Sole-Lock technology and a new Sock-Fit system. The Sole-Lock provides great traction and support, and the Sock-Fit means you get a great comfortable fit.
The shoes themselves carry subtle print detail on the uppers, colour contrast on the midsole and new logo placements including the vertical label on the tongue. The waterproof PCT CLASSIC will retail at £89.99 and is available in three colourways – SLATE GREY / WHITE / BLACK.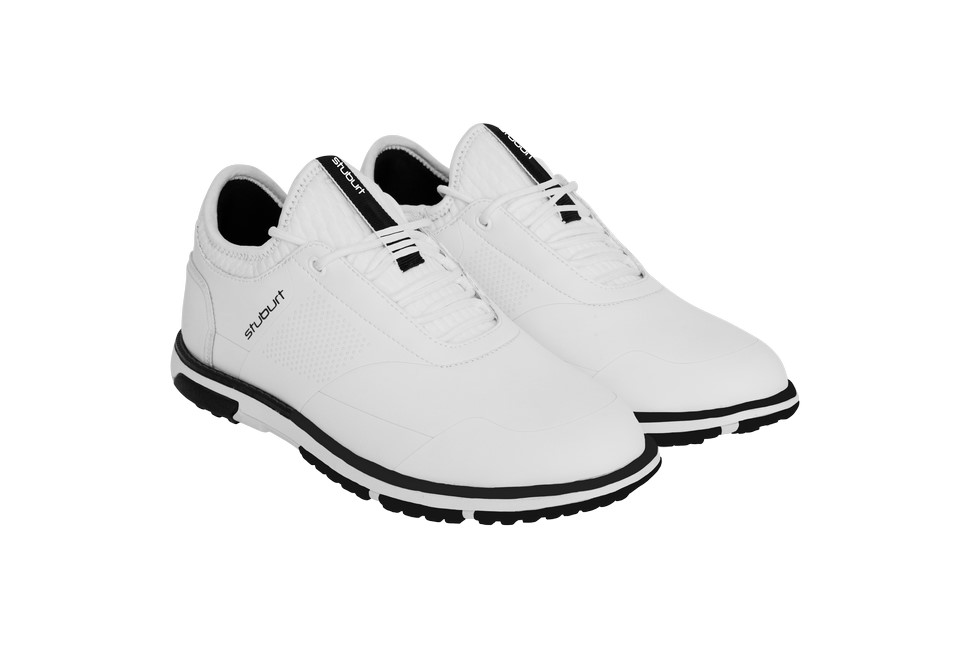 The EVOLVE CLASSIC
EVOLVE has been part of the Stuburt range for the last few years, but this new hybrid version is a much more modern looking shoe. The contrast stitching, tongue logo placement and perforations on either side of the grained leather upper are all in line with the modern design direction. The perforations themselves have been strategically placed to deliver maximum breathability as well as putting a modern twist on this classic golf shoe.
The Sole-Lock technology combines with a new advanced lacing and Sock-Fit system to give this innovative hybrid shoe an additional layer of comfort and performance. Available in three colourways – BLACK / WHITE / FRENCH NAVY – the EVOLVE CLASSIC will retail at £84.99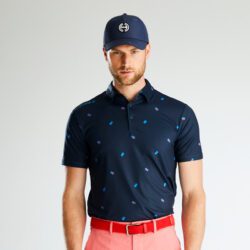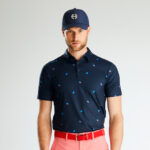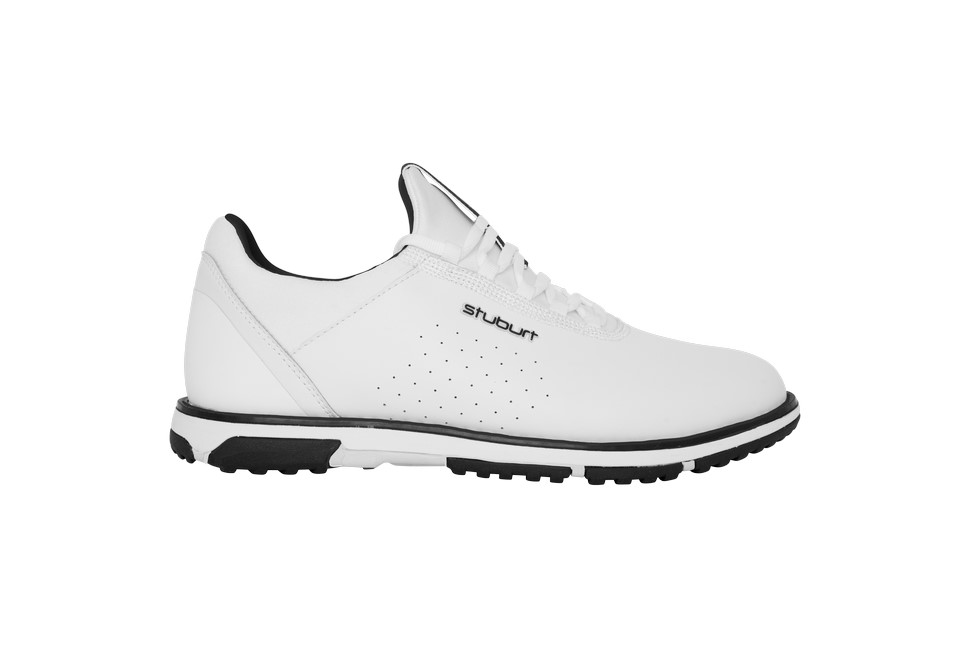 XP CASUAL KNIT
This is the shoe that best demonstrates the Stuburt design direction for the coming seasons. The casual silhouette of the XP CASUAL features small but impactful design details including Stuburt raised branding to the outer, a raised application around the advanced lacing system and subtle toe cap detail. Whilst they won't look out of place on the golf course, it is easy to imagine wearing a pair of these shoes for other purposes. The new DUAL outsole creates the traction and stability you need to play golf in but would perform equally well on a hike.
The uppers are made from a knitted jacquard fabric, which make these shoes incredibly lightweight as well as aesthetically pleasing. The padded collar and tongue deliver high comfort levels, similar to those of a trainer. In short this is a truly multi-functional hybrid shoe, retailing at £69.99 and available in four colourways – BLACK / DROPLET / KHAKI / FRENCH NAVY.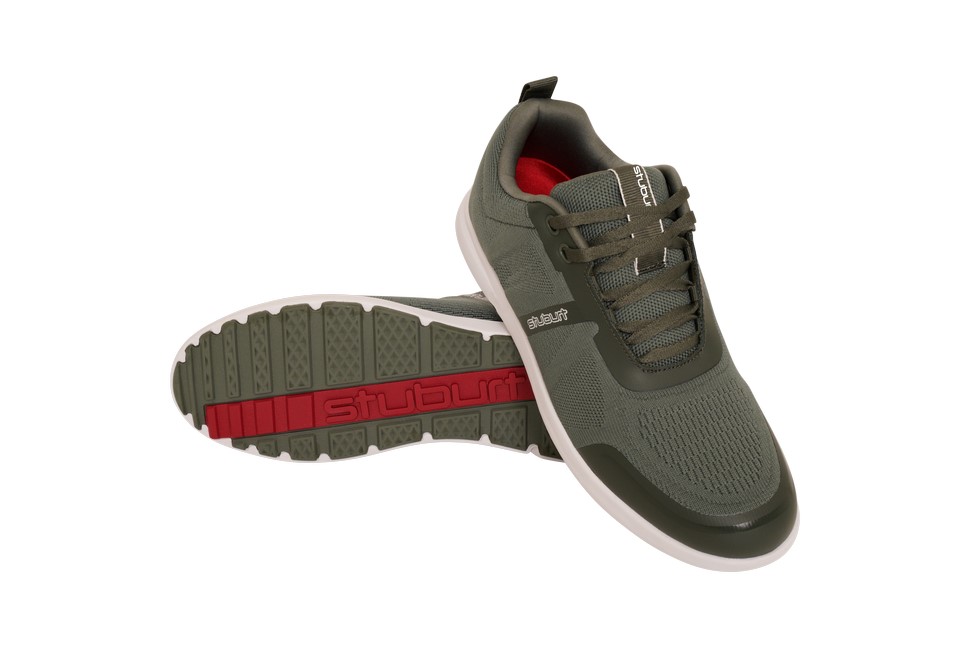 ACE CASUAL
Whatever the weather, the ACE CASUAL will keep you dry and comfortable for longer. A full waterproof membrane and water-resistant coating combines with the new DUAL outsole ensure that the ACE delivers when it comes to golf. But as the name suggests, the performance you can expect from the outsole makes them suitable for multiple purposes.
Again, comfort is delivered in terms of the new advanced lacing and Sock-Fit system. The two-tone midsole, matching outsole, and subtle design details throughout make this classic 'Sneaker' design an ACE in the pack. Available in two colourways – BLACK / SLATE GREY the ACE will retail at £79.99.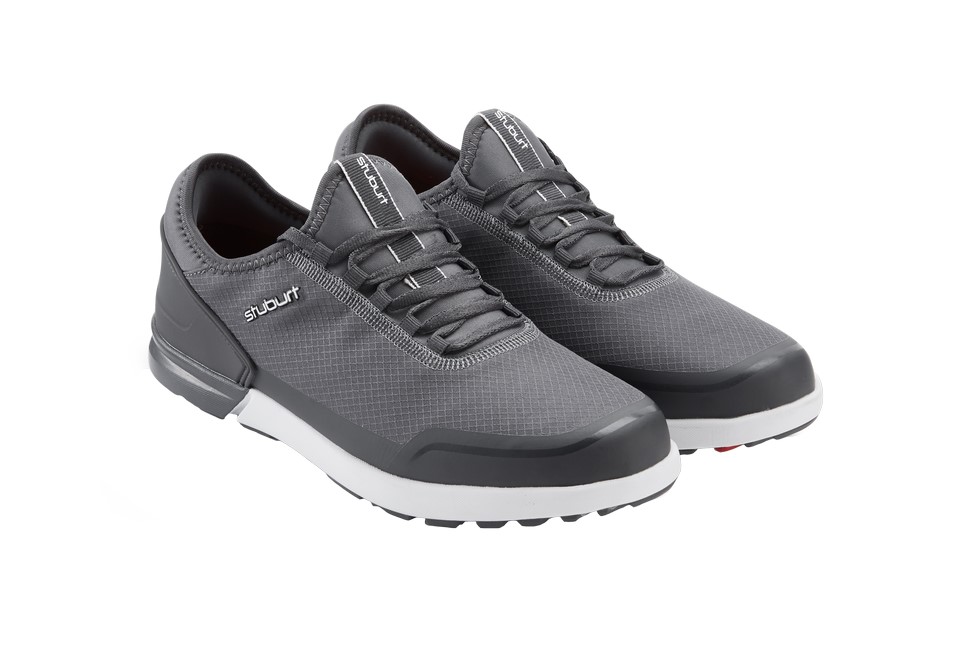 EVOLUTION CASUAL
The casual styling and the new Stuburt DUAL outsole combine to provide performance wherever you choose to wear this hybrid design. The perforated full soft grain PU uppers and new Sock-Fit system deliver long lasting breathability and comfort. Subtle stitch and print details including raised soft sheen branding mark this hybrid trainer out as the perfect choice wherever you're heading. Available in three colourways – BLACK / WHITE / DROPLET the Evolution Casual will retail at £79.99.
Available online from March 1st, this new range is certainly a step in a new direction for the Stuburt brand with promises of more to come. Visit www.stuburt.com for further details.