"No man ever steps in the same river twice, for it is not the same river and he is not the same man." Heraclitus
The philosopher Heraclitus lived in Ancient Greece around two and a half thousand years ago, so he would never have experienced watching grown men chase small white balls around the rolling hills of Georgia. But if he had, either in person or via the electrical impulses that somehow arrive in front if us every April, I think he'd have enjoyed the drama of it all. Perhaps the most notable theme from his own life comes down through the centuries in the form of the above quote, a reflection on impermanence.
Home to decades of drama. A tributary of Rae's Creek. #themasters pic.twitter.com/yj5sueXi6r

— The Masters (@TheMasters) April 8, 2021
Outside of the small window during which patrons shuffle their folding chairs around pristine turf corridors, Augusta National exists as a quiet, private enclave for corporate CEOs and the occasional past champion, and one can imagine that at certain points, the gentle trickle of Rae's Creek, continuing its timeless passage across this old fruit farm, might be the only sound in the distant corners of the property.
But come The Masters, and the travelling circus that is professional golf, and this famous creek, whose waters run from a nearby headwater in subterranean rock towards its ultimate destination, the Savannah River, assumes central stage in the annual battle between the world's finest players and one of the great architectural treasures of the golfing world.
To detail all of the times when Rae's Creek has influenced the outcome of one of the world's best sporting spectacles might fill a series of books rather than a short article, but suffice to say that no one is exempt from this part of the struggle, and in that part of the routing where Alister MacKenzie and Bobby Jones best deployed this rugged waterway in their masterpiece, the players and their sparkling golf balls are never far from their own tragic demise, their dimples slipping beneath the surface like drowning dreams.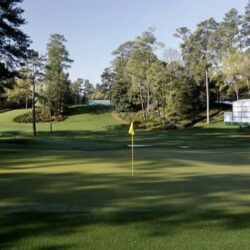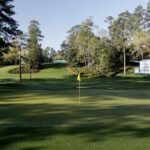 Fellow graduates of Generation X might recall the same pivotal moments I do, lodged in the memory as reminders of late nights spent breathless in front of an impossibly green broadcast. Seve's extraordinary top on fifteen in 1986, at about the same time as Jack's ball up ahead carried the pond on sixteen, almost dropping in on its drift back towards the water. Faldo's interminable wavering a decade later, unable to visualise anything other than each of the possible clubs hitting the ball right on thirteen, though after Greg's ball rolled back into Rae's Creek on the previous hole, leaving him and his hat to roll around in agony on the ryegrass, it was perhaps already over.
Or watching even Tiger manage to reach double figures on twelve in 2020, the small crowd hushed as if suspended in disbelief. From that humiliation, Woods would complete the remaining six holes in an almost equally staggering five under par. And though Jordan Spieth had dropped a couple since entering the back nine five clear in 2016, it was a devastating seven on the twelfth that preserved Jack, Nick and Tiger as the only back-to-back winners of The Green Jacket. My personal favourite was the inexplicable break Fred Couples enjoyed during his only major triumph in 1992, when his ball somehow hung in the fringe, enabling a simple pitch and putt three rather than the excruciating ordeal of a dropped ball recovery effort.
No. 12 at Augusta. 🔔

155 yards over Rae's Creek.

It's Sunday.

What do you do? pic.twitter.com/aNnAdb4Ez0

— PGA TOUR (@PGATOUR) April 9, 2019
Such a simple architectural device, and yet so many years of entertainment and struggle have pivoted over and in Rae's Creek, whose banks contain stone and other artefacts from Native American settlements dating back even before Heraclitus himself. But alongside this notion of impermanence, he is also remembered for what he called "the unity of opposites", a notion that acknowledges that those things that seem in opposition actually need each other; work together in some way.
An application this week might be in the study of triumph and disaster through the gladiatorial arena we call Amen Corner. Held in tension as the balls fly and roll across this sacred outpost of the golfing world, those "two imposters" as Kipling called them are in conversation. They need each other in order to co-exist, and we the audience get to watch in awe as the tournament unfolds and each shot decides in some small way which direction it will take.
Hole No. 13 | Azalea | Par 5 | 545 yards

One of the most recognizable holes at Augusta National, No. 13 welcomes captivating drama. A new teeing position adds length to the hole this year. With Rae's Creek and bunkers protecting the green, hazards are omnipresent. #themasters pic.twitter.com/tP96P6vjCa

— The Masters (@TheMasters) April 7, 2023
One man's triumph is another's disaster, but Heraclitus, if he were watching this year's transmission, would say that while this whole world we live in is based on change, there is an underlying form that remains constant. In Rae's Creek, the water carries on drifting downstream, and no man's ball plops into the same penalty area twice, but somehow that ancient watercourse has a permanence that is reassuring, and in this case, entertaining.
It has been one of my greatest pleasures in life to watch The Masters from across a much bigger pond for three decades now, trying to imagine what those contours look like in three dimensions; what noise the Creek makes as it carries on its perpetual journey. I only hope that this little invitational, the legacy of perhaps the greatest man and player ever to chase a ball round a field, doesn't change too much itself.