LET/LPGA Tours
ASI Ladies Scottish Open 2018
July 26-29

Gullane Golf Club, East Lothian, Scotland
$1,500,000
July 26-29
Gullane Golf Club, East Lothian, Scotland
$1,500,000
Round 1
Tiffany Joh fires new course record at Gullane
Round 2
Round 3
Round 4
Round 2
Round 3
Round 4
July 26, 2018
Tiffany Joh from the United States completed a flawless opening round of nine-under-par 62 to claim a new women's course record at Gullane in the Aberdeen Standard Investments Ladies Scottish Open on Thursday.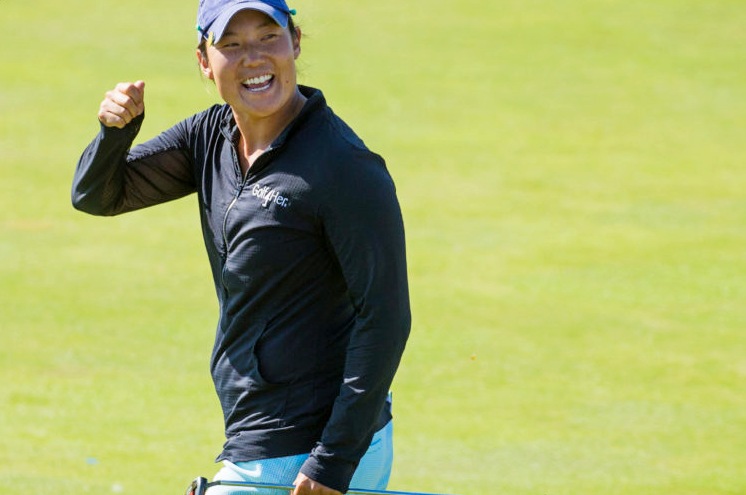 Joh, a keen surfer, from San Diego, California, carded nine birdies on a day of near perfect conditions at Gullane to finish four clear of South Korean trio Jenny Shin, Amy Yang and In-Kyung Kim.

The 31-year-old LPGA player, who has won twice on the Symetra Tour, in 2010 and 2011, birdied the first two holes and added six further gains from the eighth including monster putts at the par-3 12th and par-4 13th.

After sinking a six footer for her final birdie on the 18th, she said: "I pretty much kept it in play and putted amazing. I didn't feel like I hit it particularly well but I left it in the right places and had a hot putter."

She is joined in Scotland by her short game coach, Canada-based Irishman Gareth Raflewski, who also coaches the Thai Jutanugarn sisters, among other notable golfers.

"We've been working on visualisation and he made me realise that I was getting too wrapped up in my stroke instead of being athletic and reacting to a target. He saw that he was losing my interest and so he started throwing in some surfing metaphors and asking questions like 'who's your favourite surfer? Watch what their eyes are doing! So that was what I was trying to do out there."

Joh has been checking out the local surf spots since arriving in Scotland and has identified Pease Bay as a possible destination for the weekend, if she can find a someone to lend her a board. Although she made her score in mostly calm and tranquil conditions on Thursday, she wouldn't mind a little wet and wild weather.

"You can't come over to Scotland and not get a little bit of wind and weather: that would almost be a little bit of a let-down," she said, adding: "You'll probably find me out there off of 11 tee, trying to shred some gnar!"

Earlier in the day, Shin, Yang and Kim set the target at five-under-par. Kim excelled as the wind started to blow, making five birdies on her back nine, including four in a row from the 13th.

The 2017 Ricoh Women's British Open champion found avoiding the bunkers the toughest part in the hot and dry conditions and she one of several players who hit record drives of more than 350 yards on the down-wind, downhill par-4 10th hole.

"I think everybody's having struggles on certain holes. I passed the 350-yard bunker that I would have never even thought (I could). That was good, something new," she commented.

At four-under-par, the chasing pack includes Ariya Jutanugarn and Sung Hyun Park, who could both become world number one with a victory in Scotland, as well as Norwegian rookie Karoline Lund, England's Charley Hull, Korean Haeji Kang, Scotland's Kelsey MacDonald and Australian Minjee Lee.

Fellow Scot Catriona Matthew had a steady round of two-under in front of her home fans, including her two young daughters, who watched from the first tee grandstand.

There was also a strong start from Dame Laura Davies, who threatened to go low when she grabbed four birdies in her first 11 holes, but a run of five closing bogeys saw her sign for a one-over 72.
| | | | |
| --- | --- | --- | --- |
| Pos. | Player | To Par | R1 |
| 1 | Tiffany Joh | -9 | 62 |
| T2 | In-Kyung Kim | -5 | 66 |
| T2 | Amy Yang | -5 | 66 |
| T2 | Jenny Shin | -5 | 66 |
| T5 | Minjee Lee | -4 | 67 |
| T5 | Kelsey MacDonald | -4 | 67 |
| T5 | Sung Hyun Park | -4 | 67 |
| T5 | Charley Hull | -4 | 67 |
| T5 | Ariya Jutanugarn | -4 | 67 |
| T5 | Haeji Kang | -4 | 67 |
| T5 | Karoline Lund | -4 | 67 |
| T12 | Caroline Masson | -3 | 68 |
| T12 | Caroline Inglis | -3 | 68 |
| T12 | Lauren Kim | -3 | 68 |
| T12 | Xiyu Lin | -3 | 68 |
| T12 | Annabel Dimmock | -3 | 68 |
| T12 | Daniela Iacobelli | -3 | 68 |
| T12 | Jeong Eun Lee | -3 | 68 |
| T12 | Su Oh | -3 | 68 |
| T12 | Justine Dreher | -3 | 68 |
| T12 | Lee-Anne Pace | -3 | 68 |
| T12 | Bronte Law | -3 | 68 |
| T23 | Pannarat Thanapolboonyaras | -2 | 69 |
| T23 | Amy Boulden | -2 | 69 |
| T23 | Catriona Matthew | -2 | 69 |
| T23 | So Yeon Ryu | -2 | 69 |
| T23 | Brittany Altomare | -2 | 69 |
| T23 | Ally McDonald | -2 | 69 |
| T29 | Isi Gabsa | -1 | 70 |
| T29 | Carlota Ciganda | -1 | 70 |
| T29 | Nasa Hataoka | -1 | 70 |
| T29 | Camille Chevalier | -1 | 70 |
| T29 | Perrine Delacour | -1 | 70 |
| T29 | Peiyun Chien | -1 | 70 |
| T29 | Anna Nordqvist | -1 | 70 |
| T29 | Ursula Wikstrom | -1 | 70 |
| T29 | Yu Liu | -1 | 70 |
| T29 | Marianne Skarpnord | -1 | 70 |
| T29 | Sarah Kemp | -1 | 70 |
| T29 | Katherine Kirk | -1 | 70 |
| T29 | Aditi Ashok | -1 | 70 |
| T29 | Jodi Ewart Shadoff | -1 | 70 |
| T43 | Noora Komulainen | E | 71 |
| T43 | Thidapa Suwannapura | E | 71 |
| T43 | Carmen Alonso | E | 71 |
| T43 | Isabelle Boineau | E | 71 |
| T43 | Nanna Koerstz Madsen | E | 71 |
| T43 | Mel Reid | E | 71 |
| T43 | Ayako Uehara | E | 71 |
| T43 | Jin Young Ko | E | 71 |
| T43 | Paula Creamer | E | 71 |
| T43 | Karrie Webb | E | 71 |
| T43 | Georgia Hall | E | 71 |
| T43 | Ashleigh Buhai | E | 71 |
| T43 | Karolin Lampert | E | 71 |
| T43 | Sophia Popov | E | 71 |
| T43 | Maude-Aimee Leblanc | E | 71 |
| T43 | Mika Miyazato | E | 71 |
| T43 | Sandra Gal | E | 71 |
| T43 | Wei-Ling Hsu | E | 71 |
| T43 | Mo Martin | E | 71 |
| T43 | Angela Stanford | E | 71 |
| T43 | Nicole Broch Larsen | E | 71 |
| T64 | Meghan MacLaren | 1 | 72 |
| T64 | Jenny Haglund | 1 | 72 |
| T64 | Ryann O'Toole | 1 | 72 |
| T64 | Laetitia Beck | 1 | 72 |
| T64 | Brittany Marchand | 1 | 72 |
| T64 | Gaby Lopez | 1 | 72 |
| T64 | Sherman Santiwiwatthanaphong | 1 | 72 |
| T64 | Laura Davies | 1 | 72 |
| T64 | Cristie Kerr | 1 | 72 |
| T64 | Jane Park | 1 | 72 |
| T64 | Kanyalak Preedasuttijit | 1 | 72 |
| T64 | Christina Kim | 1 | 72 |
| T64 | Carly Booth | 1 | 72 |
| T64 | Liz Young | 1 | 72 |
| T64 | Becky Brewerton | 1 | 72 |
| T64 | Robynn Ree | 1 | 72 |
| T64 | Casey Danielson | 1 | 72 |
| T64 | Manon Molle | 1 | 72 |
| T64 | Jacqui Concolino | 1 | 72 |
| T64 | Morgan Pressel | 1 | 72 |
| T64 | Emma Talley | 1 | 72 |
| T64 | Angel Yin | 1 | 72 |
| T64 | Celine Boutier | 1 | 72 |
| T87 | Lydia Hall | 2 | 73 |
| T87 | Wichanee Meechai | 2 | 73 |
| T87 | Amelia Lewis | 2 | 73 |
| T87 | Luna Sobron | 2 | 73 |
| T87 | Anne Van Dam | 2 | 73 |
| T87 | Lydia Ko | 2 | 73 |
| T87 | Pornanong Phatlum | 2 | 73 |
| T87 | Holly Clyburn | 2 | 73 |
| T87 | Madelene Sagstrom | 2 | 73 |
| T87 | Jessica Karlsson | 2 | 73 |
| T87 | Alena Sharp | 2 | 73 |
| T87 | Kylie Henry | 2 | 73 |
| T87 | Marta Sanz Barrio | 2 | 73 |
| T87 | Sarah Schober | 2 | 73 |
| T87 | Katie Burnett | 2 | 73 |
| T102 | Valentine Derrey | 3 | 74 |
| T102 | Brianna Do | 3 | 74 |
| T102 | Erynne Lee | 3 | 74 |
| T102 | Valdis Jonsdottir | 3 | 74 |
| T102 | Moriya Jutanugarn | 3 | 74 |
| T102 | Sarah Jane Smith | 3 | 74 |
| T102 | Rebecca Artis | 3 | 74 |
| T102 | Jaye Marie Green | 3 | 74 |
| T102 | Klara Spilkova | 3 | 74 |
| T102 | Sei Young Kim | 3 | 74 |
| T102 | Nuria Iturrios | 3 | 74 |
| T102 | Mariajo Uribe | 3 | 74 |
| T102 | Leticia Ras-Anderica | 3 | 74 |
| T102 | Maria Torres | 3 | 74 |
| T102 | Mi Hyang Lee | 3 | 74 |
| T102 | Gemma Dryburgh | 3 | 74 |
| T118 | Beth Allen | 4 | 75 |
| T118 | Gabriella Cowley | 4 | 75 |
| T118 | Vikki Laing | 4 | 75 |
| T118 | Michele Thomson | 4 | 75 |
| T118 | Linda Wessberg | 4 | 75 |
| T118 | Lindy Duncan | 4 | 75 |
| T118 | Michelle Wie | 4 | 75 |
| T118 | Lina Boqvist | 4 | 75 |
| T118 | Kim Kaufman | 4 | 75 |
| T118 | Camilla Lennarth | 4 | 75 |
| T118 | Felicity Johnson | 4 | 75 |
| T118 | Chella Choi | 4 | 75 |
| T118 | Astrid de Pradenne | 4 | 75 |
| T118 | Christine Wolf | 4 | 75 |
| T118 | Beatriz Recari | 4 | 75 |
| T133 | Hannah Green | 5 | 76 |
| T133 | Dani Holmqvist | 5 | 76 |
| T133 | Mina Harigae | 5 | 76 |
| T133 | Mi Jung Hur | 5 | 76 |
| T133 | Emily Pedersen | 5 | 76 |
| T133 | Amy Olson | 5 | 76 |
| T139 | Ana Menendez | 6 | 77 |
| T139 | Benyapa Niphatsophon | 6 | 77 |
| T139 | Whitney Hillier | 6 | 77 |
| T139 | Malene Jorgensen | 6 | 77 |
| T139 | Celine Herbin | 6 | 77 |
| T139 | Cheyenne Woods | 6 | 77 |
| T139 | Olafia Kristinsdottir | 6 | 77 |
| T139 | Nicole Garcia | 6 | 77 |
| T139 | Hannah Burke | 6 | 77 |
| T148 | Trish Johnson | 7 | 78 |
| T148 | Chloe Leurquin | 7 | 78 |
| T148 | Hyo Joo Kim | 7 | 78 |
| T148 | Pernilla Lindberg | 7 | 78 |
| T148 | Cydney Clanton | 7 | 78 |
| T153 | Florentyna Parker | 8 | 79 |
| T153 | Olivia Cowan | 8 | 79 |
| 155 | Caroline Martens | 9 | 80 |
| 156 | Agathe Sauzon | 10 | 81 |
| | | | |
| --- | --- | --- | --- |
| Pos. | Player | To Par | R1 |
| 1 | Tiffany Joh | -9 | 62 |
| T2 | In-Kyung Kim | -5 | 66 |
| T2 | Amy Yang | -5 | 66 |
| T2 | Jenny Shin | -5 | 66 |
| T5 | Minjee Lee | -4 | 67 |
| T5 | Kelsey MacDonald | -4 | 67 |
| T5 | Sung Hyun Park | -4 | 67 |
| T5 | Charley Hull | -4 | 67 |
| T5 | Ariya Jutanugarn | -4 | 67 |
| T5 | Haeji Kang | -4 | 67 |
| T5 | Karoline Lund | -4 | 67 |
| T12 | Caroline Masson | -3 | 68 |
| T12 | Caroline Inglis | -3 | 68 |
| T12 | Lauren Kim | -3 | 68 |
| T12 | Xiyu Lin | -3 | 68 |
| T12 | Annabel Dimmock | -3 | 68 |
| T12 | Daniela Iacobelli | -3 | 68 |
| T12 | Jeong Eun Lee | -3 | 68 |
| T12 | Su Oh | -3 | 68 |
| T12 | Justine Dreher | -3 | 68 |
| T12 | Lee-Anne Pace | -3 | 68 |
| T12 | Bronte Law | -3 | 68 |
| T23 | Pannarat Thanapolboonyaras | -2 | 69 |
| T23 | Amy Boulden | -2 | 69 |
| T23 | Catriona Matthew | -2 | 69 |
| T23 | So Yeon Ryu | -2 | 69 |
| T23 | Brittany Altomare | -2 | 69 |
| T23 | Ally McDonald | -2 | 69 |
| T29 | Isi Gabsa | -1 | 70 |
| T29 | Carlota Ciganda | -1 | 70 |
| T29 | Nasa Hataoka | -1 | 70 |
| T29 | Camille Chevalier | -1 | 70 |
| T29 | Perrine Delacour | -1 | 70 |
| T29 | Peiyun Chien | -1 | 70 |
| T29 | Anna Nordqvist | -1 | 70 |
| T29 | Ursula Wikstrom | -1 | 70 |
| T29 | Yu Liu | -1 | 70 |
| T29 | Marianne Skarpnord | -1 | 70 |
| T29 | Sarah Kemp | -1 | 70 |
| T29 | Katherine Kirk | -1 | 70 |
| T29 | Aditi Ashok | -1 | 70 |
| T29 | Jodi Ewart Shadoff | -1 | 70 |
| T43 | Noora Komulainen | E | 71 |
| T43 | Thidapa Suwannapura | E | 71 |
| T43 | Carmen Alonso | E | 71 |
| T43 | Isabelle Boineau | E | 71 |
| T43 | Nanna Koerstz Madsen | E | 71 |
| T43 | Mel Reid | E | 71 |
| T43 | Ayako Uehara | E | 71 |
| T43 | Jin Young Ko | E | 71 |
| T43 | Paula Creamer | E | 71 |
| T43 | Karrie Webb | E | 71 |
| T43 | Georgia Hall | E | 71 |
| T43 | Ashleigh Buhai | E | 71 |
| T43 | Karolin Lampert | E | 71 |
| T43 | Sophia Popov | E | 71 |
| T43 | Maude-Aimee Leblanc | E | 71 |
| T43 | Mika Miyazato | E | 71 |
| T43 | Sandra Gal | E | 71 |
| T43 | Wei-Ling Hsu | E | 71 |
| T43 | Mo Martin | E | 71 |
| T43 | Angela Stanford | E | 71 |
| T43 | Nicole Broch Larsen | E | 71 |
| T64 | Meghan MacLaren | 1 | 72 |
| T64 | Jenny Haglund | 1 | 72 |
| T64 | Ryann O'Toole | 1 | 72 |
| T64 | Laetitia Beck | 1 | 72 |
| T64 | Brittany Marchand | 1 | 72 |
| T64 | Gaby Lopez | 1 | 72 |
| T64 | Sherman Santiwiwatthanaphong | 1 | 72 |
| T64 | Laura Davies | 1 | 72 |
| T64 | Cristie Kerr | 1 | 72 |
| T64 | Jane Park | 1 | 72 |
| T64 | Kanyalak Preedasuttijit | 1 | 72 |
| T64 | Christina Kim | 1 | 72 |
| T64 | Carly Booth | 1 | 72 |
| T64 | Liz Young | 1 | 72 |
| T64 | Becky Brewerton | 1 | 72 |
| T64 | Robynn Ree | 1 | 72 |
| T64 | Casey Danielson | 1 | 72 |
| T64 | Manon Molle | 1 | 72 |
| T64 | Jacqui Concolino | 1 | 72 |
| T64 | Morgan Pressel | 1 | 72 |
| T64 | Emma Talley | 1 | 72 |
| T64 | Angel Yin | 1 | 72 |
| T64 | Celine Boutier | 1 | 72 |
| T87 | Lydia Hall | 2 | 73 |
| T87 | Wichanee Meechai | 2 | 73 |
| T87 | Amelia Lewis | 2 | 73 |
| T87 | Luna Sobron | 2 | 73 |
| T87 | Anne Van Dam | 2 | 73 |
| T87 | Lydia Ko | 2 | 73 |
| T87 | Pornanong Phatlum | 2 | 73 |
| T87 | Holly Clyburn | 2 | 73 |
| T87 | Madelene Sagstrom | 2 | 73 |
| T87 | Jessica Karlsson | 2 | 73 |
| T87 | Alena Sharp | 2 | 73 |
| T87 | Kylie Henry | 2 | 73 |
| T87 | Marta Sanz Barrio | 2 | 73 |
| T87 | Sarah Schober | 2 | 73 |
| T87 | Katie Burnett | 2 | 73 |
| T102 | Valentine Derrey | 3 | 74 |
| T102 | Brianna Do | 3 | 74 |
| T102 | Erynne Lee | 3 | 74 |
| T102 | Valdis Jonsdottir | 3 | 74 |
| T102 | Moriya Jutanugarn | 3 | 74 |
| T102 | Sarah Jane Smith | 3 | 74 |
| T102 | Rebecca Artis | 3 | 74 |
| T102 | Jaye Marie Green | 3 | 74 |
| T102 | Klara Spilkova | 3 | 74 |
| T102 | Sei Young Kim | 3 | 74 |
| T102 | Nuria Iturrios | 3 | 74 |
| T102 | Mariajo Uribe | 3 | 74 |
| T102 | Leticia Ras-Anderica | 3 | 74 |
| T102 | Maria Torres | 3 | 74 |
| T102 | Mi Hyang Lee | 3 | 74 |
| T102 | Gemma Dryburgh | 3 | 74 |
| T118 | Beth Allen | 4 | 75 |
| T118 | Gabriella Cowley | 4 | 75 |
| T118 | Vikki Laing | 4 | 75 |
| T118 | Michele Thomson | 4 | 75 |
| T118 | Linda Wessberg | 4 | 75 |
| T118 | Lindy Duncan | 4 | 75 |
| T118 | Michelle Wie | 4 | 75 |
| T118 | Lina Boqvist | 4 | 75 |
| T118 | Kim Kaufman | 4 | 75 |
| T118 | Camilla Lennarth | 4 | 75 |
| T118 | Felicity Johnson | 4 | 75 |
| T118 | Chella Choi | 4 | 75 |
| T118 | Astrid de Pradenne | 4 | 75 |
| T118 | Christine Wolf | 4 | 75 |
| T118 | Beatriz Recari | 4 | 75 |
| T133 | Hannah Green | 5 | 76 |
| T133 | Dani Holmqvist | 5 | 76 |
| T133 | Mina Harigae | 5 | 76 |
| T133 | Mi Jung Hur | 5 | 76 |
| T133 | Emily Pedersen | 5 | 76 |
| T133 | Amy Olson | 5 | 76 |
| T139 | Ana Menendez | 6 | 77 |
| T139 | Benyapa Niphatsophon | 6 | 77 |
| T139 | Whitney Hillier | 6 | 77 |
| T139 | Malene Jorgensen | 6 | 77 |
| T139 | Celine Herbin | 6 | 77 |
| T139 | Cheyenne Woods | 6 | 77 |
| T139 | Olafia Kristinsdottir | 6 | 77 |
| T139 | Nicole Garcia | 6 | 77 |
| T139 | Hannah Burke | 6 | 77 |
| T148 | Trish Johnson | 7 | 78 |
| T148 | Chloe Leurquin | 7 | 78 |
| T148 | Hyo Joo Kim | 7 | 78 |
| T148 | Pernilla Lindberg | 7 | 78 |
| T148 | Cydney Clanton | 7 | 78 |
| T153 | Florentyna Parker | 8 | 79 |
| T153 | Olivia Cowan | 8 | 79 |
| 155 | Caroline Martens | 9 | 80 |
| 156 | Agathe Sauzon | 10 | 81 |