American Ally Ewing set a daunting clubhouse target on day two of the AIG Women's Open thanks to a brilliant second round at Walton Heath.
Ewing, who held a one-shot lead following an opening 68 completed late on Thursday, was among the early starters on Friday and stormed clear of the field with a birdie on the third and four in a row from the sixth to be out in 30.
The 30-year-old from Mississippi also picked up further shots on the 11th and 16th before dropping her only shot of the day on the last to complete a superb 66.
"I just kept trying to stay in the now, stay in the present, which is one shot at a time for me and fortunately those shots yielded a lot of really good opportunities I was able to capitalise on," Ewing said.
"That stretch of golf (on the front nine) was really, really good and just a really solid day overall."
Asked what it would mean to win a maiden major title this weekend, Ewing added: "It would be huge. It's something I've obviously circled as something I want to accomplish in my career.
"I've had possible chances to do that, I've been in the last group, so for me it's just going to be (about) leaning on that a little bit as well as leaning on the confidence I have in my game right now."
At 10 under par Ewing enjoyed a five-shot lead over compatriot Andrea Lee and Japan's Minami Katsu, with South Korea's Kim Hyo-Joo and Lilia Vu another stroke back on four under.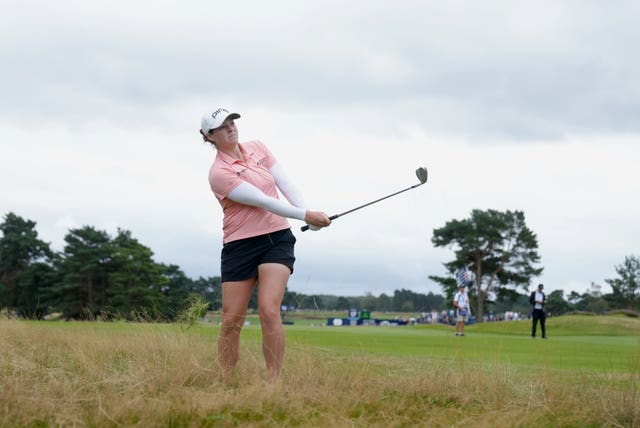 Vu won the first major of the year, the Chevron Championship, in April but a tie for 35th in last week's Scottish Open is her best finish in a strokeplay event since then.
"I feel like post-Chevron Championship I've been struggling a little bit and to finally, hopefully, be in contention by the end of today just feels really rewarding," Vu said.
"I think every time I get in my own way, it's when I'm too focused on winning.
"But if I just focus on playing my game then I'm in a good position to try and win instead of just getting really upset if I mess up on a hole, and I did that last week.
"I got upset when I was playing well, and then just couldn't hold it together after because I thought it was just over. And I'm just trying to be in a better mindset this week."