November 05-08
Iberostar Real Club de Golf Novo Sancti Petri, Cadiz, Spain
Round 2, Round 3, Round 4
---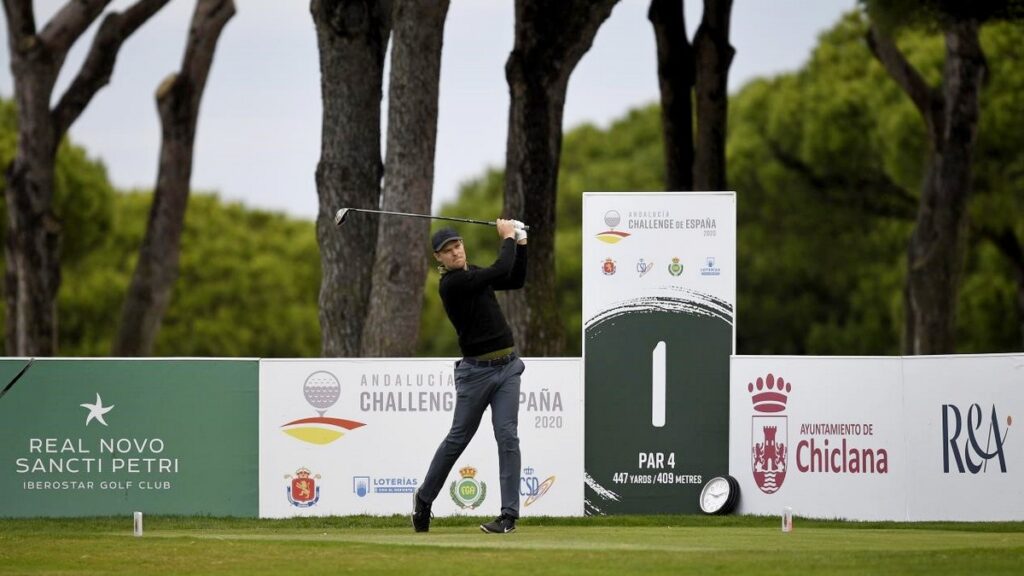 ---

Martin Simonsen posted a bogey-free six under par round of 66 to take the first round lead at the Andalucía Challenge de España at Iberostar Real Club de Golf Novo Sancti Petri.



The Dane holds a one-stroke advantage over Northern Ireland's Michael Hoey, who is making just his fifth competitive start of 2020, while Finland's Oliver Lindell sits third on four under par.
Simonsen made two birdies on the front nine and a further four on the back to set the target at six under par after 18 holes as he vies for his first European Challenge Tour victory.


---

"It was great," Simonsen said. "I didn't really know what to expect because it was meant to be pretty windy – and it was during the round – but now it's died down a little bit but 66, I'll take that any day.
"I didn't think I had the best side of the draw but I guess it worked out anyway. I felt like I had good control over my game and especially on the front nine, I felt like I had a lot of opportunities. It was good, getting a couple to roll in on the back."



The 18th and final hole at Iberostar Real Club de Golf Novo Sancti Petri is a 225-yard par three which only seven players in the 96-man field managed to birdie on day one, with Simonsen being one of them.
"I made a good par on 17 and then 18, making birdie there, that's a pretty good highlight because it's a tough finishing stretch and 18 especially, it's brutal," he said.
"Let's put it this way: I wouldn't like to have to make par to win the tournament on that hole, that's for sure. It's always interesting with a par three at the end because you can pretty much make double bogey and you can also make birdie on that hole, so anything can happen."
Northern Irishman Hoey would have joined Simonsen at the top of the leaderboard but was handed a one-stroke penalty following the conclusion of his round for incorrectly placing his ball when taking a preferred lie.
"The course is wet and I've just nudged the ball an inch as I took a preferred lie so in actual fact I hadn't preferred it," Hoey said.
"I should have just discounted that one and actually picked the ball up and preferred it properly. I should know after 20 years but I didn't want to pick it up again because I thought I was prefer lying it twice, but that's golf.


---

"You've got to be pernickety in a lot of things, but I was quite happy with the way I played because I've not played a lot of golf this year. Just seeing my name on the leaderboard, it's been a very, very long time."
Young Spaniard Alejandro Del Rey, Belgian Christopher Mivis, England's Steven Tiley and Scot Euan Walker share fourth place on three under par, while a group of six players, including 2018 Challenge de España Champion Oscar Lengden share eighth place on two under par.
The second round of the Andalucía Challenge de España begins at 8.00am local time on Friday November 6, 2020.
---
| | | | |
| --- | --- | --- | --- |
| Pos. | Player | To Par | R1 |
| 1 | SIMONSEN, Martin | -6 | 66 |
| 2 | HOEY, Michael | -5 | 67 |
| 3 | LINDELL, Oliver | -4 | 68 |
| 4 | MIVIS, Christopher | -3 | 69 |
| ​ | TILEY, Steven | -3 | 69 |
| ​ | DEL REY, Alejandro | -3 | 69 |
| ​ | WALKER, Euan | -3 | 69 |
| 8 | BERNA MANZANARES, Daniel | -2 | 70 |
| ​ | HORTAL, Antonio | -2 | 70 |
| ​ | LENGDEN, Oscar | -2 | 70 |
| 8 | BRUN, Julien | -2 | 70 |
| ​ | BLOMSTRAND, Christofer | -2 | 70 |
| ​ | KASKE, Janne | -2 | 70 |
| 14 | FERNANDEZ, Scott | -1 | 71 |
| ​ | ORIOL, Pedro | -1 | 71 |
| ​ | HELLGREN, Björn | -1 | 71 |
| ​ | MATUS, Stanislav | -1 | 71 |
| 18 | ERIKSSON, Philip | PAR | 72 |
| ​ | GAVINS, Daniel | PAR | 72 |
| ​ | STUREHED, Henric | PAR | 72 |
| ​ | KAKKO, Roope | PAR | 72 |
| ​ | LOPES, Vitor | PAR | 72 |
| ​ | FORD, Matt | PAR | 72 |
| ​ | CUARTERO BLANCO, Emilio | PAR | 72 |
| ​ | AXELSEN, John | PAR | 72 |
| 18 | KEARNEY, Niall | PAR | 72 |
| ​ | RUSCH, Benjamin | PAR | 72 |
| ​ | GOUVEIA, Ricardo | PAR | 72 |
| ​ | WILSON, Andrew | PAR | 72 |
| ​ | GALIANO AGUILAR, Mario | PAR | 72 |
| 31 | KOIVU, Kim | 1 | 73 |
| ​ | LAMPERT, Moritz | 1 | 73 |
| ​ | BORDA, David | 1 | 73 |
| ​ | BALDWIN, Matthew | 1 | 73 |
| ​ | KOUWENAAR, Koen | 1 | 73 |
| ​ | PASTOR, Jacobo | 1 | 73 |
| ​ | KNAPPE, Alexander | 1 | 73 |
| ​ | KOIVISTO, Tyler | 1 | 73 |
| ​ | LONG, Hurly | 1 | 73 |
| ​ | ANGLES ROS, Josep | 1 | 73 |
| ​ | CANTERO GUTIERREZ, Ivan | 1 | 73 |
| ​ | GREGORY, Scott | 1 | 73 |
| ​ | DANA, Haiko | 1 | 73 |
| 44 | ELLIS, Harry | 2 | 74 |
| ​ | MOYNIHAN, Gavin | 2 | 74 |
| ​ | LIESER, Ondrej | 2 | 74 |
| ​ | DE SOUSA, Raphaël | 2 | 74 |
| ​ | GARCIA DEL MORAL, Jordi | 2 | 74 |
| ​ | DANTORP, Jens | 2 | 74 |
| ​ | MANSELL, Richard | 2 | 74 |
| 51 | MANLEY, Stuart | 3 | 75 |
| ​ | ELVIRA, Manuel | 3 | 75 |
| ​ | QUIROS, Manuel | 3 | 75 |
| ​ | THOMSON, Jonathan | 3 | 75 |
| ​ | PLANT, Alfie | 3 | 75 |
| ​ | HIDALGO, Angel | 3 | 75 |
| ​ | ARIZABALETA, Alvaro | 3 | 75 |
| ​ | PASTOR, Marcos | 3 | 75 |
| ​ | MACCARIO, Federico | 3 | 75 |
| ​ | PASTOR, Victor | 3 | 75 |
| ​ | WRISDALE, Jordan | 3 | 75 |
| ​ | SANDBORG, Jesper | 3 | 75 |
| ​ | TARRIO, Santiago | 3 | 75 |
| ​ | DEL VAL, Samuel | 3 | 75 |
| ​ | GANDY, Tom | 3 | 75 |
| 66 | FOOS, Dominic | 4 | 76 |
| ​ | CLEMENTS, Todd | 4 | 76 |
| ​ | ROUSAUD, Eduard (AM) | 4 | 76 |
| ​ | VON DELLINGSHAUSEN, Nicolai | 4 | 76 |
| ​ | STAL, Gary | 4 | 76 |
| ​ | KIMSEY, Nathan | 4 | 76 |
| ​ | DI NITTO, Enrico | 4 | 76 |
| ​ | KRISTJANSSON, Gudmundur | 4 | 76 |
| ​ | NEMECZ, Lukas | 4 | 76 |
| ​ | GARCIA-HEREDIA, Alfredo | 4 | 76 |
| ​ | JOHANNESSEN, Kristian Krogh | 4 | 76 |
| ​ | KARLSSON, Anton | 4 | 76 |
| 78 | ADARRAGA GOMEZ, Jose Luis | 5 | 77 |
| ​ | JOHN, Allen | 5 | 77 |
| ​ | SIEM, Marcel | 5 | 77 |
| ​ | SAHLSTROM, Christopher | 5 | 77 |
| ​ | OVESEN, Martin | 5 | 77 |
| ​ | SAINZ, Javier | 5 | 77 |
| ​ | PETERSSON, Robin | 5 | 77 |
| 85 | HOWIE, Craig | 6 | 78 |
| ​ | FENASSE, Mathieu | 6 | 78 |
| ​ | ZEMMER, Aron | 6 | 78 |
| ​ | SCHNEIDER, Marcel | 6 | 78 |
| 89 | VAN WEST, Robbie | 7 | 79 |
| ​ | NEIL, Bradley | 7 | 79 |
| 91 | VACARISAS, Lucas | 8 | 80 |
| ​ | VIRTO, Borja | 8 | 80 |
| 93 | YOUNG, Daniel | 9 | 81 |
| ​ | GANCEDO, Gonzalo | 9 | 81 |
| ​ | WIEGELE, Martin | 9 | 81 |
| 96 | BELTRAN, Mario | 10 | 82 |