November 05-08
Aphrodite Hills Resort, Kouklia, Paphos, Cyprus
€1,000,000
Round 2, Round 3, Round 4
---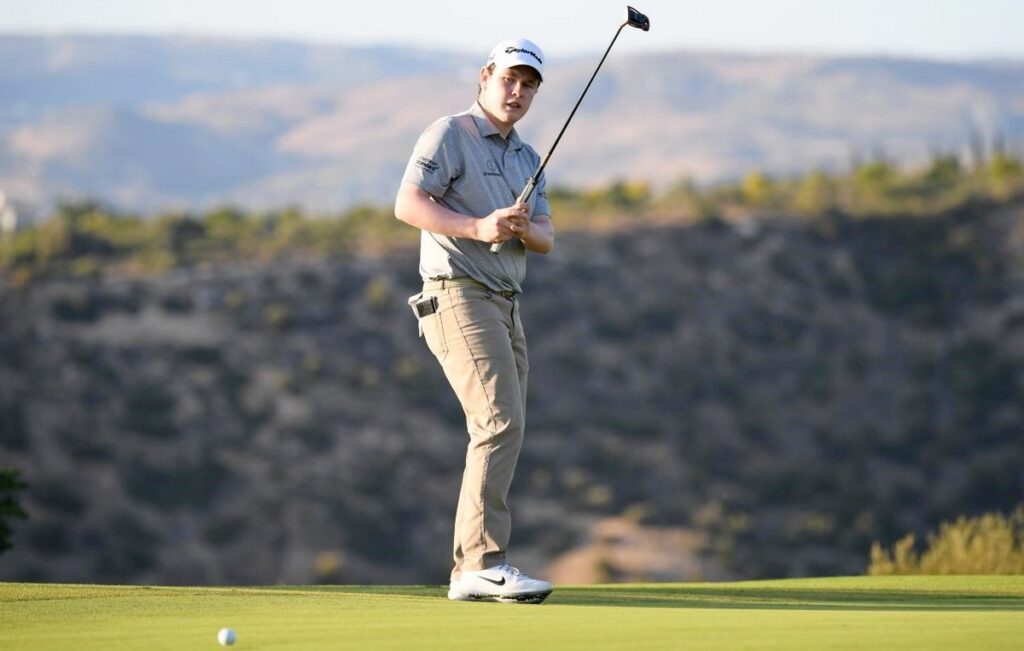 ---

Robert MacIntyre started the Aphrodite Hills Cyprus Showdown as he ended last week's Cyprus Open, with a six under par 65 to take the lead after the first round at Aphrodite Hills Resort.



"I'm delighted. Again I played great golf. A few mis hits off the tee, but it's one of those golf courses where I can open my shoulders a little bit more and give it a little bit extra. I missed a few putts that were still shaving the edges of holes but overall it was a good round of golf."
The 24-year-old improved by one stroke each round in last week's Cyprus Open, carding scores of 68-67-66-65 for a share of third place and his best finish on the 2020 Race to Dubai.


---

The Scotsman continued that momentum into the second of two consecutive events at the stunning Paphos venue and was one of eight players in a share of the lead on five under par, before his sixth birdie of the day on the 18th saw him take a narrow lead into the second round.
"The course suits my eye. I said it to Mikey and my coach at the start of last week. Visually there are certain shots that, if it was a different sort of wind, I wouldn't like them, but with the normal wind direction it suits my eye. I'm rolling the putter great.



"The new irons are brilliant. I'm hitting numbers. At Wentworth we weren't hitting numbers and before that the lofts kept going stronger and we were struggling. Now we've got new irons everything is perfect and my golf is showing that there was something wrong. To have fixed that has been a big help."
Sharing second place are seven golfers on five under par, including Romain Langasque, of France, and Finland's Sami Välimäki - both winners on the 2020 Race to Dubai - and 2014 Ryder Cup star Jamie Donaldson.
"A bit of a funny start really," said Donaldson. "I hit a great tee shot on the first, hit a really good second shot it was just short and it spun down the hill. I hit a poor second putt to three-putt the first which wasn't a great start after two good shots. It was a bit of a slow start. On the second I pushed my approach, didn't hit it close and was struggling for par – I made a good par.
"Then after that I got going. I played some really nice golf after that on the front nine. Three-putt bogeyed nine, which was a shame after two good shots, misjudged a putt, which was a shame. Over the course of the front nine it was pretty good, had lots of chances and made a few of them."
One group remained on the course when play was halted due to darkness, with Round One to be completed on Friday morning.


---

This week's Aphrodite Hills Cyprus Showdown has a first-of-its-kind format on the European Tour, with the top 32 players and ties making the cut for Saturday's third round. All scores will then be reset, and the top 16 and ties after the third round will go through to Sunday, with everyone starting again from level par in a one-round shootout with the winner receiving a cheque for €200,000.
---
Pos.

Player

Thru

To Par

R1

1

Robert MacIntyre

F

-6

65

T2

Romain Langasque

F

-5

66

T2

Joakim Lagergren

F

-5

66

T2

Ashun Wu

F

-5

66

T2

Rikard Karlberg

F

-5

66

T2

Sami Valimaki

F

-5

66

T2

Jamie Donaldson

F

-5

66

T2

Thomas Detry

F

-5

66

T9

Shubhankar Sharma

F

-4

67

T9

Masahiro Kawamura

F

-4

67

T9

Alexander Levy

F

-4

67

T9

Johannes Veerman

F

-4

67

T9

David Horsey

F

-4

67

T9

Joost Luiten

F

-4

67

T9

Sebastian Garcia Rodriguez

F

-4

67

T16

Pablo Larrazabal

F

-3

68

T16

Daan Huizing

F

-3

68

T16

Alexander Björk

F

-3

68

T16

Joel Sjoholm

F

-3

68

T16

Benjamin Hebert

F

-3

68

T16

Ignacio Elvira Mijares

F

-3

68

T16

Louis De Jager

F

-3

68

T16

Kalle Samooja

F

-3

68

T16

Marcus Armitage

F

-3

68

T16

James Morrison

F

-3

68

T16

Grant Forrest

F

-3

68

T16

Steven Brown

F

-3

68

T16

Marcus Kinhult

F

-3

68

T16

Callum Shinkwin

F

-3

68

T30

Oliver Farr

F

-2

69

T30

Jorge Campillo

F

-2

69

T30

Rasmus Højgaard

F

-2

69

T30

Cormac Sharvin

F

-2

69

T30

Chris Paisley

F

-2

69

T30

Antoine Rozner

F

-2

69

T30

Lars van Meijel

F

-2

69

T30

Richard Bland

F

-2

69

T30

Oliver Wilson

F

-2

69

T30

Ross McGowan

F

-2

69

T30

Matthew Jordan

17

-2

T30

Aaron Cockerill

17

-2

T42

Matthieu Pavon

F

-1

70

T42

Wilco Nienaber

F

-1

70

T42

Niklas Lemke

F

-1

70

T42

Clement Sordet

F

-1

70

T42

Thorbjørn Olesen

F

-1

70

T42

Garrick Porteous

F

-1

70

T42

Bernd Ritthammer

F

-1

70

T42

Gavin Kyle Green

F

-1

70

T42

Adrian Meronk

F

-1

70

T42

Sebastian Heisele

F

-1

70

T42

Ross Fisher

F

-1

70

T42

Scott Vincent

F

-1

70

T42

Francesco Laporta

F

-1

70

T42

David Drysdale

F

-1

70

T42

Ewen Ferguson

F

-1

70

T42

Connor Syme

F

-1

70

T42

Maverick Antcliff

F

-1

70

T42

Haydn Porteous

F

-1

70

T42

Carlos Pigem

F

-1

70

T61

Joel Stalter

F

E

71

T61

Matthew Southgate

F

E

71

T61

Lorenzo Gagli

F

E

71

T61

Ricardo Santos

F

E

71

T61

Dale Whitnell

F

E

71

T61

Richie Ramsay

F

E

71

T61

Pedro Figueiredo

F

E

71

T61

Calum Hill

F

E

71

T61

Maximilian Kieffer

F

E

71

T61

Michael Campbell

F

E

71

T61

David Howell

F

E

71

T61

Jeff Winther

F

E

71

T61

Haotong Li

F

E

71

T61

Oliver Fisher

F

E

71

T61

Matthias Schwab

F

E

71

T61

Jack Senior

F

E

71

T61

Julian Suri

F

E

71

T61

Nicolas Colsaerts

F

E

71

T61

Ben Stow

17

E

T61

Jack Floydd

17

E

T81

Zander Lombard

F

1

72

T81

Alvaro Quiros

F

1

72

T81

Robin Roussel

F

1

72

T81

Mikko Korhonen

F

1

72

T81

Gregory Havret

F

1

72

T81

Jordan Smith

F

1

72

T81

Jason Scrivener

F

1

72

T81

Richard McEvoy

F

1

72

T81

Alejandro Cañizares

F

1

72

T81

Jonathan Caldwell

F

1

72

T81

Robin Sciot-Siegrist

F

1

72

T92

Toby Tree

F

2

73

T92

SSP Chawrasia

F

2

73

T92

Paul Waring

F

2

73

T95

Adrien Saddier

F

3

74

T95

Iain Pyman

F

3

74

T95

Yikeun Chang

F

3

74

T98

Mitch Waite

F

4

75

T98

Jacob Oakley

F

4

75

T98

Tapio Pulkkanen

F

4

75

T98

Dave Coupland

F

4

75

T98

Garrick Higgo

F

4

75

T98

Gonzalo Fernandez-Castaño

F

4

75

104

Chris Wood

F

6

77

105

Sebastian Soderberg

F

7

78

-

Sam Horsfield

1:25 AM ET