Lucas Glover posted a 9-under 63 to take a one-shot lead in the Barbasol Championship.
"Good start, birdied the second hole. Then a little hiccup on 4, hit a nice shot, just went through the green, didn't get it up and down but I think on paper that's probably the hardest hole on the course, so nothing to get down about.
"Then got hot after that, started hitting it a little closer, made some putts, and then obviously the hole-out on 12 was a bonus. That's one of those hole locations where you've got a chance to get it really close because you've got a backstop behind it and just kind of got to get it online and it's going to feed to it, and I did that and it just happened to go in."
It was his best round on Tour since a second-round 63 led to the last of his four PGA Tour victories at the 2021 John Deere Classic. It was also his ninth straight round in the 60s, leading to back-to-back top-10 finishes at the Rocket Mortgage Classic (T4) and John Deere Classic (T6).
"There hasn't been until recently a lot of low rounds, but I've always liked this time of year and this stretch. Getting hot at the right time, and 63 anytime anywhere is pretty good, I'll take 'em."
The American leads the field in Strokes Gained: Tee To Green (7.576) and Proximity to the hole (20'9").
"I'm not the longest player anymore. I was pretty much a bomber when I came out and that was 20 years ago. I hit it the same and I'm about 90 spots less on the list.
"I've always done my work with my wedge game, or my iron game, and then if the putter gets hot I can compete. That's what we've been doing the last few weeks and working towards and it's working.
"Just got confidence in the putting and making some of those midrange putts and very comfortable over the short ones again. Anytime you're putting well it takes pressure off the rest of your game. You don't feel so much pressure to hit it perfect, which is not possible. You miss a green, you don't have to chip it in the grip to make a 4, you can be aggressive or play safe in places. And then you make a couple of those 14-, 18-footers and next thing you know you're in the 60s a bunch."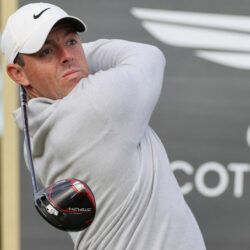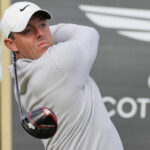 Barbasol ambassador Ryan Armour recorded a 64 for a share of second place, his 18th straight par-or-better round at the event dating to a final-round 67 at Grand National in 2015 and leads the field in Strokes Gained: Putting (5.046).
"I finally saw putts go in. I've putted so poor for four, five months and made a putter change Tuesday afternoon and just went with it. Rolled it good yesterday during the pro-am and I was like, all right, we're putting it in play.
"And I really didn't hit the ball that well on the front nine and the putter bailed me out, and then the back nine I striped it and hit some good shots. It's just, as a pro golfer, you have to see something go in just to kind of ease your mind a little bit. I've kind of beaten my head against the wall for about four months with the putter."
Fellow American Ryan Moore, in his 142nd start since winning the last of his five PGA Tour titles at the 2016 John Deere Classic, carded a bogey-free 64 for a share of second place at 8-under. He leads the field in Strokes Gained: Approach The Green (5.816).
England's Daniel Brown posted a 65 and lies in fourth place at 7-under alongside Americans Wesley Bryan, Cody Gribble and Andrew Novak.