"In the beginner's mind there are many possibilities, but in the expert's there are few" - Shunryu Suzuki, "Zen Mind, Beginner's Mind"
It's a familiar feeling for all parents; the start of the holidays. By the end of them, we'll have spent precious times together, of course, but our appreciation for their teachers will have flourished. For the summer seems to stretch ahead forever, and boredom is no longer an option these days.
So we head to Hounslow Golf Park, about to celebrate its first birthday, and explore the latest golf facility in the heart of this West London community. 13 years in the planning, it is the latest venture of the Maple Leaf Golf group, whose Horton Park venue has a fine reputation for both beginner's and developing players.
At Hounslow, the centre combines three different golfing elements. Volcano Island, whose giant dinosaurs catch the attention of the youngsters as they approach from the car park, boasts two entwined 18 hole adventure golf routings, putting in and around waterfalls and through secret caves, all within sight of a central volcano. And it is there we begin, warming up with a number of other families as the grunts of the T. Rex punctuate the laughter of the many families traversing these routes.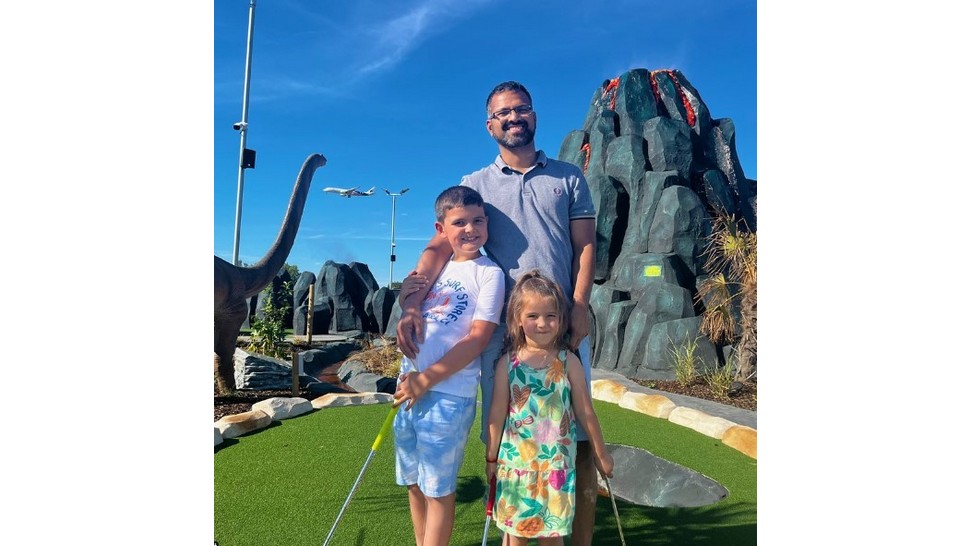 Next up is the Knockabout 9, and in the late morning sun we pitch and putt our way round the field, enjoying the fresh air up here on the edge of Hounslow Heath, a haven of wildlife in this urban landscape. A few teenagers are out here, too, playing to the footgolf targets that weave in between our own all-weather greens, and there is a sense of time slowing down that is welcome after the hectic end of term stuff.
But as usual, fresh air brings hunger, so we head for the  , which is already buzzing, and order lunch for delivery to the Games Range, where each bay has comfy chairs and enough room to enjoy the excellent food whilst sending balls into orbit, to share the sky with planes heading into nearby Heathrow.
Though my own kids are fairly new to golf, I'm three decades deep in the game, but in the time since I last frequented golf ranges, much has changed, and all for the better. No longer are these places the intimidating, basic versions of my youth; they are now colourful and technical places to relax, and at Hounslow Golf Park, technology has been harnessed to suit every level of golfer.
The intuitive screen alongside each bay features a range of games and measurements, all tracked by the radar that enables accuracy in all weather and light conditions, so while the younger half of our party jostle for points, spanking balls out onto the vivid canvas of the vast field ahead, I get to flick a few long irons out, and check on my yardages.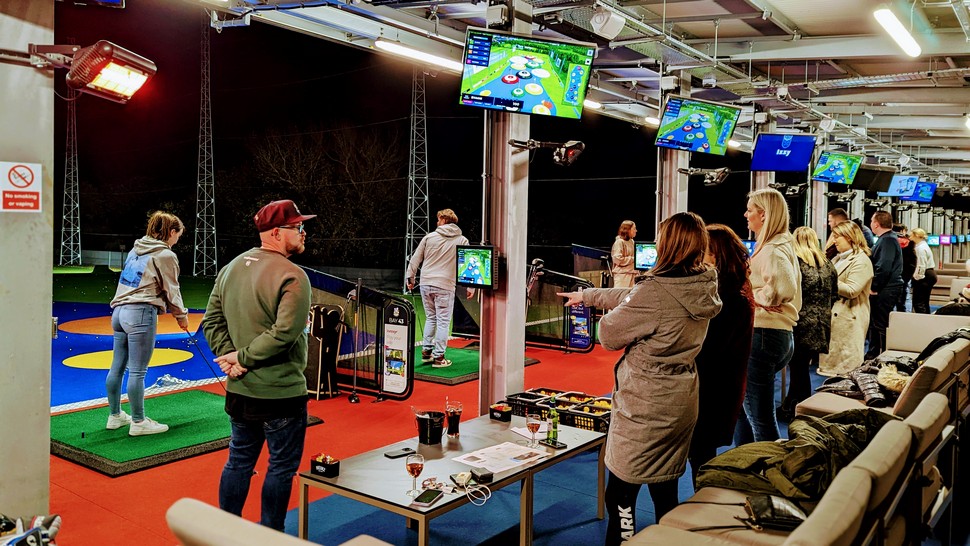 In between shots, I glance along the rest of this upper tier and marvel at the various groups at work on their games. A few good players, going through the discipline of serious practice; three groups of teenagers, snapping themselves as they laugh at each other's failures and gasp at the odd success. And next to us, grandpa explains this strange game to young Aidan, while Mum savours a flat white and an old-fashioned sit down.
As we are preparing to leave, another crowd arrives, headed for the far end, and one of the centre's coaches walks that way just behind them. And it turns out that not only is this a hub for the younger beginners - the Kids Love Golf package was the thing that caught our attention in the first place - but also for adult starters. So the dozen or so twenty-somethings that start flailing away are also here to try golf, and it occurs to me that of all the places I have been in the game, nowhere have I seen a more welcoming vibe, nor such a refreshing lack of obstacles.
In the twelve months since this place opened, 100,000 local schoolchildren have had a free introduction to the game, with impressive retention rates beyond the initial sessions. And I am not surprised by this, for I am so far down the path of worship for the sport, but golf has never quite found a way to spread the message wider, until maybe now.
For all of the barriers to cross this threshold into the game are absent here, replaced by simplicity and excellence, and an emphasis on fun. And you can hear fun in the air, as we all do our best without any pressure, or expectation. I always think the sign of a great golf course is that when you finish, you are reluctant to actually leave, and it is not just the kids who hanker after one more great shot today before we pack up. We are all at it!
So I pick up another club from the racks that sit behind each bay, and set up the wrong way round, left-handed, just for a laugh. Never done this before, and it feels awkward, and I feel slightly self-conscious, even in front of the safe crowd of my own family. But somehow it feels refreshing to be swishing these practice swings without the usual, stifling voice of a proper golfer, for we all think we know what the game is all about, experts in all but the execution.
It's a duff, of course, and I follow up in style with a couple of thins and a sh*nk, but they are all laughing, and I'm laughing with them. And then, as they start to pick up their bags, and get ready to leave, something weird happens. I hit one flush, and in that eighty yard wedge shot with a left-handed stranger in my hands, I am transported back to the mid-80s, and to my first steps on this golfing path.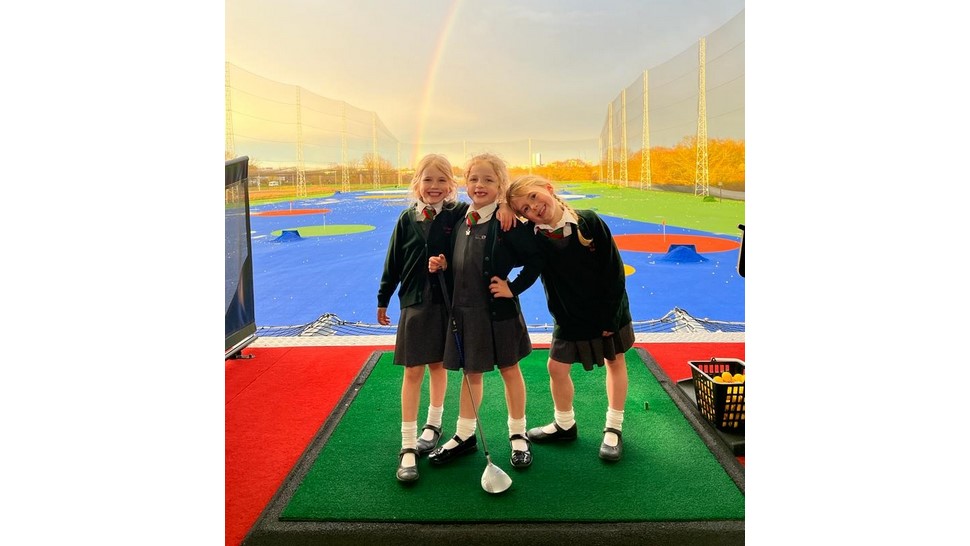 The ball seems to hang in the sky forever, and as I turn around in disbelief, I have just swept away years and re-discovered the magic of golf. That feeling…the first time the ball and sweetspot meet…is precious, and I spend the rest of the day enchanted by this rediscovery of what it is like to begin again. We make life so complicated sometimes, and the game is as guilty of that as we golfers are. But at the start of the holidays, at Hounslow Golf Park, something just clicked. And I know it's going to be a great summer…
For more information on all the activities at Hounslow Golf Park, visit the main website, or explore sister site Horton Golf Park here.
Their limited fee beginner sessions (for all ages!) are linked here, and the Kids Love Golf programme here. With thanks to Matthew Stilwell, General Manager, for the warm welcome and for such great work introducing golf to more people. Bravo!