October 08-11
Wentworth Club, Surrey, England
$7,000,000
Round 1, Round 2, Round 3
---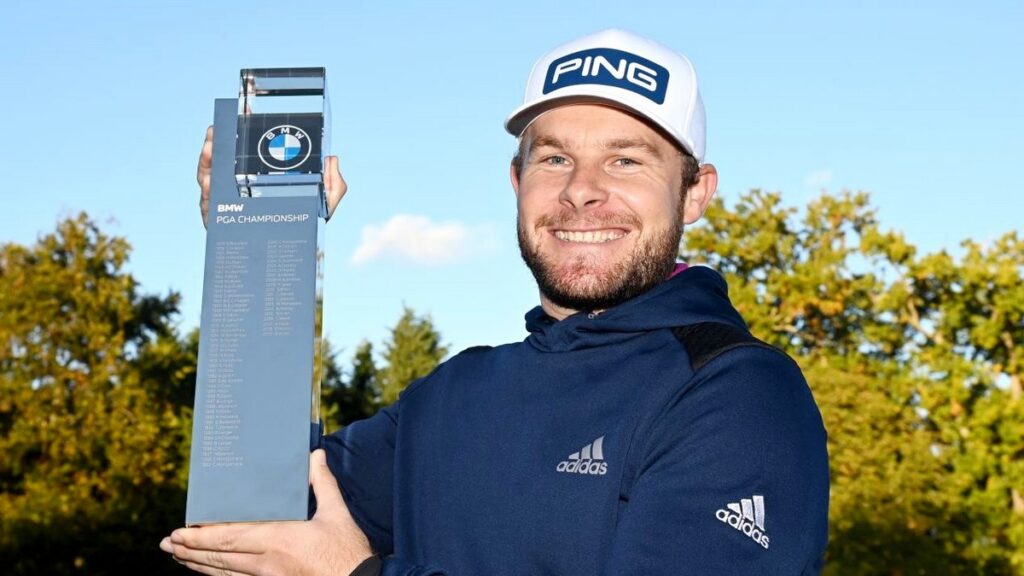 ---

Tyrrell Hatton claimed his third Rolex Series title at the BMW PGA Championship, batting off the formidable challenge of Frenchman Victor Perez to earn a dream victory at his home event.



"It's very special to be standing here holding this. It's been a dream of mine since I was a kid to play the tournament and hopefully win it one day, and thankfully this year is my year."
The Englishman, who turns 29 this coming Wednesday, regularly attended the Wentworth showpiece as a kid and he etched his name alongside some of the greats of the game courtesy of a five under par final round 67 and a four-stroke victory in the third Rolex Series event of the 2020 Race to Dubai.


---

In more benign conditions at the prestigious Surrey venue, numerous challengers staked a claim for the title early on, but Hatton – who admitted that he had been more nervous ahead of the final round than he had been on his Ryder Cup debut in 2018 – was composure personified as he pulled away from the pack thanks to three successive birdies around the turn.
He never looked back and a birdie at the final hole earned him a 19 under total for the Championship, sealing a fifth European Tour title and elevating him to eighth in the Race to Dubai Rankings presented by Rolex.



"The last few holes, I didn't know exactly where I stood. I was really nervous playing the last few, but once I fatted my second shot and we got very lucky that it didn't go in the water, I found out that I had a three-shot lead, so that settled me down a little bit. It was nice to get up-and-down after a terrible golf shot.
"Although I didn't know that I had a three-shot lead playing the last hole, I was pretty nervous there, and the second shot that we've hit into the last is probably the worst shot in the history of the tournament for the champion.
So it is what it is. I'm kind of glad that I followed it up with a nice up-and-down. My short game has been really good all week, and just a nice way to sign off."
Perez, who has now finished runner-up in three of his 11 Rolex Series appearances, put up an almighty battle having started the day three shots behind Hatton. He reached the turn in four under after an eagle at the par five fourth hole, but his challenge faded down the stretch and he signed for a four under round of 68 and a 15 under total.
"Obviously I knew I had to get off to a quick start. I was kind of like thinking, you're three shots back starting the day. If you can pick up those three shots as early as possible and obviously birdieing 2, eagling 4, got me right there, and whatever Tyrrell was doing, I was quite pleased with regardless of whatever he was doing -- if he was 3-under through four, as well, then so be it. But I knew I was at least giving it a run, and then made a couple good putts to end the front nine, a good save on 10, birdieing 11 and 12, getting up-and-down and I was obviously flying.


---

"You know, you kind of take for granted the level of play you put on of the. You're 6-under through 12 and you seem like you can do it all the way to the end but it's still very difficult you have to hit shots. I knew starting today a little different wind, the back side was going to being playing harder with the wind coming in off the left towards the end and it was challenging. I just didn't execute coming down the stretch, which is part of the game."
Patrick Reed extended his lead at the top of the Race to Dubai Rankings presented by Rolex with a share of third place on 14 under par, alongside Andy Sullivan - the Englishman recording his best finish in his home event. Ryder Cup star Ian Poulter was a further shot back on 13 under par after a closing 68.


---
---
| | | | | | | | |
| --- | --- | --- | --- | --- | --- | --- | --- |
| Pos. | Player | To Par | R1 | R2 | R3 | R4 | Total |
| T1 | Tyrrell Hatton | -19 | 66 | 67 | 69 | 67 | 269 |
| 2 | Victor Perez | -15 | 69 | 66 | 70 | 68 | 273 |
| T3 | Patrick Reed | -14 | 70 | 68 | 68 | 68 | 274 |
| T3 | Andy Sullivan | -14 | 71 | 69 | 69 | 65 | 274 |
| 5 | Ian Poulter | -13 | 69 | 70 | 68 | 68 | 275 |
| T6 | Eddie Pepperell | -12 | 67 | 70 | 70 | 69 | 276 |
| T7 | Matthew Fitzpatrick | -11 | 67 | 65 | 76 | 69 | 277 |
| T7 | Joachim B. Hansen | -11 | 68 | 67 | 70 | 72 | 277 |
| T7 | Renato Paratore | -11 | 73 | 69 | 68 | 67 | 277 |
| T10 | Scott Hend | -10 | 68 | 69 | 73 | 68 | 278 |
| T10 | Martin Kaymer | -10 | 73 | 68 | 69 | 68 | 278 |
| T10 | Marcus Kinhult | -10 | 72 | 67 | 71 | 68 | 278 |
| T13 | Tommy Fleetwood | -9 | 71 | 68 | 67 | 73 | 279 |
| T13 | David Horsey | -9 | 70 | 69 | 67 | 73 | 279 |
| T13 | Shane Lowry | -9 | 67 | 65 | 74 | 73 | 279 |
| T13 | Jordan Smith | -9 | 72 | 67 | 71 | 69 | 279 |
| T13 | Sami Välimäki | -9 | 72 | 67 | 74 | 66 | 279 |
| T18 | Andrew Johnston | -8 | 68 | 71 | 71 | 70 | 280 |
| T18 | Lee Westwood | -8 | 70 | 71 | 71 | 68 | 280 |
| T20 | Ross Fisher | -7 | 72 | 72 | 69 | 68 | 281 |
| T20 | Ryan Fox | -7 | 68 | 70 | 73 | 70 | 281 |
| T20 | Masahiro Kawamura | -7 | 70 | 69 | 69 | 73 | 281 |
| T20 | Richie Ramsay | -7 | 71 | 71 | 71 | 68 | 281 |
| T24 | Steven Brown | -6 | 75 | 67 | 68 | 72 | 282 |
| T24 | Graeme McDowell | -6 | 73 | 70 | 72 | 67 | 282 |
| T24 | Matt Wallace | -6 | 69 | 71 | 72 | 70 | 282 |
| T27 | Garrick Higgo | -5 | 69 | 71 | 71 | 72 | 283 |
| T27 | Pablo Larrazabal | -5 | 73 | 69 | 66 | 75 | 283 |
| T27 | Thorbjørn Olesen | -5 | 71 | 71 | 71 | 70 | 283 |
| T27 | Matthieu Pavon | -5 | 71 | 73 | 71 | 68 | 283 |
| T27 | Erik van Rooyen | -5 | 76 | 68 | 71 | 68 | 283 |
| T32 | Adri Arnaus | -4 | 66 | 70 | 74 | 74 | 284 |
| T32 | Victor Dubuisson | -4 | 72 | 71 | 71 | 70 | 284 |
| T32 | Grant Forrest | -4 | 69 | 67 | 76 | 72 | 284 |
| T32 | Joakim Lagergren | -4 | 69 | 72 | 73 | 70 | 284 |
| T32 | Danny Willett | -4 | 71 | 71 | 74 | 68 | 284 |
| T37 | Michael Bullen | -3 | 71 | 72 | 71 | 71 | 285 |
| T37 | Justin Rose | -3 | 68 | 75 | 72 | 70 | 285 |
| T37 | Matthias Schwab | -3 | 68 | 71 | 78 | 68 | 285 |
| T40 | Kiradech Aphibarnrat | -2 | 71 | 70 | 72 | 73 | 286 |
| T40 | Christiaan Bezuidenhout | -2 | 72 | 72 | 70 | 72 | 286 |
| T40 | Padraig Harrington | -2 | 72 | 71 | 72 | 71 | 286 |
| T40 | Bernd Wiesberger | -2 | 70 | 72 | 72 | 72 | 286 |
| T44 | Sean Crocker | -1 | 72 | 70 | 72 | 73 | 287 |
| T44 | Julien Guerrier | -1 | 72 | 67 | 75 | 73 | 287 |
| T44 | Matthew Southgate | -1 | 70 | 73 | 76 | 68 | 287 |
| T44 | Jeung-Hun Wang | -1 | 72 | 70 | 69 | 76 | 287 |
| T48 | Thomas Detry | E | 72 | 71 | 76 | 69 | 288 |
| T48 | Gavin Kyle Green | E | 67 | 71 | 74 | 76 | 288 |
| T48 | Alexander Levy | E | 72 | 68 | 77 | 71 | 288 |
| T48 | Robert Rock | E | 69 | 70 | 72 | 77 | 288 |
| T48 | Kalle Samooja | E | 71 | 73 | 73 | 71 | 288 |
| T48 | Shubhankar Sharma | E | 73 | 70 | 72 | 73 | 288 |
| T54 | Ignacio Elvira Mijares | 1 | 74 | 69 | 76 | 70 | 289 |
| T54 | Wade Ormsby | 1 | 68 | 71 | 74 | 76 | 289 |
| T54 | Tapio Pulkkanen | 1 | 71 | 73 | 74 | 71 | 289 |
| 57 | Kristoffer Broberg | 2 | 71 | 71 | 69 | 79 | 290 |
| T58 | Romain Langasque | 3 | 71 | 72 | 77 | 71 | 291 |
| T58 | Robert MacIntyre | 3 | 73 | 68 | 77 | 73 | 291 |
| T60 | Thomas Aiken | 4 | 75 | 68 | 73 | 76 | 292 |
| T60 | Stephen Gallacher | 4 | 72 | 71 | 74 | 75 | 292 |
| T62 | Thomas Pieters | 5 | 72 | 71 | 73 | 77 | 293 |
| T62 | Joël Stalter | 5 | 76 | 68 | 77 | 72 | 293 |
| T62 | Fabrizio Zanotti | 5 | 71 | 73 | 75 | 74 | 293 |
| T65 | David Howell | 6 | 72 | 68 | 80 | 74 | 294 |
| T65 | Søren Kjeldsen | 6 | 73 | 71 | 76 | 74 | 294 |
| 67 | Oliver Fisher | 8 | 72 | 72 | 72 | 80 | 296 |
| CUT | Dean Burmester | 1 | 73 | 72 | | | 145 |
| CUT | Lorenzo Gagli | 1 | 76 | 69 | | | 145 |
| CUT | Benjamin Hebert | 1 | 69 | 76 | | | 145 |
| CUT | Rasmus Højgaard | 1 | 70 | 75 | | | 145 |
| CUT | Jazz Janewattananond | 1 | 73 | 72 | | | 145 |
| CUT | Maximilian Kieffer | 1 | 72 | 73 | | | 145 |
| CUT | Kurt Kitayama | 1 | 74 | 71 | | | 145 |
| CUT | Mikko Korhonen | 1 | 73 | 72 | | | 145 |
| CUT | David Law | 1 | 72 | 73 | | | 145 |
| CUT | James Morrison | 1 | 70 | 75 | | | 145 |
| CUT | Adrian Otaegui | 1 | 75 | 70 | | | 145 |
| CUT | Aaron Rai | 1 | 68 | 77 | | | 145 |
| CUT | Jason Scrivener | 1 | 72 | 73 | | | 145 |
| CUT | Lucas Bjerregaard | 2 | 75 | 71 | | | 146 |
| CUT | Miguel Angel Jiménez | 2 | 73 | 73 | | | 146 |
| CUT | Michael Lorenzo-Vera | 2 | 75 | 71 | | | 146 |
| CUT | Guido Migliozzi | 2 | 73 | 73 | | | 146 |
| CUT | Chris Paisley | 2 | 72 | 74 | | | 146 |
| CUT | John Catlin | 3 | 74 | 73 | | | 147 |
| CUT | Ashley Chesters | 3 | 73 | 74 | | | 147 |
| CUT | Justin Harding | 3 | 66 | 81 | | | 147 |
| CUT | Joost Luiten | 3 | 72 | 75 | | | 147 |
| CUT | Callum Shinkwin | 3 | 73 | 74 | | | 147 |
| CUT | Alexander Björk | 4 | 77 | 71 | | | 148 |
| CUT | Scott Jamieson | 4 | 75 | 73 | | | 148 |
| CUT | Edoardo Molinari | 4 | 73 | 75 | | | 148 |
| CUT | Alvaro Quiros | 4 | 71 | 77 | | | 148 |
| CUT | Sebastian Soderberg | 4 | 73 | 75 | | | 148 |
| CUT | Brandon Stone | 4 | 76 | 72 | | | 148 |
| CUT | Marc Warren | 4 | 74 | 74 | | | 148 |
| CUT | Min Woo Lee | 4 | 71 | 77 | | | 148 |
| CUT | Richard McEvoy | 5 | 77 | 72 | | | 149 |
| CUT | Justin Walters | 5 | 77 | 72 | | | 149 |
| CUT | Paul Waring | 5 | 73 | 76 | | | 149 |
| CUT | Oliver Wilson | 5 | 72 | 77 | | | 149 |
| CUT | Gaganjeet Bhullar | 6 | 73 | 77 | | | 150 |
| CUT | Nicolas Colsaerts | 6 | 76 | 74 | | | 150 |
| CUT | David Drysdale | 6 | 74 | 76 | | | 150 |
| CUT | Sam Horsfield | 6 | 74 | 76 | | | 150 |
| CUT | Ashun Wu | 6 | 79 | 71 | | | 150 |
| CUT | Nino Bertasio | 7 | 75 | 76 | | | 151 |
| CUT | Jorge Campillo | 7 | 76 | 75 | | | 151 |
| CUT | Branden Grace | 7 | 76 | 75 | | | 151 |
| CUT | Lucas Herbert | 7 | 77 | 74 | | | 151 |
| CUT | Julian Suri | 8 | 77 | 75 | | | 152 |
| CUT | Jeff Winther | 8 | 78 | 74 | | | 152 |
| CUT | Haotong Li | 11 | 82 | 73 | | | 155 |
| CUT | Haydn Porteous | 11 | 80 | 75 | | | 155 |
| CUT | George Coetzee | 13 | 74 | 83 | | | 157 |
| CUT | Andrea Pavan | 16 | 80 | 80 | | | 160 |
| WD | Thomas Bjørn | 8 | 80 | | | | 80 |
| WD | Graeme Storm | 10 | 64 | | | | 64 |
| WD | Jack Singh Brar | 9 | 66 | | | | 66 |