European Championships
European Golf Team Championships
August 08-12
Gleneagles, Auchterarder, Scotland
€1,100,000
August 08-12
Gleneagles, Auchterarder, Scotland
€1,100,000
Day 1
Iceland impress on Day One at Gleneagles
Day 2
Day 3
Day 4 - Mixed Team
Day 5 - Men/Women
Day 2
Day 3
Day 4 - Mixed Team
Day 5 - Men/Women
August 08, 2018

Iceland stole the limelight on Day One of the European Golf Team Championships at Gleneagles, requiring just 13 holes to see off Belgium in Group D.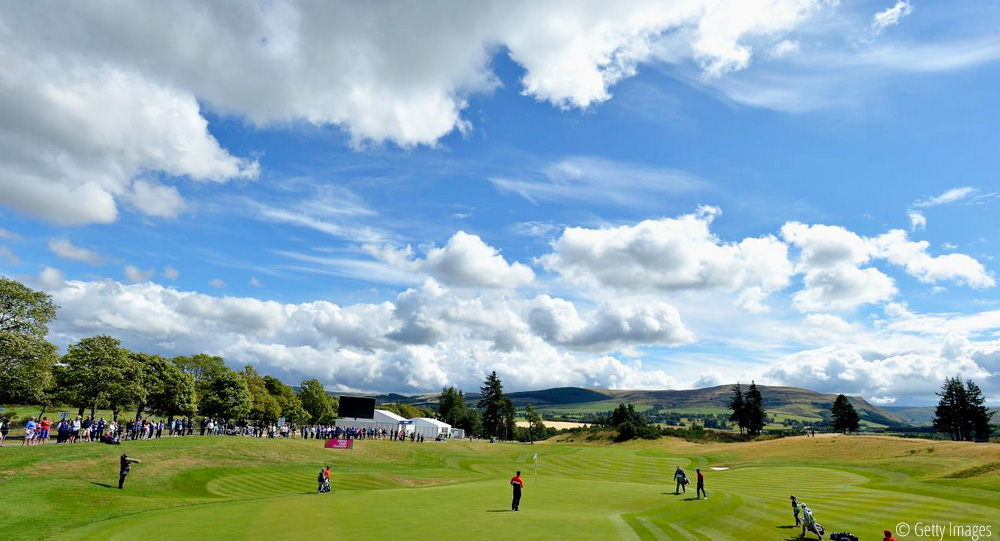 - Getty Images

Birgir Hafthorsson and Axel Boasson won six holes without reply in the day's final match at on the PGA Centenary Course to beat Christopher Mivis and Lars Buijs 6 and 5.

"It's always an honour to represent your country, especially as a pro," said Hafthorsson. "It's really nice to play match play as well.

"We had a good start and we had a lot of chances. We made a couple of putts which was nice.

"Axel is a big hitter, so I let him go for it. It worked out today and we will try and keep it going."

Norway, meanwhile, were convincing winners in Group D's other match, with Jarand Ekeland Arnoy and Kristian Krogh Johannessen beating Italy 1's Lorenzo Gagli and Guido Migliozzi 4 and 3.

On the opening day of the group stage event, where players represented their countries in a match play format with 16 teams of two players competing in both the Men's and Women's group stages, Sweden 2 team beat countrymen Johan Edfors and Per Langfors of Sweden 1 by one hole in their opening fourball match play Group A clash to storm to the top of the table.

The other match in their group was halved after Spain 2's Santiago Tarrio Ben and David Borda overturned a three-hole deficit in the last six holes of their match against Great Britain 1's Callum Shinkwin and Lee Slattery to grab a share of the spoils.

We kept hitting good golf shots, which is what we did all day," said Slattery. "The only difference was I had a three-putt at the wrong time in the match. We were 3UP at the time and I let them get back in, and then they held several great putts on top of that and managed to get back in the match. We didn't do much wrong, but it just shows how important it is to hold the putts when you really need to hold them.

"Match play is different, and I was almost a bit nervous out there at times compared to a stroke play event. You don't want to let the other guy down. If I miss a putt I look at Callum and think 'that was terrible, he's not going to like that'.

"There are a lot of great players here this week. Although they might not be in-from at the minute, and Callum and I have played the best over the last year, there are still a lot of players here that I recognise, played with and have seen them shoot low scores. It's a dog fight and anyone can win."

Elsewhere, there were wins for Great Britain 3's Liam Johnston and Connor Syme and Italy 2's Francesco Laporta and Alessandro Tadini in Group B. While Spanish duo Pedro Oriol and Scott Fernandez were 2 and 1 winners against Portugal in Group C courtesy of back-to-back birdies from Oriol on the back nine.

In the other game in that group, Poland's Adrian Meronk and Mateusz Gradecki beat Denmark pair Martin Ovesen and Niklas Norgaard Møller by a single hole to secure two points.

In the Women's group stage, Great Britain 1 of Dame Laura Davies and Georgia Hall got off to a winning start, 5 and 4 against Spain in Group A. While in Group D, Sweden 3 also claimed a big victory, 5 and 4, over Norway.
| | | |
| --- | --- | --- |
| Team Competition - Women Group A Match 1 | Great Britain 1 | Won |
| | Spain | Lost |
| Team Competition - Women Group A Match 2 | Germany 2 | Won |
| | Belgium | Lost |
| Team Competition - Men Group A Match 1 | Great Britain 1 | Halved |
| | Spain 2 | Halved |
| Team Competition - Men Group A Match 2 | Sweden 1 | Lost |
| | Sweden 2 | Won |
| Team Competition - Women Group B Match 1 | France 1 | Won |
| | Germany 1 | Lost |
| Team Competition - Women Group B Match 2 | France 2 | Won |
| | Sweden 2 | Lost |
| Team Competition - Men Group B Match 1 | Great Britain 2 | Lost |
| | Great Britain 3 | Won |
| Team Competition - Men Group B Match 2 | Italy 2 | Won |
| | Ireland | Lost |
| Team Competition - Women Group C Match 1 | Iceland | Lost |
| | Great Britain 3 | Won |
| Team Competition - Women Group C Match 2 | Finland | Won |
| | Austria | Lost |
| Team Competition - Men Group C Match 1 | Spain 1 | Won |
| | Portugal | Lost |
| Team Competition - Men Group C Match 2 | Poland | Won |
| | Denmark | Lost |
| Team Competition - Women Group D Match 1 | Great Britain 2 | Won |
| | Sweden 1 | Lost |
| Team Competition - Women Group D Match 2 | Norway | Lost |
| | Sweden 3 | Won |
| Team Competition - Men Group D Match 1 | Italy 1 | Lost |
| | Norway | Won |
| Team Competition - Men Group D Match 2 | Iceland | Won |
| | Belgium | Lost |
| | | |
| --- | --- | --- |
| Team Competition - Women Group A Match 1 | Great Britain 1 | Won |
| | Spain | Lost |
| Team Competition - Women Group A Match 2 | Germany 2 | Won |
| | Belgium | Lost |
| Team Competition - Men Group A Match 1 | Great Britain 1 | Halved |
| | Spain 2 | Halved |
| Team Competition - Men Group A Match 2 | Sweden 1 | Lost |
| | Sweden 2 | Won |
| Team Competition - Women Group B Match 1 | France 1 | Won |
| | Germany 1 | Lost |
| Team Competition - Women Group B Match 2 | France 2 | Won |
| | Sweden 2 | Lost |
| Team Competition - Men Group B Match 1 | Great Britain 2 | Lost |
| | Great Britain 3 | Won |
| Team Competition - Men Group B Match 2 | Italy 2 | Won |
| | Ireland | Lost |
| Team Competition - Women Group C Match 1 | Iceland | Lost |
| | Great Britain 3 | Won |
| Team Competition - Women Group C Match 2 | Finland | Won |
| | Austria | Lost |
| Team Competition - Men Group C Match 1 | Spain 1 | Won |
| | Portugal | Lost |
| Team Competition - Men Group C Match 2 | Poland | Won |
| | Denmark | Lost |
| Team Competition - Women Group D Match 1 | Great Britain 2 | Won |
| | Sweden 1 | Lost |
| Team Competition - Women Group D Match 2 | Norway | Lost |
| | Sweden 3 | Won |
| Team Competition - Men Group D Match 1 | Italy 1 | Lost |
| | Norway | Won |
| Team Competition - Men Group D Match 2 | Iceland | Won |
| | Belgium | Lost |