European Challenge Tour
Hainan Open 2018
October 11-14
Sanya Luhuitou Golf Club, Sanya, Hainan, China
$350,000
October 11-14
Sanya Luhuitou Golf Club, Sanya, Hainan, China
$350,000
Round 1
Forrest fires three eagles to claim Hainan lead
Round 2
Round 3
Round 4
Round 2
Round 3
Round 4
October 11, 2018

Grant Forrest posted a career-best ten under par 62 at Sanya Luhuitou Golf Club to lead the Hainan Open by three shots at the end of Day One.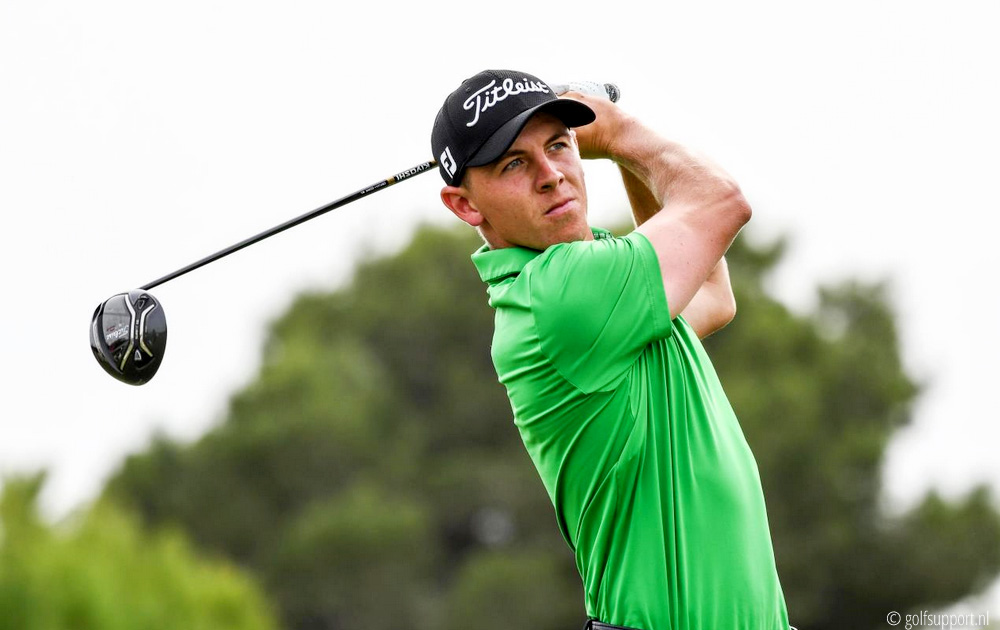 - golfsupport.nl

The Scot was in breath-taking form on a hot and humid day in China and will take an emphatic three-shot lead into Day Two ahead of Finland's Kalle Samooja on seven under par and Liam Johnston, Matt Ford and Xuewen Luo on five under.

Forrest started with aplomb by posting a birdie and back-to-back eagles in his first four holes to draw level with countryman Johnston, who led after the conclusion of the morning groups on five under par.

The 25 year old added a trio of birdies to end the front nine as he made the turn on eight under par before yet another eagle – his third of the round – moved him to ten under par.

Forrest burned the edge with several birdie putts as he approached the clubhouse and despite admitting to slight frustration with not building on his superb opening 11 holes, he was delighted with his day's work.

"I got off to an absolute flyer and I just tried to go with it and stay focussed," he said. "I missed a few chances coming in but overall I'm delighted with the start.

"I made a nice 15 footer on the 11th for birdie to get going and then drove it to about 15 feet on 12 and made it for eagle. Then I hit a nice four iron into about 15-20 feet and rolled that in and all of a sudden I was five under.

"After that I played more good golf and managed to get another eagle on the second – our 11th – I hit another good four iron in there to about ten feet and then just parred my way in from there.

"I'd made almost every putt I looked at in the first 11 holes. I think when you're in that mindset, you expect to just keep making them. I had a couple that just burned the edge and it can be a little bit frustrating when it feels like they stop going in for you but I made my fair share so I can't complain."

Forrest has four top ten finishes this year and currently sits 13th on the Road to Ras Al Khaimah, a position he's keen to build on with everything still to play for in the final weeks of the season.

"I'm sitting 13th at the moment and there's a little bit of pressure with the last three events because anyone can jump in and push you out," he said.

"I'm trying to play as well as I can in the next couple of weeks. I've been in the top 15 pretty much all year so it would be frustrating to fall out in the last few events so I'm just trying to play as well as I can.

"I know if I perform how I know I can, it should be enough to get the job done."

Behind the trio of Ford, Johnston and Luo is a group of 15 players tied for sixth place on four under par. Rankings leader Joachim B. Hansen, KPMG Trophy winner Pedro Figueiredo and Galgorm Resort & Spa Northern Ireland Open, presented by Modest! Golf champion Calum Hill are all amongst the group sitting six shots off the lead.
| | | | |
| --- | --- | --- | --- |
| Pos. | Player | To Par | R1 |
| 1 | FORREST, Grant | -10 | 62 |
| 2 | SAMOOJA, Kalle | -7 | 65 |
| 3 | FORD, Matt | -5 | 67 |
| | LUO, Xuewen | -5 | 67 |
| | JOHNSTON, Liam | -5 | 67 |
| 6 | CROCKER, Sean | -4 | 68 |
| | HILL, Calum | -4 | 68 |
| | ROZNER, Antoine | -4 | 68 |
| | MURRAY, Tom | -4 | 68 |
| | FIGUEIREDO, Pedro | -4 | 68 |
| | MOSES, Troy | -4 | 68 |
| | BESSELING, Wil | -4 | 68 |
| | VON DELLINGSHAUSEN, Nicolai | -4 | 68 |
| | SENIOR, Jack | -4 | 68 |
| | PEREZ, Victor | -4 | 68 |
| | JOHANSEN, Eirik Tage | -4 | 68 |
| | GEYGER, Nico | -4 | 68 |
| | HANSEN, Joachim B. | -4 | 68 |
| | SODERBERG, Sebastian | -4 | 68 |
| | LEMKE, Niklas | -4 | 68 |
| 21 | FORSSTRÖM, Simon | -3 | 69 |
| | MCBRIDE, Kade | -3 | 69 |
| | LAPORTA, Francesco | -3 | 69 |
| | LEON, Hugo | -3 | 69 |
| | ITEN, Marco | -3 | 69 |
| | MERONK, Adrian | -3 | 69 |
| | FERGUSON, Ewen | -3 | 69 |
| | TILEY, Steven | -3 | 69 |
| 29 | ECCLES, Ben | -2 | 70 |
| | PAPADATOS, Dimitrios | -2 | 70 |
| | MINAMOTO, Yusuke | -2 | 70 |
| | HOEY, Michael | -2 | 70 |
| | MEJOW, Philipp | -2 | 70 |
| | HAASTRUP, Mark Flindt | -2 | 70 |
| | PRATEEPTIENCHAI, Suteepat | -2 | 70 |
| | BRANDT-RICHARDS, Dale | -2 | 70 |
| | WILSON, Jack | -2 | 70 |
| | WILKIN, Fraser | -2 | 70 |
| | SJÖHOLM, Joel | -2 | 70 |
| | MACINTYRE, Robert | -2 | 70 |
| 41 | SU, Dong | -1 | 71 |
| | MA, Chengyao | -1 | 71 |
| | WU, Hongfu | -1 | 71 |
| | McGOWAN, Ross | -1 | 71 |
| | LENGDEN, Oscar | -1 | 71 |
| | LANDO CASANOVA, Jérôme | -1 | 71 |
| | JOHANNESSEN, Kristian Krogh | -1 | 71 |
| | BEKKER, Oliver | -1 | 71 |
| | KIM, Minkyu | -1 | 71 |
| | STOW, Ben | -1 | 71 |
| | KNAPPE, Alexander | -1 | 71 |
| | KIM, Euiin | -1 | 71 |
| 53 | PERRIER, Damien | Par | 72 |
| | HENRY, Scott | Par | 72 |
| | ZHUANG, Zhu | Par | 72 |
| | VAN DRIEL, Darius | Par | 72 |
| | OVESEN, Martin | Par | 72 |
| | EVANS, Ben | Par | 72 |
| | SCHNEIDER, Marcel | Par | 72 |
| | HU, Diandian | Par | 72 |
| | LEE, Kevin | Par | 72 |
| | LIANG, Dingfeng | Par | 72 |
| | SINGH BRAR, Jack | Par | 72 |
| | ZHANG, Huilin | Par | 72 |
| | ARNAUS, Adri | Par | 72 |
| | MANLEY, Stuart | Par | 72 |
| | CUARTERO BLANCO, Emilio | Par | 72 |
| 68 | ORRIN, Max | 1 | 73 |
| | ZHANG, Changlei | 1 | 73 |
| | PARK, Sunghyuk | 1 | 73 |
| | YE, Jianfeng | 1 | 73 |
| | MUENLEK, Panuwat | 1 | 73 |
| | LAW, David | 1 | 73 |
| | MACPHERSON, Bryden | 1 | 73 |
| | LI (AM), Linqiang | 1 | 73 |
| | VIRTO, Borja | 1 | 73 |
| | INOUE, Koji | 1 | 73 |
| | SATO, Hidetomo | 1 | 73 |
| | GAGLI, Lorenzo | 1 | 73 |
| | GIRRBACH, Joel | 1 | 73 |
| | WILSON, Oliver | 1 | 73 |
| | JIN, Daxing | 1 | 73 |
| | YANG, Yinong | 1 | 73 |
| | HUIZING, Daan | 1 | 73 |
| | YAO, Xuefeng | 1 | 73 |
| 86 | LIANG, Zheng | 2 | 74 |
| | KIM, Beomsoo | 2 | 74 |
| | ZHI, Shang | 2 | 74 |
| | OUYANG, Zheng | 2 | 74 |
| | LEE, Jaewon | 2 | 74 |
| | FENASSE, Mathieu | 2 | 74 |
| 92 | KARLSSON, Anton | 3 | 75 |
| | PERRY, Mathew | 3 | 75 |
| | FAN, Shiyu | 3 | 75 |
| | SHE, Zihan | 3 | 75 |
| | ARMITAGE, Marcus | 3 | 75 |
| | SONG, Chao | 3 | 75 |
| | XING, Yixin | 3 | 75 |
| | LIAO, Guiming | 3 | 75 |
| | XU, Qin | 3 | 75 |
| | MA(AM), Bingwen | 3 | 75 |
| 102 | YAO, Yu | 4 | 76 |
| | LIMA, José-Filipe | 4 | 76 |
| | LIN, Wei | 4 | 76 |
| | CHEN, Jian | 4 | 76 |
| | CHAO, Haimeng | 4 | 76 |
| 107 | CHEN (AM), Haolong | 5 | 77 |
| | BELT, Alex | 5 | 77 |
| | FENG, Delun | 5 | 77 |
| | CHEN (AM), Guxin | 5 | 77 |
| | TAO, Yuezu | 5 | 77 |
| | HULDAHL, Jeppe Pape | 5 | 77 |
| | ZHU, Weiyu | 5 | 77 |
| | SCIOT-SIEGRIST, Robin | 5 | 77 |
| | MI, Yiyuan | 5 | 77 |
| 116 | JIANG, Wei | 6 | 78 |
| | YI, Bo | 6 | 78 |
| | HUANG, Mingjie | 6 | 78 |
| | LANGASQUE, Romain | 6 | 78 |
| | YIN, Yongxuan | 6 | 78 |
| 121 | PYO, Sukmin | 7 | 79 |
| 122 | LIU (AM), Enhua | 10 | 82 |
| DISQ | CHEN, Dinggen | - | - |
| RETD | LI, Tao | 5 | - |
| | | | |
| --- | --- | --- | --- |
| Pos. | Player | To Par | R1 |
| 1 | FORREST, Grant | -10 | 62 |
| 2 | SAMOOJA, Kalle | -7 | 65 |
| 3 | FORD, Matt | -5 | 67 |
| | LUO, Xuewen | -5 | 67 |
| | JOHNSTON, Liam | -5 | 67 |
| 6 | CROCKER, Sean | -4 | 68 |
| | HILL, Calum | -4 | 68 |
| | ROZNER, Antoine | -4 | 68 |
| | MURRAY, Tom | -4 | 68 |
| | FIGUEIREDO, Pedro | -4 | 68 |
| | MOSES, Troy | -4 | 68 |
| | BESSELING, Wil | -4 | 68 |
| | VON DELLINGSHAUSEN, Nicolai | -4 | 68 |
| | SENIOR, Jack | -4 | 68 |
| | PEREZ, Victor | -4 | 68 |
| | JOHANSEN, Eirik Tage | -4 | 68 |
| | GEYGER, Nico | -4 | 68 |
| | HANSEN, Joachim B. | -4 | 68 |
| | SODERBERG, Sebastian | -4 | 68 |
| | LEMKE, Niklas | -4 | 68 |
| 21 | FORSSTRÖM, Simon | -3 | 69 |
| | MCBRIDE, Kade | -3 | 69 |
| | LAPORTA, Francesco | -3 | 69 |
| | LEON, Hugo | -3 | 69 |
| | ITEN, Marco | -3 | 69 |
| | MERONK, Adrian | -3 | 69 |
| | FERGUSON, Ewen | -3 | 69 |
| | TILEY, Steven | -3 | 69 |
| 29 | ECCLES, Ben | -2 | 70 |
| | PAPADATOS, Dimitrios | -2 | 70 |
| | MINAMOTO, Yusuke | -2 | 70 |
| | HOEY, Michael | -2 | 70 |
| | MEJOW, Philipp | -2 | 70 |
| | HAASTRUP, Mark Flindt | -2 | 70 |
| | PRATEEPTIENCHAI, Suteepat | -2 | 70 |
| | BRANDT-RICHARDS, Dale | -2 | 70 |
| | WILSON, Jack | -2 | 70 |
| | WILKIN, Fraser | -2 | 70 |
| | SJÖHOLM, Joel | -2 | 70 |
| | MACINTYRE, Robert | -2 | 70 |
| 41 | SU, Dong | -1 | 71 |
| | MA, Chengyao | -1 | 71 |
| | WU, Hongfu | -1 | 71 |
| | McGOWAN, Ross | -1 | 71 |
| | LENGDEN, Oscar | -1 | 71 |
| | LANDO CASANOVA, Jérôme | -1 | 71 |
| | JOHANNESSEN, Kristian Krogh | -1 | 71 |
| | BEKKER, Oliver | -1 | 71 |
| | KIM, Minkyu | -1 | 71 |
| | STOW, Ben | -1 | 71 |
| | KNAPPE, Alexander | -1 | 71 |
| | KIM, Euiin | -1 | 71 |
| 53 | PERRIER, Damien | Par | 72 |
| | HENRY, Scott | Par | 72 |
| | ZHUANG, Zhu | Par | 72 |
| | VAN DRIEL, Darius | Par | 72 |
| | OVESEN, Martin | Par | 72 |
| | EVANS, Ben | Par | 72 |
| | SCHNEIDER, Marcel | Par | 72 |
| | HU, Diandian | Par | 72 |
| | LEE, Kevin | Par | 72 |
| | LIANG, Dingfeng | Par | 72 |
| | SINGH BRAR, Jack | Par | 72 |
| | ZHANG, Huilin | Par | 72 |
| | ARNAUS, Adri | Par | 72 |
| | MANLEY, Stuart | Par | 72 |
| | CUARTERO BLANCO, Emilio | Par | 72 |
| 68 | ORRIN, Max | 1 | 73 |
| | ZHANG, Changlei | 1 | 73 |
| | PARK, Sunghyuk | 1 | 73 |
| | YE, Jianfeng | 1 | 73 |
| | MUENLEK, Panuwat | 1 | 73 |
| | LAW, David | 1 | 73 |
| | MACPHERSON, Bryden | 1 | 73 |
| | LI (AM), Linqiang | 1 | 73 |
| | VIRTO, Borja | 1 | 73 |
| | INOUE, Koji | 1 | 73 |
| | SATO, Hidetomo | 1 | 73 |
| | GAGLI, Lorenzo | 1 | 73 |
| | GIRRBACH, Joel | 1 | 73 |
| | WILSON, Oliver | 1 | 73 |
| | JIN, Daxing | 1 | 73 |
| | YANG, Yinong | 1 | 73 |
| | HUIZING, Daan | 1 | 73 |
| | YAO, Xuefeng | 1 | 73 |
| 86 | LIANG, Zheng | 2 | 74 |
| | KIM, Beomsoo | 2 | 74 |
| | ZHI, Shang | 2 | 74 |
| | OUYANG, Zheng | 2 | 74 |
| | LEE, Jaewon | 2 | 74 |
| | FENASSE, Mathieu | 2 | 74 |
| 92 | KARLSSON, Anton | 3 | 75 |
| | PERRY, Mathew | 3 | 75 |
| | FAN, Shiyu | 3 | 75 |
| | SHE, Zihan | 3 | 75 |
| | ARMITAGE, Marcus | 3 | 75 |
| | SONG, Chao | 3 | 75 |
| | XING, Yixin | 3 | 75 |
| | LIAO, Guiming | 3 | 75 |
| | XU, Qin | 3 | 75 |
| | MA(AM), Bingwen | 3 | 75 |
| 102 | YAO, Yu | 4 | 76 |
| | LIMA, José-Filipe | 4 | 76 |
| | LIN, Wei | 4 | 76 |
| | CHEN, Jian | 4 | 76 |
| | CHAO, Haimeng | 4 | 76 |
| 107 | CHEN (AM), Haolong | 5 | 77 |
| | BELT, Alex | 5 | 77 |
| | FENG, Delun | 5 | 77 |
| | CHEN (AM), Guxin | 5 | 77 |
| | TAO, Yuezu | 5 | 77 |
| | HULDAHL, Jeppe Pape | 5 | 77 |
| | ZHU, Weiyu | 5 | 77 |
| | SCIOT-SIEGRIST, Robin | 5 | 77 |
| | MI, Yiyuan | 5 | 77 |
| 116 | JIANG, Wei | 6 | 78 |
| | YI, Bo | 6 | 78 |
| | HUANG, Mingjie | 6 | 78 |
| | LANGASQUE, Romain | 6 | 78 |
| | YIN, Yongxuan | 6 | 78 |
| 121 | PYO, Sukmin | 7 | 79 |
| 122 | LIU (AM), Enhua | 10 | 82 |
| DISQ | CHEN, Dinggen | - | - |
| RETD | LI, Tao | 5 | - |