April 04-06
Ayla Golf Club, Aqaba, Jordan
$393,000
Co-sanction: European Challenge Tour, Staysure Tour, Ladies European Tour
Round 2, Round 3
---
---
Daan Huizing will forever hold a small place in history as the first overnight leader of the Jordan Mixed Open presented by Ayla.
"It was a really nice round. I was hitting it nicely and made some nice putts to keep the round going as well. I enjoyed it. It was pretty chilled and it was good fun."
The Dutchman, who plays on the European Challenge Tour, birdied half of the holes at Ayla Golf Club against only one bogey to card an opening round of eight under par 64.
The sublime score will give Huizing a one-shot advantage over two golfers from England — fellow Challenge Tour player Jack Senior and Ladies European Tour player Meghan MacLaren.
"It's a different perspective to play with the seniors and play with the ladies. It was a nice, relaxed day, and I think being relaxed helped me play well.
"It will be interesting to see after three days what the findings are, but it was fun. We never see the seniors or the ladies because the tournaments are never together, and to hear what they do and how their Tours are, it's good for us to hear because we normally just see the same guys every week."
Day One at the Jordan Mixed Open presented by Ayla gave the entire world of golf an important first-look at a format which allows men, women and senior golfers to compete in the same field.
MacLaren, who has been a vocal advocate for the strength of the women's professional game, wasted no time in backing up her words, as she carded birdies on her first two holes and rode the momentum to post the early target of seven under par.
"If I'm going to write about it and talk about it all the time, then I'd better back it up with my golf. I'm delighted to do it in this tournament, particularly. Hopefully it will send a bit of a message, but any time you shoot seven-under in a tournament, you're not going to be too far off the lead. Hopefully this means a few more people will be watching.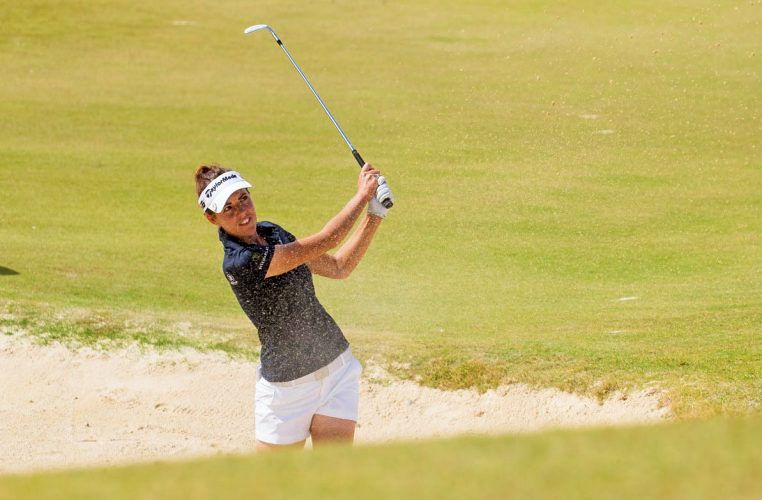 © Ladies European Tour
---
"Given everything I've talked about over the last few months, it is nice to back it up, but I didn't want to put any extra pressure on myself. I've been saying to everybody that the girls' standard of play will show if the course is set up properly. I'm just happy with how I've played and if that puts me near the top against the guys, then that's just a bonus, really."
When the high winds forecast for the afternoon failed to materialise, several players, including Huizing, Senior and 2018 Staysure Tour Rookie of the Year Paul Streeter took advantage.
"I think you've got to enjoy this format, but it's hard to know how it's all going to pan out at the end of the week. I'm sure, though, that it will be a successful event and continue to be," said Senior.
Streeter's six under par 66 was the low-round amongst the over-50s contingent and placed the Englishman firmly in the mix with two rounds to go.
"It was brilliant out there. I really enjoyed it. I think the tees were fairly good and I think we were very close to each other on most holes. A few were different but that also depends on how you strike it and the slopes you land on, but it seemed to work really well. It's a great format and it's something new for everybody."
The innovative tournament sees 40 players from each of the Challenge Tour, the over-50s Staysure Tour and the Ladies European Tour compete for the same trophy over 54 holes.
With the golfing community eager to see how the course set-up would play out, the opening round of the Jordan Mixed Open presented by Ayla was a great success with players from all three Tours in contention and well represented inside the projected cut line of even par.
Challenge Tour players played the first round from approximately 7,100 yards, Staysure Tour players from 6,601 yards and Ladies European Tour players from 6,139 yards.
The unofficial battle for low-couple is heating up with Ladies European Tour Order of Merit leader Marianne Skarpnord and her fiancée, Challenge Tour player Richard Green, combining for a two under par total, while married golfers Kylie Henry of the Ladies European Tour and Scott Henry of the Challenge Tour combined for a one over par total.
It's been a really fun week and it's just nice to be at a tournament together because usually the Tours are in different countries and sometimes different continents," said Kylie Henry.
"Scott knew the course quite well, and I didn't manage to get a practice round, so he was really good at giving me a few tips here and there on how to play the course smartly."
Tournament officials collected data on driving distance, approach shot distance and club selection from every player who competed on Day One and will incorporate their findings into the course set-up for Day Two to continue to ensure the fairest possible playing field for all competitors.
The second round of the Jordan Mixed Open presented by Ayla will begin tomorrow at 7:30 am local time before the 123-player field is reduced to the top 60 players and ties for the final day.
---
| | | | |
| --- | --- | --- | --- |
| Pos. | Player | To Par | R1 |
| 1 | Daan Huizing (ECT) | -8 | 64 |
| 2 | Meghan MacLaren (LET) | -7 | 65 |
| 2 | Jack Senior (ECT) | -7 | 65 |
| 4 | Matt Ford (ECT) | -6 | 66 |
| 4 | Paul Streeter (EST) | -6 | 66 |
| 6 | Miguel Angel Martin (EST) | -5 | 67 |
| 6 | Barry Lane (EST) | -5 | 67 |
| 6 | Rafael Gomez (EST) | -5 | 67 |
| 6 | Pep Angles (ECT) | -5 | 67 |
| 6 | Henric Sturehed (ECT) | -5 | 67 |
| 11 | Cormac Sharvin (ECT) | -4 | 68 |
| 11 | Peter Fowler (EST) | -4 | 68 |
| 11 | Oliver Farr (ECT) | -4 | 68 |
| 11 | Stacy Lee Bregman (LET) | -4 | 68 |
| 11 | Camilla Lennarth (LET) | -4 | 68 |
| 11 | Gary Evans (EST) | -4 | 68 |
| 11 | Ewen Ferguson (ECT) | -4 | 68 |
| 18 | Martin Simonsen (ECT) | -3 | 69 |
| 18 | Martin Wiegele (ECT) | -3 | 69 |
| 18 | Marianne Skarpnord (LET) | -3 | 69 |
| 18 | Hugues Joannes (ECT) | -3 | 69 |
| 18 | Julia Engstrom (LET) | -3 | 69 |
| 18 | Michael Hoey (ECT) | -3 | 69 |
| 18 | Francesco Laporta (ECT) | -3 | 69 |
| 25 | Dan Olsen (EST) | -2 | 70 |
| 25 | Markus Brier (EST) | -2 | 70 |
| 25 | Carly Booth (LET) | -2 | 70 |
| 25 | Lasse Jensen (ECT) | -2 | 70 |
| 25 | Oscar Lengden (ECT) | -2 | 70 |
| 25 | Phillip Price (EST) | -2 | 70 |
| 25 | Jose Coceres (EST) | -2 | 70 |
| 25 | Gabriella Cowley (LET) | -2 | 70 |
| 25 | Paul Maddy (ECT) | -2 | 70 |
| 25 | Scott Fernandez (ECT) | -2 | 70 |
| 25 | Isabelle Boineau (LET) | -2 | 70 |
| 25 | Duncan Stewart (ECT) | -2 | 70 |
| 25 | Christine Wolf (LET) | -2 | 70 |
| 25 | Jonathan Lomas (EST) | -2 | 70 |
| 25 | Ben Stow (ECT) | -2 | 70 |
| 25 | Mauricio Molina (EST) | -2 | 70 |
| 25 | Kanyalak Preedasuttijit (LET) | -2 | 70 |
| 25 | Emilie Paltrinieri (LET) (a) | -2 | 70 |
| 25 | Glenn Joyner (EST) | -2 | 70 |
| 25 | Wil Bessling (ECT) | -2 | 70 |
| 45 | Bryce Easton (ECT) | -1 | 71 |
| 45 | Manon Molle (LET) | -1 | 71 |
| 45 | Borja Virto (ECT) | -1 | 71 |
| 45 | Trish Johnson (LET) | -1 | 71 |
| 45 | Magnus Atlevi (EST) | -1 | 71 |
| 45 | Florentyna Parker (LET) | -1 | 71 |
| 45 | Darius Van Driel (ECT) | -1 | 71 |
| 45 | Philip Golding (EST) | -1 | 71 |
| 45 | Scott Henry (ECT) | -1 | 71 |
| 45 | Marc Farry (EST) | -1 | 71 |
| 55 | Max Orrin (ECT) | Par | 72 |
| 55 | Linda Wessberg (LET) | Par | 72 |
| 55 | Caroline Hedwall (LET) | Par | 72 |
| 55 | Felicity Johnson (LET) | Par | 72 |
| 55 | Peter Wilson (EST) | Par | 72 |
| 55 | Carl Suneson (EST) | Par | 72 |
| 55 | Noora Komulainen (LET) | Par | 72 |
| 55 | Malcolm Mackenzie (EST) | Par | 72 |
| 55 | David Boote (ECT) | Par | 72 |
| 55 | Andre Bossert (EST) | Par | 72 |
| 55 | Olivia Cowan (LET) | Par | 72 |
| 55 | Adrian Meronk (ECT) | Par | 72 |
| 67 | Hannah Burke (LET) | 1 | 73 |
| 67 | Georgia Coughlin (LET) | 1 | 73 |
| 67 | Laura Fuenfstueck (LET) | 1 | 73 |
| 67 | Richard Green (ECT) | 1 | 73 |
| 67 | Gary Wolstenholme (EST) | 1 | 73 |
| 67 | Charlotte Leathem (LET) | 1 | 73 |
| 67 | Mark Davis (EST) | 1 | 73 |
| 67 | Tonje Daffinrud (LET) | 1 | 73 |
| 67 | Tim Spence (EST) | 1 | 73 |
| 67 | Chris Hanson (ECT) | 1 | 73 |
| 67 | Steven Kelbrick (EST) (a) | 1 | 73 |
| 67 | Steen Tinning (EST) | 1 | 73 |
| 67 | Noemi Jimenez Martin (LET) | 1 | 73 |
| 80 | Jonathan Cheetham (EST) | 2 | 74 |
| 80 | Craig Ross (ECT) | 2 | 74 |
| 80 | Silvia Banon (LET) | 2 | 74 |
| 80 | Calum Hill (ECT) | 2 | 74 |
| 80 | Camille Chevalier (LET) | 2 | 74 |
| 80 | Sebastien Gros (ECT) | 2 | 74 |
| 80 | Jose-Filipe Lima (ECT) | 2 | 74 |
| 80 | Ursula Wikstrom (LET) | 2 | 74 |
| 80 | Shergo Al Kurdi (ECT) (a) | 2 | 74 |
| 80 | Astrid Vayson De Pradenne (LET | 2 | 74 |
| 80 | David Shacklady (EST) | 2 | 74 |
| 80 | Lydia Hall (LET) | 2 | 74 |
| 80 | Emily Kristine Pedersen (LET) | 2 | 74 |
| 80 | Steven Tiley (ECT) | 2 | 74 |
| 80 | Emilio Cuartero Blanco (ECT) | 2 | 74 |
| 80 | Jose Manuel Carriles (EST) | 2 | 74 |
| 80 | Kylie Henry (LET) | 2 | 74 |
| 97 | Mark Wharton (EST) | 3 | 75 |
| 97 | Cesar Monasterio (EST) | 3 | 75 |
| 97 | Karolin Lampert (LET) | 3 | 75 |
| 97 | Robin Dawson (ECT) | 3 | 75 |
| 97 | Jarmo Sandelin (EST) | 3 | 75 |
| 97 | Beth Allen (LET) | 3 | 75 |
| 97 | Simon Brown (EST) | 3 | 75 |
| 97 | Mark Mouland (EST) | 3 | 75 |
| 97 | Mark McNeilly (EST) | 3 | 75 |
| 106 | Christian Gloet (ECT) | 4 | 76 |
| 106 | Clark Dennis (EST) | 4 | 76 |
| 106 | Philipp Mejow (ECT) | 4 | 76 |
| 106 | Maha Haddioui (LET) | 4 | 76 |
| 106 | Jean Pierre Sallat (EST) | 4 | 76 |
| 106 | Cajsa Persson (LET) | 4 | 76 |
| 106 | Lynn Carlsson (LET) | 4 | 76 |
| 113 | Paul Eales (EST) | 5 | 77 |
| 113 | Chris Berardo (ECT) | 5 | 77 |
| 113 | Diksha Dagar (LET) | 5 | 77 |
| 116 | Othman Al Mulla (ECT) | 6 | 78 |
| 116 | James Kingston (EST) | 6 | 78 |
| 118 | James Murphy (EST) | 7 | 79 |
| 118 | Nick Mitchell (EST) | 7 | 79 |
| 118 | Carmen Alonso (LET) | 7 | 79 |
| 118 | Kelsey Macdonald (LET) | 7 | 79 |
| 122 | Lina Boqvist (LET) | 9 | 81 |
| 123 | Brendan McGovern (EST) | 10 | 82 |