August 29 - September 01
Millennium Golf, Paal, Beringen, Belgium
€185,000
Round 2, Round 3, Round 4
---
Sebastian Heisele admits the thought of shooting golf's magic number entered his mind but was all smiles after carding an opening round of ten under par 61 at the KPMG Trophy.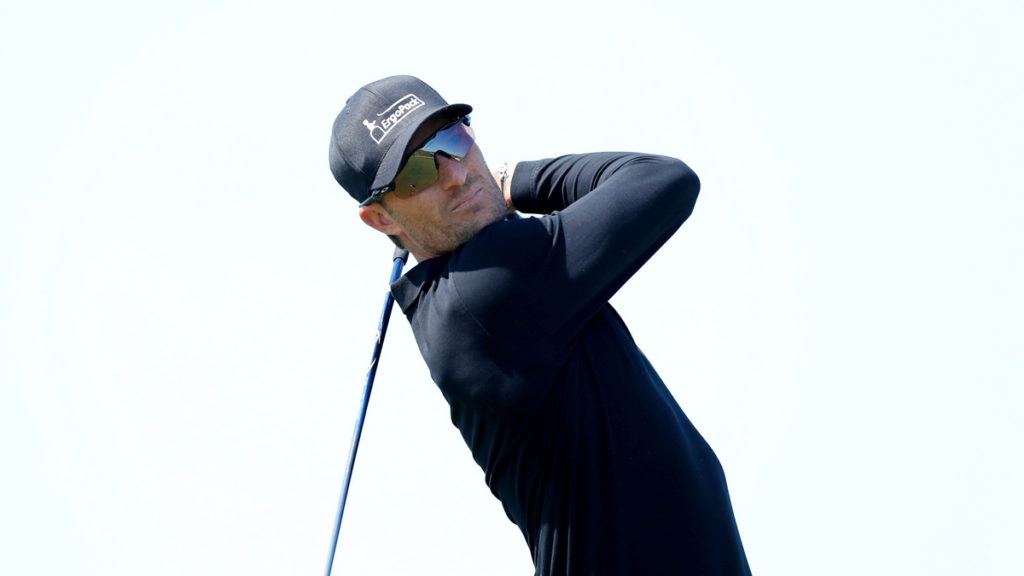 ---
The German started on the tenth hole and made five birdies and an eagle before running into a short back-up on his second nine.
"I hadn't thought of it, but we were first out in the afternoon and were quite quick on our front nine and on the second tee I sort of thought 'seven under through ten I might have a chance here if I keep going,'" he said. "So it did pop into my head, but I tried to not let it necessarily disrupt anything and to go two-off of 59 is not too bad.
"I felt like I played well all day. My putting was pretty solid, I probably hit 17 greens and I was very steady off the tee, so in general, everything just came together."
The 31-year-old kept his scorecard clean and converted three more birdies on his way into the clubhouse. The fast start, a welcome sign for Heisele who is getting his game back in shape after a short break from competition.
"I'm just happy to be back out. My wife's foot has been in a cast for the past few weeks, so there were a couple weeks at home that I didn't expect, so to be out and post a number again, especially after a difficult last year was nice."
The task for Heisele now shifts to backing up such a strong opening-round, which can often prove to be a tall order in professional golf.
"I know the trend is not necessarily to follow up a good round with another good one, so I'll just focus on steady progress tomorrow, keep doing what I'm doing and try to pick up a few more."
Sitting one shot back of the leader is Robin Roussel, who carded a nine under par 62 at Millennium Golf as he continues a fine campaign in his third season on the Challenge Tour.
The Frenchman is currently ninth in the Rankings following a win at the Hauts de France – Pas de Calais Golf Open and four other top tens.
A trio of players, Gudmundur Kristjansson, Jack Senior and Filip Mruzek share third place on eight under par following strong opening rounds of their own.
Day one of the KPMG Trophy was delayed by two hours in the morning after crews worked feverishly to prepare the Paal, Belgium course, which had been pounded by strong rains overnight.
As a result, the opening round was suspended due to darkness at 8:16 pm local time. Play is set to resume tomorrow morning at 8:00 am. Tee times for the second round will be pushed back by 40 minutes as a result.
---
| | | | | |
| --- | --- | --- | --- | --- |
| Pos. | Player | Hole | To Par | R1 |
| 1 | HEISELE, Sebastian | 18 | -10 | 61 |
| 2 | ROUSSEL, Robin | 18 | -9 | 62 |
| 3 | MRUZEK, Filip | 18 | -8 | 63 |
| | KRISTJANSSON, Gudmundur | 18 | -8 | 63 |
| | SENIOR, Jack | 18 | -8 | 63 |
| 6 | FREIBURGHAUS, Jeremy | 18 | -7 | 64 |
| | FORSSTRÖM, Simon | 18 | -7 | 64 |
| | STOW, Ben | 18 | -7 | 64 |
| | BLOMSTRAND, Christofer | 18 | -7 | 64 |
| | EASTON, Bryce | 18 | -7 | 64 |
| | GARCIA RODRIGUEZ, Sebastian | 18 | -7 | 64 |
| | McGOWAN, Ross | 18 | -7 | 64 |
| 13 | HUIZING, Daan | 18 | -6 | 65 |
| | CANTER, Laurie | 18 | -6 | 65 |
| | SIEM, Marcel | 18 | -6 | 65 |
| | DAWSON, Robin | 18 | -6 | 65 |
| | SJÖHOLM, Joel | 18 | -6 | 65 |
| | FERNANDEZ, Scott | 18 | -6 | 65 |
| 19 | KÖLBING, Jonas | 18 | -5 | 66 |
| | GANE, Chris | 18 | -5 | 66 |
| | WIEGELE, Martin | 18 | -5 | 66 |
| | MANSELL, Richard | 18 | -5 | 66 |
| | HENRY, Scott | 18 | -5 | 66 |
| | SANTOS, Ricardo | 18 | -5 | 66 |
| | HIDALGO, Angel | 18 | -5 | 66 |
| | LOPES, Vitor | 18 | -5 | 66 |
| | BESSELING, Wil | 18 | -5 | 66 |
| | MAZZOLI, Stefano | 15 | -5 | - |
| 29 | BENSON, Seve | 18 | -4 | 67 |
| | FENASSE, Mathieu | 18 | -4 | 67 |
| | MIVIS, Christopher | 18 | -4 | 67 |
| | QUESNE, Julien | 18 | -4 | 67 |
| | VAN MEIJEL, Lars | 18 | -4 | 67 |
| | OLSEN, Aksel | 18 | -4 | 67 |
| | LACROIX, Frederic | 18 | -4 | 67 |
| | SARACINO, Andrea | 18 | -4 | 67 |
| | BRAEUNIG, Christian | 18 | -4 | 67 |
| | DE WOUTERS (AM), Jean | 18 | -4 | 67 |
| | HAVRET, Grégory | 18 | -4 | 67 |
| | ROZNER, Antoine | 18 | -4 | 67 |
| | COUPLAND, Dave | 15 | -4 | - |
| | BAEK, Peter Launer | 15 | -4 | - |
| | EROFEJEFF, Peter | 15 | -4 | - |
| | KUNZENBACHER, Julian | 14 | -4 | - |
| | MATUS, Stanislav | 12 | -4 | - |
| | VEYRET, Victor | 12 | -4 | - |
| 47 | BOOTE, David | 18 | -3 | 68 |
| | EDBERG, Pelle | 18 | -3 | 68 |
| | BERARDO, Clément | 18 | -3 | 68 |
| | LAFEBER, Maarten | 18 | -3 | 68 |
| | ORRIN, Max | 18 | -3 | 68 |
| | MCCARTHY, Nick | 18 | -3 | 68 |
| | KO (AM), Jeong weon | 18 | -3 | 68 |
| | GAL, Petr | 18 | -3 | 68 |
| | MCBRIDE, Paul | 18 | -3 | 68 |
| | VAN WEST, Robbie | 18 | -3 | 68 |
| | DEL VAL, Samuel | 18 | -3 | 68 |
| | POKE, Benjamin | 18 | -3 | 68 |
| | FRITSCH, Florian | 18 | -3 | 68 |
| | HAASTRUP, Mark Flindt | 18 | -3 | 68 |
| | BALDWIN, Matthew | 18 | -3 | 68 |
| | FERGUSON, Ewen | 18 | -3 | 68 |
| | KIM, Minkyu | 18 | -3 | 68 |
| | LINARD, Thomas | 15 | -3 | - |
| | HULDAHL, Jeppe Pape | 15 | -3 | - |
| | TINNING, Nicolai | 15 | -3 | - |
| | HELLIGKILDE, Marcus | 15 | -3 | - |
| | STAL, Gary | 12 | -3 | - |
| 69 | BRUN, Julien | 18 | -2 | 69 |
| | ITEN, Marco | 18 | -2 | 69 |
| | FOOS, Dominic | 18 | -2 | 69 |
| | SIMONSEN, Martin | 18 | -2 | 69 |
| | GEARY, Josh | 18 | -2 | 69 |
| | SANTOS SILVA, Tomas | 18 | -2 | 69 |
| | ROSS, Craig | 18 | -2 | 69 |
| | ELVIRA, Manuel | 18 | -2 | 69 |
| | KORINEK, Ales | 18 | -2 | 69 |
| | CUARTERO BLANCO, Emilio | 18 | -2 | 69 |
| | CLEMENTS, Todd | 18 | -2 | 69 |
| | PIGEM, Carlos | 18 | -2 | 69 |
| | LAMPERT, Moritz | 18 | -2 | 69 |
| | FARR, Oliver | 18 | -2 | 69 |
| | TILEY, Steven | 18 | -2 | 69 |
| | MANASSERO, Matteo | 18 | -2 | 69 |
| | SCIOT-SIEGRIST, Robin | 18 | -2 | 69 |
| | GROS, Sébastien | 18 | -2 | 69 |
| | FORD, Matt | 15 | -2 | - |
| | ARMITAGE, Marcus | 15 | -2 | - |
| | TARRIO BEN, Santiago | 15 | -2 | - |
| | ARIZABALETA, Alvaro | 15 | -2 | - |
| | TOLLENAIRE (AM), Jarno | 15 | -2 | - |
| | WIDEGREN, Pontus | 14 | -2 | - |
| 93 | DECOTTIGNIES-LAFON, Mathieu | 18 | -1 | 70 |
| | BEKKER, Oliver | 18 | -1 | 70 |
| | WRISDALE, Jordan | 18 | -1 | 70 |
| | ANGLES, Pep | 18 | -1 | 70 |
| | COHEN, Perry | 18 | -1 | 70 |
| | GLENNEMO, Jacob | 18 | -1 | 70 |
| | DEAN, Joe | 18 | -1 | 70 |
| | KARLBERG, Rikard | 18 | -1 | 70 |
| | MADDY, Paul | 18 | -1 | 70 |
| | DE BONDT, Alan | 18 | -1 | 70 |
| | JOANNES, Hugues | 18 | -1 | 70 |
| | KAKKO, Roope | 18 | -1 | 70 |
| | MCLEARY, Jamie | 18 | -1 | 70 |
| | WATREMEZ, Guillaume | 18 | -1 | 70 |
| | WHITNELL, Dale | 18 | -1 | 70 |
| | ZACH, Šimon | 18 | -1 | 70 |
| | PIAGET, Sandro | 18 | -1 | 70 |
| | VALASEK, Peter | 18 | -1 | 70 |
| | SAXTON, Reinier | 18 | -1 | 70 |
| | MEDALE, Franck | 18 | -1 | 70 |
| | MACCARIO, Federico | 18 | -1 | 70 |
| | ERIKSSON, Martin | 18 | -1 | 70 |
| | ROBB, Chris | 15 | -1 | - |
| | COHEN-BOYER, Louis | 15 | -1 | - |
| | JOHANSSON, Niclas | 15 | -1 | - |
| | WEYDTS CAESENS, Gaetan | 15 | -1 | - |
| | BUIJS, Lars | 15 | -1 | - |
| | GRANT, Stephen | 14 | -1 | - |
| 121 | HOWIE, Craig | 18 | Par | 71 |
| | LLOYD, Chris | 18 | Par | 71 |
| | VANHOOTEGEM, Nicolas | 18 | Par | 71 |
| | HESBOIS, Kevin | 18 | Par | 71 |
| | PERRIER, Damien | 18 | Par | 71 |
| | ABBOTT, Jamie | 18 | Par | 71 |
| | YOUNG, Mark | 18 | Par | 71 |
| | GRADECKI, Mateusz | 18 | Par | 71 |
| | GEYGER, Nico | 18 | Par | 71 |
| | VAN DOREN, Yente | 18 | Par | 71 |
| | SCHNEIDER, Marcel | 18 | Par | 71 |
| | VON DELLINGSHAUSEN, Nicolai | 18 | Par | 71 |
| | SAHLSTROM, Christopher | 14 | Par | - |
| 134 | SPOONER, Billy | 18 | 1 | 72 |
| | ECCLES, Ben | 18 | 1 | 72 |
| | SYME, Connor | 18 | 1 | 72 |
| | CARON, Rowin | 18 | 1 | 72 |
| | NEIL, Bradley | 18 | 1 | 72 |
| | HIGGO, Garrick | 18 | 1 | 72 |
| | MOHR, Marcus | 18 | 1 | 72 |
| | STUREHED, Henric | 18 | 1 | 72 |
| | MERONK, Adrian | 18 | 1 | 72 |
| 143 | HURLEY, Gary | 18 | 2 | 73 |
| | MEJOW, Philipp | 18 | 2 | 73 |
| | GALAND (AM), Arnaud | 18 | 2 | 73 |
| | GASPAR, Miguel | 18 | 2 | 73 |
| | Hundebøll JØRGENSEN, Oliver | 18 | 2 | 73 |
| | VIRTO, Borja | 18 | 2 | 73 |
| 149 | LEYS, Thibaut | 18 | 3 | 74 |
| | FORD, Charlie | 18 | 3 | 74 |
| | WITTMANN, Sebastian | 15 | 3 | - |
| 152 | OLIVIERS (AM), Gaspard | 18 | 4 | 75 |
| | FENTEN, Michael | 15 | 4 | - |
| 154 | IM, Daniel | 18 | 6 | 77 |
| | RIU, Victor | 18 | 6 | 77 |
| 156 | WAHBI (AM), Adem | 18 | 7 | 78 |
| 157 | KEMALOGLU, Ediz | 18 | 8 | 79 |
| 158 | DE SCHUTTER (AM), Anthony | 18 | 9 | 80 |