June 20-23
Phoenix Golf Golf & Country Club, Pattaya, Thailand
€300,000
Round 2, Round 3, Round 4
---
Lina Boqvist shot a 67 in sweltering heat at Phoenix Gold Golf and Country Club on Thursday to take a narrow lead after day one of the Ladies European Thailand Championship in Pattaya.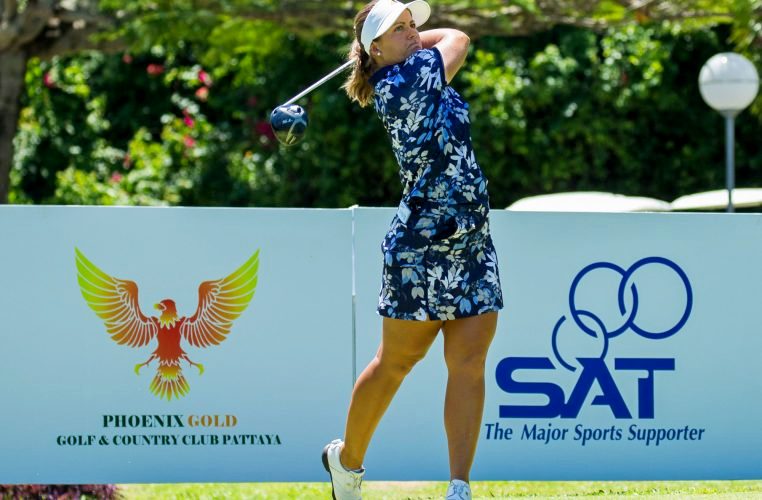 ---
The 28-year-old Swede fired five birdies on the front nine and made another gain at the 10th but carded two late bogeys, followed by another birdie on the short 14th, to set the target at five-under, one ahead of Olivia Cowan.
The increasing heat made scoring more difficult as the morning wave finished their rounds, with those players in the afternoon set for a tough challenge.
Boqvist took advantage of her early morning round and said: "It was a very good start as I was four-under after six and five-under after nine. I played quite solidly on the last nine but didn't make as many putts.
Lina Boqvist is happy with an excellent opening round 6⃣7⃣ to take the overnight lead in Thailand on -5

🗣️ "It was a very good start to my round, I was four-under after six holes & played solid on the back nine. The course is in great shape."#LETC2019 @PhoenixGoldGolf pic.twitter.com/NaSaha9e7G

— Ladies European Tour (@LETgolf) June 20, 2019
---
"Usually I love the sun and the heat, but this is quite humid. I drank a lot of water and had a wet towel with me and took it shot by shot."
Cowan, who shot a 68, carded a pair of opening birdies on each of the nines and she admitted that the conditions some of the toughest she had played in.
"It's horrible: it's so hot today. You just feel like you're sweating so much and drinking so much and I was getting ice cubes during the round and rubbing them all over the place because it was so hot," she said. "It's not the hottest place I've ever played, but with the humidity, it feels like 45C. I tried to slow down a bit, take my time and drink a lot of water."
Six further players share third place on three-under-par, including the 2016 order of merit winner Beth Allen, Felicity Johnson, Onkanok Soisuwan, Kultida Pramphun and past champions Atthaya Thitikul and Kanyalak Preedasutijit, from Thailand.
Preedasutijit, who is playing at her home course, felt that three-under was a good score, but it could have been better. "My putter was very good on the back nine but not on the front nine and I hit only two fairways in nine holes, so I think I'm a little tired," she said.
It was a similar story for Thitikul, who won the event in 2017 aged just 14. "I didn't start well as my irons were not good today and I have to practise more. The first nine, I didn't play well, but luckily I came back on the back nine and putted well. I've played four weeks in a row, so I'm quite tired," she said, adding: "I will be happy with a top-10 this week because I changed my swing in January and I want to get more distance to improve to another level."
The five players tied for ninth on two-under-par and only three shots from the lead are Esther Henseleit, Carly Booth, Liz Young, Filippa Moork and Tahnia Ravnjak.
The Ladies European Thailand Championship continues on Friday ahead of a cut to the leading 60 players and ties heading into the weekend.
---
| | | | |
| --- | --- | --- | --- |
| Pos. | Player | To Par | R1 |
| 1 | Lina Boqvist (SWE) | -5 | 67 |
| 2 | Olivia Cowan (GER) | -4 | 68 |
| 3 | Felicity Johnson (ENG) | -3 | 69 |
| 3 | Beth Allen (USA) | -3 | 69 |
| 3 | Atthaya Thitikul (THA) (a) | -3 | 69 |
| 3 | Kanyalak Preedasuttijit (THA) | -3 | 69 |
| 3 | Onkanok Soisuwan (THA) | -3 | 69 |
| 3 | Kultida Pramphun (THA) | -3 | 69 |
| 9 | Esther Henseleit (GER) | -2 | 70 |
| 9 | Carly Booth (SCO) | -2 | 70 |
| 9 | Liz Young (ENG) | -2 | 70 |
| 9 | Filippa Moork (SWE) | -2 | 70 |
| 9 | Tahnia Ravnjak (AUS) | -2 | 70 |
| 14 | Eleanor Givens (ENG) | -1 | 71 |
| 14 | Tonje Daffinrud (NOR) | -1 | 71 |
| 14 | Parinda Phokan (THA) | -1 | 71 |
| 14 | Noemi Jimenez Martin (ESP) | -1 | 71 |
| 14 | Chakansim Kamborn (THA) | -1 | 71 |
| 14 | Kylie Henry (SCO) | -1 | 71 |
| 14 | Jessica Karlsson (SWE) | -1 | 71 |
| 14 | Pannapa Polnamin (THA) | -1 | 71 |
| 14 | Laura Fuenfstueck (GER) | -1 | 71 |
| 14 | Stacy Lee Bregman (RSA) | -1 | 71 |
| 14 | Carmen Alonso (ESP) | -1 | 71 |
| 14 | Phannarai Meesom-Us (THA) (a) | -1 | 71 |
| 26 | Christine Wolf (AUT) | Par | 72 |
| 26 | Becky Morgan (WAL) | Par | 72 |
| 26 | Diksha Dagar (IND) | Par | 72 |
| 26 | Pitsaon Chaichompoo (THA) | Par | 72 |
| 26 | Meghan MacLaren (ENG) | Par | 72 |
| 26 | Annabel Dimmock (ENG) | Par | 72 |
| 26 | Camille Chevalier (FRA) | Par | 72 |
| 26 | Trichat Cheenglab (THA) | Par | 72 |
| 26 | Arpichaya Yubol (THA) | Par | 72 |
| 26 | Karolin Lampert (GER) | Par | 72 |
| 26 | Johanna Gustavsson (SWE) | Par | 72 |
| 26 | Kusuma Meechai (THA) | Par | 72 |
| 26 | Manon De Roey (BEL) | Par | 72 |
| 26 | Valdis Thora Jonsdottir (ISL) | Par | 72 |
| 40 | Elia Folch (ESP) | 1 | 73 |
| 40 | Chonlada Chayanun (THA) | 1 | 73 |
| 40 | Marianne Skarpnord (NOR) | 1 | 73 |
| 40 | Camilla Lennarth (SWE) | 1 | 73 |
| 40 | Narisara Kerdrit (THA) | 1 | 73 |
| 40 | Maria Hernandez (ESP) | 1 | 73 |
| 40 | Whitney Hillier (AUS) | 1 | 73 |
| 40 | Yupaporn Kawinpakorn (THA) | 1 | 73 |
| 40 | Leticia Ras-anderica (GER) | 1 | 73 |
| 40 | Sanna Nuutinen (FIN) | 1 | 73 |
| 40 | Manon Molle (FRA) | 1 | 73 |
| 40 | Krista Bakker (FIN) | 1 | 73 |
| 40 | Michele Thomson (SCO) | 1 | 73 |
| 40 | Chommapat Pongthanarak (THA) | 1 | 73 |
| 40 | Renuka Suksukont (THA) | 1 | 73 |
| 40 | Niina Liias (FIN) | 1 | 73 |
| 56 | Manon Gidali (FRA) | 2 | 74 |
| 56 | Emma Nilsson (SWE) | 2 | 74 |
| 56 | Sarah Nilsson (SWE) | 2 | 74 |
| 56 | Saraporn Chamchoi (THA) | 2 | 74 |
| 56 | Ornnicha Konsunthea (THA) | 2 | 74 |
| 56 | Ching-Ling Chang (TPE) | 2 | 74 |
| 56 | Fanny Cnops (BEL) | 2 | 74 |
| 56 | Chalisa Limpipolpaibul (THA) | 2 | 74 |
| 56 | Holly Clyburn (ENG) | 2 | 74 |
| 56 | Chayanit Wangmahaporn (THA) (a) | 2 | 74 |
| 66 | Trish Johnson (ENG) | 3 | 75 |
| 66 | Emie Peronnin (FRA) | 3 | 75 |
| 66 | Hyun Ju Yoo (KOR) | 3 | 75 |
| 66 | Nattagate Nimitpongkul (THA) | 3 | 75 |
| 66 | Lejan Lewthwaite (RSA) | 3 | 75 |
| 66 | Chorphaka Jaengkit (THA) | 3 | 75 |
| 66 | Wannasiri Sirisampant (THA) | 3 | 75 |
| 66 | Tvesa Malik (IND) | 3 | 75 |
| 66 | Amy Walsh (AUS) | 3 | 75 |
| 66 | Noora Komulainen (FIN) | 3 | 75 |
| 66 | Silvia Banon (ESP) | 3 | 75 |
| 66 | Hannah Burke (ENG) | 3 | 75 |
| 78 | Maha Haddioui (MAR) | 4 | 76 |
| 78 | Aunchisa Utama (THA) | 4 | 76 |
| 78 | Becky Brewerton (WAL) | 4 | 76 |
| 78 | Manuschaya Zeemakorn (THA) | 4 | 76 |
| 78 | Wad Phaewchimplee (THA) | 4 | 76 |
| 78 | Julia Engstrom (SWE) | 4 | 76 |
| 78 | Paige Stubbs (AUS) | 4 | 76 |
| 78 | Waralee Atcharerk (THA) | 4 | 76 |
| 78 | Kamonwan Lueamsri (THA) | 4 | 76 |
| 78 | Charlotte Thompson (ENG) | 4 | 76 |
| 78 | Cristawan Rungruang (THA) | 4 | 76 |
| 78 | Anne-Lise Caudal (FRA) | 4 | 76 |
| 78 | Mookharin Ladgratok (THA) | 4 | 76 |
| 91 | Ursula Wikstrom (FIN) | 5 | 77 |
| 91 | Astha Madan (IND) | 5 | 77 |
| 91 | Ornniti Jullasigkee (THA) | 5 | 77 |
| 91 | Goonlacha Paiboonpong (THA) | 5 | 77 |
| 91 | Ana Menendez (MEX) | 5 | 77 |
| 91 | Sarunchana Rattansin (THA) (a) | 5 | 77 |
| 91 | Kelsey Macdonald (SCO) | 5 | 77 |
| 91 | Valentine Derrey (FRA) | 5 | 77 |
| 91 | Sarah Schober (AUT) | 5 | 77 |
| 91 | Sitanart Singhanart (THA) | 5 | 77 |
| 91 | Pattaraporn Mounchoo (THA) | 5 | 77 |
| 91 | Sian Evans (ENG) | 5 | 77 |
| 91 | Dolnapa Phudthipinij (THA) | 5 | 77 |
| 104 | Astrid Vayson De Pradenne (FRA) | 6 | 78 |
| 104 | Florentyna Parker (ENG) | 6 | 78 |
| 104 | Nattapan Siritrai (THA) | 6 | 78 |
| 104 | Chanokhan Angurasaranee (THA) (a) | 6 | 78 |
| 108 | Cajsa Persson (SWE) | 7 | 79 |
| 108 | Gabriella Cowley (ENG) | 7 | 79 |
| 108 | Isabelle Boineau (FRA) | 7 | 79 |
| 108 | Justine Dreher (FRA) | 7 | 79 |
| 108 | Chatprapa Siriprakob (THA) | 7 | 79 |
| 108 | Dussavi Soopimjit (THA) | 7 | 79 |
| 114 | Alisara Wedchakama (THA) | 8 | 80 |
| 114 | Chai-Wen Tai (TPE) | 8 | 80 |
| 114 | Eun Gyeom Hong (KOR) | 8 | 80 |
| 114 | Preenaphan Poomklay (THA) | 8 | 80 |
| 114 | Pimpadsorn Sangkagaro (THA) | 8 | 80 |
| 114 | Lauren Taylor (ENG) | 8 | 80 |
| 114 | Lydia Hall (WAL) | 8 | 80 |
| 121 | Peerada Piddon (THA) | 9 | 81 |
| 121 | Jidapha Phongthanachalitkun (THA) | 9 | 81 |
| 121 | Samaporn Khangkhun (THA) | 9 | 81 |
| 124 | Cloe Frankish (ENG) | 11 | 83 |
| 125 | Ploy Hiranrak (THA) | 12 | 84 |
| 126 | Babe Liu (TPE) | - | DSQ |