You probably saw that a week last Sunday, Crushers GC won the LIV Golf Team Championship at Donald Trump's golf course in Miami. Captained by Bryson DeChambeau, the four-man team filled out by Paul Casey, Charles Howell and Anirban Lahiri prevailed by two shots from RangeGoats GC…
…although when I say you probably saw, I guess you probably didn't. A recent survey for Golf Monthly magazine found that 2% of those polled watched some of every one of the 14 tournaments on the 2023 LIV schedule; 4% watched some events; 11% watched it occasionally; for 83% it may as well not have happened – they didn't watch a single shot.
Be that as it may, on June 6, the PGA Tour commissioner, Jay Monahan, and the head of Saudi Arabia's Public Investment Fund (which funds LIV Golf), Yasir Al-Rumayyan, announced an end to the litigation they had been pursuing against each other and said they would work together for the good of the game. A framework agreement was in place which needed to be substantially fleshed out, with the intended end-point being the end of this year. The odds on that happening seem to be minimal, not least due to anti-trust and other concerns of American lawmakers. It is perfectly possible that US private-investment companies might seek a place in partnership with the Tour, at the expense of the Saudis, if no deal is concluded quite soon. Then everything would be back up in the air.
In the early days of LIV (and it's less than 18 months since it staged its first tournament), its players spoke of relishing the opportunity to play fewer tournaments. Also the fact that all LIV golfers played in all LIV's tournaments. In his recent book LIV and Let Die, Alan Shipnuck quotes Will Zalatoris saying; "Why does F1 work? Well, you know Lewis Hamilton's going to be there at every single race. So is Max Verstappen." Zalatoris, not a LIV golfer, was referring to the "elevated events" which were the PGA Tour's then strategy to combat LIV until Monahan realised he could not afford it and a deal had to be done. In all the circumstances, it might be weirdly appropriate that Monahan and Al-Rumayyan first met in Venice. The latter was with his family to attend the wedding of the daughter of Lawrence Stroll, owner of the Aston Martin Formula 1 team whose finances are handsomely supported by Saudi money - although unfortunately for him, neither Hamilton or Verstappen are driving one of his cars.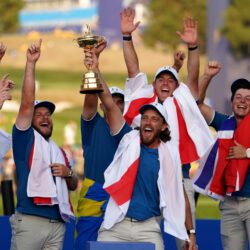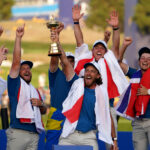 Of course, golf already had its version of what Zalatoris likes about FI: it had the majors. As Shipnuck writes: "Turns out that for many big names, the tournaments between the major championships are just filler to keep themselves sharp and build their brands." Brooks Koepka could not have put it any better. It was always Monahan's ultimate weakness: he controls none of the four majors, and fundamentally that's all the best players care about. Oh, and money! And he can't keep up with the Saudis there either.
Finally, while LIV Golf may not have had a TV contract to showcase its tournaments this past season, it has got one deal in place for 2024. Asprey, the British luxury goods manufacturer, has agreed a multi-year deal to be the 'Official Trophy Provider of LIV Golf'. Al-Rumayyan has insisted every time he's been asked that LIV Golf is not going to go away. Now his baby has the trophy deal to prove it!
You can follow Robert Green on Twitter @robrtgreen and enjoy his other blog f-factors.com plus you can read more by him on golf at robertgreengolf.com