March 14-17
Karen Country Club, Nairobi, Kenya
€1,100,000
Live leaderboard
Round 2, Round 3, Round 4
---
Jack Singh Brar soared up the leaderboard with a late birdie blitz to take a share of the first-round lead alongside Louis de Jager at the Magical Kenya Open presented by Absa.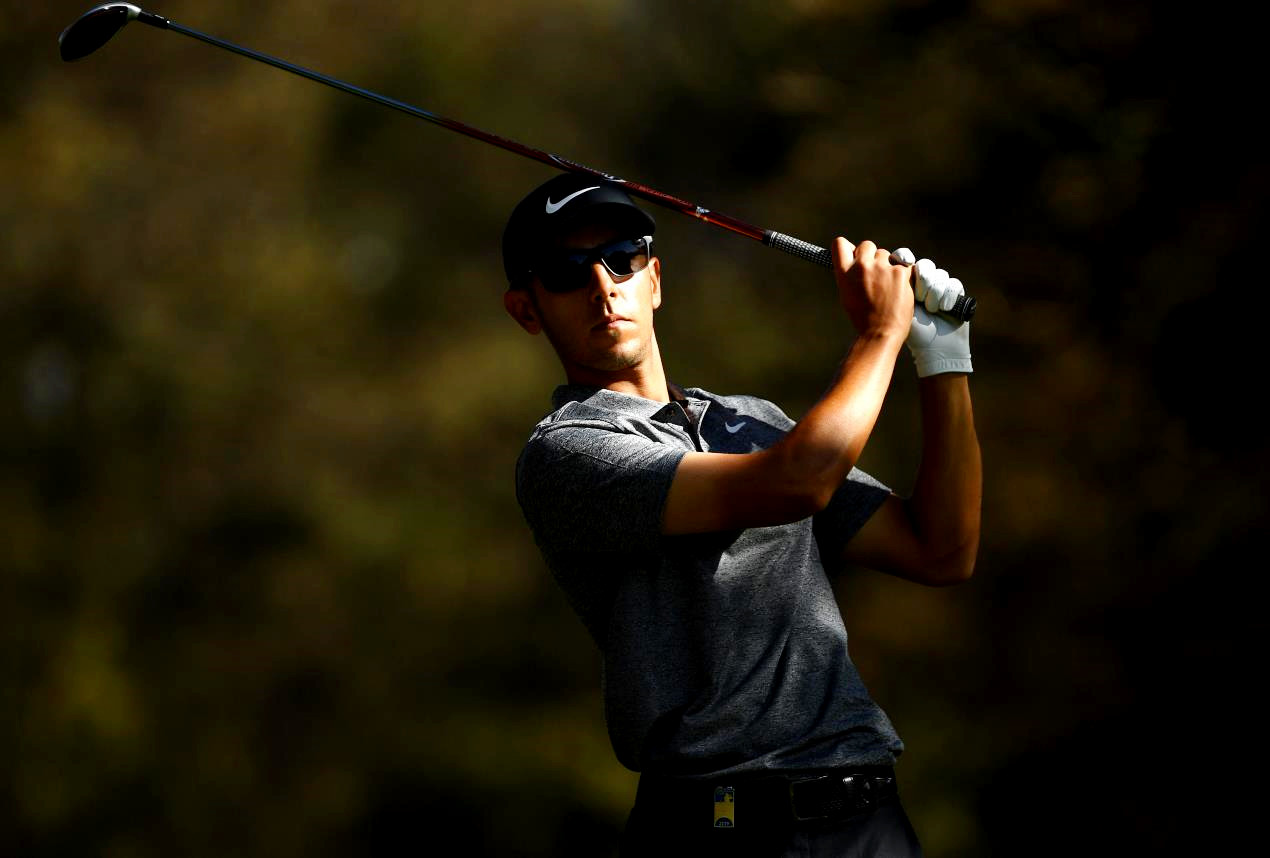 ---
The Englishman, who is a European Tour rookie after graduating from the Challenge Tour last season, produced a stunning eagle-birdie-birdie-birdie finish to sign for a bogey-free seven under par round of 64 in Nairobi.
"Through the round I got up and down when I needed to and then I was five under through my last four – a great way to finish the round.
"It was my first time at this course, and I like it here. The course is quite fiery, and you can hit a lot of low run shots, which is my stock shot, and that worked out perfectly as it can go miles with the altitude.
"It is very different to a lot of the courses that we play, it's quite quirky, and that is something which has suited me in the past – I won at a course on the Challenge Tour in France which is similar to here."
Despite windy conditions at Karen Country Club, South Africa's de Jager also shined in the Kenyan sun, bagging seven birdies and an eagle to join Singh Brar at the top of the leaderboard.
"I have been hitting it really well over the past two weeks and I did that again today, but just managed to hole a few putts too.
"It is always nice to be back in Africa, and when we came here on Tuesday, I felt right at home on my home continent and it felt very similar with the altitude to Pretoria which is home for me. I also played here last year on the Sunshine Tour, so I feel that I know the course quite well.
"It was a lot windier today than I am used to here, so to come away with the score that I did was really satisfying."
One shot off the lead is India's Gaganjeet Bhullar. The European Tour winner is well-placed to contend again after 18 holes thanks to a blemish-free 65 on his first start in the Kenyan capital.
"I gave myself a lot of good opportunities and I kept the ball in play the whole day and putted well.
"To make six birdies and remain bogey-free in testing conditions felt great, even though I felt I left a couple out there."
---
Two off the top are Spanish rookie Adri Arnaus and five-time European Tour champion Michael Hoey, while in-form Christian Bezuidenhout – who finished as a runner-up in Qatar last week – leads a pack of seven players who sit three shots off the pace.
"I have played a lot in Africa so I am really used to the altitude here," said Hoey, "I know how far the ball is going and my caddy was really good today.
"I judged the wind really well as it was quite tricky today. It is very similar to Joburg and I think having that experience will work to my advantage this week."
---
| | | | | |
| --- | --- | --- | --- | --- |
| Pos. | Player | Nat | Today | R1 |
| T1 | Jack Singh-Brar | ENG | -7 | 64 |
| T1 | Louis De Jager | RSA | -7 | 64 |
| 3 | Gaganjeet Bhullar | IND | -6 | 65 |
| T4 | Adria Arnaus | ESP | -5 | 66 |
| T4 | Michael Hoey | NIR | -5 | 66 |
| T6 | Filippo Bergamaschi | ITA | -4 | 67 |
| T6 | Hugo Leon | CHI | -4 | 67 |
| T6 | Christiaan Bezuidenhout | RSA | -4 | 67 |
| T6 | Josh Geary | NZL | -4 | 67 |
| T6 | Guido Migliozzi | ITA | -4 | 67 |
| T6 | Liam Johnston | SCO | -4 | 67 |
| T6 | Romain Langasque | FRA | -4 | 67 |
| 13 | Simon Ngige | KEN | -3 | 68 |
| T14 | Jack Senior | ENG | -2 | 69 |
| T14 | Hyo-Won Park | KOR | -2 | 69 |
| T14 | Aaron Cockerill | CAN | -2 | 69 |
| T14 | Haydn Porteous | RSA | -2 | 69 |
| T14 | Matthew Nixon | ENG | -2 | 69 |
| T14 | David Boote | WAL | -2 | 69 |
| T14 | Anton Karlsson | SWE | -2 | 69 |
| T14 | Max Schmitt | GER | -2 | 69 |
| T14 | Cormac Sharvin | NIR | -2 | 69 |
| 15 | Dismas Indiza Anyonyi | KEN | -2 | 69 |
| T24 | Clement Sordet | FRA | -1 | 70 |
| T24 | William Liu | CHN | -1 | 70 |
| T24 | Christofer Blomstrand | SWE | -1 | 70 |
| T24 | Kalle Samooja | FIN | -1 | 70 |
| T24 | Sebastian Soederberg | SWE | -1 | 70 |
| T24 | Hugues Joannes | BEL | -1 | 70 |
| T24 | Seenappa Chikkarangappa | IND | -1 | 70 |
| T24 | Kim Koivu | FIN | -1 | 70 |
| T24 | Justin Harding | RSA | -1 | 70 |
| T24 | Marcel Schneider | GER | -1 | 70 |
| T24 | Thomas Bjorn | DEN | -1 | 70 |
| T24 | David Cooke | USA | -1 | 70 |
| T24 | Oliver Farr | WAL | -1 | 70 |
| T37 | Bernd Ritthammer | GER | Par | 71 |
| T37 | Antoine Rozner | FRA | Par | 71 |
| T37 | Darius van Driel | NED | Par | 71 |
| T37 | John Catlin | USA | Par | 71 |
| T37 | Jacques Kruyswijk | RSA | Par | 71 |
| T37 | Stuart Manley | WAL | Par | 71 |
| T37 | Calum Hill | SCO | Par | 71 |
| T37 | Espen Kofstad | NOR | Par | 71 |
| T37 | Philipp Mejow | GER | Par | 71 |
| T37 | Lasse Jensen | DNK | Par | 71 |
| T37 | Connor Syme | SCO | Par | 71 |
| T37 | Marcel Siem | GER | Par | 71 |
| T37 | Gonzalo Fernandez-Castano | ESP | Par | 71 |
| T37 | Robert MacIntyre | SCO | Par | 71 |
| T37 | Ivan Cantero | ESP | Par | 71 |
| T37 | Justus Madoya | KEN | Par | 71 |
| T37 | Chris Lloyd | ENG | Par | 71 |
| T54 | Adrien Saddier | SCO | 1 | 72 |
| T54 | Deyen Lawson | AUS | 1 | 72 |
| T54 | Jamie Abbott | ENG | 1 | 72 |
| T54 | Tony Omuli | KEN | 1 | 72 |
| T54 | Ben Evans | ENG | 1 | 72 |
| T54 | Gavin Moynihan | IRL | 1 | 72 |
| T54 | Oliver Wilson | ENG | 1 | 72 |
| T54 | Emilio Cuartero | ESP | 1 | 72 |
| T54 | Jin-Ho Choi | KOR | 1 | 72 |
| T54 | Sean Crocker | USA | 1 | 72 |
| T54 | Daan Huizing | NED | 1 | 72 |
| T54 | Alexander Knappe | GER | 1 | 72 |
| T54 | Nick Cullen | AUS | 1 | 72 |
| T54 | Niklas Lemke | SWE | 1 | 72 |
| T54 | Joel Girrbach | SWE | 1 | 72 |
| T54 | Pedro Figueiredo | POR | 1 | 72 |
| T54 | Tom Murray | ENG | 1 | 72 |
| T54 | Bryce Easton | RSA | 1 | 72 |
| T54 | George Coetzee | RSA | 1 | 72 |
| T54 | Maarten Lafeber | NED | 1 | 72 |
| T54 | Khalin Joshi | IND | 1 | 72 |
| T75 | David Borda | ESP | 2 | 73 |
| T75 | Sebastien Gros | FRA | 2 | 73 |
| T75 | Steven Tiley | ENG | 2 | 73 |
| T75 | Daniel Gavins | ENG | 2 | 73 |
| T75 | Edwin Mudanyi | KEN | 2 | 73 |
| T75 | Nick Mccarthy | ENG | 2 | 73 |
| T75 | Steven Brown | ENG | 2 | 73 |
| T75 | Matteo Manassero | ITA | 2 | 73 |
| T75 | Per Laengfors | SWE | 2 | 73 |
| T75 | Pep Angles | ESP | 2 | 73 |
| T75 | Scott Vincent | ZWE | 2 | 73 |
| T75 | Ewen Ferguson | SCO | 2 | 73 |
| T75 | Laurie Canter | ENG | 2 | 73 |
| T75 | Henric Sturehed | SWE | 2 | 73 |
| T75 | Ho-Sung Choi | KOR | 2 | 73 |
| T75 | Kristoffer Reitan | NOR | 2 | 73 |
| T75 | Greg Snow | KEN | 2 | 73 |
| T75 | Lorenzo Gagli | ITA | 2 | 73 |
| T75 | Jonathan Thomson | ENG | 2 | 73 |
| T75 | Martin Leth Simonsen | DEN | 2 | 73 |
| T95 | Shubhankar Sharma | IND | 3 | 74 |
| T95 | Erik Van Rooyen | RSA | 3 | 74 |
| T95 | Renato Paratore | ITA | 3 | 74 |
| T95 | Craig Ross | SCO | 3 | 74 |
| T95 | David Wakhu | KEN | 3 | 74 |
| T95 | Duncan Stewart | SCO | 3 | 74 |
| T95 | Max Orrin | ENG | 3 | 74 |
| T95 | Simon Forsstroem | SWE | 3 | 74 |
| T95 | David Odhiambo | KEN | 3 | 74 |
| T95 | Ricardo Melo Gouveia | POR | 3 | 74 |
| T95 | Ross McGowan | ENG | 3 | 74 |
| T95 | Clement Berardo | FRA | 3 | 74 |
| T95 | Nelson Simwa | KEN | 3 | 74 |
| T95 | Oscar Lengden | SWE | 3 | 74 |
| T109 | Christian Braeunig | GER | 4 | 75 |
| T109 | Ugo Coussaud | FRA | 4 | 75 |
| T109 | Marco Iten | SWE | 4 | 75 |
| T109 | Chris Hanson | ENG | 4 | 75 |
| T109 | Ryan Evans | ENG | 4 | 75 |
| T109 | Borja Virto | ESP | 4 | 75 |
| T109 | Ben Stow | ENG | 4 | 75 |
| T109 | Joseph Dean | ENG | 4 | 75 |
| T109 | Samuel Chege | KEN | 4 | 75 |
| T109 | Mathieu Fenasse | FRA | 4 | 75 |
| T109 | Gregory Havret | FRA | 4 | 75 |
| T109 | Jose-Filipe Lima | POR | 4 | 75 |
| T109 | Seung-Su Han | KOR | 4 | 75 |
| T122 | Daniel Nduva | KEN | 5 | 76 |
| T122 | Kibugu Mutahi | KEN | 5 | 76 |
| T122 | Gregory Bourdy | FRA | 5 | 76 |
| T122 | Johannes Veerman | USA | 5 | 76 |
| T122 | David Opati | KEN | 5 | 76 |
| T122 | Matthew Jordan | ENG | 5 | 76 |
| T122 | Nico Geyger | CHI | 5 | 76 |
| T122 | Eduardo De La Riva | ESP | 5 | 76 |
| T130 | Bradley Mogire | KEN | 6 | 77 |
| T130 | Raphael De Sousa | CHE | 6 | 77 |
| T130 | Martin Wiegele | AUT | 6 | 77 |
| T130 | Phillip Kasozi | UGA | 6 | 77 |
| T134 | Scott Fernandez | ESP | 7 | 78 |
| T134 | Riz Charania | KEN | 7 | 78 |
| T134 | Erick Obura | KEN | 7 | 78 |
| T137 | Alfred Nandwa | KEN | 8 | 79 |
| T137 | C.J Wangai | KEN | 8 | 79 |
| T139 | Jacob Okello | KEN | 9 | 80 |
| T139 | Jeff Winther | SWE | 9 | 80 |
| 141 | Scott Gregory | ENG | 10 | 81 |
| T142 | Robin Dawson | IRL | 12 | 83 |
| T142 | Mike Kisia | KEN | 12 | 83 |
| RET | Masahiro Kawamura | JPN | Par | - |