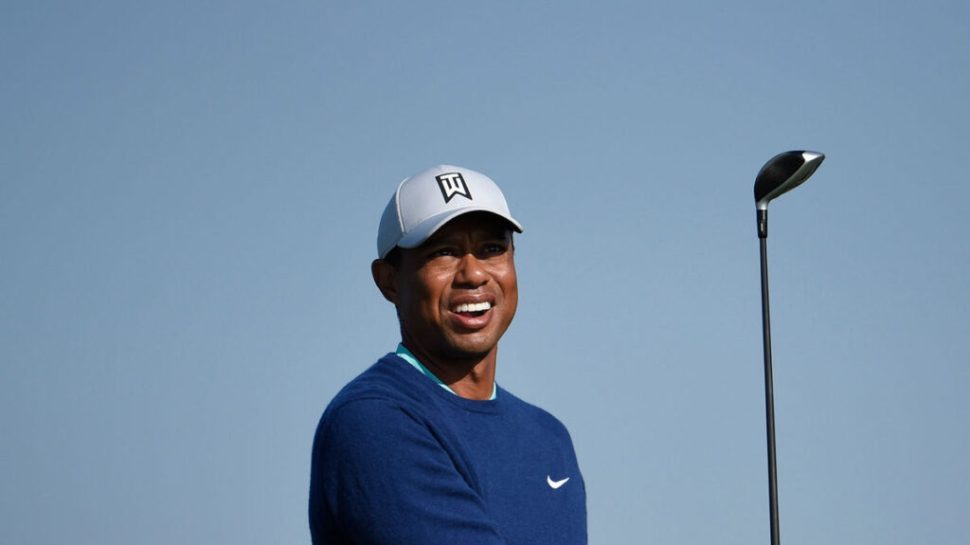 Estimated reading time: 5 minutes
AUGUSTA, GA. The Tuesday press conference with Tiger Woods put the matter of his playing in the 86th  Masters right upfront - with the following comments - "as of right now." The five-time champion plans to be on the 1st tee Thursday at 10:34 AM paired with Louis Oosthuizen and Joaquin Neimann.
The 15-time major winner made it clear his arrival at Augusta is not about going through the motions with ceremonial golf but in believing he can compete against the world's best.
When asked about whether he believes he can attain a 6th green jacket -- his reply was a definitive two-word reply --
"I do."
His last official event came in the 2020 Masters where he tied for 38th. Since the monumental 2019 Masters win -- his performance in the majors has been un-Tiger like with three missed cuts and no finish higher than a tie for 21st in the 2019 U.S. Open at Pebble Beach.
Before updating his status with the words "as of right now" -- Woods previously outlined his mind would only be finalized through a game time situation.
Tiger made it clear his golfing skills are rounding into form -- the crucial unknown, which Woods candidly admitted, is whether his legs can transport him over the hilly terrain that makes up Augusta National Golf Club.
"I love competing, and I feel like if I can still compete at the highest level, I'm going to, and if I feel like I can still win, I'm going to play. But if I feel like I can't then you won't see me out here. I don't show up to an event unless I think I can win it. So that's the attitude I've had. There will be a day when it won't happen, and I'll know when that is, but physically the challenge this is I don't have to worry about the ball striking or the game of golf, it's actually just the hills out here."
Less than 14 months ago Woods went through a major car accident north of Los Angeles. The thought of future competitive golf went out the window -- the bigger question was whether Woods would regain basic health. For four months he was bed ridden - there was even the possibility his right leg could be amputated. 
If Woods does compete it will belie expectations given the continual downplaying of expectations which Tiger had long been saying.
Woods has always had a penchant for keeping his future plans close to the vest. During an interview with Jim Nantz at the Genesis event this past February he remained non-committal in terms of any time line in returning. The 82-PGA Tour winner stated clearly, he had much work to do and freely admitted that taking any short cuts would likely mean being "exposed" when competing against the world's best players.
Woods had been ramping up his practice time at The Medalist Club but the Florida club is nearly dead flat unlike the terrain at Augusta National. And the environment in practice sessions is not in the same league when the bell sounds. The competitive framework provides brutally honest overview where misses count and must be played. When Woods last played with his son Charlies at the PNC Father-Son event in December 2021 the duo finished second but the event was just 36 holes via a "scramble" format allowing Tiger to decide whether to play certain shots or not.
The bigger question for any aging athlete -- Tiger is now 46 years old - is whether he truly still possesses the golfing skills to be a force to be reckoned with. Interestingly, the '22 Masters marks the 25th anniversary of his epic victory when the 21-year-old became the youngest winner and did so with a four-round record score. 
Tiger has never been one to reminisce about past accomplishments -- always looking ahead to achieve the next milestone. He is aware as he mentioned Tuesday of the time it takes to prepare himself. "It's a matter of what my body is able to do the next day - in the recovery."
His upfront nature was fully in view at the press conference.
"I have limited mobility now with the rods and plates. and screws that are in my leg."
But the desire was also evident.
"Well, I love competing. II feel if I can still compete at the highest level I am going to -- if I fell like I can still win I'm going to play."
The overall buzz at Augusta National started in earnest when Woods played a practice round Monday. The large gallery watched intently as Tiger showed he is still, as famed baseball player Reggie Jackson was fond of saying about himself -- the straw that stirs the drink." 
Woods still commands the highest ground in golf,  but he knows full well that being able to summon the strength to deal with "Mount" Augusta remains in front of him.
"That's going to be the challenge, and it's going to be a challenge of a major marathon."
How well Tiger performs is a question that will only be satisfactorily answered if and when he tees off Thursday morning. Underestimating him has proven to be the downfall of many and his peers are fully aware no man has brought more desire and tenacity than he.
Is there another chapter of success to come?
Woods has enjoyed many grand moments at the Masters and should he be able to put himself into serious contention the excitement level will exponentially increase. Plenty of ifs for sure but as that famous fictitious pool player Eddie Felson said in the closing scene from The Color of Money, -- "I'm back."