September 10-11
King's Course, Gleneagles
Day 1 Scores
Day 2
---
The PING Junior Solheim Cup is poised for a nailbiting final singles session after the USA edged ahead 7½-4½ on day one thanks to a dominant afternoon fourball session.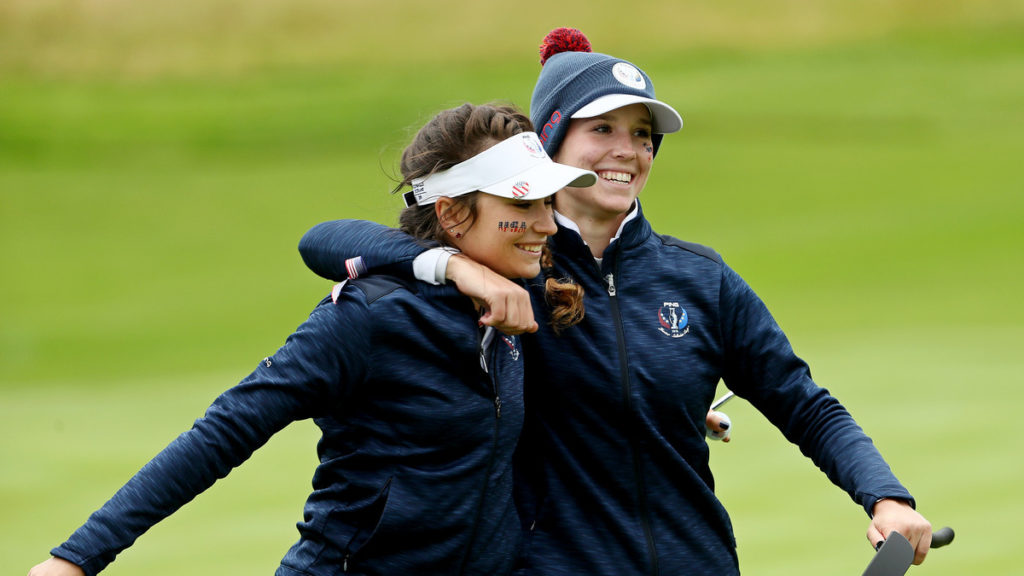 ---
The match was tied at 3-3 after the morning foursomes after three convincing wins for the Europeans, but Team USA took control after lunch, winning four and a half points from six in the fourball format.
Europe has not won the competition – which started in 2002 for young amateur female golfers – since 2007 but gave a strong showing in the opening session. Scotland's own Hannah Darling and her English partner Annabell Fuller put the home side's first point on the board with a 4&3 victory against Sadie Englemann and Lucy Li.
English duo Lily May Humphreys and Mimi Rhodes won by the same margin against Amanda Sambach and Alexa Pano, and it was also a 4&3 rout for Italian Benedetta Moresco and Lucie Malchirand of France against Zoe Campos and Rose Zhang.
---
The Americans kept in touch though with 1 up wins for Michaele Morard and Rachel Heck over Pia Babnik and Alessia Nobilio, and Briana Chacon and Brianna Navarrosa against Lilas Pinthier and Paula Schulz-Hanssen, while Phoebe Brinker and Christine Wang saw off Danish pair Amalie Leth-Nissen and Anne Normann 4&3.
In the afternoon it was a different story, however. Darling and Fuller lost by one hole to Englemann and Heck, Babnik and Nobilio were downed 3&1 to Morard and Zhang, Sambach and Chacon defeated Humphreys and Rhodes 2&1, and Li and Wang saw off Moresco and Malchirand (also 2&1).
Pinthier and Schulz-Hanssen snatched a half point against Pano and Brinker, and there was a change in fortune for the Danes, Leth-NIssen and Norman, who beat Campos and Navarrosa 4&3.
European Captain Mickey Walker said: "We played a lot of good golf. The Americans just played better. We made bogeys at a couple of critical points and gave the hole away.
"When we looked on to get something from a match, we'd take three to get down and lose the hole. They were very fine margins but we were the ones making the errors at critical times. The girls know that. Matches can be so tight and then go in an instant.
"The Americans were tighter around the greens and putted better. The girls are very honest with themselves. Pia and Alessia are disappointed because they played really well but they just came up against Americans who played outstanding golf. I think they were six under and the Americans were eight under, so the it was fantastic golf.
"They know and I know that we can still win this, but we're going to have to play exceptional golf tomorrow." - Team USA Captain Mary Bea Porter-King
---
Europe 4½

Scores

USA 7½

Tuesday Morning Foursomes

Pia Babnik / Alessia Nobilio

1 Up

>

Michaela Morard / Rachel Heck
Hannah Darling / Annabell Fuller

<

4&3

Sadie Englemann / Lucy Li
Lilas Pinthier / Paula Schulz-Hansen

1 Up

>

Brianna Navarrosa / Briana Chacon
Lily May Humphreys / Mimi Rhodes

<

4&3

Amanda Sambach / Alexa Pano
Anne Normann / Amalie Leth Nissen

4&3

>

Phoebe Brinker / Christine Wang
Benedetta Moresco / Lucie Malchirand

<

4&3

Zoe Antoinette Campos / Rose Zhang

Tuesday Afternoon Fourballs

Hannah Darling / Annabell Fuller

1 Up

>

Sadie Englemann / Rachel Heck
Pia Babnik / Alessia Nobilio

3&1

>

Michaela Morard / Rose Zhang
Lilas Pinthier / Paula Schulz-Hansen

A/S

Alexa Pano / Phoebe Brinker
Lily May Humphreys / Mimi Rhodes

2&1

>

Amanda Sambach / Briana Chacon
Anne Normann / Amalie Leth Nissen

<

4&3

Zoe Antoinette Campos / Brianna Navarrosa
Benedetta Moresco / Lucie Malchirand

2&1

>

Lucy Li / Christine Wang