European Challenge Tour
Ras Al Khaimah Challenge Tour Grand Final
October 31 - November 03
Al Hamra GC,Ras Al Khaimah,United Arab Emirates
€420,000
October 31 - November 03
Al Hamra GC,Ras Al Khaimah,United Arab Emirates
€420,000
Round 4
Arnaus goes wire-to-wire on dramatic day in Ras Al Khaimah
Round 2
Round 2
November 03, 2018

Adri Arnaus fired a three under par final round of 69 to claim a wire-to-wire victory at the Ras Al Khaimah Challenge Tour Grand Final during an enthralling last day of the season which saw 15 players graduate to the European Tour.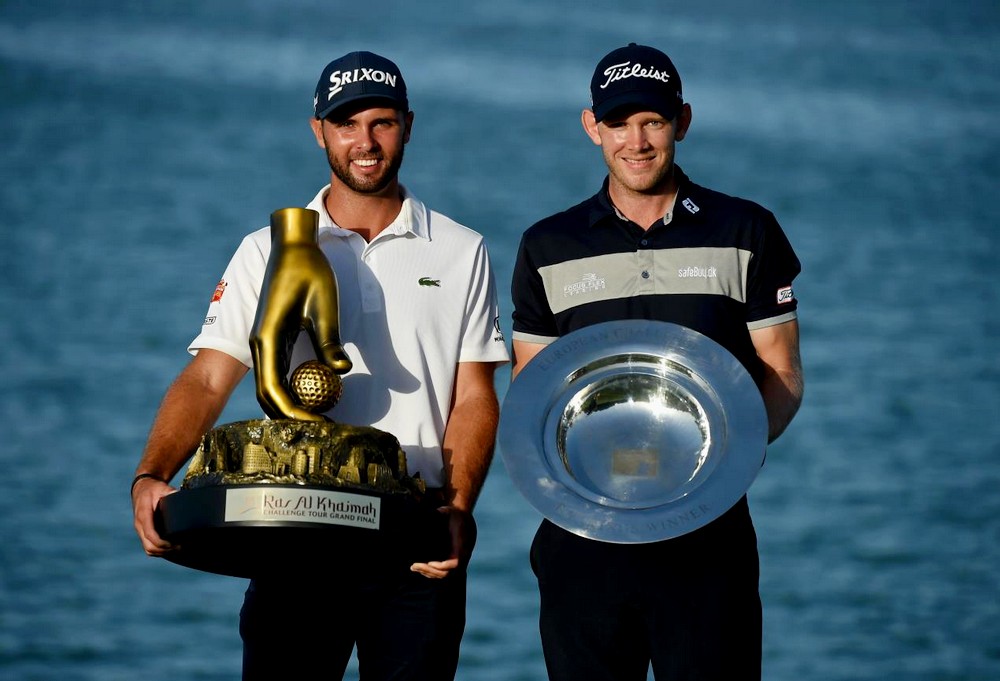 - Getty Images

The Spaniard had been in outstanding form all week at Al Hamra Golf Club, and after rounds of 66-69-67 he started the day with a three-shot lead as he went in search of a first Challenge Tour title after five top-five and seven top-ten finishes in his rookie campaign, prior to today.

"Winning the tournament wire-to-wire is something that I have never done before in a professional level, and it is even more special because from the first day I was able to maintain the intensity and play some good golf, that makes this day even more memorable."

"It is my first full year as a professional golfer and my main goal has always been to get to the European Tour, and to be able to do that in this way is just wonderful."

"I am going to play in the PGA Tour next week, after that I will take one week off and then I will take part in the European Tour's new season which I am very excited about."

As was the case with many of the different accolades up for grabs today, it came right down to the wire, with the 24 year old needing to birdie the 72nd hole to claim a season-ending triumph – which he did by holing a four foot putt to seal a one-stroke win over Victor Perez.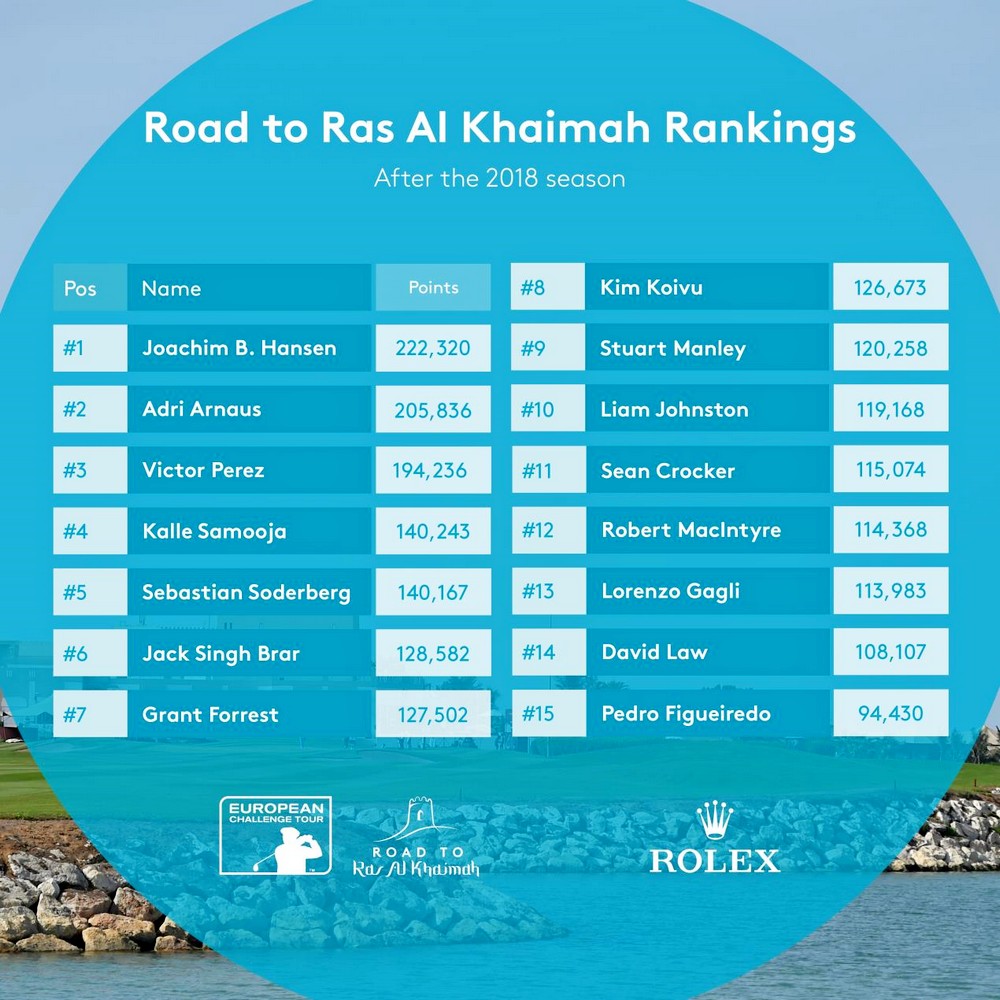 Frenchman Perez was looking to make it back-to-back victories on Europe's top developmental tour after his Foshan Open win a fortnight ago – a move which would have dethroned Joachim B. Hansen as the Road to Ras Al Khaimah Number One.

Despite closing with a superb five under par 67, Perez's title charge ultimately fell short leaving Hansen to become the first Dane since Thomas Bjørn in 1995 to top the season-long Rankings.

"Topping the Road to Ras Al Khaimah Rankings has been the goal since securing my European Tour card and to achieve that feels unreal."

"I have played in the European Tour for three years before and have learned a lot from that experience. Now that this season has ended it is time to aim higher and look at bigger goals."

"Managing to achieve second place in the Road to Ras Al Khaimah after this win is huge for me, throughout the season I was trying to lead the Rankings but claiming second place is still a great result."

But the most captivating battle today came for the final spot inside the coveted top 15. At the start of the week it was advantage Tom Murray, who held the final graduation position. His challenge ultimately fell away with a one over par 73 in the year's final round.

Contrastingly Portugal's Pedro Figueiredo, who started the week in 17th place in the Rankings, flew up the leaderboard by carding a closing 67 to push Murray outside of the top 15.

The battle for the final card looked to have been won by Dutchman Daan Huizing, who needed to finish in solo second place to claim the last spot.

The 28 year old held the position with two holes to play, but after three-putting for a costly double bogey on the 17th he was forced to settle for third place – handing Figueiredo the 15th and final European Tour card.
| | | | | | | | | | |
| --- | --- | --- | --- | --- | --- | --- | --- | --- | --- |
| Pos. | Player | Nat. | To Par | R1 | R2 | R3 | R4 | Total | Prize Money |
| 1 | ARNAUS Adri | ESP | -17 | 66 | 69 | 67 | 69 | 271 | € 72,000 |
| 2 | PEREZ Victor | FRA | -16 | 67 | 69 | 69 | 67 | 272 | € 47,000 |
| 3 | HUIZING Daan | NED | -15 | 70 | 67 | 68 | 68 | 273 | € 28,000 |
| 4 | LANGASQUE Romain | FRA | -14 | 67 | 69 | 69 | 69 | 274 | € 22,000 |
| 5 | CROCKER Sean | USA | -11 | 71 | 64 | 70 | 72 | 277 | € 18,500 |
| 6 | LEMKE Niklas | SWE | -10 | 66 | 74 | 69 | 69 | 278 | € 15,125 |
| 6 | LIMA José-Filipe | POR | -10 | 70 | 66 | 71 | 71 | 278 | € 15,125 |
| 6 | MACINTYRE Robert | SCO | -10 | 71 | 66 | 72 | 69 | 278 | € 15,125 |
| 6 | SENIOR Jack | ENG | -10 | 71 | 70 | 67 | 70 | 278 | € 15,125 |
| 10 | FORREST Grant | SCO | -8 | 71 | 70 | 71 | 68 | 280 | € 11,500 |
| 10 | GIRRBACH Joel | SUI | -8 | 74 | 66 | 69 | 71 | 280 | € 11,500 |
| 10 | JOHANSEN Eirik Tage | NOR | -8 | 73 | 71 | 71 | 65 | 280 | € 11,500 |
| 13 | FIGUEIREDO Pedro | POR | -7 | 71 | 71 | 72 | 67 | 281 | € 8,060 |
| 13 | HANSEN Joachim B. | DEN | -7 | 72 | 67 | 67 | 75 | 281 | € 8,060 |
| 13 | ITEN Marco | SUI | -7 | 70 | 72 | 71 | 68 | 281 | € 8,060 |
| 13 | VAN DRIEL Darius | NED | -7 | 71 | 67 | 73 | 70 | 281 | € 8,060 |
| 17 | JOHNSTON Liam | SCO | -6 | 69 | 70 | 70 | 73 | 282 | € 5,413 |
| 17 | KOIVU Kim | FIN | -6 | 68 | 74 | 69 | 71 | 282 | € 5,413 |
| 17 | LENGDEN Oscar | SWE | -6 | 73 | 69 | 72 | 68 | 282 | € 5,413 |
| 17 | SINGH BRAR Jack | ENG | -6 | 72 | 70 | 70 | 70 | 282 | € 5,413 |
| 21 | KIM Minkyu | KOR | -5 | 69 | 73 | 68 | 73 | 283 | € 4,700 |
| 22 | HOEY Michael | NIR | -4 | 75 | 69 | 68 | 72 | 284 | € 4,400 |
| 22 | SODERBERG Sebastian | SWE | -4 | 69 | 74 | 68 | 73 | 284 | € 4,400 |
| 22 | WILSON Oliver | ENG | -4 | 72 | 71 | 72 | 69 | 284 | € 4,400 |
| 25 | HILL Calum | SCO | -2 | 70 | 72 | 68 | 76 | 286 | € 3,838 |
| 25 | KARLSSON Anton | SWE | -2 | 72 | 72 | 68 | 74 | 286 | € 3,838 |
| 25 | LAW David | SCO | -2 | 69 | 69 | 75 | 73 | 286 | € 3,838 |
| 25 | MURRAY Tom | ENG | -2 | 67 | 72 | 74 | 73 | 286 | € 3,838 |
| 25 | SCHNEIDER Marcel | GER | -2 | 70 | 73 | 73 | 70 | 286 | € 3,838 |
| 30 | GAGLI Lorenzo | ITA | -1 | 71 | 67 | 74 | 75 | 287 | € 3,410 |
| 30 | ORRIN Max | ENG | -1 | 72 | 76 | 67 | 72 | 287 | € 3,410 |
| 32 | SAMOOJA Kalle | FIN | 0 | 71 | 72 | 71 | 74 | 288 | € 3,250 |
| 33 | TILEY Steven | ENG | 1 | 73 | 72 | 72 | 72 | 289 | € 3,150 |
| 34 | ROZNER Antoine | FRA | 2 | 71 | 71 | 73 | 75 | 290 | € 3,050 |
| 35 | FERGUSON Ewen | SCO | 3 | 70 | 73 | 75 | 73 | 291 | € 2,975 |
| 35 | VIRTO Borja | ESP | 3 | 69 | 75 | 72 | 75 | 291 | € 2,975 |
| 37 | JOHANNESSEN Kristian Krogh | NOR | 4 | 72 | 75 | 71 | 74 | 292 | € 2,875 |
| 37 | LEON Hugo | CHI | 4 | 74 | 69 | 76 | 73 | 292 | € 2,875 |
| 39 | MEJOW Philipp | GER | 5 | 69 | 73 | 78 | 73 | 293 | € 2,800 |
| 40 | GEYGER Nico | CHI | 6 | 76 | 69 | 76 | 73 | 294 | € 2,725 |
| 40 | McGOWAN Ross | ENG | 6 | 74 | 73 | 72 | 75 | 294 | € 2,725 |
| 42 | MANLEY Stuart | WAL | 7 | 73 | 73 | 74 | 75 | 295 | € 2,650 |
| 43 | FORSSTRÖM Simon | SWE | 8 | 70 | 72 | 76 | 78 | 296 | € 2,600 |
| 44 | STOW Ben | ENG | 9 | 76 | 69 | 73 | 79 | 297 | € 2,550 |
| 45 | PAPADATOS Dimitrios | AUS | 0 | 0 | 0 | 0 | 0 | 0 | € 2,500 |
| | | | | | | |
| --- | --- | --- | --- | --- | --- | --- |
| Pos. | Player | Nat. | To Par | R4 | Total | Prize Money |
| 1 | ARNAUS Adri | ESP | -17 | 69 | 271 | € 72,000 |
| 2 | PEREZ Victor | FRA | -16 | 67 | 272 | € 47,000 |
| 3 | HUIZING Daan | NED | -15 | 68 | 273 | € 28,000 |
| 4 | LANGASQUE Romain | FRA | -14 | 69 | 274 | € 22,000 |
| 5 | CROCKER Sean | USA | -11 | 72 | 277 | € 18,500 |
| 6 | LEMKE Niklas | SWE | -10 | 69 | 278 | € 15,125 |
| 6 | LIMA José-Filipe | POR | -10 | 71 | 278 | € 15,125 |
| 6 | MACINTYRE Robert | SCO | -10 | 69 | 278 | € 15,125 |
| 6 | SENIOR Jack | ENG | -10 | 70 | 278 | € 15,125 |
| 10 | FORREST Grant | SCO | -8 | 68 | 280 | € 11,500 |
| 10 | GIRRBACH Joel | SUI | -8 | 71 | 280 | € 11,500 |
| 10 | JOHANSEN Eirik Tage | NOR | -8 | 65 | 280 | € 11,500 |
| 13 | FIGUEIREDO Pedro | POR | -7 | 67 | 281 | € 8,060 |
| 13 | HANSEN Joachim B. | DEN | -7 | 75 | 281 | € 8,060 |
| 13 | ITEN Marco | SUI | -7 | 68 | 281 | € 8,060 |
| 13 | VAN DRIEL Darius | NED | -7 | 70 | 281 | € 8,060 |
| 17 | JOHNSTON Liam | SCO | -6 | 73 | 282 | € 5,413 |
| 17 | KOIVU Kim | FIN | -6 | 71 | 282 | € 5,413 |
| 17 | LENGDEN Oscar | SWE | -6 | 68 | 282 | € 5,413 |
| 17 | SINGH BRAR Jack | ENG | -6 | 70 | 282 | € 5,413 |
| 21 | KIM Minkyu | KOR | -5 | 73 | 283 | € 4,700 |
| 22 | HOEY Michael | NIR | -4 | 72 | 284 | € 4,400 |
| 22 | SODERBERG Sebastian | SWE | -4 | 73 | 284 | € 4,400 |
| 22 | WILSON Oliver | ENG | -4 | 69 | 284 | € 4,400 |
| 25 | HILL Calum | SCO | -2 | 76 | 286 | € 3,838 |
| 25 | KARLSSON Anton | SWE | -2 | 74 | 286 | € 3,838 |
| 25 | LAW David | SCO | -2 | 73 | 286 | € 3,838 |
| 25 | MURRAY Tom | ENG | -2 | 73 | 286 | € 3,838 |
| 25 | SCHNEIDER Marcel | GER | -2 | 70 | 286 | € 3,838 |
| 30 | GAGLI Lorenzo | ITA | -1 | 75 | 287 | € 3,410 |
| 30 | ORRIN Max | ENG | -1 | 72 | 287 | € 3,410 |
| 32 | SAMOOJA Kalle | FIN | 0 | 74 | 288 | € 3,250 |
| 33 | TILEY Steven | ENG | 1 | 72 | 289 | € 3,150 |
| 34 | ROZNER Antoine | FRA | 2 | 75 | 290 | € 3,050 |
| 35 | FERGUSON Ewen | SCO | 3 | 73 | 291 | € 2,975 |
| 35 | VIRTO Borja | ESP | 3 | 75 | 291 | € 2,975 |
| 37 | JOHANNESSEN Kristian Krogh | NOR | 4 | 74 | 292 | € 2,875 |
| 37 | LEON Hugo | CHI | 4 | 73 | 292 | € 2,875 |
| 39 | MEJOW Philipp | GER | 5 | 73 | 293 | € 2,800 |
| 40 | GEYGER Nico | CHI | 6 | 73 | 294 | € 2,725 |
| 40 | McGOWAN Ross | ENG | 6 | 75 | 294 | € 2,725 |
| 42 | MANLEY Stuart | WAL | 7 | 75 | 295 | € 2,650 |
| 43 | FORSSTRÖM Simon | SWE | 8 | 78 | 296 | € 2,600 |
| 44 | STOW Ben | ENG | 9 | 79 | 297 | € 2,550 |
| 45 | PAPADATOS Dimitrios | AUS | 0 | 0 | 0 | € 2,500 |