European/PGA Tours

WGC-HSBC Champions 2018
October 25-28
Sheshan International Golf Club, Shanghai, China
$10,000,000
Live Leaderboard
October 25-28
Sheshan International Golf Club, Shanghai, China
$10,000,000
Live Leaderboard
Round 1
Reed takes early lead in Shanghai
Round 2
Round 3
Round 4
Round 2
Round 3
Round 4
October 25, 2018

Patrick Reed fired a brilliant opening 64 in windy conditions at Sheshan International Golf Club to take the first-round lead at the WGC-HSBC Champions.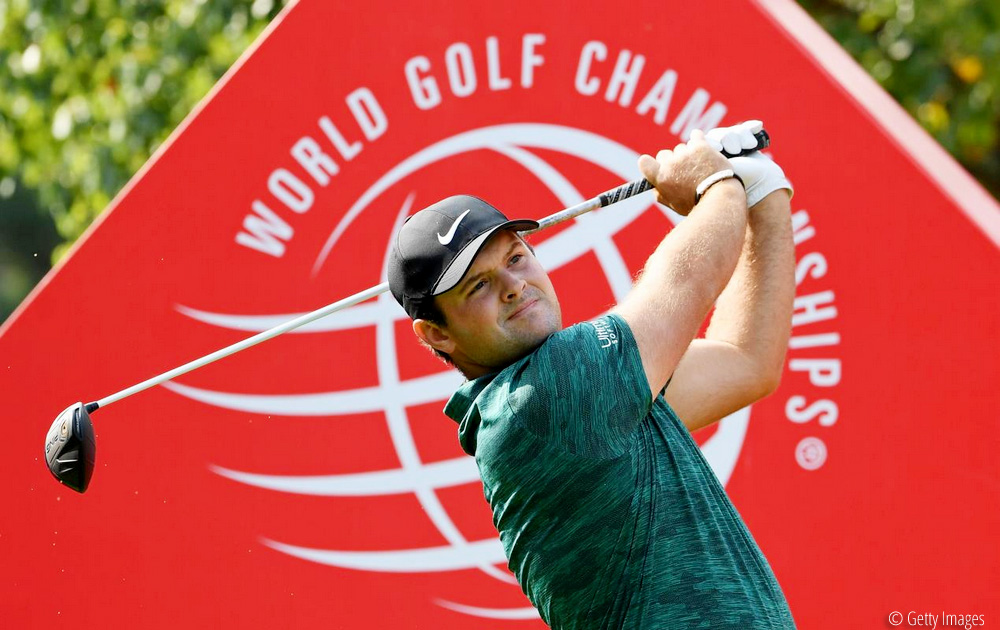 - Getty Images

"It feels great. To be able to come out here and to be the first event back and to feel like I hit the ball really solid. I had full control, especially with how windy it was today."

"It felt really good because if you can go out and shoot rounds like that in these kind of conditions, you know you're going to have confidence when the wind dies down and there are perfect conditions out there."

"I really just need to keep on taking it day by day and try to shoot the lowest round I can each day. Hopefully I'll shoot a couple more of these rounds, I think that will help me out."

The Masters Tournament champion was teeing it up for the first time since The Ryder Cup in Shanghai but he showed no signs of rust, making eight birdies in a bogey-free effort that moved him to eight under, two shots ahead of fellow Americans Tony Finau and Xander Schauffele.

"I'll always take a bogey-free round," said Schauffele, "no matter where we are in the world. It was a little windy. We got our feet wet through the first couple holes. Saved a few. I made a really long par putt early in the round, so I easily could have been over par. We sort of hung in there and gave ourselves some more looks coming down the stretch."

"Kept the ball in the fairway for the most part. We knew it was going to be kind of windy today and a little tricky with the dog legs but yeah, we kept the ball in the fairway for the most part which made the approaches a little easier."

Reed already has one World Golf Championships title to his name at the 2014 WGC-Cadillac Championship and has three top tens to go with his Augusta National triumph this season to sit third in the Race to Dubai Rankings presented by Rolex.

Matthew Fitzpatrick was then at five under, a shot clear of fellow Englishman and current Race to Dubai champion Tommy Fleetwood, Thai Kiradech Aphibarnrat, Spaniard Rafa Cabrera Bello, American Billy Horschel and Taiwan's C.T. Pan.

"It was great but obviously not the ideal start," said Fitzpatrick. "I started on 10, and two over through four I think. Then got it back together and realised in the scorer's hut, it was five birdies in a row from 16 to two. So yeah, it was great."

"I knew I had to stay patient. I really love playing this golf course. Suits my eye well. Played a really great pitch on the par five 14th and that just sort of got my round going, basically."

"It is a strange wind. I don't remember it. Some holes are playing quite short today, and it's a strong wind today. Hope it stays the same and shoot the same scores the next three days, I'll be all right."

Horschel and Pan were both bogey-free in their efforts, with defending champion Justin Rose, 2012 winner Ian Poulter, fellow Englishman Matt Wallace, American Keegan Bradley, South African George Coetzee and Australian Adam Scott a shot further back.
| | | | | |
| --- | --- | --- | --- | --- |
| Pos. | Player | Nat | To Par | R1 |
| 1 | Patrick Reed | USA | -8 | 64 |
| T2 | Tony Finau | USA | -6 | 66 |
| T2 | Xander Schauffele | USA | -6 | 66 |
| 4 | Matthew Fitzpatrick | ENG | -5 | 67 |
| T5 | Billy Horschel | USA | -4 | 68 |
| T5 | Cheng Tsung Pan | TPE | -4 | 68 |
| T5 | Kiradech Aphibarnrat | THA | -4 | 68 |
| T5 | Rafael Cabrera Bello | ESP | -4 | 68 |
| T5 | Tommy Fleetwood | ENG | -4 | 68 |
| T10 | Adam Scott | AUS | -3 | 69 |
| T10 | George Coetzee | RSA | -3 | 69 |
| T10 | Ian Poulter | ENG | -3 | 69 |
| T10 | Justin Rose | ENG | -3 | 69 |
| T10 | Keegan Bradley | USA | -3 | 69 |
| T10 | Matt Wallace | ENG | -3 | 69 |
| T16 | Alexander Bjoerk | SWE | -2 | 70 |
| T16 | Andrew Putnam | USA | -2 | 70 |
| T16 | Chez Reavie | USA | -2 | 70 |
| T16 | Emiliano Grillo | ARG | -2 | 70 |
| T16 | Kyle Stanley | USA | -2 | 70 |
| T16 | Pat Perez | USA | -2 | 70 |
| T16 | Patrick Cantlay | USA | -2 | 70 |
| T16 | Ryan Fox | NZL | -2 | 70 |
| T24 | Alexander Levy | FRA | -1 | 71 |
| T24 | JC Ritchie | RSA | -1 | 71 |
| T24 | Jason Day | AUS | -1 | 71 |
| T27 | Adam Bland | AUS | Par | 72 |
| T27 | Adrian Otaegui | ESP | Par | 72 |
| T27 | Andrea Pavan | ITA | Par | 72 |
| T27 | Andy Sullivan | ENG | Par | 72 |
| T27 | Branden Grace | RSA | Par | 72 |
| T27 | Brooks Koepka | USA | Par | 72 |
| T27 | Gaganjeet Bhullar | IND | Par | 72 |
| T27 | Hideki Matsuyama | JPN | Par | 72 |
| T27 | Rory McIlroy | NIR | Par | 72 |
| T27 | Satoshi Kodaira | JPN | Par | 72 |
| T27 | Sihwan Kim | KOR | Par | 72 |
| T27 | Tyrrell Hatton | ENG | Par | 72 |
| T27 | Wenchong Liang | CHN | Par | 72 |
| T27 | Xinjun Zhang | CHN | Par | 72 |
| T41 | Ashun Wu | CHI | 1 | 73 |
| T41 | Brett Rumford | AUS | 1 | 73 |
| T41 | Brian Harman | USA | 1 | 73 |
| T41 | Haotong Li | CHN | 1 | 73 |
| T41 | Jon Rahm | ESP | 1 | 73 |
| T41 | Jorge Campillo | ESP | 1 | 73 |
| T41 | Paul Casey | ENG | 1 | 73 |
| T41 | Scott Vincent | ZIM | 1 | 73 |
| T49 | Adam Hadwin | CAN | 2 | 74 |
| T49 | Alexander Noren | SWE | 2 | 74 |
| T49 | Brandon Stone | RSA | 2 | 74 |
| T49 | Charley Hoffman | USA | 2 | 74 |
| T49 | Dustin Johnson | USA | 2 | 74 |
| T49 | Jason Norris | AUS | 2 | 74 |
| T49 | Julian Suri | USA | 2 | 74 |
| T49 | Patton Kizzire | USA | 2 | 74 |
| T49 | Russell Knox | SCO | 2 | 74 |
| T49 | Yuki Inamori | JPN | 2 | 74 |
| T59 | Brandt Snedeker | USA | 3 | 75 |
| T59 | Byeong-Hun An | KOR | 3 | 75 |
| T59 | Jason Scrivener | AUS | 3 | 75 |
| T59 | John Catlin | USA | 3 | 75 |
| T59 | Kevin Na | USA | 3 | 75 |
| T59 | Thomas Pieters | BEL | 3 | 75 |
| T59 | Thorbjorn Olesen | DEN | 3 | 75 |
| T59 | William Liu | CHN | 3 | 75 |
| T59 | Yuta Ikeda | JPN | 3 | 75 |
| T68 | Bowen Xiao | CHN | 4 | 76 |
| T68 | Cameron Smith | AUS | 4 | 76 |
| T68 | Erik Van Rooyen | RSA | 4 | 76 |
| T68 | Francesco Molinari | ITA | 4 | 76 |
| T68 | Justin Harding | RSA | 4 | 76 |
| T73 | Lucas Bjerregaard | DNK | 5 | 77 |
| T73 | Oliver Bekker | RSA | 5 | 77 |
| T73 | Sang-Hyun Park | KOR | 5 | 77 |
| 76 | Carl Yuan | CHN | 6 | 78 |
| 77 | Shubhankar Sharma | IND | 8 | 80 |
| RET | Chris Wood | ENG | Par | - |
| | | | | |
| --- | --- | --- | --- | --- |
| Pos. | Player | Nat | To Par | R1 |
| 1 | Patrick Reed | USA | -8 | 64 |
| T2 | Tony Finau | USA | -6 | 66 |
| T2 | Xander Schauffele | USA | -6 | 66 |
| 4 | Matthew Fitzpatrick | ENG | -5 | 67 |
| T5 | Billy Horschel | USA | -4 | 68 |
| T5 | Cheng Tsung Pan | TPE | -4 | 68 |
| T5 | Kiradech Aphibarnrat | THA | -4 | 68 |
| T5 | Rafael Cabrera Bello | ESP | -4 | 68 |
| T5 | Tommy Fleetwood | ENG | -4 | 68 |
| T10 | Adam Scott | AUS | -3 | 69 |
| T10 | George Coetzee | RSA | -3 | 69 |
| T10 | Ian Poulter | ENG | -3 | 69 |
| T10 | Justin Rose | ENG | -3 | 69 |
| T10 | Keegan Bradley | USA | -3 | 69 |
| T10 | Matt Wallace | ENG | -3 | 69 |
| T16 | Alexander Bjoerk | SWE | -2 | 70 |
| T16 | Andrew Putnam | USA | -2 | 70 |
| T16 | Chez Reavie | USA | -2 | 70 |
| T16 | Emiliano Grillo | ARG | -2 | 70 |
| T16 | Kyle Stanley | USA | -2 | 70 |
| T16 | Pat Perez | USA | -2 | 70 |
| T16 | Patrick Cantlay | USA | -2 | 70 |
| T16 | Ryan Fox | NZL | -2 | 70 |
| T24 | Alexander Levy | FRA | -1 | 71 |
| T24 | JC Ritchie | RSA | -1 | 71 |
| T24 | Jason Day | AUS | -1 | 71 |
| T27 | Adam Bland | AUS | Par | 72 |
| T27 | Adrian Otaegui | ESP | Par | 72 |
| T27 | Andrea Pavan | ITA | Par | 72 |
| T27 | Andy Sullivan | ENG | Par | 72 |
| T27 | Branden Grace | RSA | Par | 72 |
| T27 | Brooks Koepka | USA | Par | 72 |
| T27 | Gaganjeet Bhullar | IND | Par | 72 |
| T27 | Hideki Matsuyama | JPN | Par | 72 |
| T27 | Rory McIlroy | NIR | Par | 72 |
| T27 | Satoshi Kodaira | JPN | Par | 72 |
| T27 | Sihwan Kim | KOR | Par | 72 |
| T27 | Tyrrell Hatton | ENG | Par | 72 |
| T27 | Wenchong Liang | CHN | Par | 72 |
| T27 | Xinjun Zhang | CHN | Par | 72 |
| T41 | Ashun Wu | CHI | 1 | 73 |
| T41 | Brett Rumford | AUS | 1 | 73 |
| T41 | Brian Harman | USA | 1 | 73 |
| T41 | Haotong Li | CHN | 1 | 73 |
| T41 | Jon Rahm | ESP | 1 | 73 |
| T41 | Jorge Campillo | ESP | 1 | 73 |
| T41 | Paul Casey | ENG | 1 | 73 |
| T41 | Scott Vincent | ZIM | 1 | 73 |
| T49 | Adam Hadwin | CAN | 2 | 74 |
| T49 | Alexander Noren | SWE | 2 | 74 |
| T49 | Brandon Stone | RSA | 2 | 74 |
| T49 | Charley Hoffman | USA | 2 | 74 |
| T49 | Dustin Johnson | USA | 2 | 74 |
| T49 | Jason Norris | AUS | 2 | 74 |
| T49 | Julian Suri | USA | 2 | 74 |
| T49 | Patton Kizzire | USA | 2 | 74 |
| T49 | Russell Knox | SCO | 2 | 74 |
| T49 | Yuki Inamori | JPN | 2 | 74 |
| T59 | Brandt Snedeker | USA | 3 | 75 |
| T59 | Byeong-Hun An | KOR | 3 | 75 |
| T59 | Jason Scrivener | AUS | 3 | 75 |
| T59 | John Catlin | USA | 3 | 75 |
| T59 | Kevin Na | USA | 3 | 75 |
| T59 | Thomas Pieters | BEL | 3 | 75 |
| T59 | Thorbjorn Olesen | DEN | 3 | 75 |
| T59 | William Liu | CHN | 3 | 75 |
| T59 | Yuta Ikeda | JPN | 3 | 75 |
| T68 | Bowen Xiao | CHN | 4 | 76 |
| T68 | Cameron Smith | AUS | 4 | 76 |
| T68 | Erik Van Rooyen | RSA | 4 | 76 |
| T68 | Francesco Molinari | ITA | 4 | 76 |
| T68 | Justin Harding | RSA | 4 | 76 |
| T73 | Lucas Bjerregaard | DNK | 5 | 77 |
| T73 | Oliver Bekker | RSA | 5 | 77 |
| T73 | Sang-Hyun Park | KOR | 5 | 77 |
| 76 | Carl Yuan | CHN | 6 | 78 |
| 77 | Shubhankar Sharma | IND | 8 | 80 |
| RET | Chris Wood | ENG | Par | - |