Twitter isn't everyone's cup of tea but one of those debates that can erupt out of nowhere from just one tweet got me wondering about the relative merits of the greatest players ever to pick up a club.
In terms of the best this and greatest that, millions of conversations must have been had over time. However perhaps the most interesting one to be had is who you slide in straight after Jack Nicklaus and Tiger Woods.
Of course there are some wise old sages who would argue certain legends of the game actually deserve a spot in the top two. But let's just make giant assumption from the very start. Let's just say their places at the peak of summit are undeniable.
Who comes third?
The more you think about it, the more fascinating the debate becomes and the first job is to actually assemble a manageable field of runners and riders. This is where the suggestions, I would hazard a guess, would get slightly out of hand if you put it to the masses. Probably best not ask Ian Poulter, just in case he nominates himself.
So who is in line for bronze? Well I have actually limited myself to players from the last 100 years. Apologies to fans of Harry Vardon, Old Tom Morris et al… I just had to be brutal here, purely based on the fact the game was not quite big enough then and their titles were won in a time when the fields were not strong enough to make a proper assessment of their merits.
I have also had to ignore players in the middle of their careers. How many Majors will Rory McIlroy win? Impossible to say… how long is a piece of string? How many people will Patrick Reed block on Twitter before he retires? 
I have managed to whittle the possibles down to ten after some considerable to-ing and fro-ing. So here they are, in the order they were born and my big reveal comes at the bottom of the page.
Walter Hagen
Hagen was golf's first bona fide superstar and blazed a trail for professionals when the amateur game was still king. He won his first of 11 Majors in 1914 aged just 21 and, when the first World War finished, the brash New Yorker swept all before him. 
In terms of Majors won, Hagen still ranks third on the list with 11 but there are some caveats attached. For starters five of his Majors were USPGAs when it was still a matchplay tournament. A bit easier to beat five players than the whole field.
On the flip side the Masters did not start until 1934 when Hagen was 41. His last Major came in 1929 so he was past his best when the fourth Major became available to him.
Bobby Jones
If Hagen was the superstar, Bobby Jones was the phenomenon and that's not even taking into account his Masters legacy.
A qualified lawyer, he never turned professional and stopped playing in 1930 at the age of 28. He had just completed 'The Grand Slam' – The Open, US Open, US Amateur and British Amateur. Jones could not play in the USPGA.
Jones had a swing that Gary Player has called 'perfection' and while modern coaches might frown at his 'over the top' action, from a fluidity and grace perspective… Jones is difficult to eclipse.
It also must have been incredibly repeatable because The Great Man, from a scoring perspective, raised the bar like no-one else. Not even Tiger. For his three Open victories at Royal Lytham (26), St Andrews (27) and Royal Liverpool (30), Jones was, cumulatively, seven over par. Contrast that to Hagen, who won the same event in 1922, '24, '28 and '29. He was, cumlatively, +41 across those four championships and Jones did not play in any of them.
Sam Snead
If you have never watched Sam Snead swing a golf club, you should stop reading this and take a quick gander on YouTube. It is a thing of beauty.
Snead must have been quite the athlete because, not only was he the first of golf's globally-famous big hitters, his longevity in the sport has gone down in folklore. In later life he beat his age so many times he stopped counting. Aged 62 he tied for third in the USPGA, 37 years after he made his debut in the competition.
In the intervening years he won seven Majors but British crowds were denied the opportunity to see him in his pomp. This was mostly due to the logisitical problem of playing in the USPGA and The Open in the 50s, with both taking place in July.  But also his experience at the 1946 Open at St Andrews was not particularly enjoyable, even though he won. He would not return to the UK for 16 years.
Snead won a staggering 82 PGA events – his last coming at the age of 52 – and he did all that when arguably his absolute peak years were wiped out by the Second World War.
Ben Hogan
1912 was a good year for golf. In May Samuel Snead was born in Virginia and just three months later so was Texan William Ben Hogan.
To many of a very specific era, Hogan is the greatest and it is easy to see why thousands hold that opinion when you consider what he did and how he did it. His dedication to practising and mastering the art of swinging a golf club became the stuff of legend and that distinctly flat arc remains a truly iconic part of golf's wonderful history.
Hogan won nine Majors, famously collecting three in 1953. It was the only time he played in The Open, winning by four shots at Carnoustie.
Just four years earlier the car he was driving collided head-on with a bus and such were his injuries, doctors advised him he would almost certainly never walk again. Not only did he do that but he won six of his Majors after the accident and he remains, at the time of writing, one of only five players to have won all four Majors.
Arnold Palmer
If charisma was a major factor in deciding No 3, then Palmer would be difficult to beat. For ten years or so he was the star of professional golf and probably helped popularise the sport more than any other player.
Critically the seven-time Major champion also embraced The Open. With the help of the rapidly-developing flight industry, Palmer was able to make the annual pilgrimage to The Open and dazzled British golf fans like no one else before. He finished second, first and first on his first three visits.
His deeds illuminated the start of the anything-is-possible TV age, famously coming from seven back on the final day to claim the US Open for the one and only time in 1960.
However the USPGA always eluded him. His best finish in that event was tied for second in 1964.
Gary Player
No player dedicated himself to becoming 'the best in the world' quite like Gary Player. If ever a golfer proved the old adage that 'genius is 1% inspiration and 99% perspiration' it was the South African.
Player famously became a master out of bunkers and had a brilliant all-round game. He was also, arguably, the first of the game's true leading lights to really drill down into the concept of marginal gains. That ensured his short game was razor sharp at all times.
His dedication earned him nine Majors, including a stunning victory in the 1978 Masters at the age of 42. That came 19 years after his first at the 1959 Open.
Tom Watson
Had Tom Watson won the 2009 Open, the psychological effect of a soon-to-be-60-year-old claiming such a prestigious title might have propelled into an unquestionable third place.
I know, in the end, it actually came down to just one putt, but the fact he missed makes such a massive difference. And I know it shouldn't.
As it was, Watson had a brilliant career and the manner in which he fought off Jack Nicklaus at Turnberry in 1977 remains one of the game's most iconic moments.
He won five Opens in nine years but was another to just miss out on joining the 'Grand Slam' club. His big miss was in the USPGA. In 1978 he led by five going into the final round at Oakmont before losing out to John Mahaffey in a play-off.
Seve Ballesteros
What can you say about Seve? In fact has there ever been a more charismatic sporting star? Nevermind in golf.
To watch Ballesteros in full flow was an actual privilege. I got to see him play out of a bunker at the 1988 Open at Royal Troon and he did not disappoint. Where Seve went… the atmosphere crackled.
He broke down the door on American domination and his feats heralded a golden era of European golf. He won five Majors but problems with his back would plague him for most of his career.
His long-time caddy Billy Foster called him 'the ultimate warrior'. His will to win was almost unnatural but he had the skills and the game to back it up. 
Sir Nick Faldo
1957 was definitely a good year for European golf. Three of the continent's all-time greats were born that year – Seve, Bernhard Langer and Sir Nick Faldo.
In so many respects Faldo was the antithesis of the legendary Spaniard. He was 'mechanical' rather than flamboyant but his introverted 'on-course' persona distracted watchers from his own prodigious shot-making abilities.
Faldo was also a brilliant winner. Some think he got lucky – who can forget Scott Hoch and Greg Norman at The Masters – but you have to be ready to pounce and boy did the Englishman do that in 1996 during that legendary final day at Augusta.
He also won six Majors at a time when competition was particularly fierce and the way he remodelled his swing in the early 80s, gives a great insight into the dedication he had to make himself as good a player as possible.
Phil Mickelson
For all that has happened with regards to Phil Mickelson over the last couple of years, it should not be forgotten he has been an elite-level golfer for 30 years.
The moment he won a PGA Tour event as an amateur in 1991, Mickelson looked like a superstar and he still is one.
The only lefthander on my list… his legendary short game will be what most people remember him for. However when he was right on it, he was definitely a contender for the No 3 spot although it is easy to forget he did not win his first Major until the age of 33. 
His victory at the 2021 USPGA Championship secured his spot in the history books as Major Golf's oldest winner.
However six times he was runner-up at the US Open and that Major is the only one he failed to win.
The Final verdict
In time-honoured tradition I have to start with a few honourable mentions for those who didn't make the ten – notably Gene Sarazen, Lee Trevino, Greg Norman and Ernie Els. All were so close to my ten. These things aren't easy.
However let's get straight to the point… the third best golfer in history has to tick nearly all the boxes so I can rule a few out straight away.
Snead and Hagen just made it into the ten. Longevity they both had in spades…absolutely. But both won a lot of tournaments that did not have the strength in depth events do now.
Also, most critically, both were also outshone by others of their era.
Ballesteros didn't have longevity and while his fire certainly burned brightly while he was in his pomp, he also missed a lot of cuts in Majors for a player of his calibre.
Faldo was superb but just doesn't have the X Factor. He was certainly a great player but so is everyone else mentioned in this feature.
Watson probably just about did have the X Factor but we are now down to very fine margins and he just misses out on my final-final consideration list because he won so many Majors when there was a bit of a dip in the quality of competition at the very top of the game. Between 80 and 84, Nicklaus, Trevino and Player were well past their best while Norman and Faldo were yet to reach theirs.
Likewise Mickelson, who has brought so much to the party, just doesn't possess that extra something that others do although he could still win two more Majors. If his head is in the right place and he gets a bit of luck anything is possible.
Which leaves us with four – Jones, Hogan, Palmer and Player. This is where it gets really difficult.
All of them possess such attractive qualities it is almost impossible to choose.
However, from where I sit, one of them  just edges it. 
Maybe it's the mystique of the man and his enduring influence on the game that just gives Ben Hogan the edge.
Also, without that car accident and the Second World War, just what would he have achieved? He also created his own way of holding the club and swinging it. Who does that?
Jack Nicklaus called him the 'greatest ball striker' of all time. 
As I mentioned… to so many he was the greatest of all time but, without doubt, he definitely makes a pretty good No 3.
My top 12
1) Tiger Woods
2) Jack Nicklaus
3) Ben Hogan
4) Bobby Jones
5) Gary Player
6) Arnold Palmer
7) Phil Mickleson
8) Tom Watson
9) Nick Faldo
10) Seve Ballesteros
11) Sam Snead
12) Walter Hagen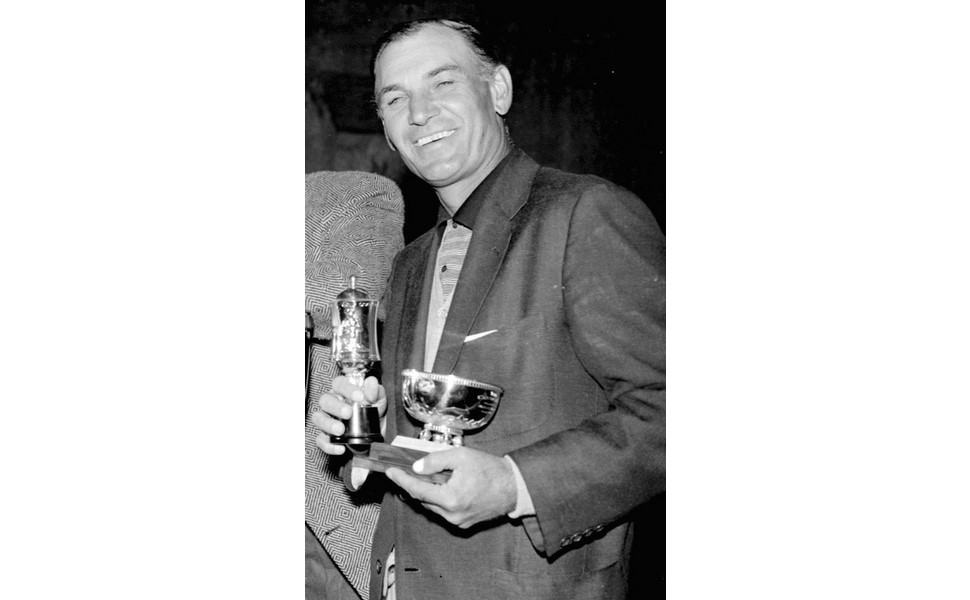 A letter from America
Dear Mark,
Having covered 100+ plus major championships, along with ten Ryder Cup matches, I've been most fortunate in being on the frontlines watching the elite players tee it up.
A few comments.
You have been very kind to Arnold Palmer.
The King's mark on the game came more so on the non-golf side of things – the charisma and the intersection with television being broadcast to millions globally.
A good number of his wins – including majors were between 1958 and 1962 – came just before the ascension of Nicklaus and Player and even the likes of Billy Casper. Arnold's impact on the Majors essentially came to an end in 1964 at age 34 with his fourth green jacket. Let's not also forget the meltdown in the 1966 US Open at The Olympic Club. Amazingly, his losses were an equal to his wins.
One other name not in your top 12 is Lee Trevino, a winner of six majors and, besides Hogan, the second best shotmaker in the sport's history, according to a number of expert eyes.
Also, able to take down Nicklaus at key moments – the 1971 US Open win at Merion, the triumph at Muirfield in The Open a year later and his swan song at the 1984 PGA Championship at Shoal Creek.
I would have the Merry Mex grabbing a top 12 position.
I think you also understated the impact of Harry Vardon. He was golf's really first global superstar although his travels were limited. Tillinghast, who saw them both, said Vardon was ahead of even Jones.
There was also no mention of Byron Nelson. His game accomplished much, albeit in abbreviated years, before self-imposed retirement to live with his wife on his ranch in Texas. Hard to say what he would have accomplished if he played longer than age 34.
Let me highlight that I don't view all four majors in equal terms. The Open Championship and the US Open share equal billing. They are the two oldest and are the highest competitions on behalf of the two leading global golf organizations.
The Masters is an invitational with a limited field and played at the same site each year. Built in advantages come with that. The PGA Championship has always been the fourth wheel and even with recent improvements will likely forever stay in that position.
A few other points … I don't agree with Mickelson ahead of Watson. The eight major wins by Tom speak for themself. He beat Nicklaus three times in key meetings at the '77 Masters, the 'Duel in the Sun' at Turnberry was epic and how can anyone forget the 17th hole chip in at Pebble Beach in 1982 ... denying Nicklaus, a record fifth US Open.
Watson was clearly the top player in the world for a prolonged period of time. Mickelson was always in the shadow of Tiger and his real epic triumph was the 2013 win at The Open at Muirfield. Yes, he won the PGA at 50 but if not for an eight iron that did not hold at the 2009 Open Championship, Watson would have been the oldest winner of a major at 59.
I would have Nicklaus and Woods sharing the top spot.
Tiger had the best decade plus of play from the 1997 Masters to 2008 US Open at Torrey. But Jack counters that with his durability and longevity. There's also the 18 majors and 19-runner-ups. Woods can counter with the Tiger Slam, a 15-shot US Open win in 2000 followed-up with an 8-stroke win at the Old Course at St Andrews.
On the counter side, let's not forget Jack played with balata golf balls and persimmon heads and had the long drive record of 341 yards set back in 1963 as a preliminary to him winning the PGA Championship that year.
Think about what the Golden Bear would have accomplished with 460 cc heads and Pro V1X golf balls! On the flip side Tiger had more ability to play a wider range of shots and an impeccable short game. The Nicklaus bunker play was average.
It's a toss-up on the putter side. Jack is the better overall driver and while Nicklaus rates a slight edge with the long iron. Tiger counters as the better middle and short iron player.
So, here's my top 12:
1= Jack Nicklaus and Tiger Woods
3) Ben Hogan
4) Bobby Jones
5) Gary Player
6) Walter Hagen
7) Tom Watson
8) Sam Snead
9) Lee Trevino
10) Phil Mickelson
11) Seve Ballesteros
12) Nick Faldo
Cheers,
M. James Ward