March 07-10
Queanbeyan Golf Club, Oatlands, New South Wales, Australia
A$150,000
Co-sanction: ALPG Tour
---
Valdis Thora Jonsdottir from Iceland followed up her impressive opening day's 63 with a one-under-par 70 to hold a two-stroke lead after the second day of the Women's New South Wales Open presented by Worrells on Friday.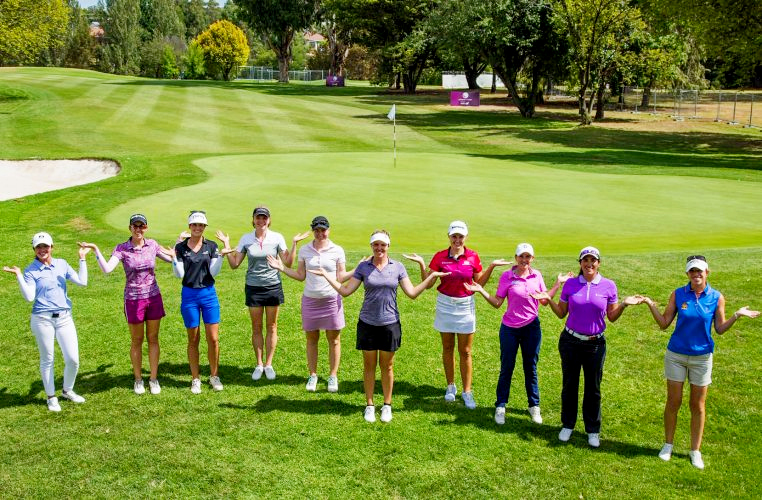 © Ladies European Tour
---
Hot on her heels is the rising German star Karolin Lampert, who shot the joint best round of the day with her 65. That score equalled Lynn Carlsson's 65 and the Swede is tied for third with the defending champion Meghan MacLaren, who shot a five-under 66 at Queanbeyan Golf Club.
Jonsdottir began the day with a bogey on the first hole, but quickly recovered with a birdie on the second. She birdied the fifth, but bogeyed the sixth, before making an eagle on the seventh to round off the front nine in two-under 34.
The Texas State University graduate completed the back nine in one-over after bogeys on the 11th, 12th and 14th, against birdies on the 13th and 18th.
The 29-year-old described her round as a challenge, fighting a misbehaving driver, and approach shots which didn't have the radar like the consistency of her first round eight-under par effort.
"It was a bit of a battle today, honestly," she smiled. "I didn't hit very nicely off the tee; I only hit three fairways, as opposed to four yesterday.
"My irons weren't as aggressive today as they were yesterday, so I'm happy with one under based on how I hit the ball. My rhythm was off but it will be back tomorrow."
Asked about the mental challenge of backing up her incredibly low first round score, Jonsdottir said she hadn't thought much about it until the phone calls, and messages from Iceland began to appear on her phone.
"I tried not to think about it, but Iceland is 11 hours behind Australia, and I kept on getting messages yesterday & this morning as I woke up, reminding me of what I did yesterday. I tried to block it out and start a new day today."
Lampert, 24, from St. Leon-Rot, (above) made a big move on day two with seven birdies and just one bogey, at the second, on her card.
"It was great fun today. I only made one bogey, where I hit it in the trees, so no chance to make par there. I hit it close and rolled some nice putts in, so it was great. I almost had an eagle on the 16th, but I just left my eagle putt a bit short so I was really happy about my birdie there.
"The greens are quite small here, so whenever you're on the green, you have a good chance for birdie."
Lynn Carlsson climbed 16 places with her 65, which included five birdies and an eagle on the par-5 seventh. The Swede was thrilled with her effort post round.
"I'm very happy, and I got into a good flow in the middle of the round, an eagle on 7 and a birdie on 8 and 9.
"I played solid, hit a lot of greens. I'm very comfortable with my putting, so it was a very good day."
MacLaren, 24, from Rushden, Northamptonshire, was also thrilled to be back in contention after her round containing seven birdies and two bogeys.
"Everything was just on it today and I felt comfortable. I had two bad tee shots, which cost me bogeys, and to bogey 16 feels like I've given a shot and a half back, but I made up for it on the last. I felt really in control today.
"Any time you're in contention going into the weekend in a tournament you're in a good spot and this one feels more special because of last year. It's a good place to be."
Australian Rebecca Artis, Scotland's Michele Thomson, Austrian Christine Wolf and Munchin Keh from New Zealand are in a tie for fifth, another shot back, at five-under-par.
Although pleased to be where she is on the leader board, Artis felt she still had room for improvement in her game.
"I didn't play quite as well today," she said. "I hit 17 greens yesterday, so it's always tough to back it up."
"I got off to a slow start but stayed patient. I hit a couple of decent shots, and I am feeling confident with the putter. I knocked one in close on par 16th, and one on 18th. I made both of those.
"I felt I played better on my back nine today and tried to hang in there. Hopefully, I can get it going on the weekend."
---
Thomson, who will turn 31 on Monday, had four birdies and two bogeys to remain in the hunt for her first title on the Ladies European Tour.
She said: "It was a steady round really and I holed a few putts. I finished the front nine birdie, birdie, which set me up for a good back nine and I had some chances I didn't take but holed a nice one on the 18th for birdie, from 15 feet.
"I've been playing well, I just haven't putted well and obviously yesterday I played well. Today was similar. This course suits me being tight and the greens are small, so it reminds me of where I played as a youngster."
On International Women's Day, the players, caddies and organisers wore purple to mark the occasion, with the 2019 theme being 'a better balance.'
She added: "It's really good to see everyone supporting International Women's Day and I thought I'd get on board by wearing purple."
---
| | | | | | |
| --- | --- | --- | --- | --- | --- |
| Pos. | Pkayer | To Par | R1 | R2 | Total |
| 1 | Valdis Thora Jonsdottir (ISL) | -9 | 63 | 70 | 133 |
| 2 | Karolin Lampert (GER) | -7 | 70 | 65 | 135 |
| 3 | Lynn Carlsson (SWE) | -6 | 71 | 65 | 136 |
| 3 | Meghan MacLaren (ENG) | -6 | 70 | 66 | 136 |
| 5 | Michele Thomson (SCO) | -5 | 68 | 69 | 137 |
| 5 | Rebecca Artis (AUS) | -5 | 67 | 70 | 137 |
| 5 | Christine Wolf (AUT) | -5 | 71 | 66 | 137 |
| 5 | Munchin Keh (NZL) | -5 | 69 | 68 | 137 |
| 9 | Astrid Vayson De Pradenne (FRA) | -4 | 66 | 72 | 138 |
| 9 | Manon De Roey (BEL) | -4 | 72 | 66 | 138 |
| 9 | Felicity Johnson (ENG) | -4 | 69 | 69 | 138 |
| 12 | Diksha Dagar (IND) | -3 | 72 | 67 | 139 |
| 13 | Silvia Banon (ESP) | -2 | 73 | 67 | 140 |
| 13 | Sideri Vanova (CZE) | -2 | 72 | 68 | 140 |
| 13 | Cassie Porter (AUS) (a) | -2 | 71 | 69 | 140 |
| 13 | Grace Kim (AUS) (a) | -2 | 73 | 67 | 140 |
| 13 | Patricia Sanz Barrio (ESP) | -2 | 71 | 69 | 140 |
| 13 | Gabriella Cowley (ENG) | -2 | 71 | 69 | 140 |
| 19 | Emma Nilsson (SWE) | -1 | 70 | 71 | 141 |
| 19 | Carly Booth (SCO) | -1 | 69 | 72 | 141 |
| 19 | Carmen Alonso (ESP) | -1 | 67 | 74 | 141 |
| 19 | Laura Fuenfstueck (GER) | -1 | 72 | 69 | 141 |
| 19 | Beth Allen (USA) | -1 | 73 | 68 | 141 |
| 24 | Mireia Prat (ESP) | Par | 71 | 71 | 142 |
| 24 | Manon Gidali (FRA) | Par | 68 | 74 | 142 |
| 24 | Sarah Kemp (AUS) | Par | 71 | 71 | 142 |
| 24 | Amelia Lewis (USA) | Par | 70 | 72 | 142 |
| 24 | Camilla Lennarth (SWE) | Par | 73 | 69 | 142 |
| 29 | Sarah Nilsson (SWE) | 1 | 71 | 72 | 143 |
| 29 | Amandeep Drall (IND) | 1 | 73 | 70 | 143 |
| 29 | Astha Madan (IND) | 1 | 74 | 69 | 143 |
| 29 | Britteney Dryland (AUS) (a) | 1 | 71 | 72 | 143 |
| 29 | Lejan Lewthwaite (RSA) | 1 | 71 | 72 | 143 |
| 29 | Lina Boqvist (SWE) | 1 | 74 | 69 | 143 |
| 29 | Maria Palacios (PER) | 1 | 71 | 72 | 143 |
| 36 | Celina Yuan (AUS) | 2 | 71 | 73 | 144 |
| 36 | Isabelle Taylor (AUS) (a) | 2 | 71 | 73 | 144 |
| 36 | Noemi Jimenez Martin (ESP) | 2 | 74 | 70 | 144 |
| 36 | Grace Lennon (AUS) | 2 | 72 | 72 | 144 |
| 36 | Miki Nishiyama (JPN) | 2 | 73 | 71 | 144 |
| 36 | Emilie Alonso (FRA) | 2 | 73 | 71 | 144 |
| 36 | Filippa Moerk (SWE) | 2 | 72 | 72 | 144 |
| 36 | Sian Evans (ENG) | 2 | 74 | 70 | 144 |
| 36 | Isabelle Boineau (FRA) | 2 | 74 | 70 | 144 |
| 36 | Chantelle Cassidy (NZL) | 2 | 71 | 73 | 144 |
| 36 | Kelsey Macdonald (SCO) | 2 | 74 | 70 | 144 |
| 47 | Nina Pegova (RUS) | 3 | 69 | 76 | 145 |
| 47 | Ursula Wikstrom (FIN) | 3 | 74 | 71 | 145 |
| 47 | Tamie Durdin (AUS) | 3 | 72 | 73 | 145 |
| 47 | Yan Liu (CHN) | 3 | 74 | 71 | 145 |
| 47 | Ingrid Gutierrez Nunez (MEX) | 3 | 70 | 75 | 145 |
| 47 | Savannah Vilaubi (USA) | 3 | 76 | 69 | 145 |
| 47 | Whitney Hillier (AUS) | 3 | 69 | 76 | 145 |
| 47 | Lucrezia Colombotto Rosso (ITA) | 3 | 75 | 70 | 145 |
| 47 | Esther Henseleit (GER) | 3 | 70 | 75 | 145 |
| 47 | Sarah Schober (AUT) | 3 | 75 | 70 | 145 |
| 47 | Julia Engstrom (SWE) | 3 | 73 | 72 | 145 |
| 47 | Karoline Lund (NOR) | 3 | 75 | 70 | 145 |
| 59 | Caryn Khoo (AUS) (a) | 4 | 73 | 73 | 146 |
| 59 | Breanna Gill (AUS) | 4 | 72 | 74 | 146 |
| 59 | Justine Dreher (FRA) | 4 | 77 | 69 | 146 |
| 59 | Marianne Skarpnord (NOR) | 4 | 76 | 70 | 146 |
| 59 | Johanna Gustavsson (SWE) | 4 | 72 | 74 | 146 |
| 59 | Kylie Henry (SCO) | 4 | 75 | 71 | 146 |
| 59 | Tahnia Ravnjak (AUS) | 4 | 74 | 72 | 146 |
| 59 | Onkanok Soisuwan (THA) | 4 | 75 | 71 | 146 |
| 67 | Kayla Jones (USA) | 5 | 75 | 72 | 147 |
| 67 | Elia Folch (ESP) | 5 | 75 | 72 | 147 |
| 67 | Tvesa Malik (IND) | 5 | 79 | 68 | 147 |
| 67 | Charlotte Thompson (ENG) | 5 | 74 | 73 | 147 |
| 67 | Cloe Frankish (ENG) | 5 | 74 | 73 | 147 |
| 67 | Krista Bakker (FIN) | 5 | 74 | 73 | 147 |
| 67 | Emie Peronnin (FRA) | 5 | 70 | 77 | 147 |
| 67 | Kim Metraux (SUI) | 5 | 73 | 74 | 147 |
| 67 | Melanie Maetzler (SUI) | 5 | 76 | 71 | 147 |
| 67 | Agathe Sauzon (FRA) | 5 | 77 | 70 | 147 |
| 67 | Tonje Daffinrud (NOR) | 5 | 75 | 72 | 147 |
| 67 | Katelyn Must (AUS) | 5 | 75 | 72 | 147 |
| 67 | Amy Walsh (AUS) | 5 | 74 | 73 | 147 |
| 67 | Ana Menendez (MEX) | 5 | 72 | 75 | 147 |
| 81 | Elmay Viking (COK) | 6 | 75 | 73 | 148 |
| 81 | Becky Morgan (WAL) | 6 | 76 | 72 | 148 |
| 81 | Lydia Hall (WAL) | 6 | 75 | 73 | 148 |
| 81 | Katja Pogacar (SLO) | 6 | 75 | 73 | 148 |
| 81 | Jenna Hunter (NZL) | 6 | 72 | 76 | 148 |
| 81 | Dulcie Sverdloff (ENG) | 6 | 74 | 74 | 148 |
| 81 | Montana Strauss (AUS) | 6 | 76 | 72 | 148 |
| 88 | Sanna Nuutinen (FIN) | 7 | 74 | 75 | 149 |
| 88 | Camille Chevalier (FRA) | 7 | 75 | 74 | 149 |
| 90 | Georgia Clarke (AUS) | 8 | 77 | 73 | 150 |
| 90 | Hye Park (AUS) (a) | 8 | 77 | 73 | 150 |
| 90 | Maha Haddioui (MAR) | 8 | 78 | 72 | 150 |
| 90 | Chloe Leurquin (BEL) | 8 | 77 | 73 | 150 |
| 90 | Florentyna Parker (ENG) | 8 | 75 | 75 | 150 |
| 95 | Manon Molle (FRA) | 9 | 74 | 77 | 151 |
| 95 | Kelsey Bennett (AUS) (a) | 9 | 77 | 74 | 151 |
| 95 | Soo Jin Lee (AUS) | 9 | 80 | 71 | 151 |
| 95 | Hanee Song (NZL) | 9 | 75 | 76 | 151 |
| 99 | Noora Komulainen (FIN) | 10 | 78 | 74 | 152 |
| 99 | Chizuru Ueda (AUS) | 10 | 76 | 76 | 152 |
| 99 | Sock Hwee Koh (SIN) | 10 | 77 | 75 | 152 |
| 99 | Kristalle Blum (AUS) | 10 | 80 | 72 | 152 |
| 99 | Kanyalak Preedasuttijit (THA) | 10 | 77 | 75 | 152 |
| 104 | Becky Brewerton (WAL) | 11 | 80 | 73 | 153 |
| 104 | Annabel Dimmock (ENG) | 11 | 78 | 75 | 153 |
| 106 | Casey Cook (AUS) (a) | 12 | 78 | 76 | 154 |
| 106 | Lara Plachetka-pohl (FRA) | 12 | 77 | 77 | 154 |
| 106 | Cajsa Persson (SWE) | 12 | 78 | 76 | 154 |
| 109 | Dea Mahendra (IDN) | 13 | 75 | 80 | 155 |
| 109 | Lisa Edgar (AUS) (a) | 13 | 81 | 74 | 155 |
| 109 | Gennai Goodwin (AUS) | 13 | 73 | 82 | 155 |
| 109 | Robyn Doig (CAN) | 13 | 74 | 81 | 155 |
| 113 | Brooke Baker (USA) | 14 | 79 | 77 | 156 |
| 113 | Alexis Belton (USA) | 14 | 81 | 75 | 156 |
| 113 | Georgia Iziemgbe Oboh (NGR) | 14 | 78 | 78 | 156 |
| 113 | Nadine White (AUS) | 14 | 79 | 77 | 156 |
| 117 | Victoria Fricot (AUS) | 15 | 78 | 79 | 157 |
| 117 | Momo Sakuragi (JPN) | 15 | 78 | 79 | 157 |
| 119 | Anna Lesher (USA) | 16 | 80 | 78 | 158 |
| 119 | Elizabeth Elmassian (AUS) | 16 | 79 | 79 | 158 |
| 119 | Ines Lescudier (FRA) | 16 | 82 | 76 | 158 |
| 122 | Viva Schlasberg (SWE) | 17 | 80 | 79 | 159 |
| 122 | Kara Williams (AUS) (a) | 17 | 80 | 79 | 159 |
| 122 | Sophie Weilguni (AUS) | 17 | 80 | 79 | 159 |
| 125 | Vani Kapoor (IND) | 18 | 80 | 80 | 160 |
| 125 | Paige Stubbs (AUS) | 18 | 80 | 80 | 160 |
| 125 | Wanasa Zhou (AUS) | 18 | 82 | 78 | 160 |
| 128 | Jade Shellback (AUS) | 19 | 84 | 77 | 161 |
| 128 | Adele Huggard (AUS) | 19 | 77 | 84 | 161 |
| 130 | Elle Sandak (AUS) | 20 | 79 | 83 | 162 |
| 131 | Eileen Kelly (CAN) | 21 | 80 | 83 | 163 |
| 132 | Molly Lavercombe (AUS) | 23 | 87 | 78 | 165 |
| 133 | Amber Thornton (AUS) (a) | 25 | 80 | 87 | 167 |
| 134 | Collette Blacklock (AUS) (a) | 31 | 90 | 83 | 173 |
| 135 | Caroline Hedwall (SWE) | - | 75 | RTD | RTD |
| 135 | Fanny Cnops (BEL) | - | 81 | RTD | RTD |
| 137 | Lauren Taylor (ENG) | - | DSQ | DSQ | DSQ |
| 137 | Valentine Derrey (FRA) | - | DSQ | DSQ | DSQ |
| 137 | Bronte Colbert (AUS) | - | DSQ | DSQ | DSQ |
| 137 | Bree Arthur (AUS) | - | DSQ | DSQ | DSQ |