12) Art Wall 1959, (4th)
As days in the sun go, few enjoyed a warmer one than Pennsylvania's Art Wall.
The hole-in-one specialist – he reportedly had 45 during his life – was in the form of his life as the 1959 Masters swung around but few people were talking about him as a title contender, even going into the last day. After 54 holes Canadian Stan Leonard and Arnold Palmer led on four under while Wall was  six shots back in joint 13th
A three-putt bogey on the tenth appeared to have ended his challenge but it proved to be the lull before an extraordinary storm.
Wall birdied five of the last six holes to triumph by one from Cary Middlecoff although he was helped by a meltdown on 12 from Palmer, who walked off with a seven having led by three.
The champion holed a brilliant 20-footer on 14 and rolled one in from 15 feet on 17 having taken advantage of both par fives.
He then rounded things off in brilliant style at 18, knocking in his approach to 11 feet and sinking it to close out with a 66.
#Masters Countdown: 13 – Position of Art Wall, Jr. after 54 holes, 1959 - Only champ to start Rd. 4 outside top 10. pic.twitter.com/T0voWFHWQb

— Golf Central (@GolfCentral) March 27, 2015
11) Charl Schwartzel 2011, (4th)
It has become the tournament known as the one that got away from Rory McIlroy but that does no justice to the  considerable efforts of Charl Schwartzel in the final round.
Having teed off on Sunday four shots clear, McIlroy's lead was down to one when he pulled his drive deep into the trees at the tenth. The Northern Irishman backed up his triple bogey with a bogey on 11 and then a double on 12.
It left Schwartzel in a tussle with Adam Scott, Jason Day, a charging Tiger Woods and Angel Cabrera but he rose to the challenge in stunning style.
Having birdied 15, 16 and 17, the South African only needed a par to close things out but holed across the green to seal the deal in style.
10) Jack Nicklaus 1965 (3rd)
The manner in which Jack Nicklaus dominated the 1965 Masters left the rest of the sport wondering who could stop this phenomenal talent from Ohio.
Two years earlier Nicklaus had won his first Green Jacket shooting 286. This time around he would tear it up, finishing on 271 (-17) and breaking the 72-hole scoring record that Ben Hogan had held for 12 years (274).
At the heart of it was The Golden Bear's astonishing Saturday effort, a bogey-free 64 which spreadeagled the field.
In the final reckoning he finished nine clear of Arnold Palmer and Gary Player. That victory margin broke the record of seven achieved by Cary Middlecoff in 1955 and it remained the biggest winning margin until Tiger Woods won by 12 in 1997.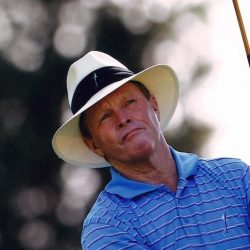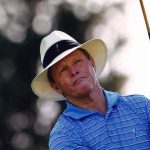 Related: This Kite soared high
Tom Kite is one of the finest golfers never to win The Masters. M James Ward spoke to him about playing Augusta and much more.
9) Tiger Woods 1997 (1st)
In his three previous visits to the Masters Tiger Woods had never made the cut. The three-time US Amateur champion clearly had a lot to prove and Nike's $40m gamble on an untested amateur appeared slightly OTT.
That was especially the case as Woods started the 1997 Masters with a bogey and further blemishes at 4, 8 and 9 left him on four over.
A birdie at 10 steadied the ship but it was his stunning chip-in on 12 which kick-started his professional golf career. Having gone long at the legendary par three he was facing a treacherous chip down the slope towards the water but hit the most beautiful shot, bouncing twice in the rough before dribbling into the hole.
Tiger followed it up with birdie on 13 and an eagle on 15 as his power off the tee came into its own.
On 17 he got to two under for the tournament and remarkably would start his second round in fourth. The rest, as they say, is history.
8) Tiger Woods 2019 (4th)
The 2019 Masters achieved legendary status because of what Tiger Woods achieved but what was also remarkable about that tournament was the number of players who had chances to challenge.
In the final reckoning the top 11 were separated by just three shots. Going into the final round Francesco Molinari led by two with Woods, Koepka, Finau, Schauffele, Justin Harding, Poulter, Rickie Fowler, Dustin Johnson and Matt Kuchar within striking distance.
For Woods to rise to the occasion in such a striking way is testament to his skill and fortitude.
He 'only' shot a 70 to win it but he also knew a bogey on 18 was going to be enough to win it, something he magically did with tens of thousands watching from the fairway and stands.
7) Nick Price 1986 (3rd)
After walking off the first hole in the third round of the 1986 Masters, things were not looking good for Nick Price.
He had done brilliantly to make the cut after opening with a 79 but a bogey at the opener on Saturday meant the popular Zimbabwean was ten behind 36-hole leader Seve Ballesteros.
However, just over three hours later, Price was right in the mix, recording the magical score of 63, the first player to go that low at Augusta.
He birdied 2, 4, 5, 8, 10, 11, 12, 13, 15 and 16 to get himself into the final group on Sunday alongside Greg Norman although he never got going on Sunday and would finish fifth, three behind Jack Nicklaus.
Price's 18-foot birdie effort on 18 also horse-shoed out as he came agonisingly close to the first 62 in Major golf history.