6) Nick Faldo 1996 (4th)
While the narrative around the 1996 Masters centres on the Norman collapse, things might have been very different had the man playing alongside him not played so superbly.
Nick Faldo kept the squeeze on throughout Sunday afternoon, critically birdieing the sixth and eighth to cut the gap to three going into the back nine.
It was around the turn that wheels fell off for the Australian and his playing partner stepped on his throat with further birdies at 13, 15 and 18. It is often forgotten that the Great White Shark birdied 13 and 15 to stay within two of the lead before imploding at 16.
The winning margin would end up at five as the top two swapped places from a score perspective. Faldo went from seven under to 12 while Norman did the opposite.
5) Tiger Woods 2005 (3rd)
For a significant portion of the early noughties, Chris Di Marco became a factor in a number of Majors.
That was especially the case at the 2005 Masters as he opened up with a pair of 67s to take a four-shot lead going into Saturday.
Two shots further back was Tiger but the tournament had been blighted by bad weather and the third round had to be completed on Sunday morning.
The previous evening Tiger had birdied his final three holes and at the break of dawn birdied four in a row (10-13) to get to nine under par for his round. It looked like every Major round record was about to get broken but bogeys on 14 and 16 stunned the watching public although his 65 left him three ahead of Di Marco going into the final round.
Birdieing seven holes in a row had only previously been achieved by Steve Pate and that run laid the platform for his fourth Green Jacket.
4) Gary Player 1978 (4th)
Forty-two-year-old Gary Player started the final round of the 1978 Masters in a tie for tenth, six behind 54-hole leader Hubert Green.
With just nine holes to go Player, who won his first Major in 1979 (The Open), was still five behind.
What follows remains one of the greatest back nines in Major golf history. All-told, the South African birdied seven of the last ten holes, memorably holing across the green at 18.
That sensational 25-foot putt proved decisive as he won by one from Green, Rod Funseth and Tom Watson. It was his ninth and final Major victory as he closed with a remarkable 64.
It made him the oldest Masters champion until a certain Jack Nicklaus broke the record eight years later (see below).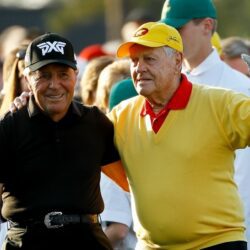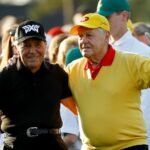 3) Ben Hogan 1967 (3rd)
One of the common traits among players on their way down is their inability to string four rounds together. They can still produce the old magic on one day and possibly two.
Traditionally that starts in the 40s and by your 50s you are truly finished as a contender. Modern equipment/training methods have elongated careers but Ben Hogan had neither when he arrived at Augusta in 1967 aged 54.
Hogan, who had last won a Major in 1953, started modestly enough, making the cut comfortably enough with rounds of 74 and 73.
What followed on Saturday remains one of the greatest single rounds of golf and there are uncanny echoes with what happened 19 years later in the final round (see below).
Hogan was steady enough on the front nine but then exploded into life, birdieing four in a row, starting at the 10th. He would also birdie 15 and 18 to get within two of the lead (66), coming home in 30.
Unfortunately there would be no fairytale finish as The Great Man bogeyed three of his first four holes on Sunday and a closing 77 would see him finish in a tie for 10th.
Ben Hogan making his final Masters Tournament appearance in 1967 where he finished in a tie for 10th place. pic.twitter.com/73XX9iWbIC

— TheGolfDivoTee™ (@TheGolfDivoTee) July 21, 2022
2) Tiger Woods 1997 (3rd)
After his second-round 67, Colin Montgomerie was feeling pretty chipper about life.
And why shouldn't he. He was in second place at halfway and 'the kid' at the top was untested in The Majors.
History has not been kind to Monty. It was perfectly reasonable for him to point out that his experience could be pivotal ahead of him teeing up in the final group alongside Tiger Woods. After all, the leader had failed to make the cut in his three previous visits to Augusta, albeit playing as an amateur. We had also seen plenty of 'unknowns' make fleeting appearances at the top of Major leaderboards only for them to disappear without a trace over the weekend.
It has gone down in folklore how Woods's coach Butch Harmon told his man to "Show Colin Montgomerie who you are."
This was the round (65) that silenced the remaining doubters, not least Monty who talked about his playing partner having an "aura".
Woods gave a golfing masterclass in compiling a bogey-free at Augusta for the first time and he would finish the day nine shots clear. A shell-shocked Montgomerie slumped to a 74 and the world knew that the 21-year-old was as special as his father had prophesied.
1) Jack Nicklaus 1986 (4th)
All things considered, it remains the greatest round of golf ever played. When you add up all the elements and what was at stake, for 46-year-old Jack Nicklaus to come through the field like that and win his 18th Major Championship was as astonishing as it gets.
The Golden Bear had not won a Major for six years and in 1985 had missed the cut at the US Open and The Open.
To many he was yesterday's news but to shoot 30 on the back nine and take his sixth Green Jacket was Hollywood-film-script-esque.
This was golf's own version of Ali beating Foreman in The Rumble in the Jungle and confirmed Nicklaus' status as the greatest golfer in history.