Norway's Viktor Hovland fired a stunning final round of 61 to win his fifth PGA Tour title in the BMW Championship.
Hovland birdied seven of the last nine holes at Olympia Fields to cover the back nine in just 28 shots and overhaul world number one Scottie Scheffler.
Scheffler began the day in a tie for the lead with Matt Fitzpatrick and carded a closing 66, but had no answer to Hovland's stunning scoring burst.
Hovland found himself four shots off the pace when he followed birdies on the first, third and fifth with a three-putt bogey on the seventh, but surged back into contention with a hat-trick of birdies from the 10th.
The 25-year-old also picked up shots on the 14th and 15th and moved into a share of the lead with his ninth birdie of the day on the 17th.
Another birdie on the last took the Ryder Cup star to the top of the leaderboard on 17 under par and his victory was effectively secured moments later when Scheffler three-putted the 17th.
Fitzpatrick, whose younger brother Alex finished second on the DP World Tour earlier in the day, ended the day in the same position after matching playing partner Scheffler's 66 to finish 15 under.
Asked where that round ranked in his career, Hovland told Sky Sports: "It has to be number one.
"I remember playing a pretty special round of golf my first year on Tour, I shot seven under at Torrey Pines when it was hailing and windy and raining and that's probably the best I've ever struck it throughout a round.
"But to shoot 61 and shoot 28 on the back nine at this golf course and under the circumstances, I have nothing that beats that."
Hovland, who started the day three off the lead, added: "I was thinking if I post a score like I did yesterday (65) I could at least have a chance, but it's hard when you have so many guys in front of you that are really good and playing awesome.
"Catching heat on the back nine was what I had to do."

The victory lifts Hovland to second in the FedEx Cup standings behind Scheffler heading into the season-ending Tour Championship in Atlanta.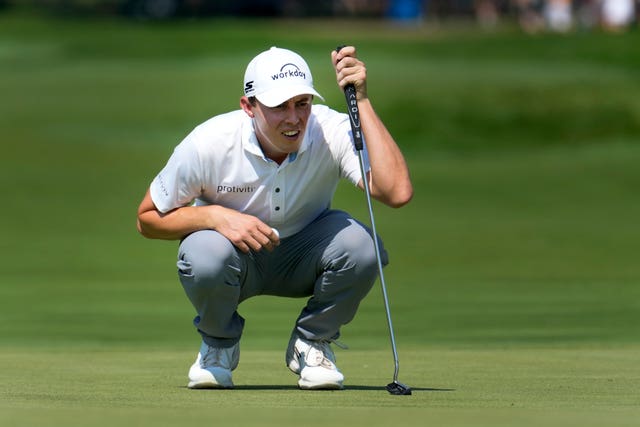 "It's a pretty amazing round of golf to win this tournament like that," Scheffler said of Hovland's 61.
"I still don't understand how the scores were so low this week. I don't know, this place seems pretty hard to me, but guys are just ripping it up. 61 is a fantastic round, especially with Sunday pressure, and the way he finished was a really fantastic round.
"I'm just a bit frustrated. I think that would be the way to describe it. I mean, Viktor went out and really just beat me today and played a fantastic round. I can hold my head high – I did my best out there today and fought hard. Just ultimately came up a couple of shots short."
Fitzpatrick was equally complimentary about his Ryder Cup team-mate, although he admitted with a smile that he did call Hovland "a little s***".
"I played great," Fitzpatrick said. "Can't do anything about 61. But for me, just really pleased again that I played really well in a final round in contention with the world number one and I didn't lose it. Someone else came from behind and won it."
Rory McIlroy, who was playing alongside Hovland, carded a closing 66 to finish in solo fourth.
"I felt like I played very average out there next to Viktor," McIlroy said. "He played amazing.
"I was marking his card in there and I'm like, 'oh, you only made one four on the back nine, the rest threes', so it adds up to a nice little 28 for him. It was great to see."