How much do Open Champions win?
The Open Championship is 150 years old, with 139 playings since 1860.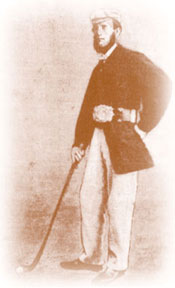 The first Open Champion, Willie Park Snr, won no money at all in 1860, but received the Championship Belt of red Morocco leather which he is wearing in the picture here. 'Old' Tom Morris also won only The Belt in 1861 and 1862.
In 1863 a purse of £10 was offered, but was shared equally among the eight participating professionals, earning them each £1 2s 6d (£1.12½p), irrespective of their scores. The winner, Willie Park Snr, took The Championship Belt once again.
In 1864 a total purse of £15 was on offer, with the Champion, Old Tom Morris once again, finally taking home a 'proper' winner's prize of £6, as well as The Championship Belt.
The first time the winner's prize reached double figures was in 1873, when Tom Kidd took home £11 (as well as the Claret Jug, the Championship Belt having become the permanent property of Young Tom Morris in 1870, when he won it for the third successive time) out of a total purse of £20. The money then fell back into single figures until 1876, when Bob Martin won £10 from a total purse of £27.
From that £10 first prize in 1876, it then took 55 years until it became...
£100 in 1931, when Tommy Armour won. 24 more years until it was...
£1,000 in 1955 for Peter Thomson. Another 22 years until it reached...
£10,000 in 1977 for Tom Watson. Then 16 more years until it hit...
£100,000 in 1993 for Greg Norman's second Open Championship.
17 years on, Louis Oosthuizen received £850,000 in 2010, an increase of £100,000 over the Open Championship first prizes for 2007-9.
| | | |
| --- | --- | --- |
| | | |
| Old Tom Morris - Champion in 1864, winning £6 | | Louis Oosthuizen - Champion in 2010, winning £850,000 |
It therefore seems likely it will be several more years before the first seven figure cheque for £1,000,000 will be presented, perhaps not until 2013, 140 years after Tom Kidd took the first two figure prize of £11, or possibly 2014, 150 years after Old Tom Morris walked away with the first ever prize of just £6.
For a full history of Open Championship and other major championship prize money, please click here.
November 2010