Marco Penge rounded of a special week by becoming the second Englishman in as many years to win the Rolex Challenge Tour Grand Final supported by The R&A and the season-long Road to Mallorca Rankings double.
The 25-year-old posted a closing three under par round of 69 to move to ten under par for the week and secure an emphatic six stroke victory over Frenchman Tom Vaillant, who finished in solo second at Club de Golf Alcanada to also break into the Road to Mallorca top 21 and clinch promotion to the DP World Tour.
Penge follows in the footsteps of countryman Nathan Kimsey who triumphed at the season finale 12 months ago to win the Rankings, and he becomes the 13th Challenge Tour Number One to hail from England.
Penge started the day one-shot ahead of Vaillant but a bogey at the par five first hole saw his lead disappear, however he would bounce back brilliantly. Four birdies in seven holes around the turn and another at the par four 15th saw him move clear at the top of the leaderboard and secure promotion to the DP World Tour.
"To be standing here and saying I've won twice on the Challenge Tour and also winning the rankings is hard to imagine," he said. "It hasn't quite sunk in yet, but I am absolutely over the moon.
"I believe in myself, and I know what I am capable of. I was in pretty good stead to do well this week and I'm just really pleased that I could bring it all together.
"I made bogey on one after a terrible shot into the green. I find it always takes me three or four holes to settle in my rounds and that is something I need to improve on. But, after three holes, I said to my caddie 'I feel normal now, so let's try and get our foot down and move as far forward as we can' and obviously I did that.
"I think birdieing hole seven kind of settled everything really and, once I got through eight, I knew I would be okay. once I got through eight holes and hadn't made a big number, I felt I was going to be fine.
"My coach, Gary King, has been here all week and he's been saying to me that I was hitting it great, even though I didn't feel I was swinging it great but he said I was.
"It hasn't quite sunk in yet, but I am absolutely over the moon."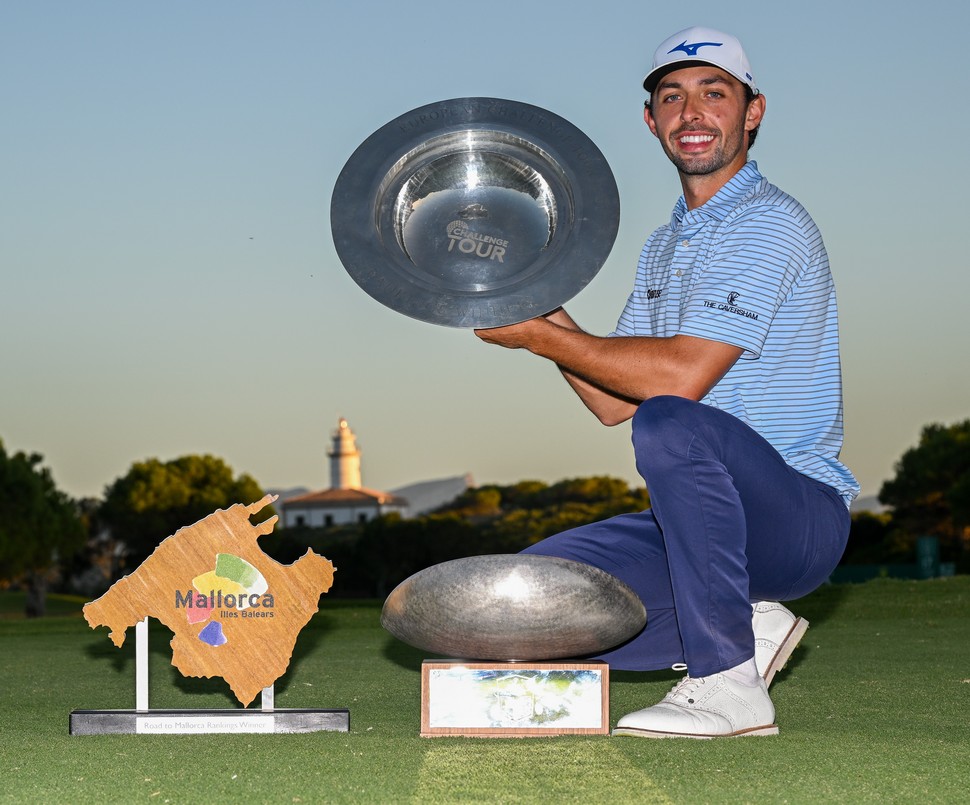 Penge, who was in 60th place in the Rankings before his maiden win at the Open de Portugal at Royal Óbidos six weeks ago, finished just seven points ahead of South African Casey Jarvis, who came second on the Rankings, with Spaniard Manuel Elvira finishing third.
Frenchman Ugo Coussaud graduated in fourth place with Swedish duo Jesper Svensson and Adam Blommé finishing fifth and sixth respectively.
Italian Lorenzo Scalise earns promotion in seventh place, with fellow countrymen Andrea Pavan – a two-time DP World Tour winner – and Matteo Manassero – a four-time DP World Tour winner and the youngest in DP World Tour history – returning to Europe's top tier in eighth and ninth.
Portuguese Ricardo Gouveia finished tenth on the Road to Mallorca Rankings and England's Alex Fitzpatrick 11th. Vaillant climbed 21 places to 12th following his second place finish in Mallorca, with fellow Frenchman Frederic Lacroix finishing third this week to move up to 13th.
Italian Francesco Laporta returns to the DP World Tour in 14th, Englishman Will Enefer earns his first promotion in 15th and Spaniard Ivan Cantero goes up in 16th.
Englishman Sam Bairstow made a final day move, up five places to 18th with a fourth place finish. Two-time DP World Tour winner Brandon Stone finished 19th on the Rankings, while German Maximilian Rottluff who has won twice on the Challenge Tour this season finished 20th. Welshman Stuart Manley secured the final DP World Tour card on offer.
Final scores:
278 M PENGE (ENG) 69 68 72 69,
284 T VAILLANT (FRA) 69 68 73 74,
285 F LACROIX (FRA) 75 65 74 71,
287 S BAIRSTOW (ENG) 75 71 70 71, B ROBINSON THOMPSON (ENG) 74 70 71 72,
288 C PURCELL (IRL) 71 72 74 71,
289 C JARVIS (RSA) 80 71 71 67, F LAPORTA (ITA) 74 70 75 70, J SENEKAL (RSA) 72 76 71 70, J GIRRBACH (SUI) 74 70 73 72,
291 J SVENSSON (SWE) 73 74 76 68, S BROWN (ENG) 77 74 70 70, B STONE (RSA) 74 71 76 70, J SURI (USA) 74 69 74 74, C HOWIE (SCO) 78 69 70 74,
292 A BLOMME (SWE) 74 76 73 69, A PAVAN (ITA) 74 67 79 72, T LEWIS (ENG) 75 73 71 73,
293 M MANASSERO (ITA) 76 71 76 70, D FICHARDT (RSA) 74 72 76 71, B FOLLETT-SMITH (ZIM) 71 76 75 71,
294 W ENEFER (ENG) 81 70 74 69, F MORY (FRA) 73 74 78 69, L SCALISE (ITA) 73 79 72 70, J RUTHERFORD (ENG) 74 73 77 70, A CHESTERS (ENG) 73 73 77 71, S HUTSBY (ENG) 75 72 74 73, L VACARISAS (ESP) 74 75 72 73,
295 M ELVIRA (ESP) 77 73 72 73,
296 U COUSSAUD (FRA) 77 76 74 69, I CANTERO (ESP) 75 75 72 74, M HAMMER (GER) 75 75 70 76,
297 M COUVRA (FRA) 76 74 75 72, J PRINSLOO (RSA) 75 73 77 72, E WALKER (SCO) 73 76 75 73, M ROTTLUFF (GER) 71 72 80 74, R GOUVEIA (POR) 78 72 72 75, N KRISTENSEN (DEN) 77 71 71 78,
298 L RUUSKA (FIN) 76 74 76 72,
299 S FRIEDRICHSEN (DEN) 76 73 75 75,
302 S MANLEY (WAL) 78 74 79 71, O FARR (WAL) 80 70 77 75,
303 J ANDERSEN (DEN) 76 73 76 78,
305 L VAN MEIJEL (NED) 79 77 73 76,
306 J GUMBERG (USA) 82 72 76 76,
2023 Challenge Tour graduates
Marco Penge
Casey Jarvis
Manuel Elvira
Ugo Coussaud
Jesper Svensson
Adam Blommé
Lorenzo Scalise
Andrea Pavan
Matteo Manassero
Ricardo Gouveia
Alex Fitzpatrick
Tom Vaillant
Frederic Lacroix
Francesco Laporta
Will Enefer
Ivan Cantero
Joel Girrbach
Sam Bairstow
Brandon Stone
Max Rottluff
Stuart Manley